Depicting emotions through artworks
Sangee Shrestha's exhibition explores human resilience in the midst of a deadly second wave of Covid-19.

Shrestha's second solo exhibition features 38 artworks, all of which reflect our collective experiences and emotions of the last few months. Ankit Khadgi/TKP
bookmark
Published at : October 5, 2021
Updated at : October 5, 2021 07:19
Kathmandu
When you enter the ground floor of Gallery Mcube at Chakupat, Lalitpur, a huge untitled painting of Sangee Shrestha immediately grabs your attention.

In the middle of the painting is a Buddha-like figure. On two sides of the figure are two symbols of dharmachakra (a Buddhist religious symbol), and the colour dark red and black permeates the corners of the canvas. The painting also features six square-shaped boxes. Right on top of the figure are five squares painted in red. There's a blue coloured square right near the heart of the figure.
At first glance, it's difficult to comprehend what the artist is trying to say because the motifs seem ambiguous. But once we get to know the theme of the artwork and the exhibition, everything becomes clear. The five red colour squares above represent the negative thoughts, whereas the blue represents the calmness we have within to battle those negative thoughts.
In short, the painting represents all of us who have been fighting the pandemic with a courageous and calm heart, despite being constantly disturbed by negativity, says Shrestha, whose 38 artworks are on display along with this painting in the premises of Gallery Mcube.
"Through this painting, I wanted to depict those hopelessness and despair-ridden days we all experienced during the second wave of Covid-19. Despite the many challenges, we tried our best to stay as brave and calm as possible," says Shrestha.
Titled, 'Sambeg', this is Shrestha's second solo-art exhibition in her two-decade-long career.
Her first solo exhibition 'Abyakta Abhibyaktiharu' was hosted at Siddhartha Art Gallery in 2009. For her second exhibition, she has teamed up with Gallery Mcube's founder and curator Manish Lal Shrestha, and the exhibition features her paintings and mixed media work, inspired mainly by the devastating second wave of Covid-19.
"Like every other person, I went through a rollercoaster of emotions amidst the pandemic. I live nearby a hospital. Every day I could hear the sirens of the ambulance and the cries of the people, which affected me mentally. I saw my friends and families get sick. It was an environment of fear and uncertainty," says Shrestha. "In such a difficult period, I sought refuge in paintings. Every day, I created new artworks, combing my distinct style and channelling the emotions I was going through. I was really satisfied with what I was able to depict on the canvas and decided to show it to the world through this exhibition."
Shrestha's love for the arts began in her childhood. She started by drawing on every blank paper she found, recalls Shrestha.
"I always knew art was my true calling. While deciding what to study for my higher studies, I insisted to my parents that I would only study arts. Nothing else. And that's how I got myself enrolled in Lalit Kala Campus for my undergraduate study and began my journey as an artist," says Shrestha.
While studying in an art college provided her with many learning opportunities, she always felt that she had to create more than what was instructed to her.
"In those days, neatly drawn artworks were praised. However, I wanted to break that and redefine the meaning of art. I wanted to show that art doesn't have to have definite shapes and be perfectly drawn," she says,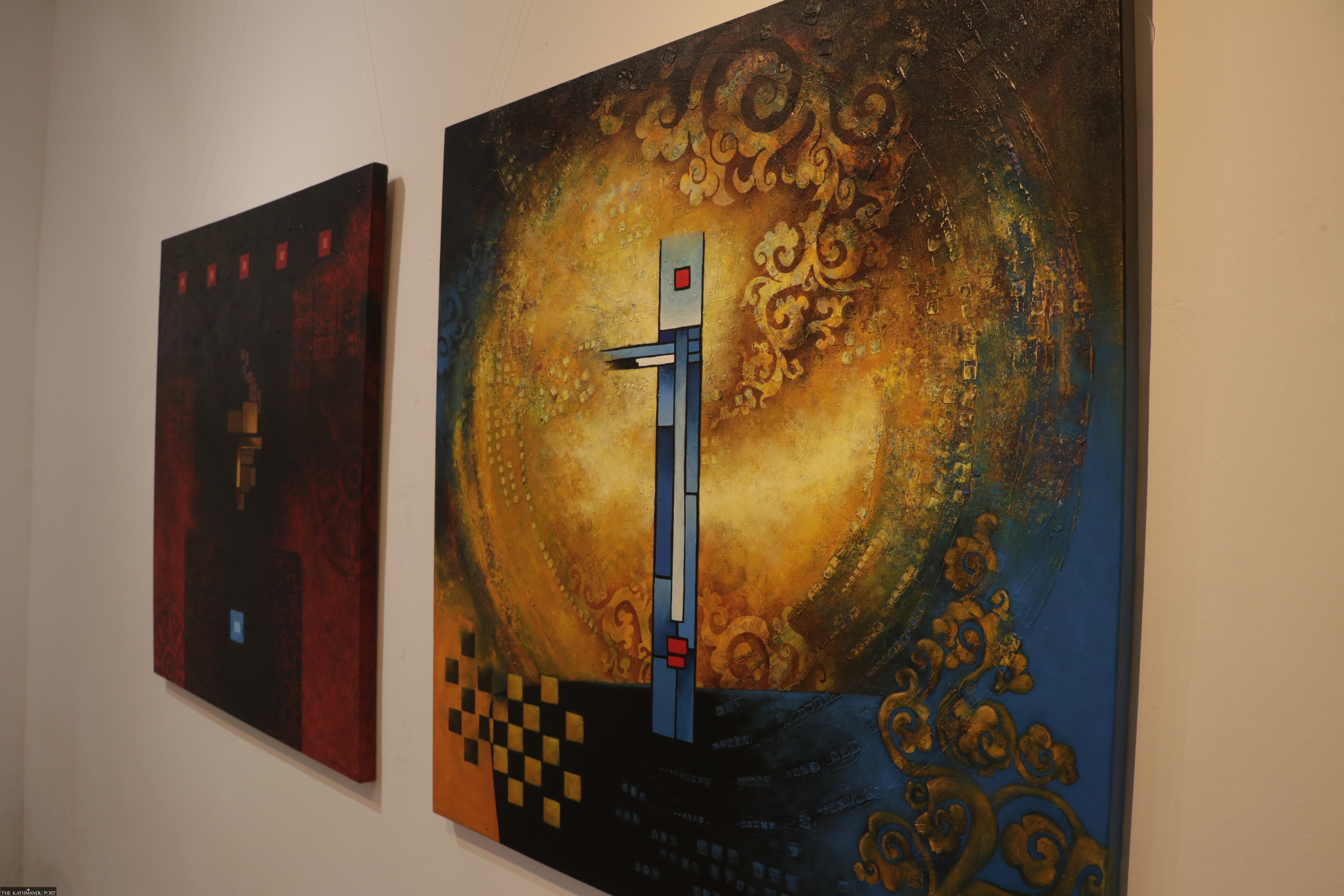 Ankit Khadgi/TKP
It took Shrestha some time to hone her skills and develop her unique voice and style to depict her emotions in her artworks. She started encompassing geometric shapes in her paintings, especially squares, to break the conventional linear structure.
"In all of the geometric shapes, the square is the one that I could relate to the most. Just like the society's boundaries, which limit us, the space within a square is also restrictive. Hence, to depict such boundaries that prevent us from being vulnerable and being the real us, I started using squares in my artwork, making it my own style," says Shrestha.
In her latest works, Shrestha has used squares as the motif, which has become her trademark. In a few of her paintings, there are faces with half-closed eyes, which, according to Shrestha, is a motif used to depict the emotions as the face is considered as the true reflection of the people and the feelings they are going through.
Another common underlying theme in her recent artworks is faith and hope.
In many of the exhibited artworks, there are images of Lord Ganesh and other religious images like a mandala, lotus, and a peacock feather. Similarly, the paintings also feature texts of many Buddhist and Hindu chants like 'Om Mani Padme Hum' and 'Vakratunda Mahakaya' juxtaposing with sharp divine colours like blue, red, and yellow.
Shrestha says that before the pandemic, she rarely used religious motifs in her paintings.
"During the pandemic, like most people, I frequently prayed to gods and goddesses to protect my friends and family from the pandemic. And because at that time I believed so much in religious faith and doing so provided me peace, I was inspired to use the religious motifs in my new artworks," says Shrestha.
At the core, her artworks reflect our experiences and emotions of the last few months. The artworks mirror our strength, optimism, and faith.
However, none of the artworks in the exhibition is titled. There are just numbers pasted below the paintings. Unlike most exhibitions, there are no statements pasted below the artworks displayed. Only the brochures—which mainly divulge the exhibition's theme—provide information to the viewers.
For visitors, this might make it difficult to keep track of the works.
But according to Shrestha, this is something done intentionally. She says she doesn't want to overload the visitors with information or preconceived views as she wants people to derive their own meaning.
"I want people to engage with my artworks. I want them to look at works and derive their own interpretations based on their own experiences and how they could resonate with my work. If I had put a statement or any text, it would have limited the meaning of my work, which I don't want to happen," says Shrestha.
In her two-decade-long career, Shrestha has done more than 200 group exhibitions. But this is her only second solo exhibition.
"I don't do solo exhibitions just for the sake of it. I only do so when I am satisfied with my works. I am pleased with the artworks that I have created and are on display at this exhibition," says Shrestha. "I think I have been able to encapsulate the feelings of hope and despair, which I went through during the lockdown in my works."
The exhibition will be held until October 9 at Gallery Mcube, Chakupat, Lalitpur.
---
---