At Van Gogh room, connect with art
The pandemic had isolated the art world. But as life returns to normal, Tulikaa Kala's solo exhibition series 'Kholo: A cycle of life' is opening doors—and minds—to diverse experiences and outlooks on life.

In Kailash K Shrestha's works, it's interesting to see the blending of digital images and painting--where one represents reality and the other our sentiments and despondency. Anish Regmi/TKP
bookmark
Published at : February 23, 2021
Kathmandu
Our mind is never constant; it is always wandering. It takes effort to really focus on something. And for curators and creatives, the human mind's distraction is one challenge they have to overcome each time they exhibit. Because, more often than not, an exhibition's quality is determined by how much the exhibition can hold people's attention.
And at Dhokaima Cafe's Van Gogh room, Tulikaa Kala's set up for their solo series of exhibitions makes sure our mind is alert. The dark lighting of the small room gravitates our attention towards the art presented and draws us in to think about the artist's outlook—it allows viewers to enter into the world of artists, their art.
Thus, while looking at Kailash Shrestha's series 'Isolation' and 'Occurrences', which are part of the umbrella exhibition, one gets consumed with the narrative Shrestha presents: that of separation, loneliness and polarity.
About five of his works are framed to give the impression one is viewing Instagram on their phone. And in these frames, Shrestha's self-portrait, technically an outline of his body, with no skin or face, transports us to become this character roaming a post-apocalyptic world—where silence is piercing and telling of the horror that only a few months ago surrounded us all.
Shrestha's images, made using mixed media, evolve in a way—as you walk from the left to the right of the gallery, from his series 'Isolation' to 'Occurrence'. He reveals the inner workings of society, of how our normal lives were put on hold while political leaders evaded doing the necessary under the gloom of the pandemic. In his works, it's interesting to see the blending of digital images and painting—where one represents reality and the other our sentiments and despondency.
Shrestha uses his skill as an artist to show our mental state: cloudy, dull and confused. For example, in one piece, we see a person carrying what looks like a sack of rice into the void—representing the uncertainty everyone felt during the pandemic.
In another image, Shrestha puts together hundreds of tiny photographs and at the centre of it creates a collage of a person wearing a PPE, perhaps a frontliner, who too is conflicted, as they stand to fight the pandemic of Covid-19 from inside a boundary.
Shrestha's series on the whole is unsettling and sombre, as it makes us confront how we have boxed our lives. Although one may think the pandemic forced us to live in boundaries, Shrestha highlights that we have always actually boxed ourselves and the pandemic just unveiled what had become unseen.
The series presents all of us in our lives but separated from individuals because of our pursuits. They evoke thoughts about how we have been blinded in our own journey and become unaccepting of the other stories and realities around us. And unintentionally the presentation exudes the suffocation we felt during the lockdown.
It's also gratifying to see Shrestha's sardonic images of political figures, who distinctly represent KP Sharma Oli and Pushpa Kamal Dahal, fighting and discussing politics amid the grim realities of people against the backdrop of a quiet world. It fittingly shows the indifference of the government in handling the pandemic and its repercussions on people's lives.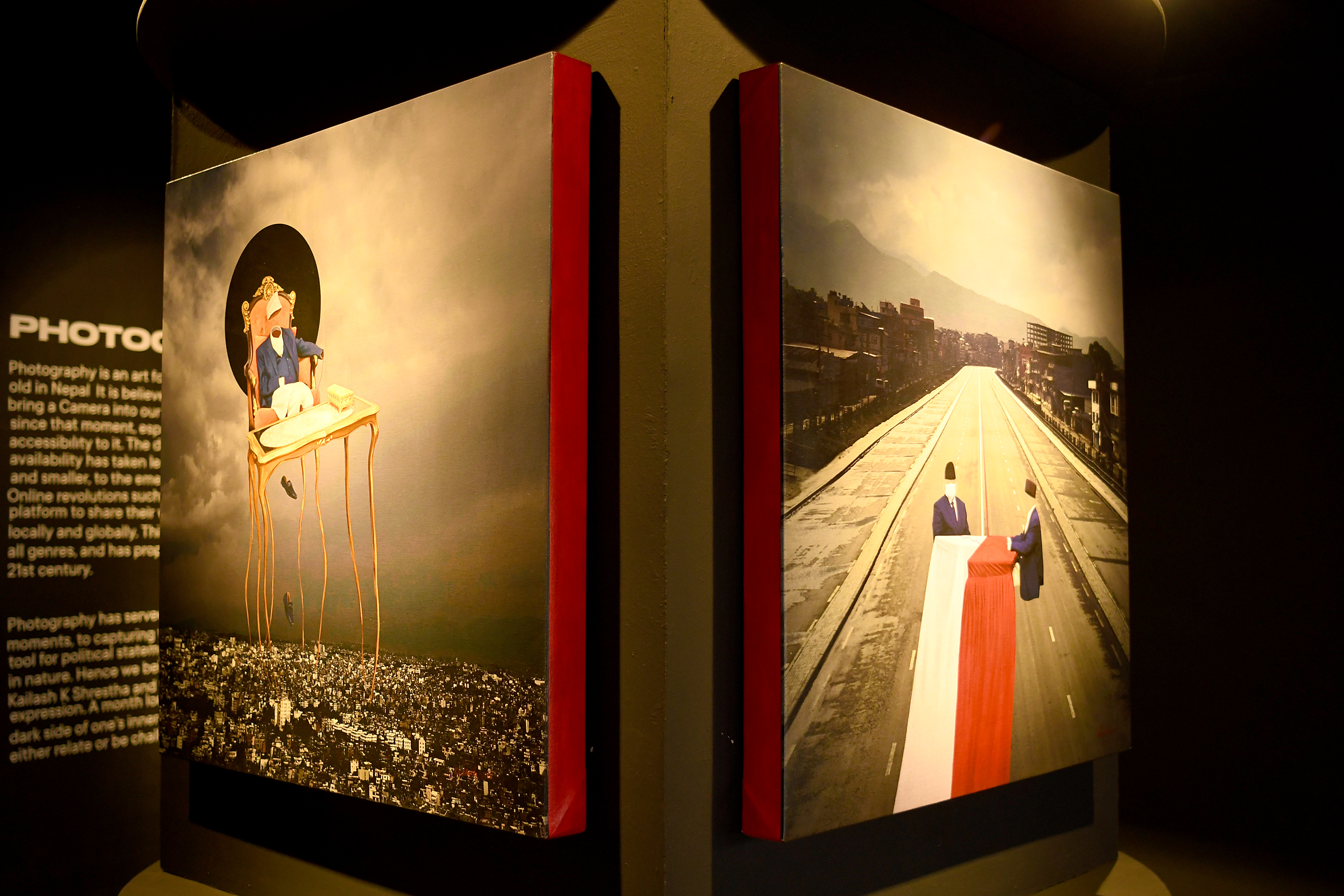 Anish Regmi/TKP
Shrestha had previously also shared some of his works from the exhibition virtually during the lockdown, but in the gallery, his works find new life and connect more deeply with the audience.
The curatorial direction of Ujen Norbu Gurung elevates the works presented; for a change, the gallery does not feel like a canvas but a world onto itself, pulling and immersing people's dwellings to the whole.
Kailash K Shrestha's work presented in the gallery is the second solo show of the exhibition 'Kholo: A cycle of life'. And Tulikaa Kala, the platform connecting artists, entrepreneurs, art enthusiasts and collectors, is in preparation to bring works of 26 other artists, spanning seven genres in the coming months. The platform hopes to introduce artists and unravel their work while opening doors and opening minds to diverse experiences and outlooks of life and art forms.
Last week, the exhibition presented the works of Aakash Pradhan, a freelance photographer who creates visual experiences with photo collages. In contrast to Kailash Shrestha's works, Pradhan's works were colourful and looked towards a positive outlook of life and gave perspective to different windows of life.
Pradhan's photo collages showed people striving towards different ends, and in many ways his works were philosophical. They expressed vibrance and life, like his work 'Rushhour' that captured an auto-rickshaw zooming away while the direction read 'escape'.
Another striking photo collage was 'Where do we go from here', a picture of people travelling, perhaps migrating. Pradhan gives the picture a hopeful hue with sunflowers, starry sky and clouds. And these motifs seem to symbolise aspirations and dreams. These works, although taken down, are still available on Tulikaa Kala's website for viewing.
As life now returns to normal, Tulikaa Kala is hoping to give colourful experiences to people. And it looks promising. It will be interesting to see how the dark milieu will work for the other artists and what consciousness the upcoming artists' works will pique at. And so, Tulikaa Kala's 'Kholo', a seven-month-long series of solo exhibitions, is something to look forward to.
The exhibition 'Kholo: A cycle of life' will be on display until August 27 at Van Gogh Gallery, Dhokaima Cafe, Patan Dhoka.
---
---