Think twice, what did you feel
The latest exhibition 'Contemporary Art of Nepal' brings diversity from 29 contemporary and four emerging artists—and also makes it eminent that people are now expecting more from Nepali artists.

Srizu Bajracharya/TKP
bookmark
Published at : January 26, 2021
Updated at : January 26, 2021 22:31
Inside a building in Bhanimandal, it feels eerie to watch a dead body covered in a tangerine-coloured cloth raised in the air, in an empty room. But as you imagine yourself in this body, you see someone is watching over you. Right above the dead body, on a centred beam a pair of glasses looks down at you.
Roshan Mishra and Bishowmbhar Basnyat's project #365Rotation is unsettling and wry. As part of the installation, Mishra's Nepali poem, 'Euta Funko Sakiyo,' talks about how a human with their body is always striving for power and then when their soul parts away from the body, they are nothing. They represent no power, money or arrogance—but just a mere body.
The installation hooks you from the get-go with how it is presented, imbuing to viewers a perspective on death. The work pulls you deep to reflect on your own life's dwellings. And perhaps the work feels even more compelling because you are living through a pandemic.
Mishra and Basnyat's work is part of the ongoing exhibition 'Contemporary Art of Nepal', organised by a group of contemporary artists to share their creations with the public once again as our lives return to a normal pace amid the pandemic. The show brings together works from 29 contemporary and four emerging artists, and the result is an intriguing but confounding experience.
The artists' works definitely bring attention to how the pandemic isolated their expressions from people, as there were no physical exhibitions or discussion of their work for a long time. And in a way, the show exudes its zest in a colourful outburst of variant ideas. While some artists seem to reflect the concept of life during a pandemic, others immerse in their concepts and their stylistics.
Individually all of the works were striking. Each artist engages in ideas ranging from one's thoughts to cultural outlooks. For example, Prithvi Shrestha's artwork titled 'Boat' depicts one's floating thoughts and our own bubble of a world. While Rajan Pant mirrors the cultural vibrance of Bhaktapur during festivals; the artist's collection also included landscapes of ordinary life in Tharu settlements.
Asha Dangol's series of self-portraiture expressing human-kind eroding nature is also equally arresting. As are Laya Mainali's bronze sculptures shaped in various forms, such as yaks. Of the series titled, 'Composition', one structure that stood out as a boulder of a woman was also interesting.
Besides these collections, Kapil Mani Dixit's nude collections showing the artist's journey of working on the nude series is also intriguing. Though these works are not new to people as the collection was part of an exhibition in Gallery Mcube, it is interesting to revisit his strokes.
Dixit's newly added collection, 'Untold Stories', also shows a different side to the artist, where he ventures to show his personal stories using a crow's symbolic presence. Through the nature of crow, he emphasises human behaviours—from how a crow is protective of their loved ones to how they are always looking at us, how they are always peering at other people's lives. But he also represents them as free from the conventions society has built for humans.
The four emerging artists'—Rasna Shrestha, Nina Vaidhya Joshi, Prabha Maharjan and Nayana Shakya—also took to their own concepts of nature and journey, painting on canvases, monks and beautiful flowers like lotus and dandelions.
Another interesting work in the exhibition is of Manish Lal Shrestha, whose work reflects on the workforce of textile factories. His installation, which was a patchwork of different clothing materials, in a separate room from other artworks, also expressed a communal feeling mainly that of healing together. The work also reflected on a solemn experience in its isolation from other works. Shrestha's work is accompanied by a background score—that of hand-machines' clicking—through an old television, and this sound sets the atmosphere for the whole exhibition unknowingly as the sound reverberated throughout the corners of the building creating worlds inside worlds.
While on the one hand, the exhibition brings together diverse works from diverse artists, it also unintentionally sets up a conflict of coherence. For example, some works looked banal because of their juxtaposition between works that embraced more profound concepts; there was no consistency of the topics presented, the works jumped from introspective inklings to the artists' muses.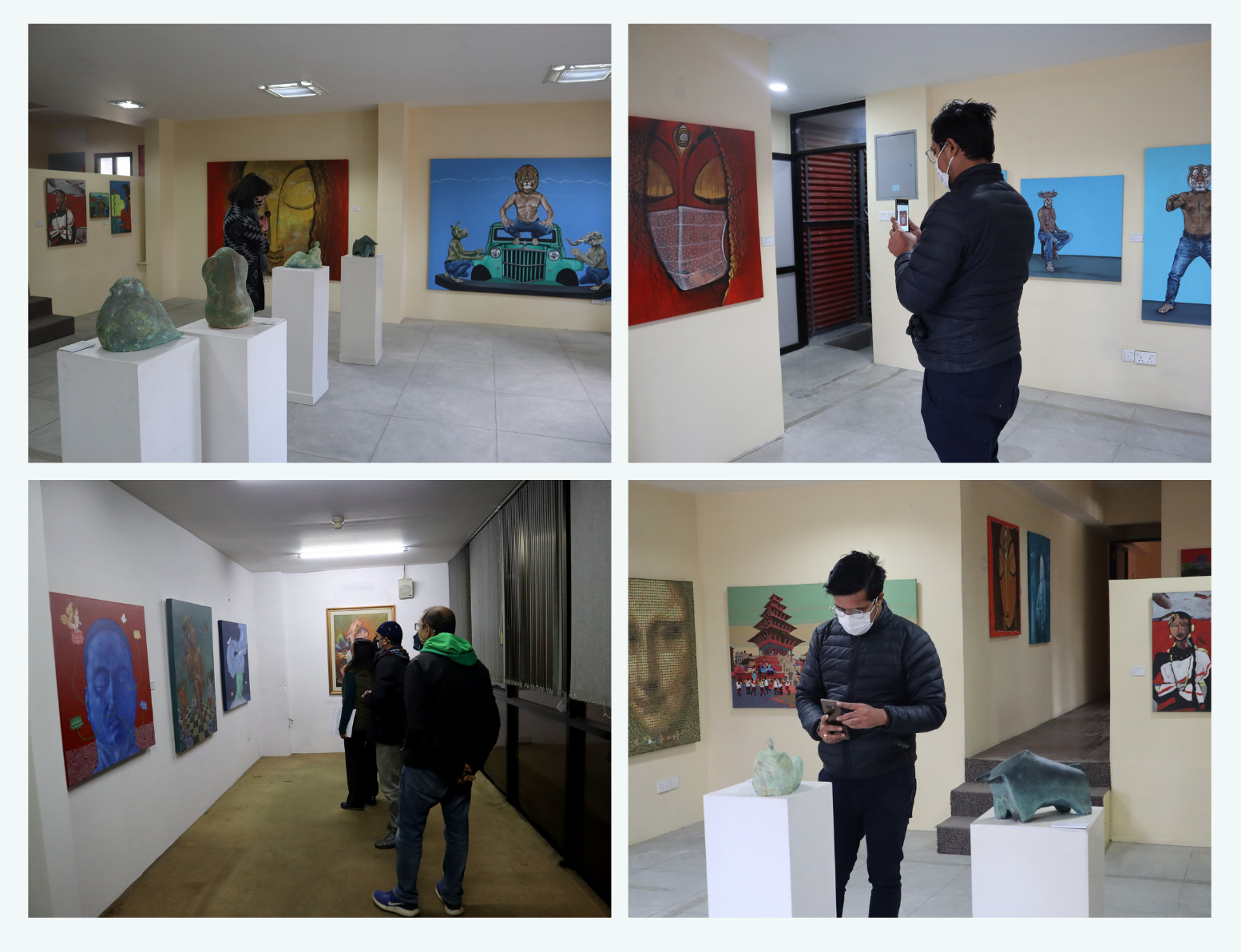 Individually, all of the works presented at the ongoing exhibition are striking. Each artist engages in ideas ranging from one's thoughts to cultural outlooks. Beeju Maharjan/TKP
The exhibition although with its title, 'Contemporary Art of Nepal' tries to bring all the works under one umbrella, interested viewers will be left to think more on the ideas of contemporary art, and why even with such great works you don't fully find yourself convinced with the works presented. In many instances, the exhibition confuses your thoughts. Just when you think a work is beautiful, in another moment, you are thinking to yourself: so what is all this supposed to mean?
And this gap is mainly related to the curatorial perspective, which is missing—exhibitions cannot always be a medium for artists' works. They need to provide a sense of soundness. In presenting diverse works, curators have a greater responsibility of guiding the audience's attention—be it with information or by creating a milieu for works to be presented in.
For instance, there's a drastic and palpable difference in how Mishra presents his art and how the other artists present their works. Roshan Mishra's work is immersive and engaging and amid a collection of variant contemplative works, his works invite the viewers into his work.
While Mishra makes an effort to tell more to the audience, the same cannot be said for all the other artists. Even in his work 'Isolation is No Isolation,' Mishra makes sure that his audience is guided when looking at his installation.
In the exhibition, the gap of the curatorial perspective was also visible in how people were interacting with the works presented. For example, a young group of students just passed by the paintings of some artists while taking time to read and interpret the works of Jupiter Pradhan and Mishra's work who illustrated their works with a context.
This observation is telling of the fact that curators and artists need to give more information or provide a context for viewers to step down from their world and immerse in the artists' thinking or their imaginings.
Works of art usually and certainly always intrigues viewers, if nothing, an art creation usually feels nice but when artworks are not able to tell more about its beauty, these works' beauty then becomes fleeting. But when artists and curators provide a context or lens through how an art can be deconstructed, the art becomes more meaningful and memorable.
Same goes for presenting the diversity of the contemporary artists' works: diversity is always intriguing but an exhibition of this distinction has to offer meaning to the diversity, it cannot just be a statement it is making.
However, there's certainly a lot to take from the exhibition, 'Contemporary Art of Nepal' of how the art community is growing. But the exhibition also makes it eminent that people are now expecting more from artists—beyond the aesthetics, something more to take away as an experience, as a memory.
The 'Contemporary Art of Nepal' exhibition will be on display until January 31 at DFID's old building in Bhanimandal, Lalitpur.
---
---