The fate of completed artworks
Artists put a lot of effort into conceptualising and bringing life to their artworks. But what happens to them after they're exhibited?

Artist Manish Lal Shrestha's Gallery Mcube has a room full of his old works. Srizu Bajracharya/TKP
bookmark
Published at : January 14, 2020
Kathmandu
When artist Manish Lal Shrestha opens the door to his studio at the Gallery Mcube in Chakupat, a number of his works are on display, some of them are battered and have traces of dust on them. On the sofa, an array of cushions show emulation of Shrestha's popular visual installation, 'Project 1336', which is still travelling the world.
On first glance, it looks like Shrestha has built a band of his completed artworks. These artworks have finished their fundamental purpose and are ageing with time. They now represent a fragment of time, of when the artist manifested an art to make people think.
"Art is not meant to be permanent, everything has a temporary space," says Shrestha.
Over the years, Kathmandu has seen many art exhibitions from various artists, and during their brief shows, their artworks have evoked people's thought processes. They have inspired people, enthralled experiences and even pushed them to question their beliefs. But little is known of what happens to artworks once they are taken down from public exhibitions; where do they go, what purpose do they serve? What is the fate of these artworks?
According to Sharareh Bajracharya, an arts educator and curator, most works after exhibitions travel back to the artist's studio, where they are stored and preserved. "For some artworks, their lives continue in other curatorial works, wherein they travel and remain in the public viewership," she says. "Otherwise, they are stored by the artists, some in proper ways and others unmindfully."
At Shrestha's office, he has framed most of his cherished works. One of which shows his work from 2004, a huge colourful tapestry of 26 metres titled, 'I know to love life, I know to live life, I know to love life…,' which was showcased at the Shiva temple in Bhaktapur. The idea of the installation was to create a collaborative experience with the locals of the old town.
"Clothes are our second skin, but by patching together different coloured clothes, I was trying to show the communal living," he says. "I had placed the artwork on the staircase of the temple to make it seem like a pathway to the higher being."
The installation was put up at the venue for 10 days. But even today, Shrestha's concept of the artwork continues to evolve. The lines and colours of fabric continue to manifest in all of his artworks. It is almost like he is recycling the contents of that installation to create new artworks.
His 2017 art installation 'Project 1336', a 1336-metre long knitted woollen rope resembles in many ways with the idea of his 2004 installation, where he tried to show the diversity of communal living. The project too, was created with the help of various communities.
Shrestha also travelled to Busan to create a 108-metre long tapestry with the locals for the Sea Art Festival 2019 Busan Biennale. And through the years, his artworks have brought together many diverse communities to work cohesively, making his art more powerful.
"I think the afterlife of my artworks can be seen in how my initial idea has continued in all of my new artworks in different ways," says Shrestha.
Another artist, Sheelasha Rajbhandari, believes the life of art begins even before its initiation. "I believe artworks have a life beyond the exhibitions. Their lives begin right from the start of its concept and research—in the process itself. And as the concept evolves, their journey continues," she says.
In 2017, Kathmandu Triennale also showcased her artwork titled, 'I still see that same old house of ours in my dreams,' which was based on Rajbhandari's maternal grandmother. Her art installation showed old wooden sanduks (trunks) filled with her grandmother's memories of kitchen and household utensils, puja thalis and a bed. In Rajbhandari's work, they also stood as metaphors to how women's lives were described in the old days. The wooden trunks also showed various photographs of Rajbhandari's grandmother at the hospital.
"I had always wanted to document my grandmother's narrative, but I didn't know where to start and how," she says. "It was her life experiences, compared and contrasted against the lives of modern women that made me realise how the narratives of women have been dominated by male experience throughout history."
But while she was working on the artwork, her grandmother was hospitalised and soon passed away. This, according to Rajbhandari, even though was devastating to her, made her realise that a lot of what she wants to express remains unfinished. "I still have a lot to say," she says. "So, the idea of it is still unfurling in my other works."
The concept that came to her even before the Triennale series has evolved with time and comes across in many of her recent works.
Another one of her art installations, 'My great-great-grandmother's shawl,' shows photographs of her great-great-grandmother, her grandmother and herself wearing a Damber Kumari Shawl in three different portraits. Her metaphors incite the culture of mass-production in contemporary times and mark the disappearing diverse textile cultures. This piece is now being displayed at the Samdani Art Foundation, in Dhaka.
"When we talk about the afterlife of artworks, I think we also have to see how the artworks live in the experiences of people," she says. "I don't want people to believe that art lives only in the objects they are portrayed in."
And perhaps, therefore, Rajbhandari's work still remains fresh in people's minds; for Rajbhandari, the fate of her artwork remains in what people will remember of her work.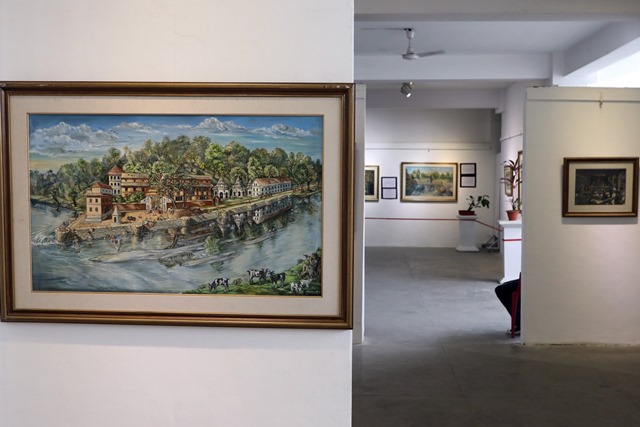 Last year at the Nepal Art Council, artist Hari Prasad Sharma displayed 45 historical paintings of different events in Nepal. Elite Joshi/TKP
But both Shrestha and Rajbhandari affirm that Nepal lacks a space where important artworks can be put up for public display. "There is, of course, a need for an art space to preserve artworks," says Rajbhandari. "But I also think such a space needs to adhere to the cultural art practices of the country. It needs to be contextual to our society, instead of being a copy of the Western museums."
A physical space for art is also important to document and trace the history of art, says Bajracharya, the arts educator. "An art museum can help trace the history of art and its trends. The space can also allow better discourses around art and can create a better art ecosystem," says Bajracharya.
Today many senior artists in the country, with the help of their family and friends, have created their own private galleries to preserve their works. Veteran artist Hari Prasad Sharma's son Bishnu Prasad Sharma has also been working on setting up a physical space at their home to safeguard his father's monumental art pieces.
Eighty-two-year-old Sharma's paintings document various timelines of Nepal's history. His paintings are intricate in their detailing and contain multiple layers about Nepal's important historical records. And while many of his paintings have already been bought by art collectors, in recent years, Sharma's son refrains from selling his works even though many have shown interest in purchasing them. He believes his father's work in time have become a heritage of its own.
"We would love to have his works displayed in a public art museum, however, there is no space in Nepal that take cares of artworks," says Bishnu Prasad Sharma.
His father still visits his old works and spends time cleaning them. "He doesn't paint anymore because of his age. But sometimes he himself is in awe, about the work he did in the past and tells me, 'I don't know how I was able to paint them'," says Sharma. "I want my father's work to live on, but there is no appropriate space for that yet in the city."
But as conversations around art gain more momentum, the life of art itself is also an important discussion that needs to happen say, artists and curators. "Artists have been preserving their work with their personal effort," says Bajracharya. "But, yes, for more discourses around art, we need to question on the art's longevity and its afterlife."
---
---