Shining on the silver screen
Bipin Karki talks about his theatre background, ten years in the film industry and upcoming film 'Ek Bhagavad Gita'.

Post File Photo
bookmark
Published at : September 4, 2023
Updated at : September 16, 2023 11:30
Kathmandu
Bipin Karki is one of the most recognisable names in the Nepali film industry. Lauded for his versatility as an actor, he has received the Kamana Awards for 'Best actor in a negative role' for 'Pashupati Prasad' (2016), and 'Best actor in a leading role (male)' for the 2018 movie 'Jatra'. These are just some of the awards the actor has bagged over the years.

Karki's foray into the world of acting began in 2005 when he enrolled in acting classes at Gurukul Theatre. He had been doing stage plays with his brother Arjun Karki for some time, having discovered his passion for theatre and acting during his teenage years. He first visited Gurukul to watch a play. Impressed by the play, he applied for a scholarship to learn acting and began his classes upon receiving it. While training, he also landed a job as a theatre technician there. Although uncertain about his career path, he was sure of his desire to work in an industry that would utilise his acting talents. And thus, Karki began acting in theatre plays.
A couple years later, and he also started doing movies. One of his first memorable roles was in the 2012 movie 'Loot' as a gangster. His role in 'Chadke', which was released the following year, earned him recognition among movie lovers and critics alike. However, it was his role as 'Bhasmey Don' in 'Pashupati Prasad' that catapulted him to the spotlight and made him a household name. Even today—a decade after the movie's release—people remember him as 'Bhasmey Don' before any of the other characters he has played. Karki considers this role as a turning point that defined his career path.
Ever the performer, Karki says he is still on the path to showcasing his talents and connecting with his audience through his performances. He understands that being an actor or working in the film industry is not just about looking good and having a grandiose persona. While one could argue that those are also needed, Karki wants to gain public recognition through his performances alone.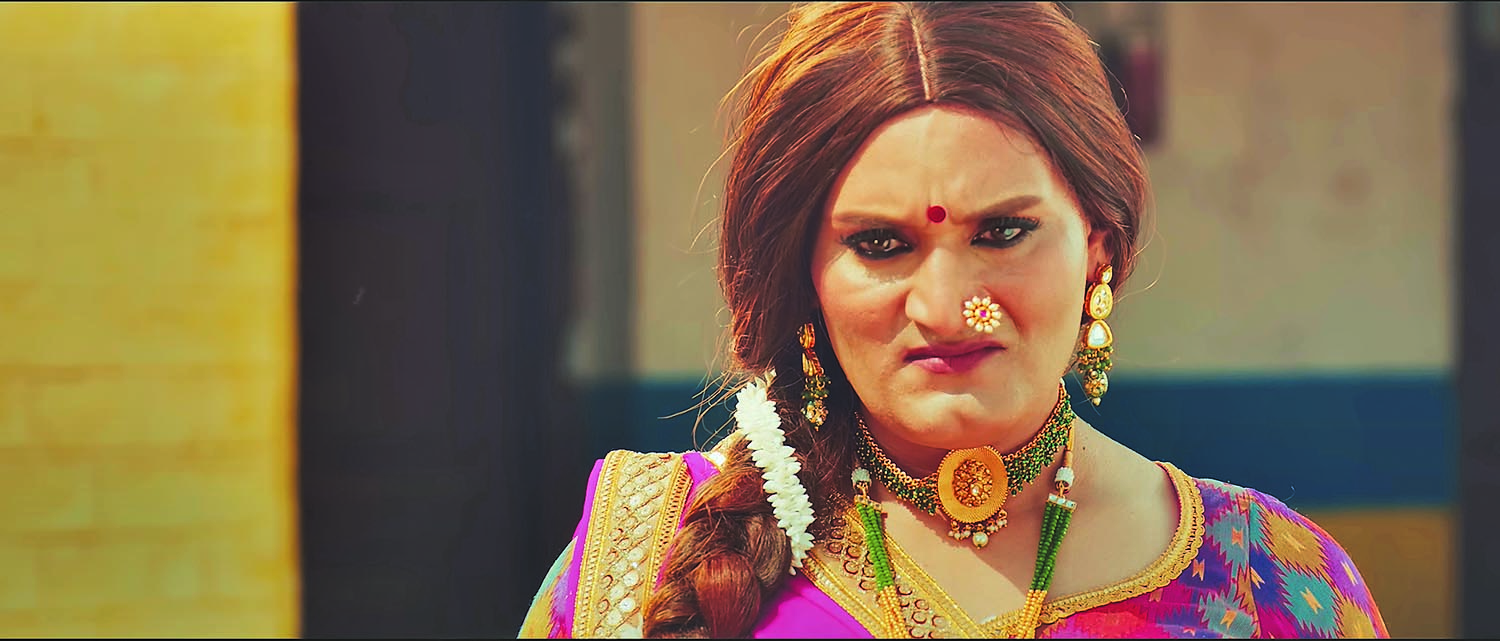 Karki in a still from 'Ek Bhagavad Gita'. Screengrab from YouTube
Known within the industry for his discerning choices and occasional hiatuses between films, Karki dismisses the notion of being 'picky'. In his view, the worth of his work and his own confidence in his performance are dictated not by him or the director but by the audience's reception of the roles he plays. To integrate successfully into the industry, one must align with the audience's expectations, says Karki, and he is keenly aware that viewers expect diversity in his roles.
"So, I change my character in every movie and strive to bring something unique to each project. If that leads people to label me as 'picky', so be it," he states with a grin.
The actor is also known for his impressive method acting. He spends weeks, if not months, learning the intricacies of his characters to prepare for his roles. For instance, in preparation for 'Pashupati Prasad', Karki spent weeks at the Pashupati aryaghat, observing and learning the way of life of the people there. Similarly, for his role in 'Kalo Pothi', he spent two months living with a Dalit family and getting to know them.
"As a method actor, I immerse myself in the persona of the character I portray in each film. My approach to the craft involves astute observation and careful examination of relevant subject matter," he says, adding that he spends a lot of time studying his roles to make sure he can portray them accurately—conveying the desired nuances—on screen. "Ultimately, my role as an actor is to educate and enlighten my audience through the art of cinema, and I take great pleasure in fulfilling this responsibility," he explains.
This unwavering dedication to his craft is evident in his recent trailer for 'Ek Bhagavad Gita'. He portrays a queer character in the film, which has garnered a buzz from viewers, amassing over 400,000 views in two days on YouTube.
In an industry where the role of a queer character is still relatively uncharted territory, Karki sought guidance from members of the Blue Diamond Society to better grasp the nuances of the character. While he may not be an authority on the subject, Karki underlines that he understands the importance of authentic portrayals of queer characters in mainstream media, both for accuracy and audience understanding. He shares that he has tried his hardest to do so through 'Ek Bhagavad Gita'.
Considering his commitment to authentic portrayals of characters, some may wonder why Karki, a straight man, choose to play the role of a queer character in the film. When questioned about this, he responded, "I can sum it up in just five words: Because I am an actor."
Directed by Jharana Thapa, 'Ek Bhagavad Gita', which also stars Suhana Thapa and Dhiraj Magar, releases on September 15.
---
---