The Karma as a film is unredeemable. And Paramita could do better
The Post's film critic writes an open letter to actress Paramita RL Rana after watching her latest film 'The Karma'.

A scene from the movie The Karma. Screengrab via YouTube
bookmark
Published at : February 8, 2020
Updated at : February 8, 2020 21:05
Editor's note: This review contains spoilers. Please read at your own risk.
Dear Pam,
I write film reviews and this week it was your film I was set to review. I usually watch Nepali films over the weekend, take notes whilst in the theatre, prepare multiple drafts over the following week, and submit the piece to my editors before Friday to publish on Saturday. That way, I can write a detailed review without hampering the film's business.
While working on the second draft of my review for your new film, I realised I didn't have a single good thing to say. And, honestly, The Karma is probably the worst film I've watched in recent times. Now this put me in a tight spot: what would I write? That the film is a waste of time and an insult to the audiences? Or you should only recommend this film if you want to torture someone?
The film is unredeemable. But Pam, you, I believe, can do better and hence this letter.
You see, I was introduced to your social media by my niece around five years ago. She was 16 then, and apparently you were nice to her. You followed her back on Instagram. You weren't doing films then; you were a fashion model but steadily gaining popularity on social media.
I learned that teenagers find you beautiful and talented, and that you have this persona that makes them feel like they have a personal connection to you. Now, to be honest, back then, I didn't really understand why someone would exhibit their daily affairs on social media and neither did I understand why someone would care to watch. But my niece taught me how you were bravely following your passion, regardless of what people like me thought of it.
Then I understood how in a society like ours, where girls are taught to follow rules and are constantly being told what they can and can't do, you living life on your terms was empowering to young girls. With time, I learned that you had immense power to steer online conversations. I also understood that you're working in this age of social media where you get instant love and immense hate at the same time. And you have to be strong enough in the head to deal with both. For me, this is a virtue to learn in the social media atmosphere. This virtue is exemplary, especially for your followers—young impressionable teenagers like my niece.
But then, you also do films, and somehow the characters you choose are major disappointments. I've watched two other films of yours: Changa Chet (2018), where you play a trophy for one of the male characters, and A man from Kathmandu (2019) from which I remember a dialogue of yours where you ask if the male character is rich. Both the roles in your previous films are utterly regressive and unfit for the kind of person your followers believe you to be. In this film, The Karma, you play Ambika Devi. Here's how I've understood your film's story and characters.
Ambika Devi is the second wife of a dead feudal lord. She likes to spend her time reading books and donating things to the villagers. She has two subordinates—Pratap, played by Buddhi Tamang, and an unnamed character played by the director, Dev Kumar Shrestha. All of them live in the same house and both men lust over Ambika. She also has a step-daughter Nisha (Sangita Napit) who is the object of desire for Bijay, played by Jay Raj Roy, also the writer and producer for the film. There are other producers in the film, but I'm going to assume he's the most important because the screen literally pauses for longer when his name appears.
The film begins with Bachan, played by Karan Varma, who has trouble speaking Nepali and therefore very conveniently he is said to live in India. He comes to Nepal to find his missing sister, but runs into a group of women Ninja revolutionaries whose leader is played by Neeta Dhungana. The two worlds meet in the film when the Ninja women kill one of Ambika's servants.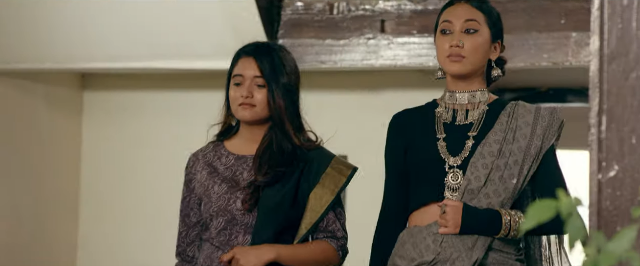 Screengrab via YouTube
As convoluted as the story sounds Pam, your character is even worse. In the beginning of the film, Ambika is a victim. Violence troubles Ambika and she's seen deeply disturbed at the sight of a murdered servant. She needs to sleep off her torture. When she lies down, Pratap stays close to her, and ogles at her bosom. This shot can also be seen in the awful trailer. In another scene, when Ambika is in her room and straightening her saree, Pratap comments on her appearance, after which she calls herself a bird trapped in a cage.
However, before the end, we learn that Ambika is actually playing the victim card. She is an evil seductress who has been working with Pratap this whole time. I was baffled, but not in a good way because we are never provided with a justification of the character flip. Multiple times Ambika is shown reading the same book. Maybe the answers were in that book? Or maybe the makers wanted to prove to us that Ambika is a reader? Who knows. There are too many potholes and inconsistencies in the film to write in one single letter, Pam.
To give the filmmakers some credit, I felt like I understood their intention of adhering to a certain theme in the film. The film is about the rich versus poor in a village. This is a universal theme which is also explored in the recent South Korean Oscar nominated film Parasite, by Bong Joon Ho, which I recommend you watch if you haven't already. While Parasite uses visual metaphors, depth in screenplay and characters to convey the same theme, your film is a badly done '80s Bollywood cliché. The screenplay is lame, convoluted, and stereotypical at the same time. As an actor, it is imperative to have script sense, Pam. And by the looks of your filmography, you desperately need a script reader who can tell you the right script from the wrong ones.
I can understand why Buddhi Tamang and Neeta Dhungana did this project. They've gained a reputation of doing any project offered to them. And also, I'm sure it's a steady paycheck. And I respect the fact that this is the only thing they know how to do. But I don't know why you chose to do this film. Why is a contemporary social media influencer, who has such inspiring and progressive messaging in her captions, in this awful film, despite all the obvious red flags?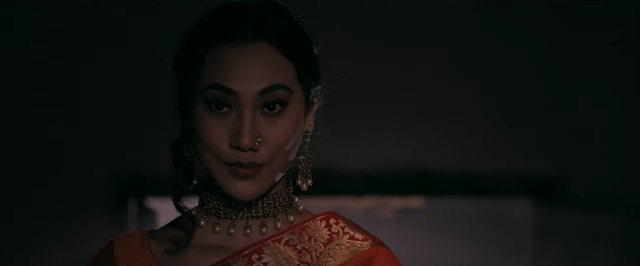 Screengrab via YouTube
And there are multiple red flags. During script reading: Multiple rhyming dialogues in the script. During acting workshop: The lip-sync song 'Bazaar Lagya Cha, Jawani Ko Bazaar Lagya Cha' which literally translates to youth is for sale here. A more obvious red flag was your co-actor Jay Raj Roy, who conceived the story and invested the money to act in a film, and everyone else participated. Another red flag should've been Rameshwor Karki's cinematography where slow motion shots don't really match with the action sequences. And Dev Kumar Shrestha's directing should've been a major red flag too. His actors are either performing too loudly or really quietly. While Neeta Dhungana and Buddhi Tamang were over-performing, other co-stars, like Roy and Verma, weren't even able to deliver dialogues. And you Pam, it felt like you played the whole role with a single expression on your face.

Why did you do this role? Was it because Ambika came from wealth and privilege and you could relate to her? Was it the lure of playing a villainous character—no matter how underdeveloped and one dimensional she was? Or was it because you got to perform a matrix flip to dodge a hurled earthen pot? Or was it because the makers gave you your own stylist? Mahima Uday Sunder has made you look the part, but dear Pam, unlike Instagram, films are not still photos and looks are never enough to sustain a character.
Now Pam, you can either take this criticism or you can defend your actions and that's completely your choice to make but you can't get away with doing such dumb roles, not for long. The young audiences who come to see you are smart and through the very phone they use to like your posts on social media, they are also able to watch world cinema. Your glamorous lifestyle and photos might be freely accessible but they have to pay for the tickets and you can't fool them.
Film: The Karma
Starring: Paramita RL Rana, Neeta Dhungana, Buddhi Tamang
Director: Dev Kumar Shrestha
Stars: 0.5 out of 5
---
---