A day in the life of music videos' unsung heroes
Extras face long days, sporadic work and a whole lot of waiting too—but they do it for the love of it.

Ganesh 'Jerry' Bhandari makes a TikTok video with fellow chorus members. Ankit Khadgi/ TKP
bookmark
Published at : January 28, 2020
Updated at : January 29, 2020 08:05
Kathmandu
Seeing Pushpa Gurung in her costume, a mini skirt and shirt, I'm wondering how she's going to fare on this wintery morning. It's 7:30am, and I'm longing for the warmth of my bed.
"Won't you feel cold in this outfit?" I ask.
Gurung has been a chorus dancer for two years, so replies matter of factly: "Well, this is how I am supposed to look for my role today."
At Baneshwor Multiple Campus in Shantinagar, 19-year-old Gurung is part of a troupe of back-up dancers playing students for a music video. Put together by Hari Adhikari, the group has performed in several music videos and movie songs.
As her outfit is ready, she says it's time for the group to apply makeup. Just opposite them, the female lead is also getting ready with a separate makeup artist, who carefully adorns her face. Gurung starts swiftly applying a light touch up to her face—she understands they need to look subtle, as they are playing college students.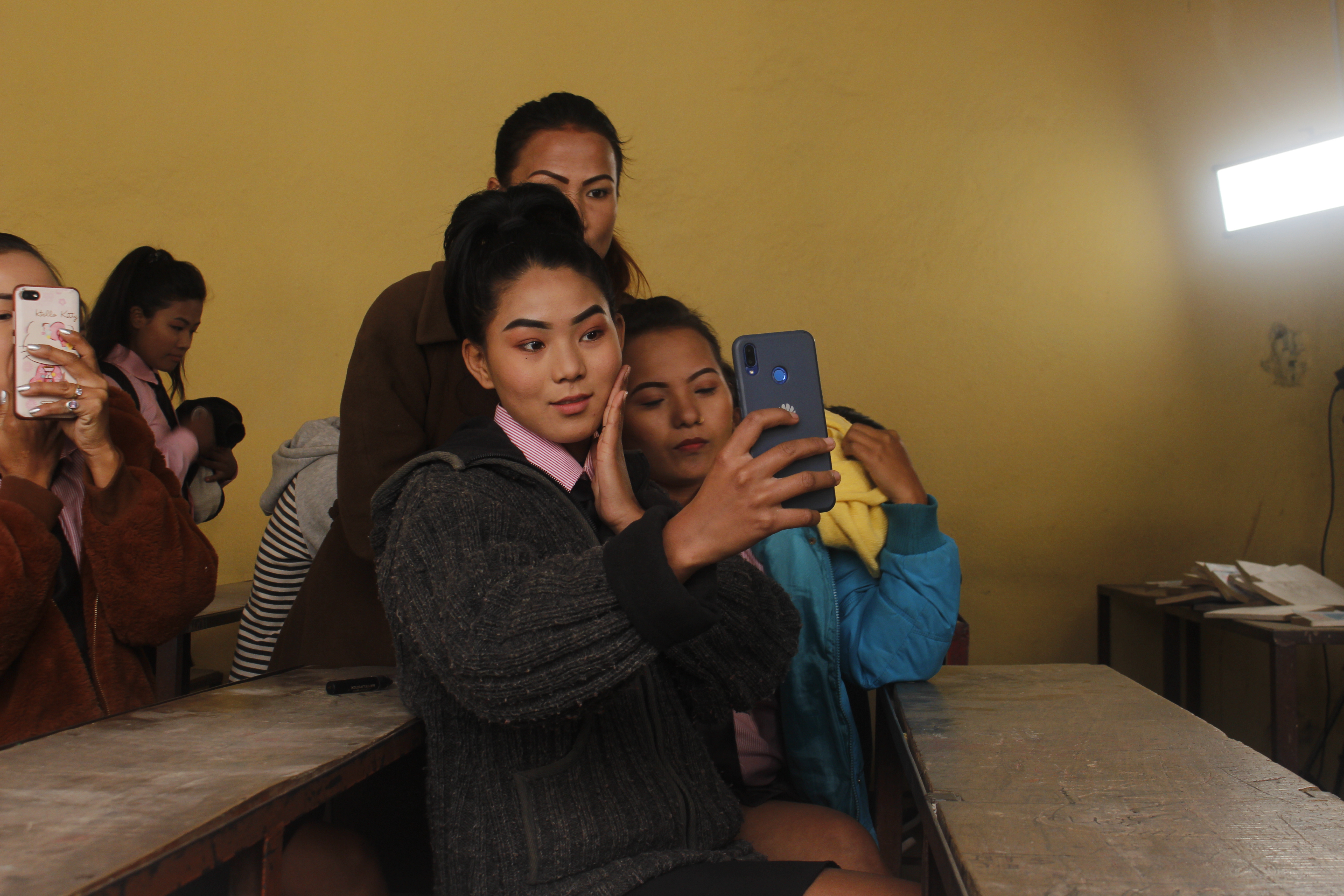 Pushpa Gurung takes a selfie with her fellow chorus dancer friends during a break in filming. Ankit Khadgi/ TKP
When she's almost done with her makeup, a helper offers tea to her and others. She offers me tea before she helps herself to some. It's perfect for the cold weather.
"I like this group because we are constantly provided with food and snacks," says Gurung.
Having worked with her current troupe for a year, Gurung's call times for shoots depend on how many assignments manager Adhikari can secure. Sometimes they shoot on a daily basis, sometimes every three or four days. At times, the shoots can last for 36 hours. Despite the sporadicity and intensity of the shoots, Gurung finds her job rewarding.
"I always loved dancing, so I joined this industry to follow my passion," she says.
Just as we are starting our conversation, Adhikari kicks the troupe into gear—everyone needs to be ready. Gurung promises to catch up with me later, and rushes to change her costume.
The surroundings are an unfamiliar sight for most, behind the scenes of glitzy music videos. In the distance is a group of men, who would be the male dance troupe for the day. One of them, as boisterous as his dyed hair, is filming himself—it looks like it could be for a TikTok video.
Then there's the director, who seems to be rushing to complete the shoot by day's end. When he sees the boy filming, he starts saying 'Jerry!' rather sternly.
"I am making a TikTok video. Wait a minute," Jerry yells back. "I will do their makeup after I am done with my video."
TikToking over, he catches me staring at him. The embarrassment of being caught leaves me awkward. He smiles.
"I am Ganesh Bhandari. But you can call me Jerry," he says.
He is a fascinating personality, and doesn't take long to reveal why he's in the business. "I always wanted to become an actor. I decided to work as a chorus dancer so I can be on the movie set and learn," replies the Butwal native.
However the journey hasn't been easy for the 20-year-old, who says it was initially difficult to land a proper job. But for him all of the struggles are life-lessons, and he's since been in the business for two years. "My struggles are worth it because it is making me a stronger person," he says.
The male chorus dancers are also told to wear makeup, and Jerry's in charge. He quickly goes away and tends to the line of men awaiting their facial touch-ups. He applies a layer of foundation, like a painter with his canvas, then does his own before unabashedly staring at himself in the mirror. He does so for a while, a clear sign of vanity which most actors have, before being called to set along with the other dancers.
One by one, the chorus dancers fill the room—it looks exactly like what we expect a government school classroom to look like—before the leads turn up. While the female lead seems confident, her counterpart's nervous face is rather alarming.
Gurung is sitting on the first bench just next to the female lead; Jerry is placed behind the male lead.
Chorus dancers applying their own makeup before their scene. Ankit Khadgi/ TKP
The first scene seems a Bollywood cliche: two love-struck teens exchange letters in class, while the chorus dancers are told to be rambunctious in the background. While it seems to be an easy shoot, it takes forever to film. The chorus dancers are fine but the male lead can't catch the beat.
Gurung is sitting next to the female lead on the first bench, and remains 'studious' amongst the rabble. She starts writing in her book like there's no tomorrow. Even without direction, Gurung knows what to do.
Jerry, on the other hand, embodies what the back benchers are expected to do—make noise and disturb others. His performance seems both raw and real even though the spotlight is on the actor in front of him.
The director finally gets what he wants and moves on to the dance scene. He is also the choreographer for the video, and shows the steps. While most catch on quickly, the male lead continues to struggle. Both Gurung and Jerry dance pretty well.
The female lead's mother is sitting next to me as I watch. We exchange smiles and she asks what I'm doing on set. When I tell her I'm writing an article, she opens her phone and shows the pictures of her daughter's achievements and experiences. It's nice seeing a mother promoting her daughter, but I can't muster the courage to say the story's not about her daughter. It's about the people supporting her.
The male actor nails it after a few takes, just in time for breakfast, and the chorus runs outside for the first meal of the day. While cold noodles aren't the most appealing meal in cold weather, Gurung and Jerry make a tepid plate of WaiWai feel warm.
I ask them how it feels to meet popular actors in real life.
"Most of them are friendly. They make us feel comfortable and are respectful,"says Gurung, adding that Barsha Raut and Aanchal Sharma were two of her favourites to work with.
However for Jerry, it's all about Najir Hussain. Hussain, unlike his contemporaries, hails from a small town and made his name in Nepal's industry on his own. Jerry finds Hussain so inspiring, the man is his phone's wallpaper. Ranveer Singh is another inspiration for Jerry, both personality- and acting-wise, he says.
Ganesh 'Jerry' Bhandari stands in class, as seen through the director's viewfinder. Ankit Khadgi/ TKP
The set is like school in more ways than one—breakfast is brief and the chorus is called back to class rather quickly, for the next scene. Chorus dancers take centre stage, and make quick work of it—just a few takes and they're done. Scene over, with breakfast still digesting, it's apparently time for lunch. One by one crew members, including the dancers and leads, stand in line for food. With the costumes they are wearing it feels like they are like the real students of the school where we are filming. Dal-bhat and masu is on the menu, and I join my breakfast buddies once more, who reveal what they want their future to look like.
Gurung seems unsure whether she wants to be in the spotlight as a lead performer, but Jerry is certain he wants the limelight.
"I feel I was born to act. It will take time, but I think I will make it," he says, with a not-yet-seen seriousness. He's even planning to join theatre soon, to learn and improve his acting.
But he knows there's one hurdle he'll have to deal within the Nepali movie industry.
"I have been told if I don't have contacts or a strong network I won't make it," says Jerry, who believes talent can take a backseat to good connections. "Someone's son or daughter easily gets the opportunity to dance as a lead for music videos. But directors, even the producers, don't keep an eye on us."
While the chorus is trustworthy and efficient, the leads are always given priority—but do they, as chorus members, get treated any differently?
"We aren't treated with disrespect, but sometimes directors yell at us when they can't release their anger on the leads who aren't performing to expectations," says Gurung.
The one thing keeping Gurung and Jerry continuing their careers as chorus dancers is hope for the future.
"The journey is difficult. But hopefully one day I will be getting good opportunities," says Jerry.
Lunch is soon over and the chorus is called to set once more. I resume my meal, which was ignored during conversation, and catch up with them an hour later. They say they have to change outfits for the next scene—a basketball match, where they aren't dancing at all. They're just standing behind their leads, hands on hips. The director asks the female lead if she can spin the basketball on one finger, but she can't, just before technical issues halt production. As the crew fixes the problem, in the distance I see Gurung. She's effortlessly spinning the ball on her finger—I think to myself, was she the lead the director was looking for?
It's almost six, and I ready myself to leave. For Gurung and Jerry, and the rest of the crew and cast, the day is far from over. They could be here until midnight.
As I say my goodbyes and walk to the bus station admiring their energy, they don't look tired, despite having been shooting all day. A few minutes later, my bus arrives, and I sit behind a woman watching a famous Nepali song on her phone.
Rather than noticing the lead, my eyes goes in search of the chorus dancers. I wonder if I can find a familiar face, one that the lady probably won't notice. I wonder whether I might see Gurung or Jerry out front one day.
---
---