Younger generation is ditching network TV for better shows on streaming services
Nepali TV needs to reinvent itself and come up with quality content to bring viewers back, producers and cable operators say.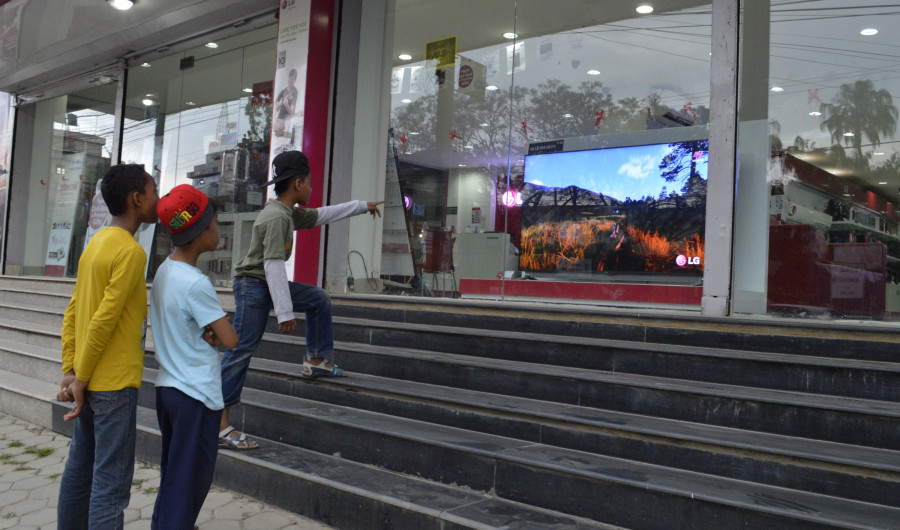 Children watching TV displayed at a showroom in Jawalakhel, Lalitpur. Surbindra Kumar Pun/TKP
bookmark
Published at : December 15, 2019
Updated at : December 15, 2019 07:42
Kathmandu
For Ramesh Prasad Aryal, the 8pm news on Nepal Television is a daily fix. The 74-year-old retired businessman has maintained the routine since the late '80s when he got his first television set.
"This is part of my life now. If I don't watch the 8pm news, I feel like my day isn't complete," says Aryal. "I do watch other shows, but the news is something I cannot miss."
For many like Aryal, watching television has been an intrinsic part of life.
Though television consumption did not change much over the 50 years since the medium came into being, despite the improvement in technology, today things are different.
For the current generation, mobile phones or laptops have many more options. The idiot box is not their cup of tea.
"In the '90s and early 2000s, our entire family would sit in a single room and watch a few shows together before going to bed," says Aryal. "That was because we only had one television set. But that seems to have changed now. While each room in our house has a TV set, the younger generation seems to be more interested in mobile phones and laptops."
Aryal's 18-year-old granddaughter Kripa agrees.
Kripa, a first-year college student, lives in the streaming era of television. "There's nothing worth watching on TV," says Kripa. "I would rather watch shows on streaming outlets like Amazon Prime and Netflix. They have far better shows to offer."
Television in Nepal has come a long way since it first made its foray into the country in the late '70s. Until the early 2000s, there was just one channel, and now there are over 50. From having to tinker with boosters and large aluminium antennae, to having setup boxes and streaming services today, television watching habits, like elsewhere in the world, have also changed in Nepal over the years.
"I do like keeping my grandfather company when he watches TV, but I just cannot handle the news," she says. "And when it comes to shows, I don't find them interesting. Anyway, Nepali shows are easily available on YouTube."
Much of Kripa's generation's major gripe about traditional channels is a lack of quality shows. That apart, they say streaming provides them the opportunity to enjoy their favourite shows whenever they want, uninterrupted.
College student and graphic designer Arun Shrestha, 23, says one can get a Netflix account in Nepal through Instagram, and this streaming platform has made him completely abandon his TV. "It's quite easy. My three friends and I have created an email for Netflix and we make online payments," says Shrestha.
One such account is Netflix Nepal, which is selling Netflix account for four screens for Rs 650 per month and Amazon Prime accounts for Rs 1,200 per year.
"Some of these are cheaper than in the United States or Europe. And you can share it with friends," says Shrestha. "Most of my friends have switched to Netflix and Amazon Prime as you can watch it on any device—they have better shows and they come without commercials."
The changing television watching habits, especially when it comes to the younger generation opting for streaming platforms, ditching the television, is a cause for concern for the channels.
Bhusan Dahal, chief executive producer of Kantipur Television, however, says rather than being disappointed, channels should take this as a challenge.
"Everything changes with time. I feel that now is the time to take this as an opportunity to reinvent ourselves," says Dahal. "I know it's not going to be easy. That's the challenge and I am relishing it."
According to Dahal, good content will always get viewers. "If we can come up with quality content, we won't lose television viewers," he says.
Alok Thapa, a producer and filmmaker, echoes Dahal.
"In this day and age, content is king. I feel we need to invest in producing quality shows," Thapa says. "If we do that, people will automatically return to television. And I believe television companies in Nepal are slowly realising this fact. They also need to move beyond reality shows."
Aman Pratap Adhikari, executive producer/director of Himalaya Roadies, though agrees that variety in content is a must, he says reality shows are popular worldwide and they attract more viewers.
"People all over the world are watching reality shows. For now it's doing well, which is why all TV channels have at least one reality show," says Adhikari. "However, that isn't going to last. This bubble will probably burst in a few years which is why we need to act now to ensure that television does not lose viewers."
Television personalities agree streaming content has taken the world by storm. But all is not lost, they say.
"Now is the time to think outside the box and connect with the audience. The best content will always make its way to the TV. I think YouTube is helping TV channels because it's creating a lot of young hungry content creators," says Dahal, who himself hosts a weekly show in the interview format which is also available on YouTube. "If we produce quality content, TV's viewership will be back."
While traditional broadcasters across the world are feeling the heat of streaming services, as more and more people are ditching cable, operators in Nepal don't see an immediate threat.
Sudhir Parajuli, president of Subisu Cable Net, an internet and cable TV provider, says traditional broadcasting is not going to be obsolete anytime soon in Nepal.
"The rate at which our subscribers are increasing is quite encouraging," says Parajuli who claims to have over 100,000 subscribers. "I think cable television will continue to be relevant for the next few decades. Parajuli, however, is quick to add that quality content is the key. "We need to focus on bringing content for those who say they have switched to streaming for the lack of good shows on TV."
---
---