The rise of the Nepali graphic novel
Nepal's publishing industry might have been in an upswing of late with a new generation of authors, and the old guard, enjoying a spike in the number of readers and in sales,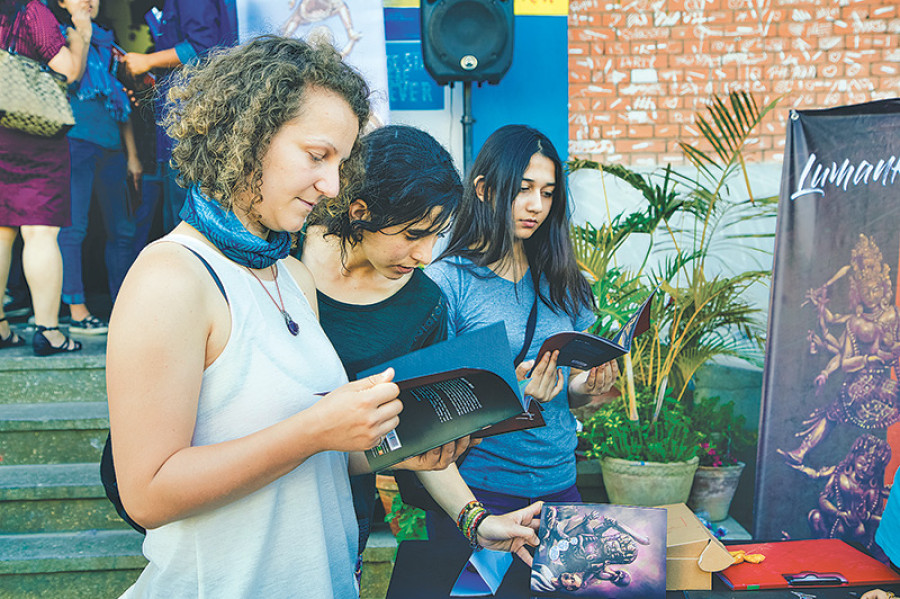 bookmark
Published at : April 13, 2017
Updated at : April 13, 2017 09:10
Kathmandu
Nepal's publishing industry might have been in an upswing of late with a new generation of authors, and the old guard, enjoying a spike in the number of readers and in sales, but by and large publications continue to remain caged within traditional mediums of storytelling. But could 2017 be the year the graphic novel finally arrived in Nepal?
According to Rishi Amatya, the author of the newly-released graphic novel Lumanka Ti, because the genre has so few mass-published books, any new addition amounts to a giant leap. Amatya collaborated with illustrator Prakash Ranjit to produce the novel, which was released on Sunday as part of the recently-concluded Kathmandu Triennale.
"If you look at the books being published, they generally cater to two types of readers," Amatya said in a conversation with The Post, "They are targeted either towards children or are for the more mature reader. If you are a young adult or someone who isn't an avid reader, the options are very limited. Graphic novels cater to this readership, while at the same time remaining a vehicle to tell meaningful and important stories."
First coined in 1964, a graphic novel refers to a novel published in a comic-strip format. The term is applied broadly and includes fiction and non-fiction but differs from a comic book because its plot is thicker and usually limited to either one or two editions. An engaging medium for storytelling, graphic novels have been behind some of the biggest pop culture cornerstones of the past decade, even though it might not be immediately obvious. The cult classic V for Vendetta and The Walking Dead, for instance, were both adapted from graphic novels.
But Nepal's history with the medium is a tad sketchier. Pramesh Sherchan, who in 2014 published limited copies of a graphic autobiography titled Once Upon a Time, credits Kripa Joshi and her endearing Ms Moti as being the path breaker for the genre in Nepal. Another author, Mrigaja Bajracharya published a novel based on the 2015 earthquake titled Adventure of the Soul. According to her, though there are just a handful of Nepali graphic novels, the popularity of Manga and anime among young adults means that the genre already has a readership base that it can tap into.
"Which is what we have tried to do with Lumanka Ti," says Amatya, "There are so many stories that need to be told, so many layers of history and culture to peel under. I see the graphic novel as a great medium to create new and experimental narratives that reconnect young adults to culture, mythology and history."
Which is why it is apt that his graphic novel is titled Lumanka Ti, which translates to 'Remember!' in Nepal Bhasa. Set in Bhaktapur in 1254 CE during the reign of Ananda Malla, the plot explores the circumstances that surrounded the first-ever recorded earthquake in Nepali history. Part historic fiction, part interpretive conjecture, the novel is author Amatya and illustrator Ranjit's attempt to explore some of the myths that were used to explain a natural calamity like an earthquake in the past. Envisioned as the first of a three-part series, each based in one of the Valley's three ancient cities, Lumanka Ti took two years to bring into fruition and is currently available for purchase on the website of its publisher, Amuse, and at Le Mantra in Jhocchen and Red Mud Cafe's outlets. It is slated to hit bookstores around town later this month.
---
---