Art on Instagram
From acrylics on tiny canvases to portraits, calendars, and journals. Here are four Nepali artists you can follow on Instagram to keep your feed interesting.

SHUTTERSTOCK
bookmark
Published at : January 29, 2023
Updated at : January 29, 2023 07:47
Kathmandu
Art is everywhere on the interwebs, but sometimes it gets difficult to know which ones to keep track of, especially with our ever busy 'For You' pages. So, to keep your doses of art alive, The Post brings you four artists you can follow on Instagram to populate your homepage with diverse and quality art.

@kalaamiiii
Richene Singh, known by her growing community as @kalaamiiii on Instagram, is a graduate from Kathmandu University with a degree in Fine Arts. For @kalaamiiii—who is currently setting up her business and studio—art is a medium to visualise and express emotions she cannot verbalise.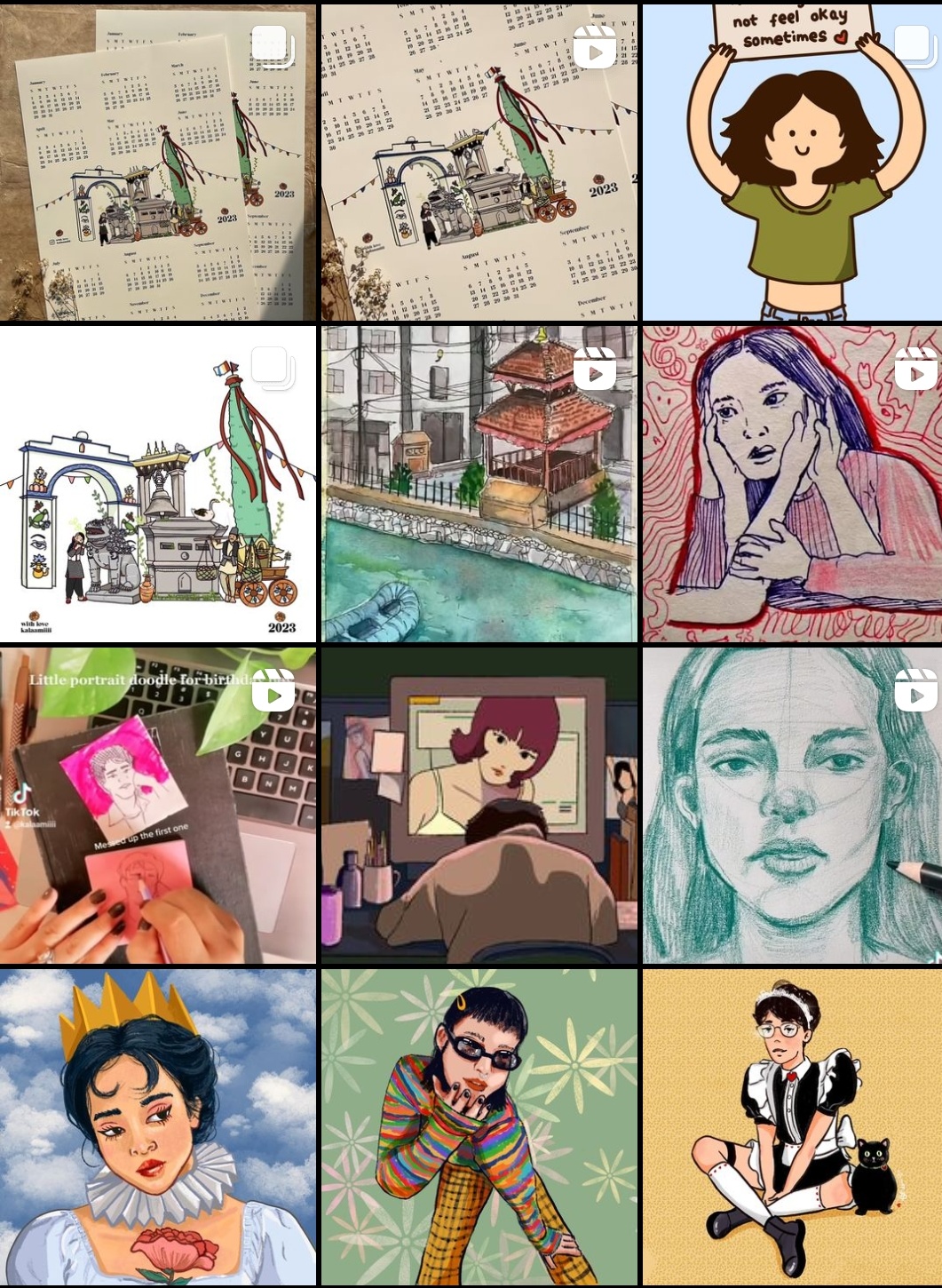 "I create artworks and use it as an idea to store memories, into the artworks, because only I am going to know how I felt while painting or creating a specific artwork at that certain situation, with my brushstrokes and my line weights," she states.
@artbyirtiqa
Irtiqa Bajracharya's art is best described as abstract yet visually striking. She uses organic subjects but adds elements of abstract design and saturated colours. Most pieces look like they're straight from lucid dreams or nightmares.
When she's not creating contemporary art with traditional elements, Bajracharya spends her time studying Psychology at Tribhuvan University.
@sanil_arts
Sanil Bishwokarma, known by a couple hundred people on the internet as @sanil_arts_, is an underdog among the underdogs. An entirely self taught artist, Bishwokarma specialises in using acrylics on miniature canvases and polaroids. He also does not shy away from running his brush along huge canvases like a guitar.
When he's not making portraits on small canvases, Bishwokarma takes his brush to pairs of converse and puts down creative ideas on shoes.
@aasthaeticsss
The line separating Pinterst and Instagram is rather thin. Aastha Pradhan's Instagram profile might as well erase that line.
Each post and carousel on the @aasthaeticsss, her profile, is dense with images of her art on journals, canvases, calendars, and everything in between. If the diversity in bases was not enough, she even makes lifestyle videos on Youtube.
"It's a visual diary where I can express my thoughts, feelings, ideas, and emotions in the form of art. I started doing it to help me with my anxiety and I think it really helps people who cannot express their feelings well," claims Pradhan.
---