Taking care of emotional hygiene
Not paying heed to our psychological well-being could lead to serious mental and physical problems.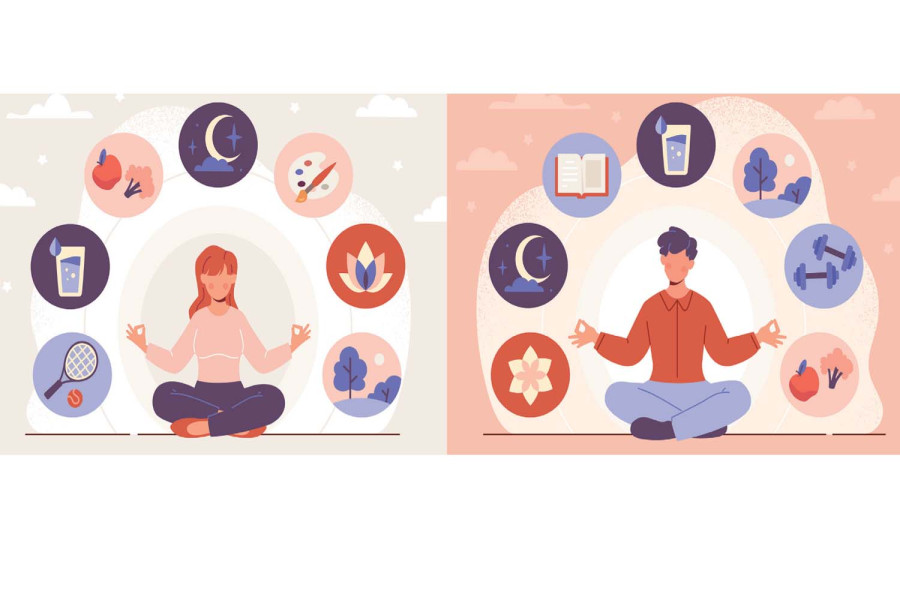 SHUTTERSTOCK
bookmark
Published at : December 20, 2022
Updated at : December 20, 2022 08:18
"Take care of yourself" or "Take care" is something we commonly hear from our loved ones when we are not feeling well. From childhood, we've known that treating wounds right away will prevent them from worsening. This is what our parents have taught us. Even five-year-olds know that if they get injured while playing, they should cover the wound with a band-aid to prevent it from getting infected. When children fall sick or get seriously wounded, parents rush them to the hospital. However, when children come from school crying because of something that had happened in their class, the typical response from elders would be, "don't cry", and the child's feelings would largely go unheard.

We all know that we must take care of our physical health, and throughout our growing years, we are reminded of this. But our mental and emotional health never gets the same level of attention. This begs the question—have our parents really taught us to maintain our emotional hygiene?
We often don't realise this, but we don't give the same level of attention to our mental well-being as we do to our physical well-being.
Can you imagine a day without taking care of your physical hygiene? Imagine going a day or two without brushing your teeth, washing your face, or not taking a shower for months. Weird, right? It feels like you are missing out on something. But just think about it. How is it that we are more concerned about our teeth than our minds? Maintaining psychological health is equally important as physical health. In fact, we undergo more emotional and psychological issues than physical ones, but we are often ignorant about them. Daily, we sustain many psychological wounds like failures, rejections, guilt, shame, doubts, and so many more, but the sad part is we hardly take the time to address these emotional wounds. It takes just as long or longer for an emotional wound to heal, and most people can attest to that, but why do we fail to address this? It is often our ignorance, but usually, it is because we don't know about this and don't know how to address the issue before it gets out of hand.
Basically, emotional hygiene is about adopting small daily habits to monitor and address our emotional wounds when we experience them so that they don't worsen. We must be mindful of our feelings and emotions and pay attention to our psychological health. Many individuals who come for therapy share the emotional wounds that they experienced, and, in most cases, anxious and depressing thoughts that they have developed over time are due to the lack of attention they give to their psychological health.
Most people suppress their emotions by saying, "I am feeling alright" or "It's nothing. It's all in my head." That's when they go wrong, and the unaddressed wounds eventually pile up, which can seriously impact us or our mental and emotional health.
We carry all our piled-up emotions with us for the longest time, and when this goes on for an extended period, it results in numerous health issues—psychological and physical. Emotional bleeding restricts us from living our best life. Therefore, emotional hygiene is necessary, and everyone should practice it, starting now. When you are not in a good state emotionally, recognise the pain. Don't let the emotional wounds accumulate. We all have emotional immune systems, and we must make sure we keep them healthy and intact.
Practising good emotional hygiene always starts with us recognising what emotional state we are in. If you are hurt, accept the fact that you are, in fact, hurt. Don't try to hide it. Ask yourself why you are feeling so. Share it with a friend. Whatever the reason is, don't ignore the pain you are going through. Yes, it can be challenging, but that is something you must come to terms with. Don't expect things to be okay on their own. Do what is possible to ease the pain. If you don't know what to do about it, don't hesitate to ask for help, be it from a counsellor, therapist, or anyone you trust.
Taking care of oneself is something that you can do. When things don't go as we had hoped, we criticise ourselves. We have this tendency to be quite harsh on ourselves. We say things like, "You're not good enough," or "You didn't give your best." But there are moments when all we need is to show ourselves some love and compassion. We can't always expect to be emotionally strong. Therefore we need to take care of ourselves in order to refuel our "emotional energy tank."
When things go south, we often focus on the negatives and develop negative thoughts, preventing us from taking the right actions to solve our emotional wounds. But during such times, you have to question yourself, "Is having these negative thoughts really helping me?" Challenge your negative thoughts so that you can find a new perspective on the situation that you are in.
These small habits that we build for our emotional hygiene take consistency. We have to practice them daily to develop emotional resilience. Just like brushing our teeth for only a day won't work to maintain good oral health, it's the same with emotional hygiene. Be mindful of your emotional health daily to prevent your emotional wounds from worsening. Start today so that there are no regrets.
Moktan is a psychosocial counsellor. She works at Happy Minds, a mental health and well-being platform.
---
---