All that glitters …
Several youth-led jewellery brands have forayed into the market with modernised traditional jewellery, once available mostly in gold, which are less expensive and more accessible to the younger generation.

Founded by sisters Lumanti Shakya and Mijala Shakya, Therapy Nepal is one of the first businesses to sell branded 24k gold plated modernised traditional jewellery. Photo Courtesy: Therapy Nepal
bookmark
Published at : December 22, 2021
Lalitpur
When Muskan Gurung was growing up in her village in Palungtar, Gorkha, her maternal grandmother, like every other woman of her age, wore gold marwaris (traditional gold hoop earrings with thorn-like designs, often worn by older women). Now 20 years old, Gurung has started wearing gold-plated marwaris, too.

"It was my maternal grandmother who introduced me to marwari, and I have always liked the jewellery's design. But back in those days, marwaris were only made using pure gold, making the jewellery very expensive. But a few months ago, I came across a social media page of a jewellery company that sold gold-plated marwaris in various sizes. I immediately purchased a pair, and I have been wearing them since," says Muskan Gurung. "Unlike my grandmother's marwari, the pair of marwari that I own has hooks as fasteners. This fastening mechanism makes it much more convenient to wear the marwari."
In the last few years, several jewellery companies have started making modernised traditional jewellery designs, which were once made exclusively in pure gold, using a wide range of less expensive metals, making such jewellery more accessible to the youth. These companies have also been incorporating subtle modern design elements into their traditional jewellery designs.
Maya Handicrafts, a popular online jewellery store, has been making modernised traditional silver jewellery for the last four years. The idea of starting the business came to the store's founder Yasmin Shakya when she started visiting her in-laws' gold jewellery business.
"My in-laws sell traditional gold jewellery, and seeing those intricate designs got me interested," says Yasmin. "But since they were all in gold, the jewellery were quite expensive, and I thought, why not start a modernised traditional silver jewellery business so that even youngsters can purchase them as well."
Initially, Yasmin started selling her jewellery at carnivals that promoted local brands. In 2017, buoyed by positive customer responses, Yasmin and her husband Sameer Shakya opened Maya Handicrafts' first physical store and also created social media pages for the brand.
"All our modernised traditional jewellery are handcrafted and made in Nepal," says 30-year-old Yasmin. "And our clientele base is predominantly young Nepali women."
The store's wide-ranging collection includes tilhari (traditionally worn by married women), golo bala, pauju, etc. The store has also added its own unique subtle design touches to these traditional designs, making the accessories unique from its competitors.
"Our online presence has helped us a lot in promoting our products. Many people who come to our store do so after visiting our social media pages," says Yasmin.
Another recent entrant to the scene is Therapy Nepal. The company, started by Lumanti Shakya and her younger sister, Mijala Shakya, says that it is one of the first to sell branded 24k gold plated modernised traditional jewellery.
"In 2018, when hoops were trending internationally, there weren't high-quality hoops available in the local market. The ones available here would easily corrode after wearing just a few times. Sensing a business opportunity, we decided to make contemporary hoops with a local touch, and that is how we started," says 29-year-old Lumanti.
The first batch of accessories launched by Therapy Nepal included twisted hoops (inspired by beruwa (twisted) bangles), coin necklace (inspired by coin rings), and horizon necklace (inspired by the rectangular pendant popular among Nepali mothers around two decades ago).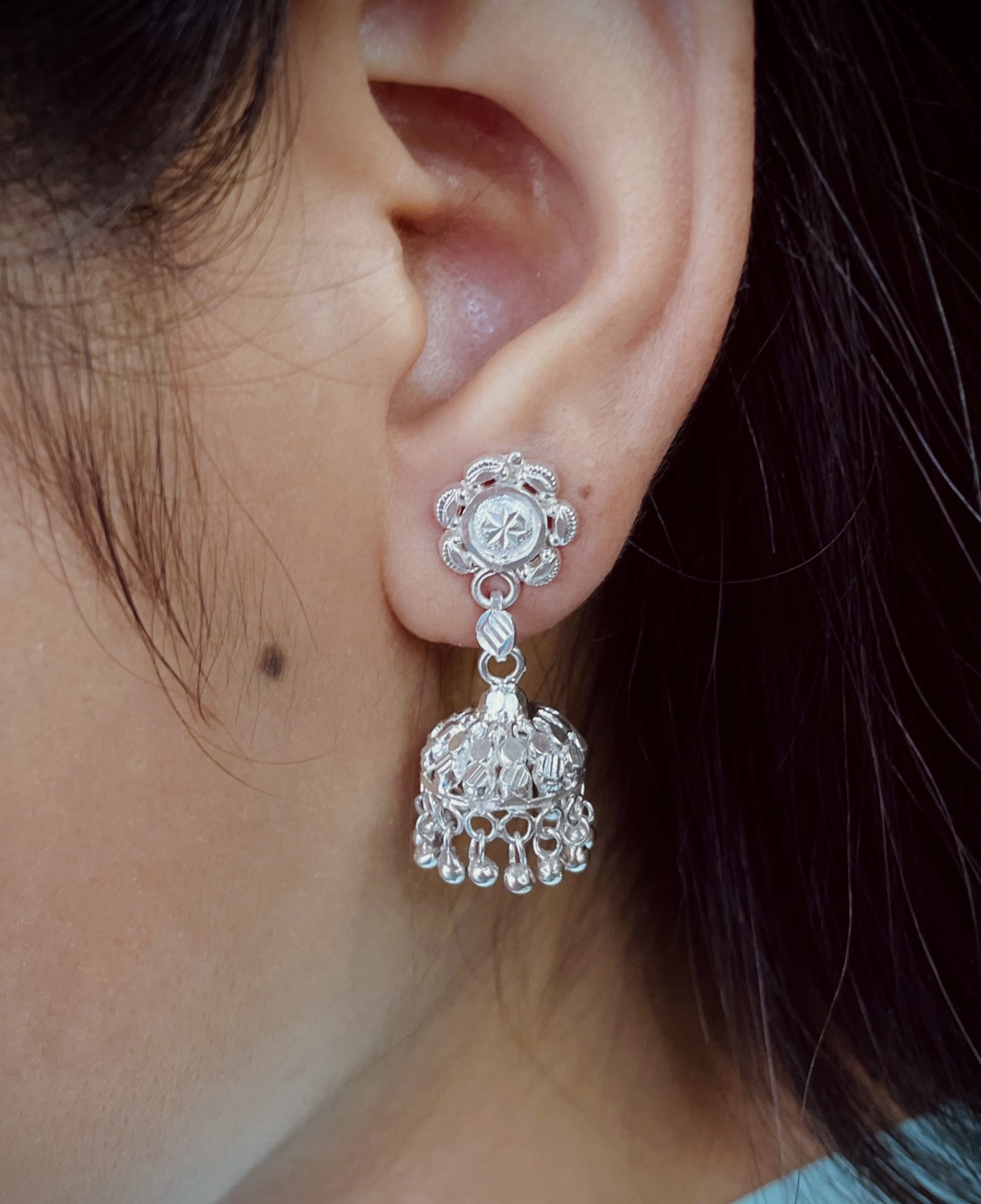 Started in 2020, Matina Jewelleries specialises in modernised traditional silver jewellery. Photo Courtesy: Monisha Shakya
"I didn't study jewellery designing, or anything remotely close to it. But when I was studying in Europe, I would often sell curated collections of minimalistic and simple accessories to earn some pocket money, which I used to fund my travels. That experience gave my sister and me the confidence to start our own Nepali jewellery brand," says Lumanti.
Even though Therapy Nepal sells contemporary jewellery designs, the best selling products, says Lumanti, are modernised traditional jewellery.
"I think the reason for the popularity of modernised traditional jewellery has got to do with the nostalgia that accompanies it. Many of us have seen our grandmothers and mothers wearing these traditional designs, and by choosing to wear these designs, I think, is our way of owning our roots," she says.
It is not just Kathmandu where businesses selling branded modernised traditional jewellery are located. Last year, Monisha Shakya, a Dharan-based entrepreneur, started her online business Matina Jewelleries. Her store makes and sells modernised traditional silver jewellery.
Monisha's family is into the gold jewellery business. When the last year's lockdown forced her family to close its business, Monisha decided to start her own enterprise focusing on selling contemporary and modernised traditional silver jewellery.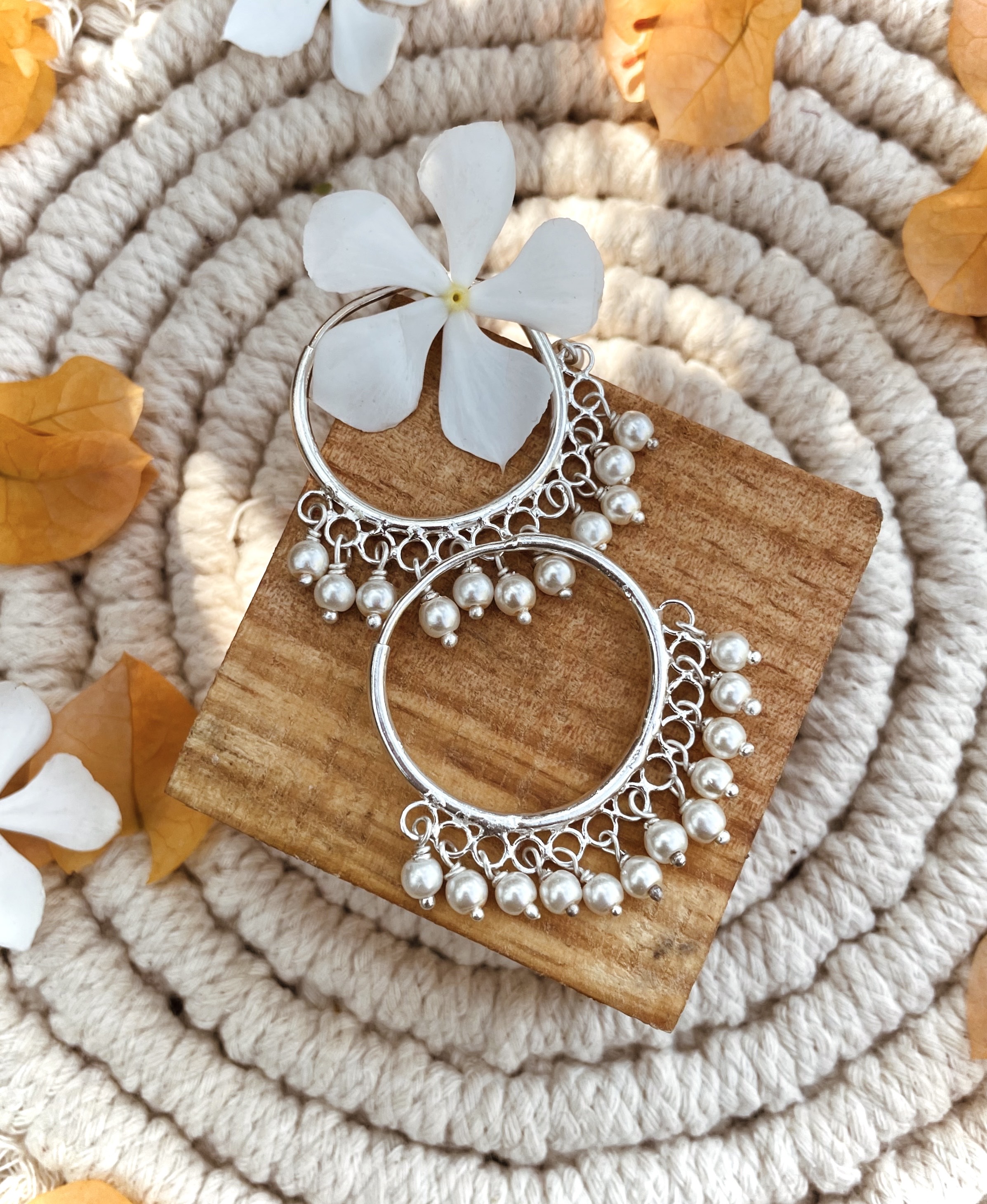 Photo Courtesy: Monisha Shakya
"Given how high gold prices are, most youngsters cannot afford gold jewellery," says Monisha. "This was one of the main reasons I decided to start Matina Jewelleries and focus solely on silver jewellery."
All three jewellery brands the Post spoke to say that social media has played a huge role in helping them market their products and reach their intended target audience. According to Monisha, the Instagram page of her business receives orders from people across Nepal.
"Even though we are a Dharan-based brand, the majority of our clients placing orders on our Instagram page are from Kathmandu and Pokhara," says 24-year-old Monisha. "At a time when our youth feel strongly about owning one's identity and culture, affordable modernised traditional jewellery have provided many with one more way to make a style statement and, at the same time, flaunt their cultural and traditional roots."
---
---