A day in the life of a veteran pastry chef
After spending four decades working in Nepal, the Middle East, and Europe, seasoned pastry chef Chhabi Lal Gurung now has his eyes set on creating his own legacy with Chhabi Bakes.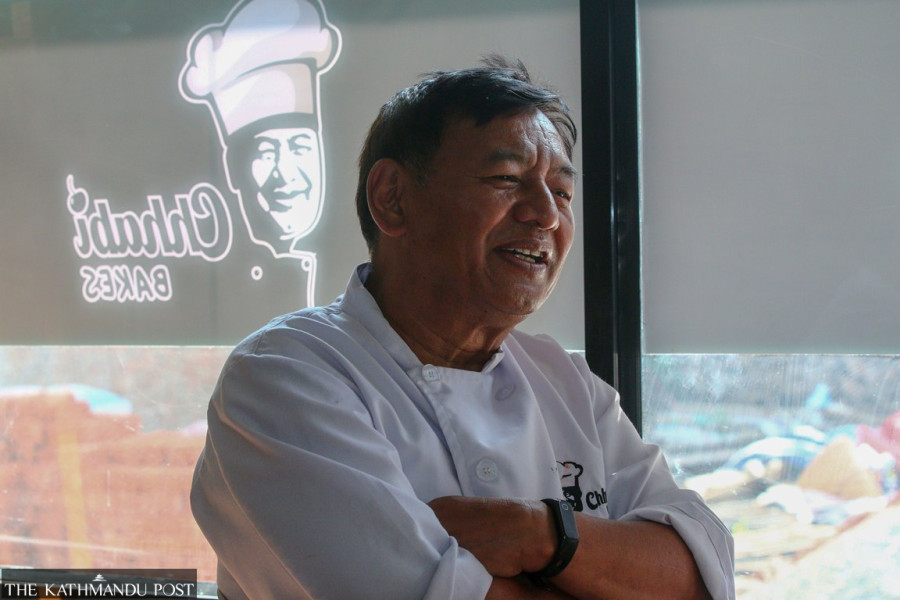 Chhabi Lal Gurung is the face of Chhabi Bakes. Elite Joshi/ TKP
bookmark
Published at : November 4, 2021
Updated at : November 4, 2021 07:38
When 62-year-old Chhabi Lal Gurung smiles, his eyes twinkle like stars upon a moonless sky and his face, with its many brushstrokes of wrinkles, transforms into a portrait of a life full of struggles, sacrifices, and triumphs.
One of Nepal's most prominent pastry chefs, Chhabi has dedicated more than four decades to his craft. And his zeal for his craft still hasn't abated yet. In between conversations, while he candidly shares his experiences, stories, and observations, he is ever eager to hear others' opinions. This inquisitive demeanour transcends into his culinary world, too. He is perennially in search of learning new skills, perfecting his existing ones, and a living testament to the exception of 'You can't teach an old dog new tricks.'
Situated at the northern border of Samakhusi, Chhabi Bakes opened its doors at 7:30 am on that cold morning as the sun sleepily rose into the sky. By that time, Chhabi—the director of operations at Chhabi bakes, whose smiling face adorns the logo of Chhabi Bakes—had been awake for more than three hours already. He lives in his house at Mhepi, a ten minutes walk away from Chhabi Bakes. An early riser, waking up at 4 am on most days, he is already out of his house by 5 am on his regular morning walks towards the Mhepi Ajima Temple. After breakfast and a quick shower, he makes his way towards Chhabi Bakes, ready to tackle the day's orders.
Outside the bakery, there was a lull in the air between festivities. Dashain had ended more than two weeks ago, and Tihar, with its illuminating lights and rallying songs, was on the horizon. Inside the bakery, a lone slip with an order of chocolate cake for 3 pm was fluttering on a wall in the baking area. The order slips that dictate the day's routine were scant today.
Sensing a leisurely day ahead, he switched on a computer beside the sales counter and opened YouTube, his eyes instinctively focused on the countless baking videos on the homepage. He settled on a YouTube video demonstrating how to create decorative flowers from melted chocolate. As a pair of gloved hands instructed the steps, Chhabi's brows scrunched in concentration, and he remarked, "So that's how it's done. That doesn't look difficult."
It would not be amiss to call baking the love of Chhabi's life. But it was also not love at first sight. Chhabi hails from a small village in Tanahun, Gandaki. His grandfather and father served in the British Army, and his maternal uncle was in the Indian army. It seemed inevitable for Chhabi to pursue that same ancestral path.
"There was no question about not becoming a Gurkha. There were already prospective marriage proposals before I had even gone for the recruitment exams," said a gleeful Chhabi.
However, his Gurkha dream wasn't meant to be. His determination, pride, and hope were dashed when he failed a medical exam for enlistment as he had colour blindness. Forcefully led astray from his ancestral path, Chhabi was completely disillusioned and dejected for a few months. However, fate had other plans in store for him, he says. In 1982, he applied for a training course at Hotel Management and Tourism Training Centre (HMTCC) at Ravi Bhawan, Kathmandu.
"I wasn't even interested in food at that time. My friends were applying, and I was also swept up by the peer pressure to apply. I don't know how I got selected, but that's how my culinary journey began," he said.
Over the next four decades, he would go on to work or train at reputed hotels and bakeries in Nepal, Bahrain, Germany, the UK, and UAE. Reminiscing on the bygone days, his cheerful temperament changes. "When I first started in this food industry in the early 1980s, it was a completely different scene. There were only a few hotels and even fewer chefs in Nepal," he said with a sullen face. "Chefs wouldn't let new trainees, like me, learn essential cooking skills like them. They would be secretive about their recipes and there was no culture of knowledge sharing."
Those days there was a lot of fear about foreign employment, he says. In a time when information travelled slowly, from one ear to another, countries in the Middle East were thought to have strict working conditions for Nepalis. However, in 1985, Chhabi took a gamble and went to work at Holiday Inn, Bahrain. And that gamble made all the difference, he says. He worked for various other hotels in Bahrain and UAE for eight years before being promoted to Assistant Pastry Chef at Intercontinental Hotel, UAE.
Chhabi shares that he was inclined towards bakery and confectionery because of his aversion to fire. "Cooking is deeply integrated with fire. Chefs need to be constantly in contact with fire to cook almost all dishes. However, I really disliked working close to fire or in a hot environment," he said. "That's why I changed my cooking trajectory towards pastry as I would be able to work in a cold environment."
By 2019, he had already worked at many reputed hotels in Nepal: The Soaltee Kathmandu, Hotel Himalaya, Radisson Hotel, and Aloft Kathmandu Thamel. "I had worked at these hotels and they made their name. Now I want to make my own name, too," he said. "That's why I started 'Chhabi Bakes'. I want to leave behind a legacy."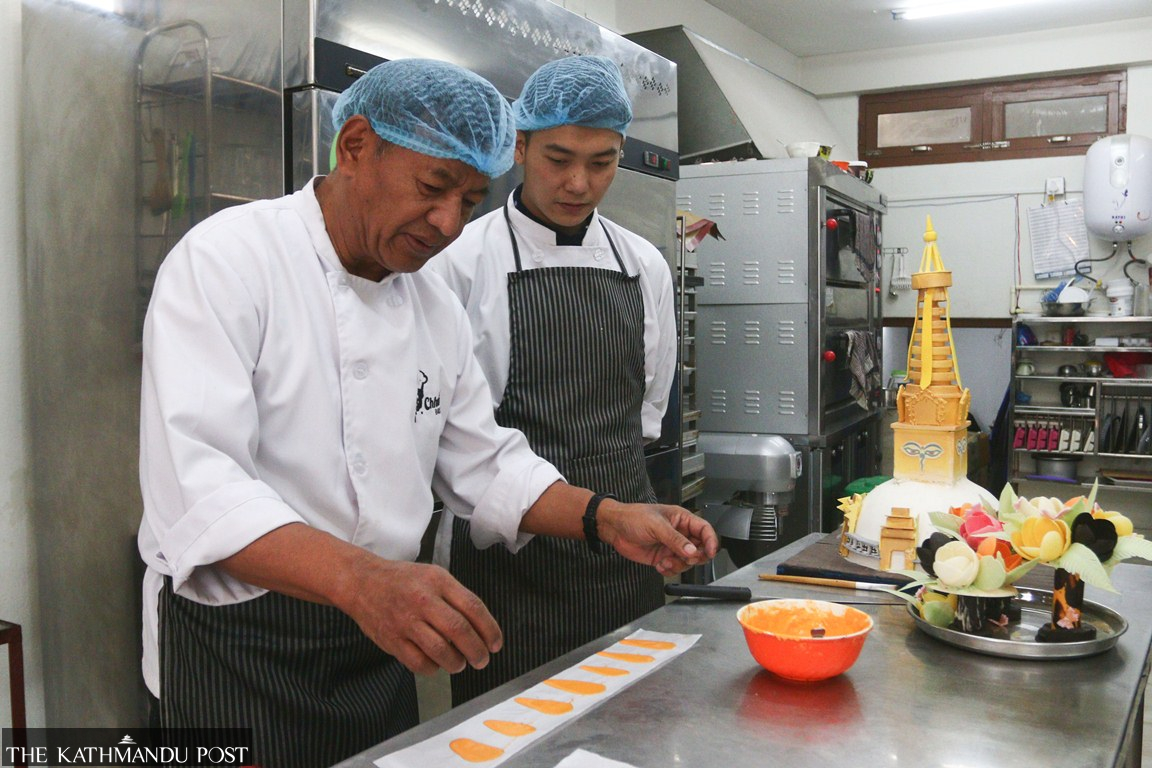 Chhabi Lal Gurung and Subash Sherchan tackle the task of creating a decorative flower using melted chocolate. Elite Joshi/ TKP
The venture started six months ago with Chhabi Gurung as Director of Operations, Khando Gurung as the President, and Niraj Shrestha as Managing Director. The other staff members, handpicked by Chhabi, consist of five people: two female chefs and three male chefs.
Back at the bakery, when Chhabi turned on the gigantic oven at the baking area, he paid respect to the oven first—his hands touched the oven then his head. In baking, chef and machine are intertwined at the seams. Subash Sherchan, who joined Chhabi Bakes since its inception, had already kneaded and shaped the bread showpieces the day before, and they were now finally being baked in the oven.
As the oven did its magic, the atmosphere in the baking area came to life and the sound of a huge dough mixer whirling endlessly drifted into the background. The bakery area functioned efficiently like different cells in a body; Each inherently conscious about its duty and responsibility. Chhabi and Sherchan worked on recreating decorative flowers from melted chocolate; Santoshi Basnet started melting different coloured chocolates; Rohit Lama prepared chocolate brownies; Sanjay Gurung started to cook vegetable and meat filling for patties. Susmita Shahi had her off day that day.
Chhabi's demeanour shifted when he started working. He fully concentrated on the work at hand. He looked as if he was lost in another world—of cakes, chocolates, and bread.
"Solti, pass me the piping bag," he said to Sherchan in the midst of his concentration as he finished preparing the chocolate flowers and started to garnish a chocolate cake.
"An old friend, an HR manager, told me how to create a competent and efficient staff," Chhabi disclosed later in the day between conversations over cakes and tea. "Teams need to have gender diversity and the atmosphere needs to be friendly instead of competitive. I do not want my staff to dread coming in to work and unconsciously look at their watches, waiting for their shift to end," he said. He aims to be a guardian, father, grandfather, employer, and teacher to his staff, he says.
All the bakery and confectionery products in Chhabi Bakes are made following the recipes that Chhabi has gathered over the years. He has collected countless recipes and kept them in six folders. Some recipes are handwritten, some are printed, and some are faded and blurry. The recipes transcend time and culture. There are Indonesian, French, Scottish, and American recipes among others; sago and jackfruit pudding, kolak pisang, black bun, chocolate nemesis (the best chocolate cake ever the recipe claims). Basnet riffled through the pages and pages of recipes to find the recipe of 'Virginia Brownie' as she started to prepare a new batch of brownies.
But the recipes aren't the only treasures of Chhabi. Over the years, he has collected multiple books on baking and pastry. "The books and resources I have gathered about baking might be worth Rs 400,000 to Rs 500,000," he speculated. "One needs to invest in one's craft to upgrade one's skills."
When the bread showpieces of Sherchan finished baking and the oven door opened, the whole baking area was engulfed in the overpowering smell of melted butter and baked goods. Chhabi and Sherchan took various pieces of bread—croissants, baguettes, pretzels, etc—to the display rack beside the seating area opposite the baking area. Soon after, Chhabi was back on the computer searching through internet pictures and forums for innovative bread showpieces from around the world.
Lunchtime was a hurried affair in Chhabi Bakes. Steamy buttered rice, lentil soup, and chicken curry were on the menu, prepared by Sanjay. Another order for a chocolate cake at 3 pm arrived along with an order for various pastries and baked goods for a cafe in Thamel. Chhabi started his lunch at 2:50 pm and by 2:55 pm he was done. In an hour, the chocolate cake was finished (the cake sponges are prepared in batches, around 9 pounds of them at a time) and the orders for the cafe were packed and delivered by Lama.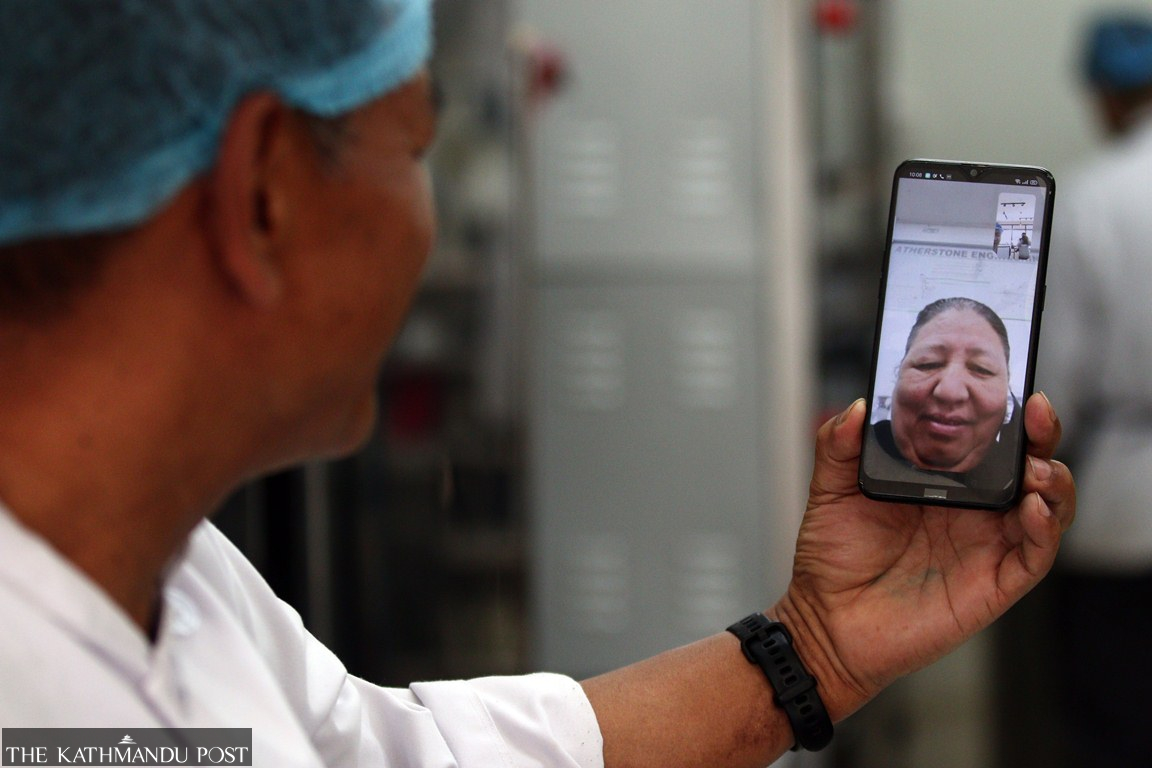 As his wife, Shova Gurung resides in the UK for now, he video calls her on most evenings. Elite Joshi/ TKP
As the day turned into evening, the customers with sweet tooth—some regulars, some new—started filing into the bakery. The most popular item on the menu right now was Paris-Brest, followed closely by the chocolate cake. Chhabi usually leaves for home at 7 pm. He lives with his elder son and daughter-in-law and his wife is currently still in the UK. On most evenings, he video calls his wife and they converse about their day.
"She was really opposed to the idea of me starting my own bakery," he said. "She would have preferred for me to retire and spend my days in comfort. But baking has been my passion for so long and I want to continue it as long as I can." He stated a motto he lives by, "You need to lose something to gain something."
Though his days aren't as hectic as the days during his youth, there is still one thing or the other to do in a bakery; doughnuts to be baked, cakes to be finished, brownies to be garnished and so on.
Chhabi's affinity for baking videos has rubbed off on the other staff members, too. Sherchan remembers watching a video of a bakery in Paris where all the decorations from the wall art to chandeliers are made from bread showpieces and excitedly searches for the video. He shared his plans for the future, "I want to open a classic bakery where only traditional wood-style cooking is used. When I open such a bakery, Chhabi chef will cut the opening ribbons. After all, a teacher should initiate a student's endeavour." Chhabi flashed his twinkling smile.
---
---