The Gurkha dream
Lack of well-paying jobs in the country still lures youths to enlist in the British Army and Singapore Police Force.

Every year, thousands of youths get enrolled in training centres to get enlisted as Gurkhas in the British Army and Singapore Police Force. Elite Joshi/TKP
bookmark
Published at : September 10, 2021
Updated at : October 15, 2021 06:32
Lalitpur
It's 5 am and 20-year-old Aashish Rai is already out of his bed and getting ready. At 15 minutes past five, he is out of his room in Satdobato and starts walking to Gurkha Victory Training Centre (GVTC) located in Dholahiti, Lalitpur.
The training centre is one of the many centres in the neighbourhood that provide training to those who aspire to get enlisted in the British Army's Brigade of Gurkhas (BA) and Gurkha Contingent of the Singapore Police Force (GCSPF).
At 6 am sharp, Rai along with dozens of youngsters, aged 16 to 21, start filing out of GVTC, all donning the centre's uniform. For the next four hours, the trainees partake in a gruelling physical workout, which includes running, weight training, pushups, and pull-ups, etc.
"In the afternoons, we have to attend English and Math classes at the centre, and that is followed by a few hours of physical workout in the evenings," says Rai. "It's definitely not easy but what keeps me going is my dream to get enlisted in the British Army."
Every year, thousands of youths from all across Nepal prepare themselves hoping to get selected for the BA and GCSPF. The BA enlists around 200 recruits from Nepal each year, and this year, the organisation will be enlisting 230 recruits while GCSPF will be enlisting 140 recruits.
Attractive salaries and perks are the major draws for many who aspire to become a Gurkha. The starting monthly salary for BA is £1,200 (approximately Rs 194,000) and GCSPF is S$1,400 (approximately Rs 122,000). Apart from attractive salaries, the two organisations also provide recruits with health insurance, paid leave, retirement pension, etc. Those enlisted in the BA get British citizenship after serving for four years, which allows soldiers to resettle their immediate family in the UK. Whereas, Singapore allows GCSPF members to live in the country during the member's service period.
Since BA and GCSPF only enlist recruits who are between the ages of 19 to 21, many aspirants start preparing in their mid-teens and dedicate years of their lives readying for the selection process. But with only a few hundred openings every year and thousands applying, the competition is immensely fierce and many, even after spending years training, fail to get selected.
Rai, who comes from a middle-class family, started preparing for the selection process as soon as he finished high school. He was 18 at the time. Last year when he turned 19, he was unable to appear for the selection process due to Covid-19. Rai, who turns 21 in a few weeks, has only this year to appear for the selection process and he has pinned his hopes on getting selected this year.
"Apart from attractive salary and employee benefits, the reason why many of us work so hard to get selected for the BA and GCSPF is the selection process is purely based on merit and aspirants need not pay to get selected," says Rai. "The only expenditure aspirants have to incur is if they decide to get enrolled in a training centre, where experts help them better prepare for the selection process."
Elite Joshi/TKP
Fifty-year-old Raj Budha Magar, who served in BA's Brigade of Gurkhas for 17 years and is the founder of Gurkha Victory Training Centre, knows all too well the dreams and aspirations of youngsters like Rai.
"My father and my eldest brother both served in the Indian Army. Growing up, all I wanted to do was serve in the army like my father and my brother," says Magar, a Rolpa native.
When Magar was only 16 years old, he got selected for the BA. When he finally left for the UK to join the army, he had been married for eight months.
"At that time, 16 was the minimum age for new recruits in the BA. Getting enlisted in the BA was a moment of great pride for our family. It also meant that I would be making much better money than my father and brother."
After serving in the BA for four years, Magar decided to move his family from their remote village in Rolpa district to a town in Dang district.
"Since I was earning well, I could move my family to a town so that they have access to better facilities," says Magar.
A few years later, Magar's family moved to Kathmandu from Dang. In 2004, Magar retired as a soldier, and in 2006, his entire family immigrated to the UK.
"Even after all these years of leaving the army, I still get a monthly pension of £350 (approximately Rs 56,000)," says Magar. "Getting enlisted in the BA changed the trajectory of my life for the better, and it is only natural for many youngsters to want the same thing so that they have a shot at better lives."
But time and again the Nepal government has called for banning Nepali youths from joining foreign armies. In 2012, the government unsuccessfully tried to end the recruitment drive. Even in 2018, the government once again proposed to ban Nepali youths from joining foreign armies.
According to Tim I Gurung, an ex-Gurkha and the author of 'Ayo Gorkhali', if the government does ban Gurkha recruitment, it will be doing a great disservice to Nepali youths.
"There is a very limited number of well-paying respected jobs in the country, and the opportunity to get enlisted in the British Army or the Singapore Police Force is a great opportunity for the youths," says Tim.
Labour migration expert Jeevan Baniya agrees with Tim on the lack of well-paying jobs in the country.
According to World Bank data, Nepal's unemployment rate in 2020 was 4.4 percent, which is one of the lowest among South Asian countries.
"But the majority of the jobs in the country don't even pay workers a living wage, let alone other employee benefits," says Baniya, who is also the Assistant Director of Centre for the Study of Labour and Mobility at Social Science Baha. "Every year more than 100,000 youths enter the labour market, and there aren't enough well-paying jobs for them. In such a scenario, it is only natural for people to look for opportunities in foreign countries."
In the communities of Rai, Limbu, Gurung, and Magar, which have traditionally made up the vast majority of Gurkhas in the UK and Singapore, being a Gurkha soldier is considered the pinnacle of professional success.
The enormous respect Gurkha soldiers command in the society was what led Gobinda Gurung to aspire to become a Gurkha.
Gobinda, who is now 35 and is the managing director of TAG Nepal, a reputed trekking and mountaineering company, was 15 when he started taking karate classes in order to keep himself physically fit and strong.
"In those days, one had to be at least 18 to be eligible to get enlisted in the BA. After almost a year of hardcore training, I appeared for the selection process and got rejected. It was a huge blow," says Gobinda.
Instead of letting the rejection dishearten him, Gobinda started training harder and appeared for the selection process every year until he was 21.
"By the time I was 21, I had dedicated four years of my life chasing my dream job and I had nothing to show for it. In those four years, I wasn't able to focus on my studies as much as I would have wanted to," says Gobinda. "My self-confidence hit rock bottom and I felt like a failure. For the next few years, I got into some bad company and started getting involved in a lot of fights. I lost my way."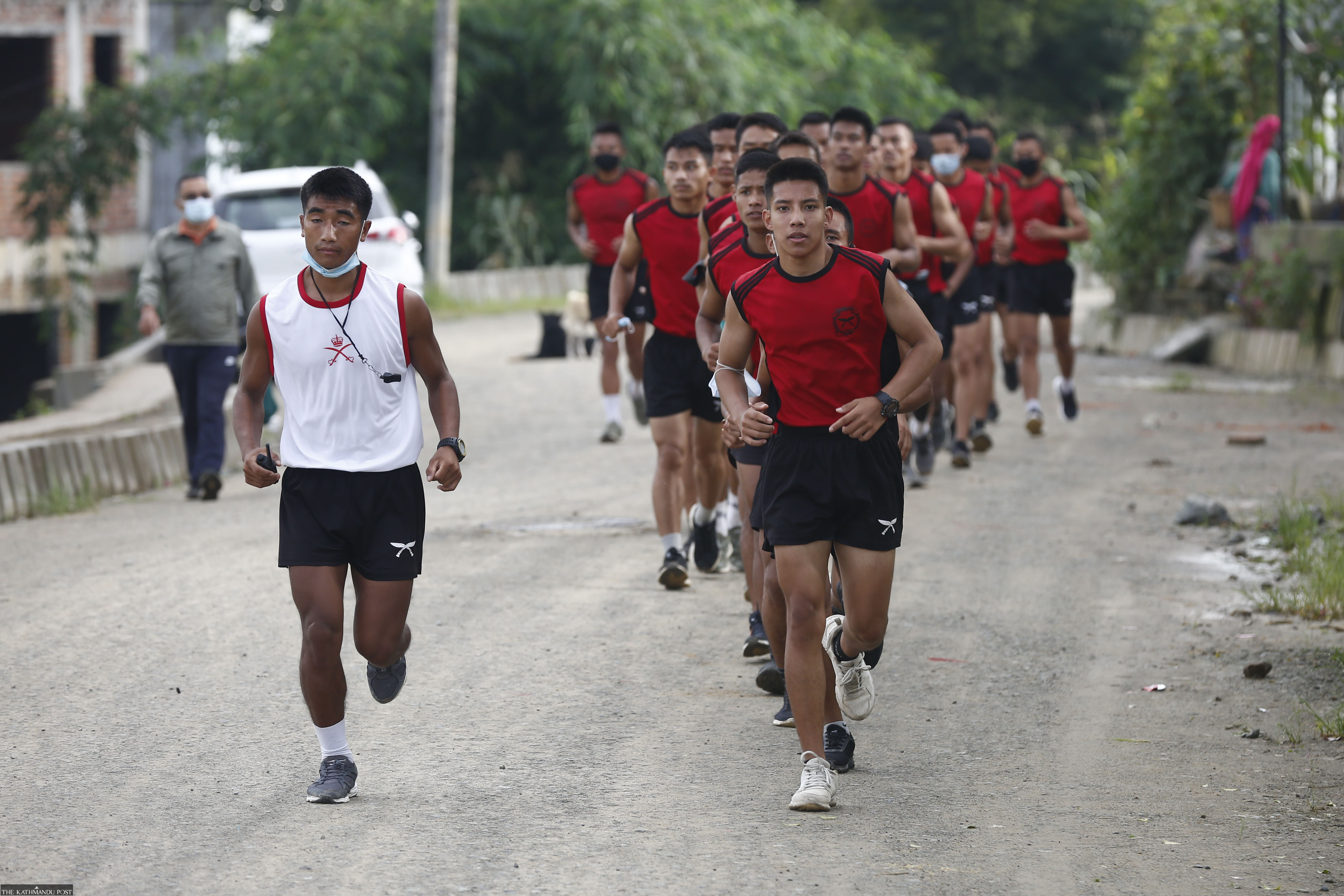 Elite Joshi/TKP
And therein lies one of the biggest challenges that so many Gurkha aspirants face when they fail to get selected. To prepare for the selection, many Gurkha aspirants put their studies on hold for several years and single-mindedly focus on landing their dream jobs.
"You have to understand that at 21, you are still emotionally and mentally fragile, and when you see all your hard work and dedication mean nothing, it puts you in a very psychologically difficult position," says Gurung. "At such a time, families and friends have to offer counselling and let the youngsters know that it's still not too late to pursue other ambitions. These youngsters also need to have a backup plan in case they don't get enlisted."
After receiving a lot of support from his family, Gobinda says he was able to turn his life around and focus on his career. He went on to join the tourism business and is now a successful tourism entrepreneur.
A few days ago, Rai, after clearing the registration process for this year's BA recruitment, travelled to Pokhara for the regional selection, which if he clears will make him eligible for the final central selection.
"Right now I am focused on clearing the regional selection," says Rai. "This year is my final chance to turn my dream of becoming a Gurkha into reality. I would be very disappointed if I fail this time."
---
---