A Kathmandu-based social enterprise is reimagining public toilets
Unlike many public toilets in the Valley, Aerosan Sustainable Sanitation's public lavatories have automatic faucets, functioning flushes, and are run by professional cleaners.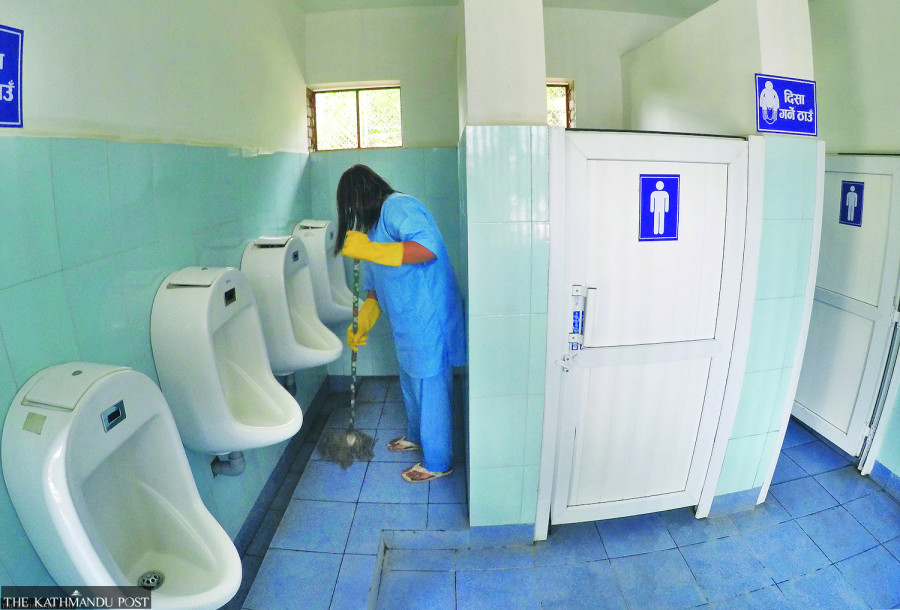 The Swayambhu-based public toilet designed by Aerosan Sustainable Sanitation has been serving as an example of how well managed Nepal's public toilets can be. Sanjog Manandhar/TKP
bookmark
Published at : September 2, 2021
Updated at : September 8, 2021 12:36
Kathmandu
It's a rainy morning in Swoyambhu and a few street vendors are taking shelter from the downpour under an awning of a public toilet. While waiting for the rain to subside, some of the people ordered tea from a cafe located inside the facility. It's a strange sight because Kathmandu's public toilets, many of which are known for being unhygienic and stenchy, are the last places in which people would seek shelter and drink tea.
But in this public toilet in Swoyambhu called the 'Aerosan Hub', the smell of acrid stench is replaced by the smell of cleaning agents. The floor, washbasins (with automatic faucets), and commodes are washed and wiped regularly and the taps have clean running water. It's also friendly to users with physical disabilities. There's also a separate incinerator to manage sanitary pads disposal and a diaper changing table for parents. The toilet uses a waste-to-value system. The waste of the toilet is sent to an underground anaerobic bio-digester tank. The facility also uses a reed bed water recycling system for secondary treatment of the water used in the toilet and has a rainwater harvesting system. But the in-house cafe is its most unique facility. Users are charged Rs five for urination and Rs 10 for defecation. For Rs 15, users also get a cup of tea.
"It's a one-of-a-kind public toilet, the kind you can recommend people to use without feeling uneasy. I know it sounds odd, but I am proud that we have such a well-maintained public toilet in our neighbourhood," says Urmila Praja, a local vendor who sells her Nwares not far from the public toilet. Many of her friends' children also rely on the toilet's wifi to attend their virtual classes.
Designed and constructed by Aerosan Sustainable Sanitation (a social enterprise started under Canada-based NGO Aerosan Toilets) in 2020, the public toilet in Swoyambhu's Buddha Park has now become the talk of the town. The organisation has already built similar toilets in Mangal Bazar and Baneshwor. In Patan Dhoka and Tripureshwor, their toilet designs are in the construction phase. By providing clean, hygienic, sustainable, and all-equipped sanitation facilities, the organisation's public toilets are redefining and reimagining how public toilets ought to be in the country.
"Our aim is that those who come to use our public toilets will see that public toilets can be operated in hygienic and sustainable ways," says Prakash Amatya, the CEO of Aerosan Sustainable Sanitation. Amatya has spent almost a decade working on technologies the sanitation industry can use to make better toilets.
"We Nepalis think of toilets as just a place to discard human waste and do not consider them important. This mentality is reflected in how the majority of our public toilets are, many of which are located in shabby, dingy places and are unhygienic and lack basic facilities. Moreover, our society doesn't respect the people managing public toilets," says Amatya. "Our goal is to change all that."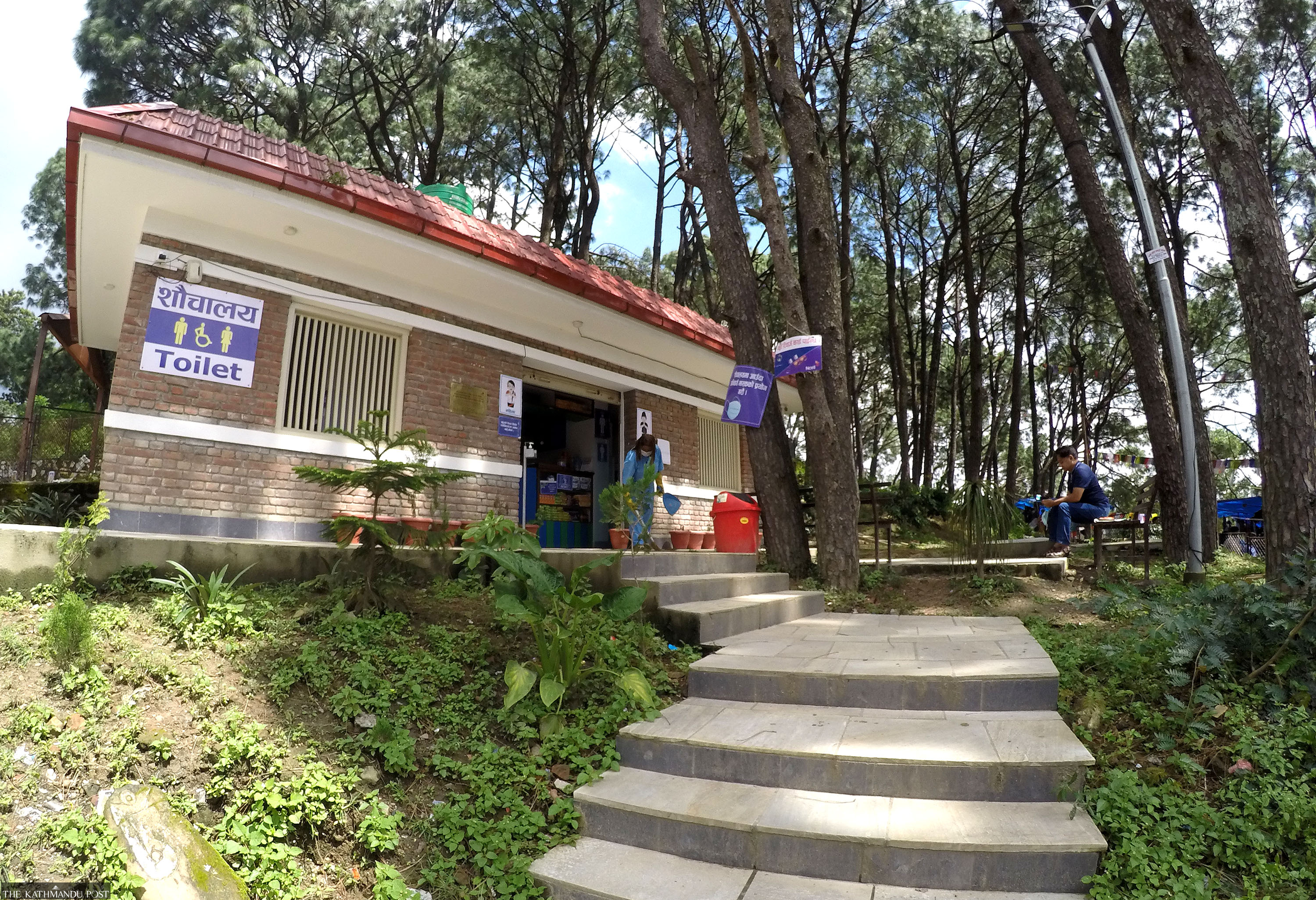 The Swayambhu-based public toilet designed by Aerosan Sustainable Sanitation has been serving as an example of how well-managed Nepal's public toilets can be. Sanjog Manandhar/TKP
The organisation's effort to make hygienic public toilets, however, is not something that has happened for the first time. For years, many non-government and government organisations have built many public toilets across the country.
One such organisation is Nepal Red Cross Society (NRCS). According to Amar Mani Paudel, NRCS' Deputy Director of the Community Development Water Sanitation and Hygiene (WASH) Promotion Division, NRCS has built more than 100 public toilets in the last decade alone.
"For a very long time, we focused on making public toilets in communities. To be honest, many of these toilets are not functioning in the way that we have envisioned them to because the committees responsible for maintaining the toilets did not take their role seriously," he says.
"Another reason public toilets eventually fail is that those who are responsible for maintaining toilets on a daily basis are paid very little. Making things much more difficult is water scarcity, which is a huge issue in major cities and remote areas in the country and this hampers day-to-day maintenance of toilets," says Paudel.
Society's casteist mindset is also one of the factors responsible for public toilets going out of order sooner or later, as per Paudel.
"Our society considers toilet cleaning as an 'impure' profession, and traditionally, it is the people from the so-called lower caste who have done this profession. This means there is no professional dignity, and add to that the minimum salary sanitation workers get, many simply do not find any incentive in working as toilet cleaners," says Paudel.
Having experienced firsthand the inherent challenges that come with regulating and maintaining public toilets, NRCS, says Paudel, is now focusing more on building toilets inside institutions, such as schools, where an organised workforce takes responsibility for the upkeep of the facilities.
"It's not that we don't want to make toilets for people anymore, we are still working in that area, but the toilets we have built for institutions have been more durable than the ones that are by the road or inside communities," says Paudel.
Amatya says his organisation was very well aware of the economic and social challenges sanitation professionals endure and that he knew these issues have to be addressed if his enterprise is to make its toilets' operations sustainable.
"We understood that to solve the issues at hand, we needed to empower the very people who will be running these facilities," he says.
The organisation started 'Independent Sanitation Workers Cooperative' to empower the people working in the profession by providing training and making its members aware of their professional rights.
"Perhaps it's the set up of the toilet and how well maintained it is, people who come to use our facility tend to treat us with dignity," says Parma Deula, who is one of the workers at the Swoyambhu-based toilet and is also the secretary of Independent Sanitation Workers Cooperative. "But the very people might not do the same to our sanitation workers who work in other improperly managed public toilets."
Automatic faucets and functioning toilet flush systems have also made it easier for workers like Deula to clean and maintain the facility.
Amatya explains that his enterprise also provides cleaning staff with work shoes, gloves, uniforms, PPEs, and the needed equipment that make their work easier. "Our cleaning staff work six-hour shifts and the monthly salary range is from Rs 15,000 to Rs 25,000. Each staff member also gets paid leave, medical insurance, daily snacks, and a smartphone," says Amatya.
Well-maintained public toilets and professional and trained attendants, sanitation experts say, are key to changing the general public's perception of public toilets.
The government, which runs the majority of public toilets in the Valley, has a huge role to play in ensuring the public have access to clean and well-managed toilets.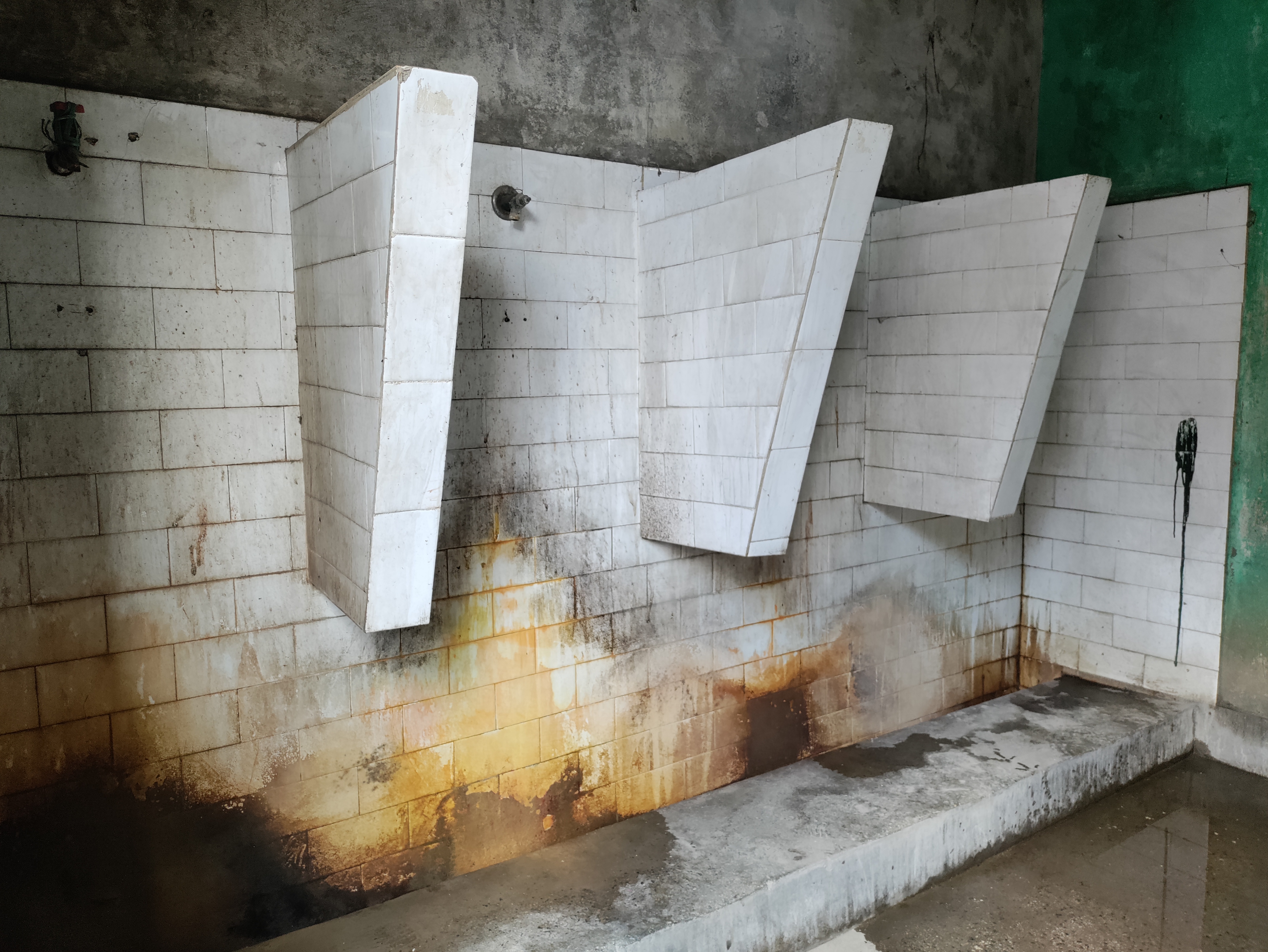 The majority of public toilets in the Valley are unhygienic and lack basic facilities. Photo courtesy: Prakash Amatya
"Many government-run public toilets have failed because their operations are managed by contractors who are more focused on generating revenue than maintaining the facilities," says Amatya.
Meena Shrestha, the joint secretary at the Ministry of Water Supply, believes that the only way to support enterprises like Amatya's and to reimagine public toilets is by having sufficient budgets and well-thought-out policies.
"We have come to realise that building public toilets alone won't do. We also need to have proper management plans for these toilets, and in order to do so, we need to have enough budget and policies," says Shrestha.
"Moreover, what we also need is more local governments to take initiatives so that the federal government can provide them with the necessary support."
How deep-rooted people's perception of public toilets being filthy was made evident when Amatya struggled to find spaces to construct toilets.
"I still remember the endless rounds of discussions I had with the locals of Mangal Bazar when we were thinking of building one of our facilities there. The locals didn't want us to build a public toilet because the previous public toilet in the area reeked of human waste and wasn't well-kept. It took us a very long time to convince them that our facility will be unlike any other public toilet. They finally let us build our facility and right now the people are very happy with our work," says Amatya.
One of the admirers of Aerosan's work is Chiri Babu Maharjan, the Mayor of Lalitpur Metropolitan City.
In an interview with the Post a few months ago, Maharjan had said, "Aerosan's toilets have been exemplary, a learning moment for us all. It prioritises health and the environment and also addresses social equity. And the system is also economical. And if we can work on bringing more such toilets to people, they will have less to complain about."
After focusing on building public toilets in the Valley for the last three years, Aerosan is now working on building a public toilet in Galchi Rural Municipality in Dhading district.
"Our idea is viable and replicable. If we can make more smart public toilets, we will also be able to solve a lot of sanitation problems and assure people the safety and security they want when using public toilets," says Amatya. "We hope to inspire the authorities to build public toilets where people don't have to worry about using them."
---
---