Despite diversity, Classic Gallery's latest show does not capture one's imagination
From personal reflections, muses to stories of how women, or perhaps everyone, see their identity questioned and boxed, 'Reflection of Feminine Power on Art' is intriguing but it misses effectiveness.

Beeju Maharjan/TKP
bookmark
Published at : March 26, 2021
Often when celebrating women, the celebration time and again is of women who are in the workspace, women with a voice, women as front liners, women as mothers, or women who usher change—our celebration itself divides the meaning of empowerment.
Over and over, the women who resemble the ordinary demographics, of making a living and empowering their lives are missed out.
As one observes, Jasmine Rajbhandari's 'One Woman Shop', where an aama is making chatpatte for her customers, the oil painting's meaning traverses beyond the frame to understand the hard work one puts in such ordinary work—something that we overlook. It also urges one to think about the duality that surrounds us on how we have come to think about empowerment today—how we miss celebrating so many stories, even beyond gender.
In the backdrop, Rajbhandari has girls heading to school, perhaps juxtaposing two different lives, showing the audience the world has changed for women and what women want for their children. Although equality has been slow in coming, women are striving and thriving forward.
At Classic Gallery, the exhibition 'Reflection of Feminine Power on Art' of which Rajbhandari's work is part of, there is a mixture of ideas floating, and they are not particular to women issues only. The exhibition celebrates women in art and illustrates their styles, their muse, personal reflection, and experiences.
This is Classic Gallery's seventh women exhibition to celebrate the consistent art journey of women artists in the Nepali art industry. And their effort is laudable as we have missed celebrating Nepali women in art; women artists representation inside galleries, in exhibitions, are still undermined.
And the exhibition brings together the works of 10 women artists who have been persistent with their art journeys and ensures that people are familiar with the works of female artists like them.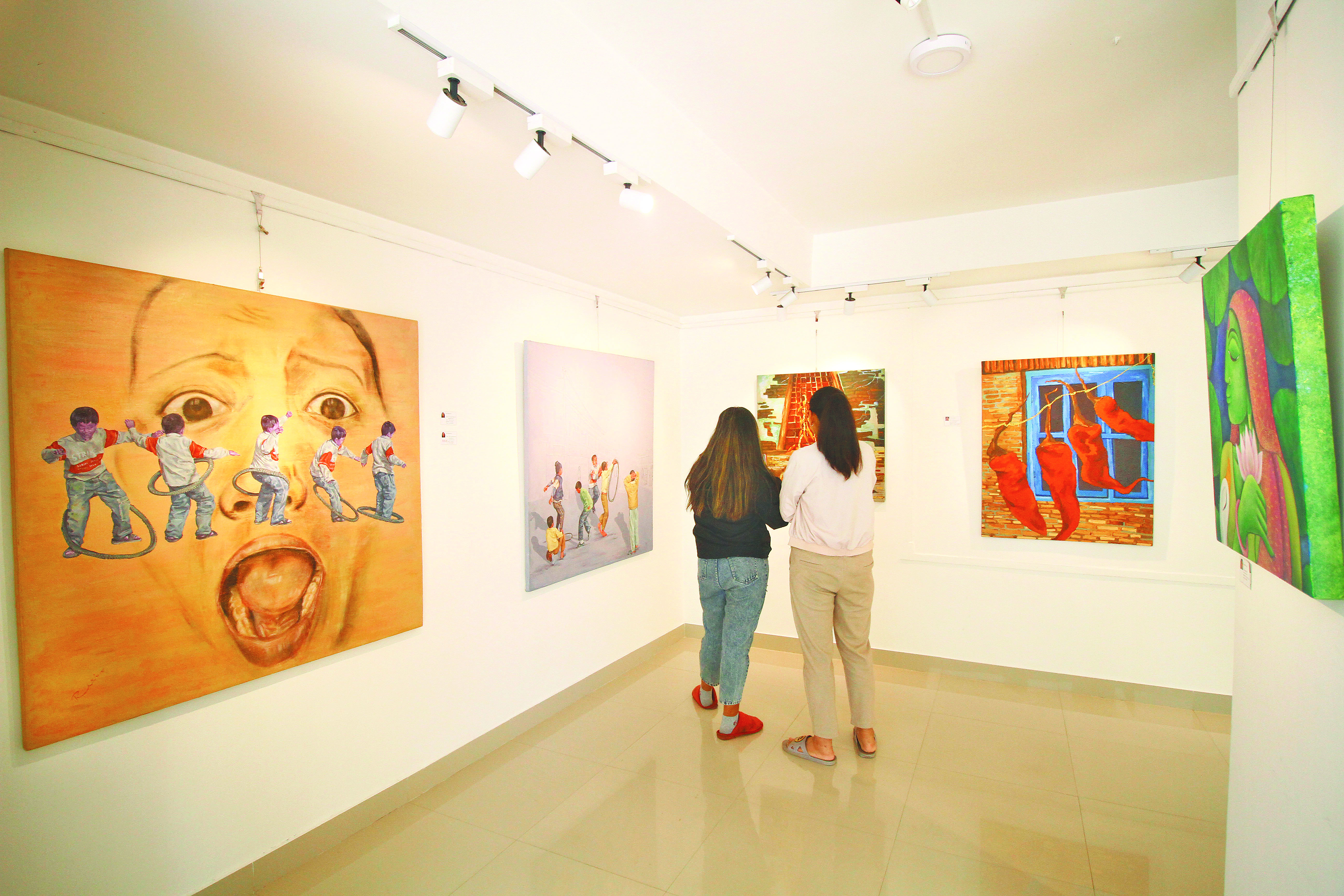 Beeju Maharjan/TKP
Sarita Dongol, who is also the curator of the exhibition, showcases her series of works based on chillies. She reflects on her personal story of how the women in her family took the responsibility of making and taking food to their family members working on their farm in which the red chilli, a talisman of sorts, was packed on top of the layer of food to protect their dear ones and ward off evil in the old days.
However, Dongol, this time, depicts the chillies against the textured backdrop of a brick house, window, and inscription mirroring the cultural outlook of Newa families. She uses the chillies as visual metaphors of her memories and the traditions of her community and juxtaposes its meaning against things that need safeguarding—perhaps culture and traditions themselves.
Artist Sushila Singh's ceramic cubes in the exhibition are also intriguing. The cubes, meant to be a metaphor for a house, reflects the boundaries we have created ourselves; and with only one outlet, it perhaps hopes to highlight how we have narrowed down our worlds.
In her series 'Making Identity', where two women wearing ethnic Magar attire stand in front of modern houses, Kunti Thapa Magar builds a discussion on what identity is—not necessarily of a woman but of ethnic identity—and how it's withering to the modernity that surrounds us, and how apparels are feigning the genuine relationship one has with their culture. She attempts to highlight how the celebration of culture is just an appearance, while in essence, they are waning. She attempts to show this by not giving her characters facial features that exude individuality.
Riti Maharjan's artwork 'The Destined Journey', picturing a person with a head of poached egg, holding a passport and a suitcase is also interesting, as she sardonically tries to tell how people are embroiled in hardship in foreign lands. She points out how many of us now believe our future is abroad than in our own country and we have been born to work hard and make ends meet in a land far away from home.
Many works in the gallery are interesting and have their own meaning, and one needs to take time to understand them.
And at a glance, Classic Gallery's 'Reflection of Feminine Power on Art' is enthralling and significant, but the more you peer into these works the gap of information becomes more palpable. Perhaps because one starts looking at the possibilities of what could have made the exhibition more effective.
They say the artist and the creatives involved are at fault if a viewer is looking for information to understand a work in a gallery—and if an exhibition overlooks this need of comprehension, it naturally leaves many people out of the experience of art. And it is not that Classic Gallery does not consider widening the experience of the viewer; however, it fails in making it easier for the viewers and engaging them in the different stories they capture in the gallery.
The titles of the artworks feel hasty in many cases, like 'One Woman Shop' or 'Hex' and 'The essence of Newa Chen'. The artists' statements too struggle to talk about their art and because it is pasted on a wall, on one sheet of paper, it alienates from the experience of the exhibition. The responsibility of finding the right information of the artist and knowing them falls on the viewer solely.
The exhibition maybe could have benefitted from using the voices of the artists, as it would have helped to bring viewers closer to their work.
We have seen works of art have an effective pull with integrated use of media. Not long ago, Uma Bista, a photographer, in her work 'Our songs from the forest' had used the voiceovers of women in her pictures to build a narrative of how women are forced to face the chhaupadi practice and how they try to find freedom from the taboo.
The exhibition could have also tried to build together a context to the artworks by categorising the works in themes. One can't help but think why some works were not put together, like Jasmine Rajbhandari's work, which delved into telling the stories of empowered common women, and Saurganga Darshandari's work that expressed liberation. The exhibition's works jumped from one idea to another.
It feels fussy to point out spelling and grammatical errors—but these are also things that chip away the essence of the exhibition. It also seems like we as a community have built this forced environment, where we need to express our ideas only in the English language. That is not to say that the gallery's effort is not enough; its honesty is palpable but it also seems we have started believing that everything needs to be done a certain way, leaving less room for creativity.
Although 'Reflection of Feminine Power on Art' is able to show the diversity of women artists' styles and their ideas—the works are not effective enough to capture our minds fully. They are intriguing but not as powerful as the title would want us to believe. The exhibition brings to the fore a lot of important discussion from how society subjugates women to the impact of political agendas on children but in terms of what the exhibition wants to achieve, there is a lack of coherence. Possibly, because the exhibition's various ideas don't converge.
Sometimes, presenting diverse ideas under one roof can be tricky. The exhibition could have felt compounding because it has works that both attempt to liberate women to go beyond their issues and explore art and works that question how society looks at women.
However, it is still worth your time, for there have not been many exhibitions that have brought the works of women artists together.
The exhibition will be displayed until April 20 in Classic Gallery, Chakupat.
---
---