How young activists are trying to reshape the movement against sexual violence in Nepal
In a country with alarming rape statistics, where survivors of sexual violence fail to get justice, their campaign 'Ajhai Kati Sahane' hopes to amplify the voice against sexual violence.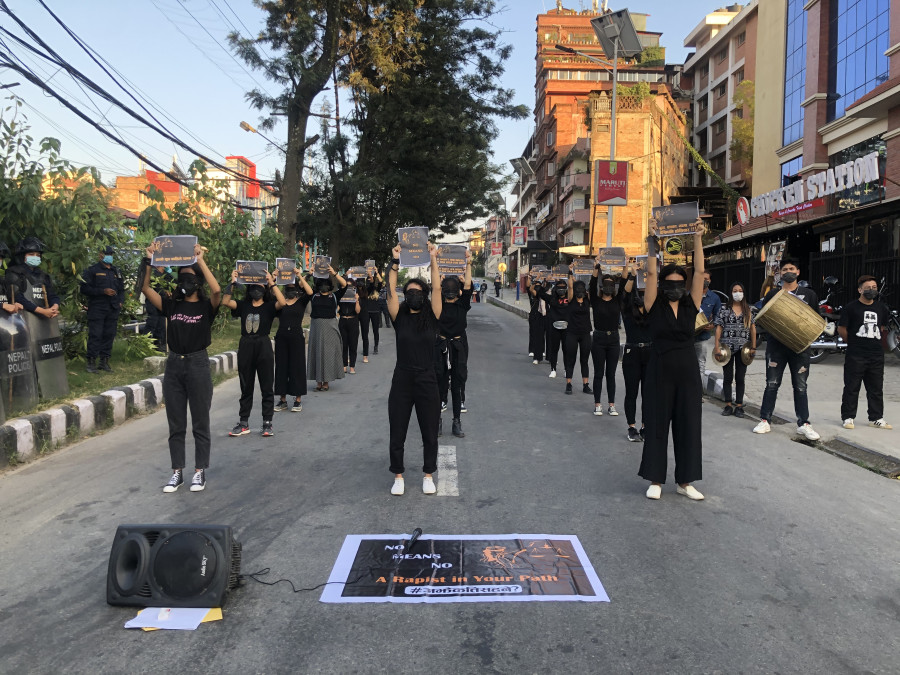 Following the flash mob organised on October 10 in Maitighar Mandala, Kathmandu, similar performances were held in many parts of the country, like Dang, Hetauda, Nawalpur, Sindhuli, Biratnagar, Mahendranagar, Dhangadi and Birtamod. Photo Courtesy: Ajhai Kati Sahane
bookmark
Published at : November 3, 2020
Updated at : November 3, 2020 08:34
Kathmandu
She is blindfolded. Leading more than two dozen women, who also have their eyes covered, she slowly and carefully walks towards Maitighar Mandala.
There is fear in her mind. The pandemic has not subdued in the slightest, in fact cases are increasing dangerously by the day. What if she and her friends get infected because of the gathering? What if the police arrest them?
Yet, she has never felt this brave. Even though her heart is racing, she, along with 24 young girls, starts chanting: "Balatkari Hos Ta..." (which translates to 'You are a Rapist').
"It was my first experience of coming out onto the streets and protesting like this," says Prakriti Bhattarai Basnet, recalling what she felt on October 10, when she led a flashmob to draw attention to the rising number of rape and sexual violence cases in the country. Data at the Nepal Police shows 2,144 cases of rape and 687 cases of attempted rape were reported in the fiscal year 2019-20 an increase from 1,480 cases of rape and 727 cases of attempted rape from fiscal year 2017-18.
"That day I felt really brave and was happy to witness the zeal and the passion of young girls like me. We were even ready to go to jail, but didn't fear from voicing against the wrong things and standing for what is right," she says. The song has in the past one month grabbed attention both on- and off-line.
After the flashmob, Basnet along with five other young activists also started a campaign, Ajhai Kati Sahane (How much we shall tolerate), with the aim of redefining social movement against sexual violence in Nepal.
"We are planning to create a social movement with a different approach so that we can build solidarity and pressurise the authorities to bring changes we want through our collective voices," says Sagoon Bhetwal, a core member of the campaign.
Besides the alarming issue of increasing rape cases, it was the talk of issuing the death penalty on rapists that was circulating both online and offline world, which was also receiving support from the parliamentarians and celebrities, that united them together, they say.
"Our main agenda, in the beginning, was to aware people that capital punishment is not the solution to deter cases of sexual violence," says Bhetwal. "But even celebrities and public figures were openly supporting capital punishment."
Hence, six people immediately formed a group and started campaigning, as they feared that the populist movement of 'Hang the Rapist' would flourish back in Nepal.

"It's unreasonable to demand capital punishment and see it as a solution to deter cases of sexual violence. Not only is it unconstitutional, but there is also no evidence that supports the claim that the death penalty can decrease rape cases. That's why we are strongly against capital punishment. Instead, we are advocating for fair investigation and structural change," says Basnet.
But for a young group of people, who had limited time, it was a big challenge for them to make sure that their voices could reach a larger mass, who could understand the crux of the issue, they say.
"In Nepal, social movements come and go. Similarly, there's no focus to make movements creative, unlike other countries," says Basnet, who's also a chairperson of Political Literacy for Women, a platform working to promote inclusivity in Nepali politics. "That's why our primary goal was to make sure that we were coordinating and voicing our concerns in a creative manner which could gain the attention of the masses along with following the safety protocols amidst the pandemic,"
That is how the idea of doing a flash mob came to their minds. A Chilean viral song, 'The Rapist is You', which was used by many activists while protesting on the street against sexual violence, was getting popular worldwide. As the song encompassed lyrics that were rich in political symbolism and criticised society's fabric, blaming the patriarchal structure, incompetent governance, impunity and carried the message of putting the onus on rapists than the survivors, the group decided to perform the song for the flash-mob.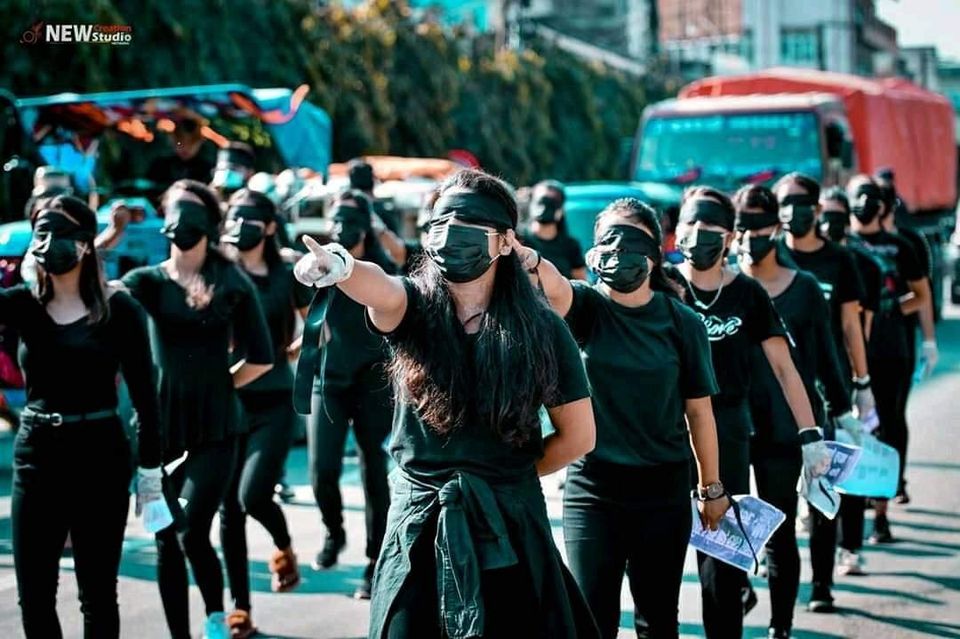 Photo Courtesy: New Creation Studio
"Everything was very fast. We planned to do the flash mob just after three days of forming the group due to the urgency of delivering the message to the public, who could easily be swayed by the 'Hang the Rapist' narrative. That's why combining our efforts we translated the song in Nepali," says Bhetwal.
Despite the little time they had for preparation, the group successfully coordinated and conducted the flash mob, receiving appreciation from the public who admired their efforts and were moved by their message.
"We felt really powerful that day, as we weren't only speaking for us but were representing every survivor, who couldn't be there to voice against the violence they faced," says Bhetwal. "The flash mob united our voices and made us understand the power of collectiveness".
Days after their first protest, many other activists started reaching out to them. In many parts of the country, like Dang, Hetauda, Nawalpur, Sindhuli, Biratnagar, Mahendranagar, Dhangadi and Birtamod, similar flash mobs were performed to show solidarity to their campaign. Likewise, the group also recorded and launched their song on YouTube.
The magnitude of support and appreciation they received for the campaign was something the group had not expected, they say.
"We started this campaign for the satisfaction of our hearts. We felt that if we didn't speak now, we would regret later," says Basnet. "But the nation-wide support shown to our campaign made us understand the power of collective voices, inspiring us to take this campaign forward in a better and a coordinated way".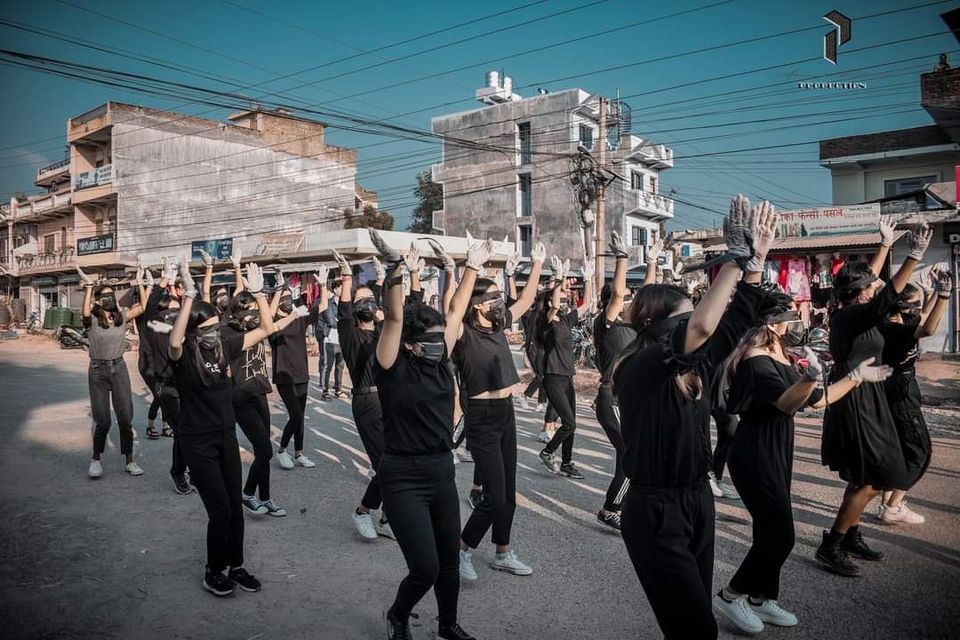 Photo Courtesy: Porthel Production
In a few weeks, the campaign is at the helm of a full-blown social movement. The group has already started working on various programmes of reaching out to concerned authorities, like police and parliamentarians, with the motive of making them realise the gravitas of the problem of sexual violence as well sensitise the issue.
"We have held meetings with the IGP, Attorney General, National Human Rights Commission and many parliamentarians to make them understand our campaign as well as to jointly work together," says Bhetwal. "Likewise, we have also presented a seven-point agreement to the authorities demanding change in rape laws in the country, like making it inclusive to every gender, as well as demanding stricter laws and provisions against those who tamper with evidence in rape cases."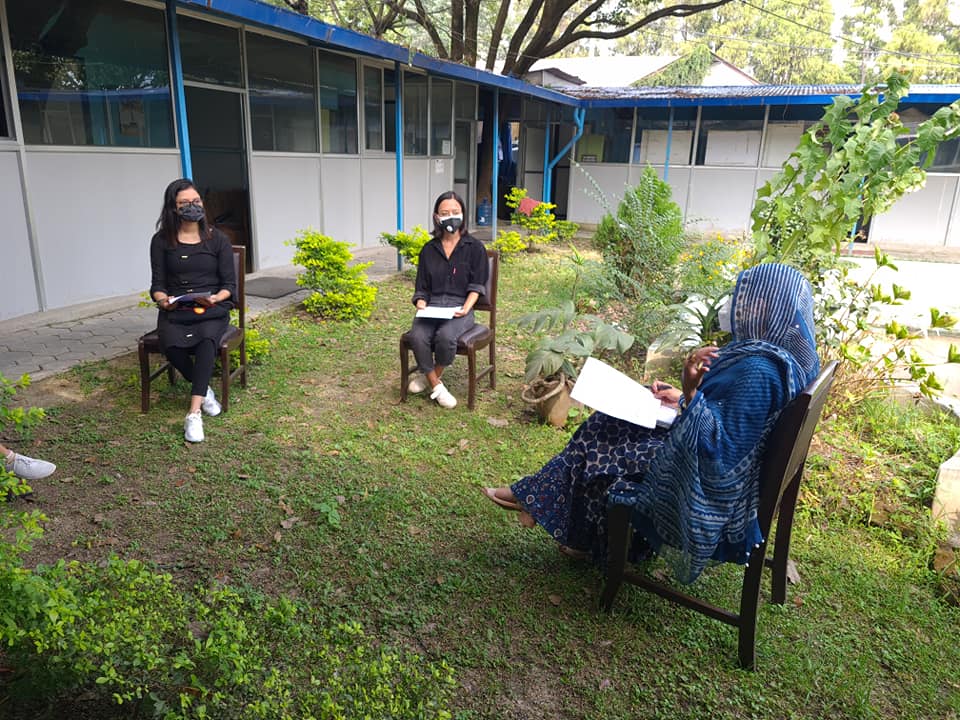 Photo Courtesy: Ajhai Kati Sahane
But this is not the first time a campaign of this kind has been formed. After the gruesome rape and murder of Nirmala Panta in 2018, the nation saw an outpour of protests against the systematic injustices enforced by society and state that denied safety and justice to women. Many campaigns, like Rage against Rape, started, uniting forces both online and offline against impunity and rape culture.
Likewise, in 2018, the Me Too movement too made headway in Nepal, exposing those who had been misusing and abusing their power. But it soon fizzled out without making any monumental changes, and the accused were let off the hook without having to face any repercussion for their actions.
Past movements failed to make a difference because most of the protests and social campaigns were Kathmandu-centric and featured the same faces leading the campaigns, say the campaigners. And that is their main agenda, say members, to ensure the voices of people across the country are heard.
"Most of the social campaigns in our country are limited to Maitighar Mandala. And they are mostly led by similar faces," says Basnet. "That's why our topmost priority is to give a platform to young girls from all over the seven provinces of the country and make sure that voices from beyond Kathmandu are raised as well."
Although the campaign has just started, the members have already begun expanding their networks with activists from all over the country in order to seek local leadership. Likewise, they are also holding meetings with parliamentarians on a regular basis, with a motive of having one single voice in both streets and parliament.
"For structural change to happen, we must make sure we build a single, collective voice. Then only we can start a movement that will build pressure on authorities. That's why our focus is to amplify and have the same voice and make sure we all are on the same page," says Bhetwal.
But things aren't going to be easy. There is still a lack of sensitivity between the state and society, which still blames the survivor. Likewise, the normalisation of rape culture is so deeply embedded in our society that just a few days after the flash mob a group of boys had formed a group on Facebook called Baltkari Sangathan ( Rapist Association) in response to the song. The admin of the page was later arrested by Nepal Police Cyber Crime Bureau.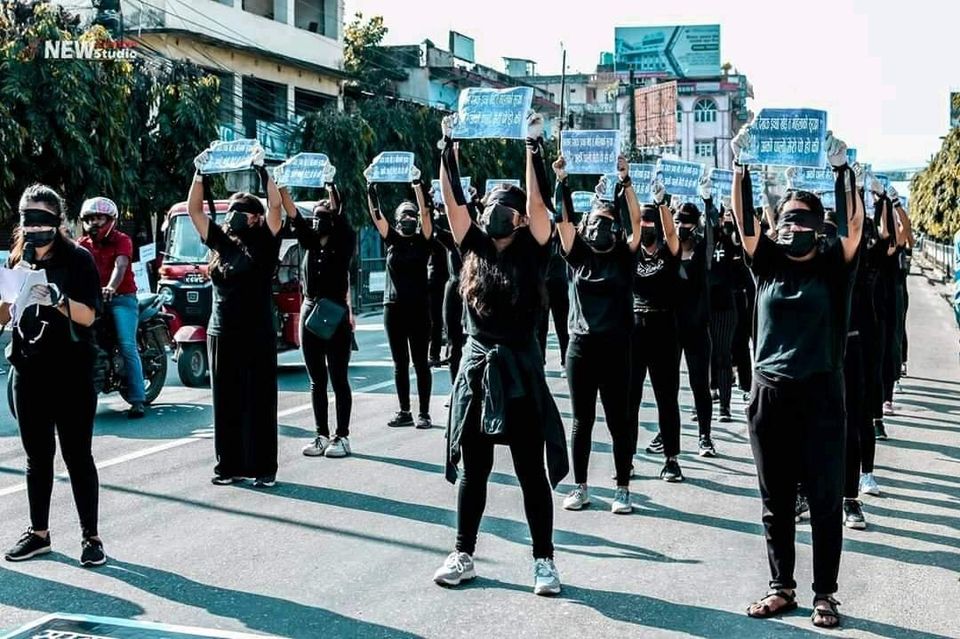 Photo Courtesy: New Creation Studio
Such threats, however, do not affect them, say the members, as they are very clear about what they want: a well-coordinated inclusive social movement that can address the collective demands and voices of all people against sexual violence for which they are ready to invest their time and energy.
"There have been very few social movements which were coordinated and led by all women activists," says Basnet. "We want to show everyone that women are capable of leading a social movement on their own," she adds.
---
---