Choosing the right words: Meet the Haijins
In a time of free verse poets, there is a small group of elderly men who are keen to teach and write haikus, one of the world's shortest poetic forms.

Members of Nepal Haiku Center pose for a picture after concluding a Haiku writing event at Swoyambhu. Photo courtesy: Nepal Haiku Center
bookmark
Published at : October 29, 2020
Kathmandu
"There's a faint sadness in our current reality," says Kishor Bajra Bajracharya, a haiku poet. The pandemic has changed lives all around us; the most ordinary things—such as visiting families or enjoying idle guffaws in public—have now become life-threatening.
"Nothing is like before, but yet we have come to learn to live with how things are," says 64-year-old Bajracharya, who these days spends his time with his granddaughter's online classes. He misses the hustle of his ordinary life. But what he misses the most is meeting his friends and colleagues for a nice haiku poetry session. Things for him and his poetry group, Nepal Haiku Centre, have been slow and quiet.
At his home in Kuleshwor, Bajracharya's table is covered with poetry books, many of which are publications of the International Pen Chapter Nepal, a non-governmental organisation of poets, essayists, novelists, and Nepal Haiku Centre. It's apparent that his love for poetry is beyond a short-lived passion, and he believes that words have the power to move life.
"Shashwat sristi—Niyam feriyo ki!—Barsa Jharena (When there is no rain, does it point to the change in the eternal creation)," he reads one of his poems written in Nepali, fervently trying to express what haiku is all about. "It's a short Japanese poetry form of three lines that uses a 5-7-5 syllable pattern that usually talks about nature or Zen philosophy and also seasons," he says.
"Writing haikus is not as easy as it looks. It's quite challenging and that is what got me interested," says Bajracharya. "I took it as a challenge and opportunity to explore my creativity."
Bajracharya is one among the few haiku poets in Nepal still under-recognised, like many of his seniors. But quietly and steadily, the organisation, Nepal Haiku Centre, of which he is a member, is taking momentum. Their efforts to build people's interest in haiku and to make this form of poetry part of the spectrum of Nepali literature is gradually taking shape. For them, writing haiku is not just some fancy interest, but a devotion they want others to be part of too.
"At first, I couldn't really comprehend the power of haikus, I didn't really get the magic of it," says Bajracharya, who is also a retired geographer. "It took awhile for me to understand it but when I did, I started appreciating the beauty of it. But I also continued because I was around people who were very passionate about writing haikus," he says.
Bajracharya started writing songs and poems in his early youth but took interest in haiku in the 1990s when Ram Kumar Panday was driving a movement of haiku in the Nepali literary scene. While few poets like Abhi Subedi and Chetrapratap Adhikari translated Japanese haikus, Panday, a geographer, was dexterously introducing his circles with the how-tos of writing 'haiku'. He wrote several papers about haikus, and also traced its history and trend in Nepal and he brought out books with collections of significant Nepali haikus that could help those interested find a way to a deeper realm of poetry and haiku.
"He really took it upon himself to teach and expand the followers of haiku in Nepal," says Bajracharya, who regards Panday as his haiku master.
But the trend of writing haiku entered Nepal a little earlier, in the 1960s. It started with Nepali essayist Shankar Lamichhane translating Japanese haikus in Nepali and then penning his Nepali poems in the 5-7-5 haiku format. Later the trend was picked up by many other poets and by 2004, Nepali haikus were appearing in literary magazines. In 2004, Nepal Nippon Research Center together with Royal Nepal Academy also organised the first Nepali Haiku Symposium. Panday was at the centre of the movement.
"Haiku doesn't look to embellish or elucidate moments; it's brief and therefore powerful. It is resolute in what it needs to say and can capture a whole world in a small verse, and that is what makes it significant," says Panday. "With the right choice of words haiku can create quite an impact," he says.
Seventy-four-year-old Panday these days has been working on an epic 'Indra Lok,' in haiku format. But years back, he had found his way into writing haiku through muktak, a four-line rhythmic poem that is proverbial and uses metaphors. And since the 1990s, he has been writing and advocating on the literature of haikus.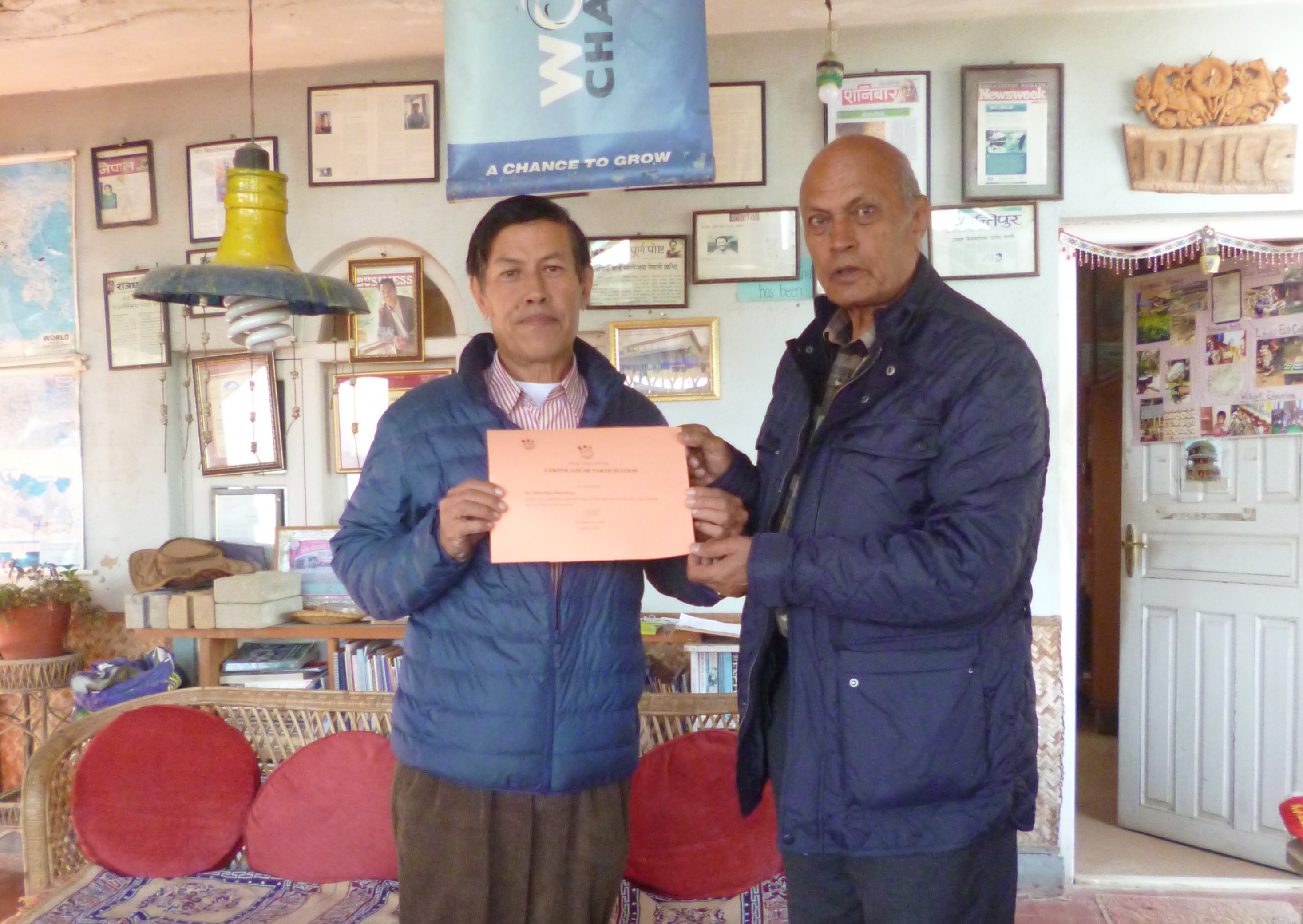 (Right) Ram Kumar Panday gives a certificate of participation to Kishor Bajra Bajracharya at a Haiku writing workshop. Photo courtesy: Nepal Haiku Center
But with time, traditional poetry, such as haiku itself, has become stagnant with only a few young people showing interest in learning them. Although the haiku movement is driving forward, there still hasn't been much development to promote literary creativity in the country, says Panday who is also the chair of Nepal Haiku Centre.
"All that has happened for the Nepali literary scene and for the development of writing haikus, have happened through the initiatives of individuals. The government has not yet been able to promote Nepali literature, let alone drive its growth," he says.
Over the years, many have questioned the government for its lack of initiative to promote a learning culture. In the past few months as well, people have condemned the government's decision to levy a tax on books and the shortfall of budget for the development of libraries, Nepali literature and culture.
"We still haven't been able to make a mark with Nepali literature in an international arena because there is little effort to push our literature, its discussion and discourse forward. We still don't have a strong base, we still haven't documented and traced the historical development of our literature, and we still don't have enough translations that could draw people's interest in Nepali literature," says Panday.
Besides these challenges, time too has tested the efforts of the two haijins. There is a widening gap between traditional and modern poets. While elders like Panday and Bajracharya have been writing poems using classical meters and following the oriental theories and methods of poetic creation, the younger generation is more interested in writing free verse poems and many a time, with little or no knowledge of what makes a poem a poem, say the poets.
"Writing poems in traditional format can feel restrictive but then understanding these rules can help us more to explore our creativity and appreciate the beauty of poetic language," says Bajracharya.
"It might seem technical but it can help you make your language more sound," he says. Bajracharya carries around a pocket notebook to write down his poetry and often to collect compelling words. He and Panday have been to many 'hiking haikus' together with members of his organisation, where they travel to different parts of the city to bathe with nature and write poems and review each other to grow as poets.
"It's important to grow and build on a community of poets to keep engaging poets and to encourage them to share their poetry with many others. It's persistence that will help this culture to flourish more," says Bajracharya.
Panday too believes it's not just interest but persistence that matters in the end. He also regards there is a greater role elder poets like him have towards the younger ones in guiding their interest by opening them to works of other poets and writers and encouraging their ardour.
"It's not only about honing their skills to write poems but to help them know and understand poems," says Panday. "There are so many young poets out there but not many know our own history of poems or the different styles and techniques of writing poetry," he says.
In many of the workshops that Nepal Haiku Centre has organised, they make sure to understand their participants to teach them to write haikus. And in almost every session they emphasise on the larger history of poetry and the issues within the trend of writing haikus and poems to support their interest with a foundation that ensures their growth.
"There's a lot of young poets who write beautiful free verse poems but that is not enough to bolster the Nepali literary scene, to push our works and represent Nepali literature in the world, in the academic studies, we need to be able to take to them [people] our history, and roots of poetry. And only then we can make our poetry more prominent and distinguished," he says.
Today, this very lack of knowledge is also what is hindering the growth of many upcoming poets—mainly that of the haijins. While in recent years, many have dabbled into writing haiku poems, not all of them are haikus—there's a difference that many people miss easily. "A lot of them confuse haiku with senryu, which uses the same pattern as haiku but is more humorous and satirical," says Panday.
"And this is what explains the poetry scene of today, we write poems but we don't really understand or know them. And this is what creates creative confusion," he says.
"There's still a lot to be done, and we are still very behind in making our literature known to the world," says Panday voicing the concerns of poets like him.
"We need to nurture interest in a way that can manifest actions. But we are failing to guide the interest of people."
---
---