'We need to see more of art to see more happening in our art world'
Shivangi Bansal, young and upcoming art curator, talks about the momentum of art in Kathmandu.

Photo courtesy: Shivangi Bansal
bookmark
Published at : June 29, 2020
Updated at : June 29, 2020 11:33
Lalitpur
For the past five weeks, Danfe Arts' Instagram page has been posting works of various independent artists bringing to the fore distinct impressions and inspiration of the human psyche. The posts are part of the touring gallery's initiative to support independent artists in this current pandemic, which has disrupted the economy and the ecosystem of the growing art scene in the country.
The page's art collection is both uplifting and thought-invoking. And it almost effortlessly uses simple visual semantics. Many of these artworks are simple impressions of landscapes, human moments and expressionism that appeal to the aesthetic of arts; the collection is nothing big and grand but they are peculiarly pleasing.
"We have so far brought to the platform works of 31 artists and have collected about fifty-five thousand," says Shivangi Bansal, the founder of Danfe Arts. The 25-year-old art enthusiast was drawn closer to the Nepali art scene through Kathmandu Triennale 2017, a mega art event of which she was a part of. Building on her networks through the exposure she received at the event, Bansal opened a company in 2019 after completing her Master's degree in culture and creative industries.
In this interview with the Post's Srizu Bajracharya, Bansal talks about her budding start-up company, the digital platforms that have increased the accessibility of art and the phenomenon of young people now moving to social media not just to express themselves but to support causes and take actions.
What was the idea behind Danfe Arts? How is it unique from the other art galleries in the country?
I started Danfe Arts with the ambition to promote Nepali art right after I came back to the country. I was young and excited, but I think in a way I was brave to have taken that step forward. Initially, when I started the journey I had not considered the challenges. I was driven with the passion to contribute to the many initiatives that have been happening in the art scene to promote Nepali art to the world and to make a better art ecosystem for artists to grow and engage with the public.
So, I started the journey with my first exhibition in Fire and Ice restaurant in Thamel, 'Rendition of Kathmandu Valley' with 10 artists. The owner of the place welcomed my ideas and innocence. And I did the exhibition in that space because I believe that one of the most important things we need to do is close the gap between the public and artists, which has been the main challenge for artists and creatives. The public engagement with art is still minimal, and I was hoping with touring exhibitions that difference can be bridged.
My company mostly sustains through consignment basis works, commission and our sales, but initially, I had started with my little investment. And it was basically just me collaborating with artists and curators from the networks I was slowly building.
How has the response for #Danfeartsupports initiative been like at a time when the commercial business of art is going downhill?
The response has been overwhelming with so many people messaging the page to show their appreciation. A lot of independent artists have also reached out to Danfe Arts, and many of them are happy with how people have been engaging with their works. But I don't know how long I will be continuing the initiative, but I already have a line of artists' work ready for next week.
This initiative was inspired by Carpe Arte, an art collective in India that encourages the engagement of people with Indian contemporary art. They have been supporting independent practising artists to sell their works through their Instagram and network, priced at and under Rs 5,000. And I thought this could be something we could do as well to support artists here, and so after talking with them, I started this initiative. It has been five weeks and it has helped me reach out to young artists in the grassroots from different places. All of the artworks are priced in the same way as Carpe Arte's initiative and all of the proceeds go directly to the artists. We just connect buyers to the artists.
The art sector, like many other sectors in the country, has been affected by the virus. However, with the response I have been getting, at least with this initiative, I think things still look optimistic as people have been very eager to support these artists, and they have been sharing and engaging with their works. But these are mostly young urban buyers. And Instagram has helped in creating a space for dialogue and made these works more accessible to people. The art business perhaps is stagnant, but not the spirits of artists. And I am rather excited to see the change this pandemic will bring about in the art scene.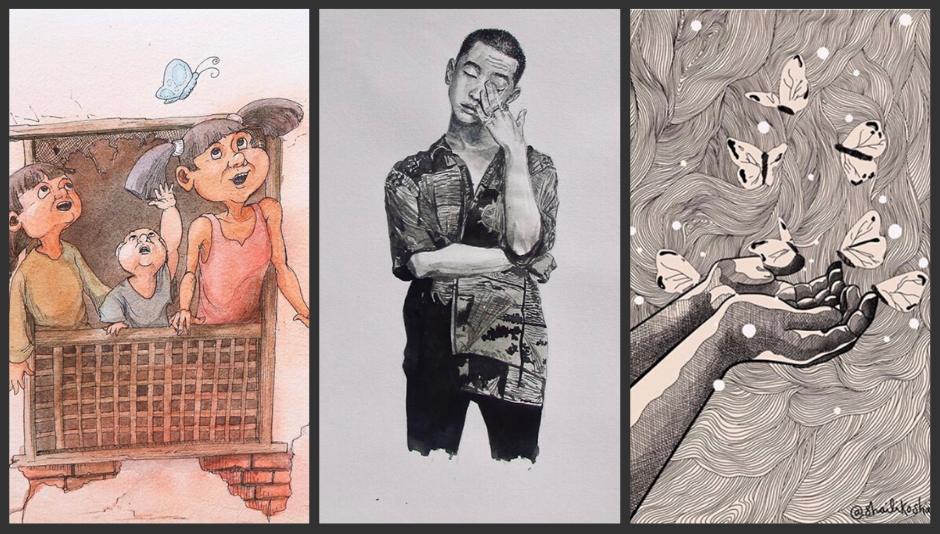 Artworks by Prakash Ranjit, Preeti Duwal and Shaili Malla posted on Danfe Arts' Instagram to support independent artists. Screengrabs via Danfe Arts' Instagram
How have digital tools help you with your agenda? And do you think our virtual shift with all the art initiatives last?
The current times have pushed everyone to explore digital mediums and use social media more often than they used to before the lockdown. A lot of art initiatives are using virtual spaces and social media platforms to share their works and engage people with art. There have been 360-degree virtual exhibitions and even live sessions discussing the challenges and issues of art. Social media platforms have also brought to focus more independent artists and empowered them with its reach. I also think the digital tools help people in experimenting as it is more dynamic.
And in this pandemic, I wanted to activate our social media presence as the future is going to be digital for the foreseeable future. And it's been a lot of fun doing this initiative. It also seems with the kind of engagement that has been happening on the social media platforms, in a small way, a young collector community is surging. And while I am still trying to bring changes to our website, Instagram has been a great avenue to support works of artists.
But having said that, I don't think the digital space can completely replace the physical experience as that experience has more potential to draw people in closer to artworks. But the young will still use these platforms to its full capacity because we have now realised the potential of these mediums: it brings an influx of viewers and connects people. For example, when we share work in social media, its facilities help to share, engage and show support to the various discussions and actions that we talk about. And right now, that is what is bringing people to social media; they are there to voice and support discussions and views. And if we want to be heard and make discussions around art as creatives and artists, we need to make our presence felt.
How would you describe the art scene at the moment?
The commercial economics of art of course has dropped and with it the current time has created a sort of emptiness in the art world and for people who make art, but I also think this very void will bring about art that is more true to their nature. I am personally more excited to see artworks post lockdown, and I think we have seen so many different expressions from artists already.
At the moment, however, the art scene beyond the business of arts is really vibrant: take for example the most recent silent protests that artists are doing in Patan and the exhibition Kaalo.101 has been doing. Everyone is doing whatever they can at their end, and some artists have also been archiving works, reflecting and taking time to learn and unlearn things. The art community, I think, has been more active in a non-commercial way. Right now, people are uncertain, and they are just focusing on what they can do.
What discussion do you think is yet to happen in the Nepali art scene?
There's a lot we are yet to talk about in the Nepali art scene. But many artists groups have already started on those discussions. And what I have noticed is that the art scene in Nepal is very centralised. Most of us don't know the art practices outside of Kathmandu, and we don't know art collectives in Pokhara or art practices in places like Mustang. We are yet to explore and learn about our own country's various indigenous art practices.
Besides that I also think we need more mentorship programmes and people to guide artists to grow, challenge and explore their skills. An exhibition cannot be the ultimate end for artworks; there's so much we need to keep learning and exploring. We need to move beyond that idea. We need to educate ourselves on diverse art practices and trends in art to see how that has impacted our lives or how art representation shapes the world. We need to see more of art to see more happening in our art world.
---
---