Empowering the voice of all women amid the pandemic
The WOW Foundation is bringing to people a 24-hour global festival to focus on the inequalities and challenges women and girls around the world are experiencing in the shadow of Covid-19.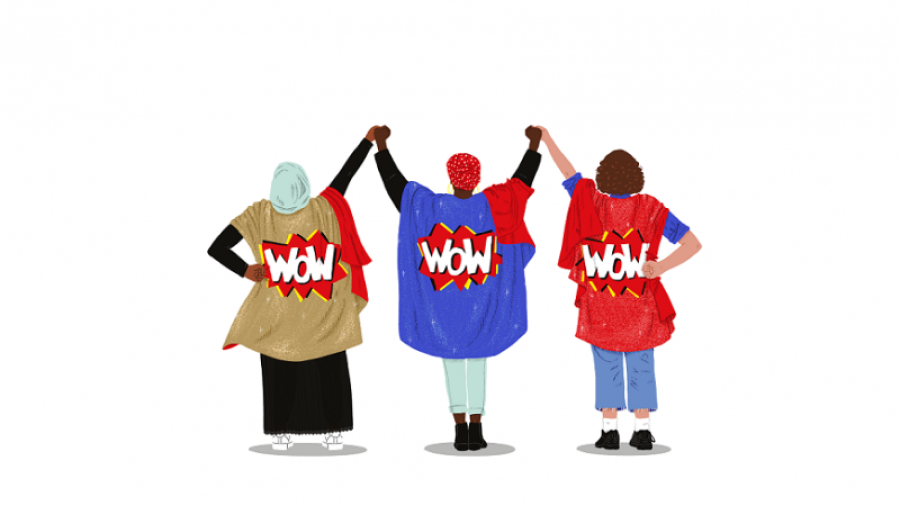 Screengrab via British Council's website
bookmark
Published at : June 27, 2020
Updated at : June 27, 2020 13:53
Lalitpur
Over in the past few months, incidences of women being oppressed have surfaced time and again. From women being subjected to gender-based violence to being abused and raped in quarantine centres to having an all-male ruling party secretariat deciding on a crucial aspect of the citizenship bill that largely concerns the interest of women, local and world news have been rife with issues of gender-based inequalities.
Being mindful about the vulnerabilities the pandemic has exasperated for women around the world, the WOW Foundation, a charity working to build a global movement celebrating women and girls, today is hosting a global-scale online festival for 24 hours titled WOW Global 24. The festival is a response to the world's current events impacting the lives of all women and girls. And a platform to bring together the voice of all women amid the pandemic that has been pummeling their concerns and efforts.
"Now more than ever, we need to find community: to connect women, civil society and governments and make women's stories central to future planning across the globe. This is an opportunity to join hands, listen and ask what do we need to change and how," said Jude Kelly, the founder of The WOW (Women of the World) Foundation, in continuing the festival virtually, as Covid-19 still curtails movement.
The event will run for 24 hours, starting at 10:30 am UK time (3:30 pm Nepali time), and can be streamed live on their website and their YouTube Channel. The series of events will see activist Angela Davis in a live conversation with Jude Kelly. They will also host a discussion with UN Women to discuss gender equality in the times of Covid-19 and why it matters. The South-Asia programme will run for three hours this evening and includes a panel discussion on Environment and Feminist Response with Al Jazeera journalist and filmmaker Subina Shrestha, social scientist Laxmi Gurung (Nepal), environmentalist Dr Fozia Tahir (Pakistan) and climate change expert Dr Sharmind Neelormi (Bangladesh).
"Platforms like this is an attempt to give as much information as possible on how women around the world are doing their bit to advance the feminist agenda," says Pranika Koyu, poet and human right activist.
"Times like this is a challenge since feminists not only have to work on their agenda but also address feminist issues of the hour that such pandemics pose. Platforms like this come across as space where solidarity and commitment to your belief are shared to the world and vice versa," she adds. The event's bite session will see Koyu talking about her poetry and how it has become a tool for her to discuss human rights. In the conversation, she will also address aspects of identity politics.
"I will talk about how unpleasant it is to write about such issues but then there is no choice not to do so. I talk about why it is important for me to act and not just understand and analyse issues/problems of the community that I interact with in my professional capacity of a researcher, interpreter," she said to the Post over an email interview.
"It is important for us to talk about this in the global context to reinforce the idea that each one of us can do what we can from the space that we have access to with the skills that we are well versed in. This is to reiterate how every action counts when you are dealing with things that affect not only you but the entire population," says Koyu.
Nepali participation in the programme also includes Shailee Basnet, an Everest summiteer who will be discussing her mountaineering journey along with her experience of training survivors of human trafficking to become professional high-altitude trekking guides. The programme will also see a film: Malai Ma Bannu Cha, depicting a collaborative poem commentary on gender violence and discrimination against women in different surroundings. The festival is divided into two channels global and local. The local channel will feature contributions from South Asia including Nepal which is curated and produced by British Council.
While the virtual programme is both limiting and accessible, Jude Kelly, the organiser, believes it is crucial to use virtual tools to connect with women and girls around the world to empower their voice and to present solidarity to the concerns women have been raising in this overwhelming time.
"Like many others, the WOW Foundation has had to go from live events to full online broadcasting in a matter of weeks, adapting to the technical challenge of lockdown. It is important that we utilise digital resources to connect women and girls in a time where existing issues of gender inequalities are exposed and exasperated by the Covid-19 crisis," she said.
According to Koyu, programmes like these help in the visibility of issues. "Global events like these bring in the voices from across countries, they bring in different context which helps one another to be aware and to express solidarity, and to learn from each other's experience which is a vital thing to find ways to advance your agenda," she said.
"It can be empowering in that way—to know each other's work and see how solidarity and commitment can be fostered in every possible way."
You can join the event here.
---