All-male party Secretariat decides on citizenship, an issue that largely concerns women
If the ruling Nepal Communist Party does not take steps to make its committees more inclusive, its decisions could lose moral authority, women leaders say.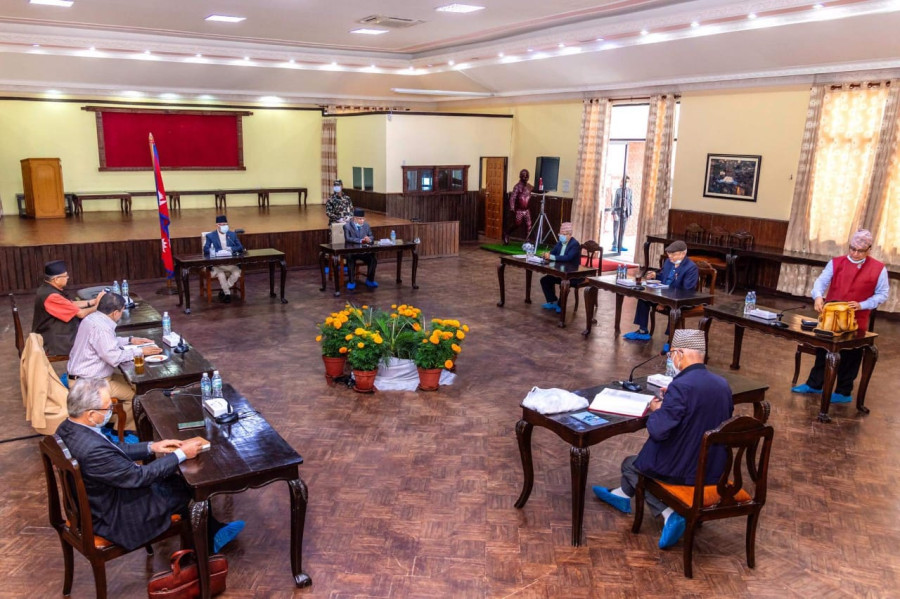 NCP's Secretariat meeting held at Baluwatar on Saturday morning. Photo Courtesy: Surya Thapa/Twitter
bookmark
Published at : June 21, 2020
Updated at : June 21, 2020 06:59
Kathmandu
An all-male ruling party Secretariat has decided on an issue that largely concerns the interest of women.

A Saturday meeting of the Nepal Communist Party's Secretariat decided that foreign women married to Nepali men would only be eligible for naturalised citizenship after seven years and once they had provided proof of renouncing their earlier citizenship. There was no discussion on the provision for foreign men married to Nepali women.
According to Clause 5.1 of the Citizenship Act, foreign women are immediately eligible for citizenship upon marriage to a Nepali man while there are no provisions for a foreign man who marries a Nepali woman, requiring foreign men to spend a minimum of 15 years in Nepal before being eligible to apply for naturalised citizenship.
An amendment bill to change these provisions has been in discussion at Parliament for the last two years, with no conclusion. On Thursday, the parliamentary State Affairs and Good Governance Committee provided the political parties with five days to come to a decision.
While many in the ruling party are in favour of the Secretariat's decision, the party's women leaders have taken an exception to the fact that the decision was taken by an all-male coterie of rulers, especially when the decision directly affects women.
"Our party's existing structure neither follows its own documents nor national and international commitments," Binda Pandey, a ruling party lawmaker and rights activist, told the Post. "Women-free zones are not acceptable to Nepali society any more."
According to Pandey, the ruling party needs to undertake more efforts to make its decision-making more inclusive, especially when it comes to issues that directly affect certain communities.
Women leaders said that while they had no issue with the party's decision per se, they believe that the discussion itself is problematic since it only discussed how foreign women could gain citizenship and not foreign men. Whatever decision is taken must apply equally to both males and females, said Pandey.
"We have been urging the parties that the relevant clause should not say 'man' or 'woman' but 'citizen', so as not to discriminate on the basis of sex," said Pandey, who is one of the most vocal proponents of women's representation in all party committees. "The clause must say—'any foreign citizen marrying a Nepali citizen'."
Other women leaders say that the decisions made by the party's top committees could themselves come under question if they are not made more inclusive. The nine-member Secretariat has no women while the 45-member Standing Committee has just two women. Most committees are largely made up of Khas-Arya Brahmin men with little representation of women, Madhesis, Dalits and indigenous groups.
"We have so many capable women leaders who can be included in all the party's decisive committees," Asha Koirala, a central committee member and former minister for women, children and social welfare, told the Post. "All the committees must be made inclusive immediately, with whatever percent is possible for now."
The ruling party's decision on naturalised citizenship is in sharp contrast to the stance of the main opposition Nepali Congress, which is in favour of allowing naturalised citizenship for foreign women married to Nepali men almost immediately. The Madhes-based parties—Samajbadi and Rastriya Janata Party—have both supported the Congress as Madhesis tend to share close cross-border connections with India, including by kinship and marriage.
Many ruling party leaders, however, have long maintained that there should be a seven-year provision for foreign women to acquire naturalised citizenship, in line with citizenship provisions in India. But some women leaders and Madhesi lawmakers recently met party chair Pushpa Kamal Dahal to lobby for lowering the seven-year time frame.
"We were in favour of lowering the time frame to four years but the party ignored our demands," said Chand Tara Kumari, a ruling party lawmaker and former chair of the National Women's Commission.
Conspicuously missing in the entire debate is the provision for foreign men to seek citizenship after marrying a Nepali woman. Women's right activists have long demanded clarity in the Citizenship Act regarding a path to citizenship for foreign men, saying that existing provisions are discriminatory.
Koirala, like Pandey, believes that this will no longer be a problem if the parties adopt more gender-neutral language.
"On the issue of Nepali citizenship, the provisions must be the same for both men and women," Koirala said in a Facebook post. "Let's use the word 'citizen' that applies equally to both genders and ensure equality."
Women leaders say that representation is often critical to understanding how certain issues affect certain communities. A handful of leaders who share the same gender and ethnolinguistic background cannot understand the issues of all of Nepal's diverse communities, they say.
"Without inclusion, party leaders won't take decisions unless those decisions affect them personally," said Anjana Bishankhe, a lawmaker and central committee member.
"But the way leaders are moving forward, the agendas of underprivileged groups have been forgotten. There is not a single woman in the party Secretariat and it is taking the party's most crucial decisions. How can they decide in our favour?"
---
---