"We're here, we're queer and we're not going anywhere": Here's why the Pride Parade matters
Keeping in mind the current pandemic, Nepal's second annual Pride Parade is being organised virtually on Saturday.

The first-ever autonomous Pride Parade held in Maitighar Mandala on June 29 last year, witnessed people coming together from all spectrums of life to commemorate the day for celebrating diversity within the queer population. Sanjog Manandhar/TKP
bookmark
Published at : June 13, 2020
Updated at : June 13, 2020 06:02
Kathmandu
On the last Saturday of June last year, Maitighar Mandala was filled with cheerful faces, tearful eyes, and welcoming positive energy. Rainbow flags were being waved proudly and people were dancing on the streets. The people gathered were celebrating the country's first-ever Pride Parade, and being able to celebrate the diversity of the country's queer population brought smiles, as well as tears, on the faces of many attendees.
Among the hundreds at the parade was Sanzivani, who was overwhelmed with happiness to see things unfolding at the parade, she says. "It was my first Pride Parade. I was so overwhelmed with happiness seeing people coming together and celebrating each other that I couldn't hold back my tears," says Sanzivani, 19, who identifies as bisexual and wants to be identified only by her first name.
The first-ever autonomous Pride Parade held in Maitighar Mandala on June 29 last year was organised by Queer Youth Group, Queer Rights Collective and Campaign for Change, and it witnessed people coming together from all spectrums of life to commemorate the day for celebrating diversity within the queer population.
But in a society that is strictly driven by cisgender heterosexual needs, there are very few occasions where the queer population can celebrate themselves freely—without fear of harassment, judgement and stigimitsation. And that is why such parades play such a crucial role, say many queer individuals.
Keeping that in mind, despite the coronavirus pandemic freezing society the world over, the parade is being organised this year too—but virtually. Despite moving the parade to the virtual world, the spirit, however, is still the same, say members, as organisers have planned an entire day of events.
According to the organisers, the core principles that guide this year's Nepal Pride Parade 2020, which falls on the second Saturday of June, is to embrace diversity and intersectionality within the queer population and to amplify the notion of seeing gender and sexuality as a spectrum than defining or boxing it into rigid categories.
"This pride parade claims a separate day to highlight people of marginalised sexual orientation, gender identity, and sex characteristics," reads a public release published by the organisers, who are also aiming to cater to diverse queer identities by using multi-ethnic languages as well organising various events and sessions planned for the whole day.
Nepal has often been romanticised as a safe haven for queer individuals, but there are discriminatory laws that are in place that fails to address the diversity within the queer population and the constant stigma and harassment propagated by both society and state, according to many queer individuals. These have retrogressed the queer rights movement, say queer rights activists, and to address such multifaceted issues they believe that pride parades can serve as catalysts.
"When pride parades are held, the queer individuals and their issues get highlighted leading to the visibility of the population among the common masses," says Eshan Regmi, an intersex queer rights activist.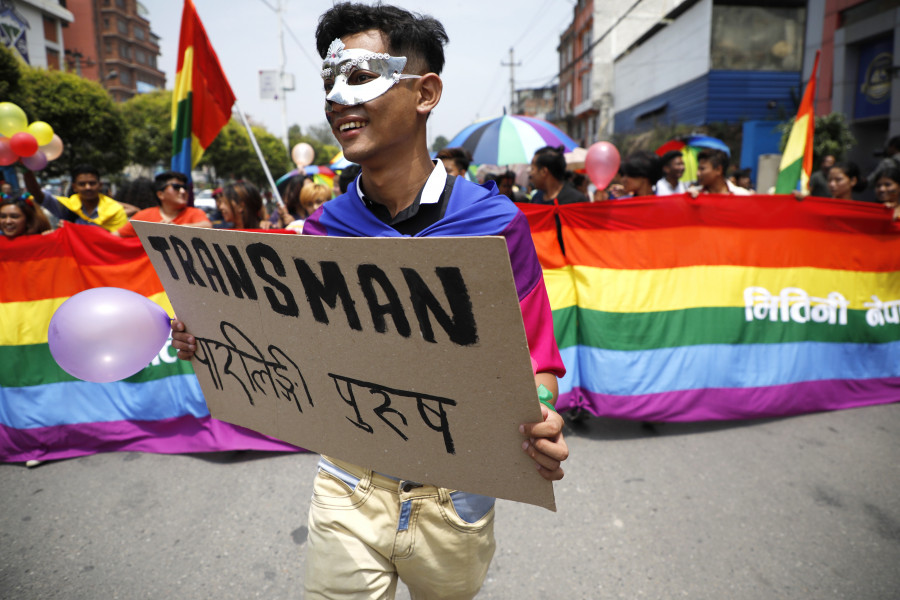 Post File Photo
According to Regmi, the purpose of organising pride parades is to advocate diversity and intersectionality within the queer population, which is possible only through visibility. "In Nepal, the general mindset of people categorises the queer population as 'third gender' or 'trans'. This boxing is wrong, as there are diverse queer identities," says Regmi, executive director of Campaign for Change, Nepal's first and only inter-sex organisation that works for the advocacy for equal rights for intersex people. "And to make the diversity visible, the pride parade can be a helping hand in educating society about the existence of diverse queer identities."
But the pride parade is not only guided by the principle of increasing visibility. For many queer populations, the parade functions as a social event that helps them to bond and connect with others.
"Queer people are excited about pride parades every year because it allows them to be themselves, even for a day," says Laxmi Ghalan, founder of Mitini Nepal, a queer rights organisation. "In a society that is driven by cisgender heterosexual normative, pride parades are few occasions where the queer population has the opportunity to gather and meet with people who might share the same gender identity, sexual orientation, and sex characteristics. Even if such events are few, it helps them to solidify their network, reflect the progress we have made in ensuring equal rights for the queer population as well as helping them to embrace their identities," says Ghalan.
For Samir Khanal, 23, who identifies as gay, events like pride parades are significant as for him it increases both visibility as well as self-acceptance of the queer population like him. "I have attended every pride parade, be it the one held in June last year or the ones organised by Blue Diamond Society. These parades collectively have motivated me to understand my orientation better as well as encouraged me to openly express myself," says Khanal, an activist.
Likewise, for Sanzvini, her experiences of attending such parades have made her realise that she isn't alone, she says. "Even if I was openly bisexual, I still wasn't in touch with or knew queer people like me. But after attending the parade, I came to realise there was no more hiding from who I am, as it was suffocating," says Sanzivani, who shares that many of her queer friends disclosed their orientation and identities to their friends and families after attending the pride parade.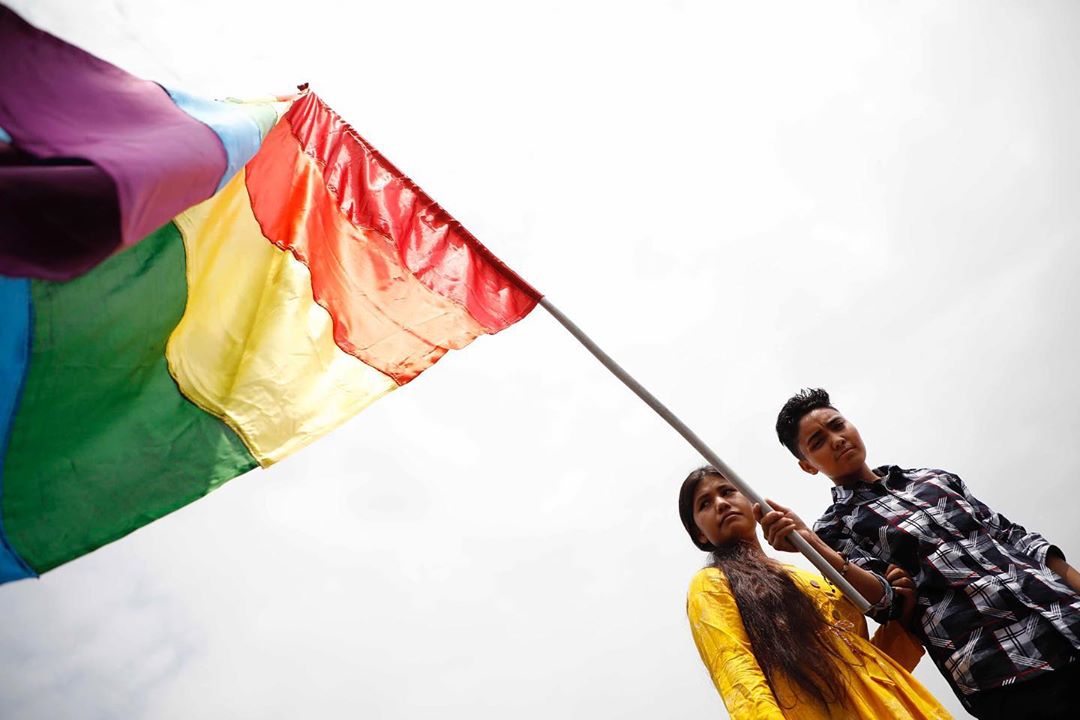 Post File Photo
But Khanal and Sanzivini are only a handful of those whose families and friends are acquainted with their queer identity. Surveys conducted by various queer organisations show that very few people have shared their gender identity and orientation with their near and dear ones.
This is also another reason why queer rights activists believe pride parades must be regularly organised. Because they believe such events help queer individuals to understand more about their identities, boosting their confidence, and also empowering them.
"Pride parades can be a great tool to install and confidence among the queer population," says Regmi. "With all of the struggles and oppression they have faced, they lack the opportunity to exercise their right to live with dignity and freedom. But occasions like the Pride Parade can make them comfortable, confident, and learn more about their identities."
Khanal agrees that attending pride parades and other queer events have helped him better understand himself as well as empathise with other queer people. "At first I used to have very stereotypical views of transgender people. However with time, by attending more and more events, I got to learn more about them, which later changed my views, helping me to empathise with them," says Khanal.
Despite Nepal's regressive and discriminatory laws and practises, there is no denying that there is increasing visibility for the queer population in the country. From organising pride parades and flash mobs to drags shows, queer people are becoming more vocal voicing their concerns and making their presence felt.
"When I attended the pride parade last year, I was so happy that I felt that all of the discrimination propagated to us by narrow-minded people will vanish and change will happen," says Khanal. "The more visible we are, the more people will be aware of us. Because at the end of the day, we're here, we're queer and now we're definitely not going anywhere."
Here's how you can participate in "Nepal Pride Parade 2020".
---
---