With wider visibility and legal sanctions, parents of queer individuals are coming around
Accepting that their child is LGBTIQ can be difficult for parents who grew up in a more conservative time, but things are slowly changing.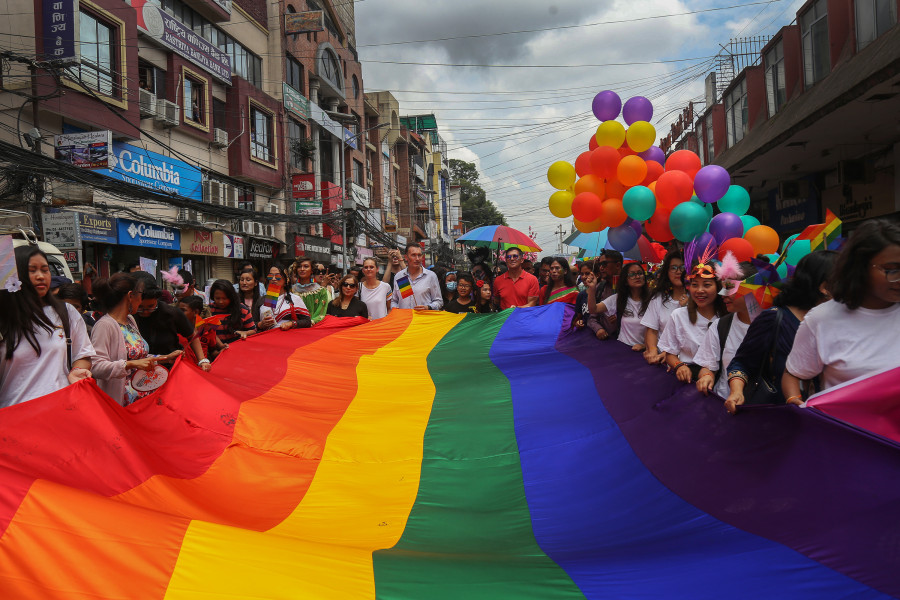 Only 20 percent of 200 lesbian, bisexual and transgender individuals have shared their gender identity or sexual orientation with their family, according to a recent survey. Post file photo
bookmark
Published at : March 8, 2020
Updated at : March 12, 2020 18:55
Kathmandu
Samir Khanal always knew something was different about him. Ever since he was young, he was picked on for the way he walked, talked and dressed. But it wasn't just his friends; even his parents would constantly call him out for what they saw as atypical behaviour. At 20 years of age, when he visited the Blue Diamond Society for the first time, he found a word to describe himself—gay.
"I felt jailed in my own house," said 23-year-old Khanal. "My sexuality felt like a disease. Every day, I wished it to disappear, but it never did."
When Khanal came out to his parents, at 21 years of age, he endured mental and emotional torture as his family refused to accept his sexual orientation.
Bhawana Khanal, Samir's mother, admitted that she was initially confused and concerned when her son came out to her.
"I gave birth to a boy, but when he revealed his sexual orientation, I thought he had turned into a girl as he said he liked men," Bhawana told the Post. "I kept wondering if it was because I had dressed him in his sister's hand-me-down skirts when he was little."
Bhawana had never encountered a member of the LGBTIQ+ community before and she didn't know any gay men. For months, she attempted to come to terms with her son's sexual identity. Things started to change when she began looking up interviews with members of the LGBTIQ+ community, and met some of Khanal's friends. Slowly, she began to empathise with him.
"As a mother, I realised how hiding his identity from us must have suffocated him," she said. "Seeing him happy now, I want him to disregard society's judgments. As long as he is doing well and is independent, he does not deserve to be looked down upon simply for his sexuality."
The Khanal family's experience is similar to that of many other members of the LGBTIQ+ community. Despite wider visibility and a society that is slowly opening up, many young people still face difficulties coming out to their parents. And many Nepali parents, who grew up in a time when Nepali society was much more conservative, have difficulty accepting their children's sexual identities, as it is not something they are familiar with.
According to a baseline survey conducted by Mitini Nepal, an organisation that works for the queer community, out of 200 lesbian, bisexual and transgender individuals aged between 15 and 50 years, only 20 percent had shared their gender identity or sexual orientation with their family.
For many parents, despite what they might personally think or how they feel, it is often a fear of wider society that drives their reluctance to accept their children as they are. While some individuals might be accepting of the LGBTIQ community, society at large remains closed-minded and conservative.
Nineteen-year-old Sazda, who learned she was bisexual when she was 18, has so far only come out to her immediate family members and close friends. Having a mother who she shared everything with, she did not hesitate to reveal her sexual orientation with her.
"I didn't have much to react to because I already had my doubts and was waiting for her to come out herself," said Sazda's mother. "Like they say, a mother always knows."
She knew about the LGBTIQ+ community through the media, had met Sazda's friends who belonged to the community. So she understood what Sazda meant when she said she was bisexual, but as she's not too certain about the reactions of her relatives and wider social circle, they have yet to tell everyone.
"My brothers and sisters will take time to understand so I stay patient with them," said Sazda's mother. "Sometimes I wonder how many people of my generation belonged to the queer community but suppressed themselves due to the fear of society or not having the vocabulary to define their own identities."
This is not to say that all men and women from an older generation do not understand the queer community. There are quite a few examples of parents who've accepted their children wholeheartedly for who they are, though they might be in the minority.
Anmol Rai and her mother Moon Dume are one such pair who've never really had problems with accepting Rai's identity as a transwoman. According to Dume, Rai had always expressed many stereotypical feminine characteristics, so when she came out to Dume, she accepted Rai without any questions.
The only concerns that Dume has are with the growing violence and abuse targeted at the community, and that Rai must undergo gender reassignment surgery.
"No parent would want a needle to prick their child, let alone undergo a surgery," said Dume. "I know that it is not only the physical pain that awaits her. The life she is born into is full of hurdles. But her family's support will always be constant."
While Nepal stands as a safe haven for gender minorities with relatively progressive laws, visibility and activism, not everyone from the queer community finds a comforting ear in their families. Many still struggle to come out of the closet because they fear abandonment, family pressure and social expectations. Many LGBTIQ+ individuals that the Post spoke to said that their conservative families had led to uncertainty over whether they should come out or not. Numerous individuals who haven't come out reported stress, anxiety and fear over the reactions of their parents. This was especially pronounced in those who still rely on their parents for financial support. A number of individuals said that they would tell their parents when they are financially independent.
"I have no choice but to come out to my parents only once I am mentally and financially stable, so that even if they choose to abandon me, I can survive," said Binay, 20, who identifies as gay.
Binay himself was in denial for four years before he accepted his sexual orientation. He has since come out to a close circle of friends but he doesn't know when he will tell his parents.
"They're open minded but conversative in many ways. I have heard them pass homophobic remarks in the past and I've seen them change the channel when there is any news regarding LGBTIQ+ issues, and that scares me," said Binay.
In many cases, it is often something external that drives parents to become more accepting. For instance, in Khanal's case, it was also the fact that he became financially independent and started bearing the family's expenses that led to his parents' approval, he said.
"Coming from a low-income family, they all relied on me for their expenses and they had no option but to accept me for who I was," said Khanal, who works as a freelancer doing multiple jobs.
Bhawana too admitted that her financial dependence on Khanal was a major reason behind the family's acceptance, but whatever the reason, she has come to accept her son for his identity, acknowledging that her refusal would only add to his trauma.
Sadza's mother agrees. Parents need to adapt to new realities, especially if it means that their children will have a better life free of mental trauma and stress.
"I am happy she decided to come out because now, it has become our fight, not just her's," she said. "Just because we did not see it in our times does not mean it did not exist. If your children are confessing in front of you, you must give it a thought."
---
---