VTen: From behind bars to dropping bars
It's been about five months since Samir Ghising was arrested for allegedly promoting anti-social behaviour, but the rapper says he continues to live in the moment.

Sanjog Manandhar/TKP
bookmark
Published at : March 16, 2020
Updated at : March 16, 2020 08:24
Kathmandu
It's hard to believe Samir Ghising is an infamous rapper when he speaks. While his head and hands are adorned with intimidating tattoos, like many of his rapping counterparts, the way he speaks betrays any overawing qualities. It's a side of Ghising audiences rarely witness, given his larger-than-life public rapping persona as VTen.
"I am a different person, out on-stage. When I am on the stage, I transform myself into VTen, tapping into my innermost self to express whatever I am feeling, through rap," says Ghising, softly. "Normally I am Samir, who likes to chill with his friends and family and have a great time with them."
Ghising, originally from Chandranigahpur, Rautahat, followed a similar trajectory to other contemporary rappers in Nepal. But when he was arrested by the police last October, for one of his songs which allegedly promoted anti-social values, everything changed. His notoriety increased somewhat, and there was a large outpouring of support for him.
The song, 'Hami yestai ta ho ni bro' (We're like this only, bro), was considered a sensation by fans, it led to him under the police's radar. The music video featured footage of the rapper smoking marijuana and drinking alcohol, and he was taken into custody.
Though he was later released from jail, his arrest left a deep impact on his physical and mental state. Not only that, it took a toll on his musical career, says Ghising. "There was a tectonic shift in how people perceived me, after the arrest," he says.
While many extended support and called for his release, citing the government's increasing restrictions on freedom of expression, it revealed a group who deemed his rap offensive and believed he should be taught a lesson.
"The arrest changed how people looked at my artform. While some appreciated it, because of the arrest, there was a certain tag associated with me. That had a direct impact on how the audience started looking at my work—through a different lens which they previously didn't," says Ghising.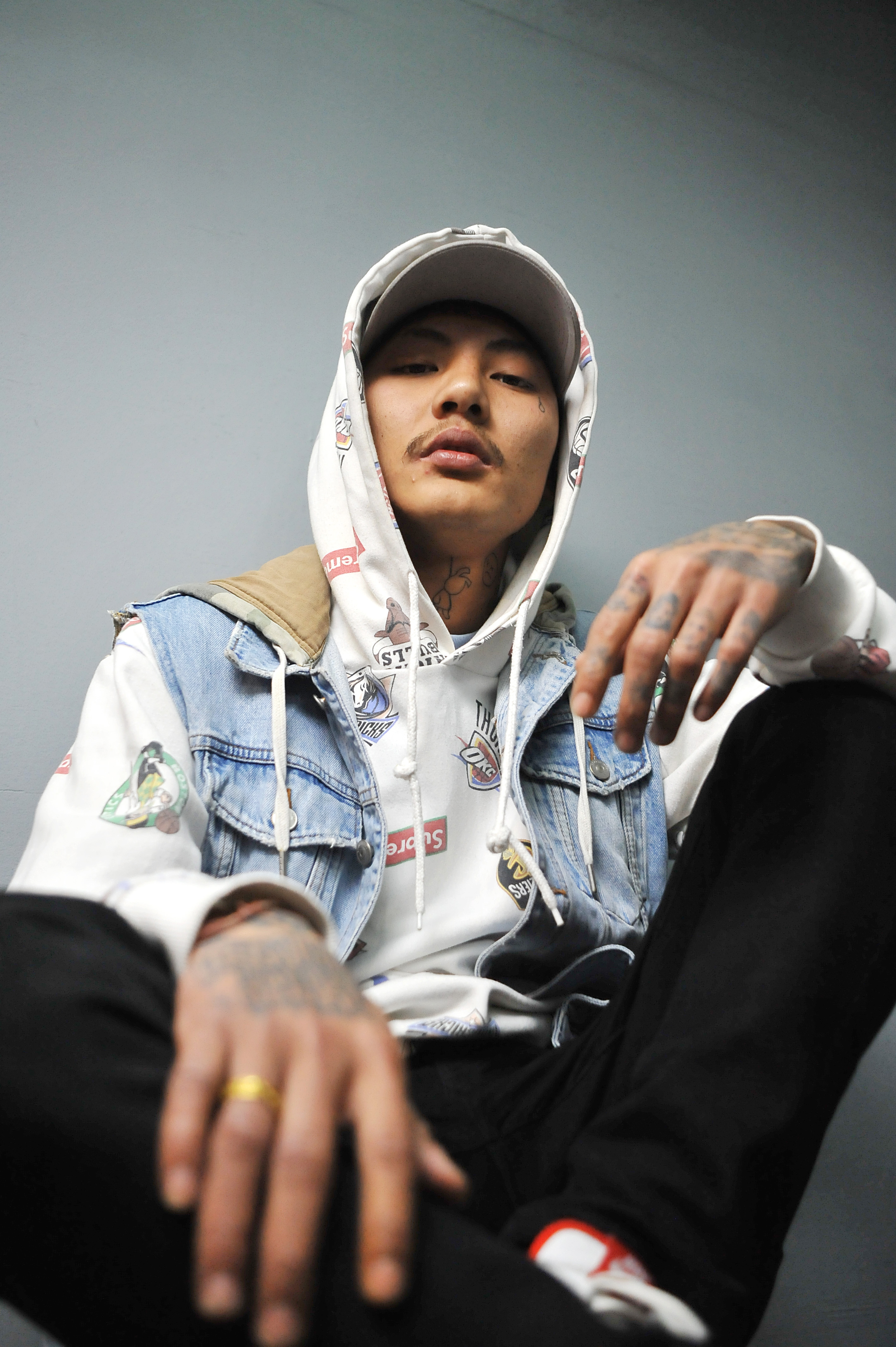 Sanjog Manandhar/TKP
But the 23-year-old rapper didn't succumb to any pressure building upon him, rather, he released his new song 'Thaa Chaina' just a month following his release. Now viewed more than 6 million times on YouTube, in just four months, Ghising has proven he's not leaving any time soon.
"Even though the arrest impacted me, I couldn't stop myself from creating songs which I want to. It's my identity, my expression and my way of living my life," he says.
Ghising was a music enthusiast as he grew up, but had his first taste of the hip-hop scene, locally referred as 'NepHop', through Kathmandu-based rap-battle league Raw Barz. It was those freestyle battles that acted as a catalyst for his passion for rap.
Ghising found the energy and camaraderie of fellow rappers inspiring, he was determined to make a career out of it. And after seven years of his struggle, with chart-busting songs, international tours, a huge fan following and more than 81 million views on his YouTube Channel, Ghising has cemented his place as one of the most famous Nepali hip-hop artists.
"I used to like rap before that, but the contest opened my eyes to the possibilities of how I could use the artform to express my emotions through song," says the rapper.
Rap, as a form of music, has long been criticised for its use of profanities, problematic lyrics, objectification of women, and perpetuating violent behaviour. Ghising's lyrics have been deemed profane by many, as he cusses through many songs; two popular songs, 'Hami estai ta ho ni bro' and 'Simsime pani ma', the lyrics and even the videos hypersexualise and objectify the women.
But Ghising says that's the nature of rap, it's a medium through which people express feelings in a raw and crude manner.
"When you are rapping, or even writing lyrics, you don't determine whether a word is vulgar or not. You just go with the flow and try to express the deeper demons present inside you, which results in writing or uttering cuss words," says Ghising. "The profane words aren't used with a certain intention. But it rather comes naturally and since rap is all about staying real, you will tend to use it in your songs."
He does acknowledge, however, that the depiction of women in his videos may be problematic. But he says it's a by-product of our society—a reflection of how women are looked upon as a whole.
"If you go to clubs, you will see the things taking place that I have depicted in my videos, exactly. It's a reflection of a larger mindset," says Ghising, who adds any female portrayal is not done with harmful intentions.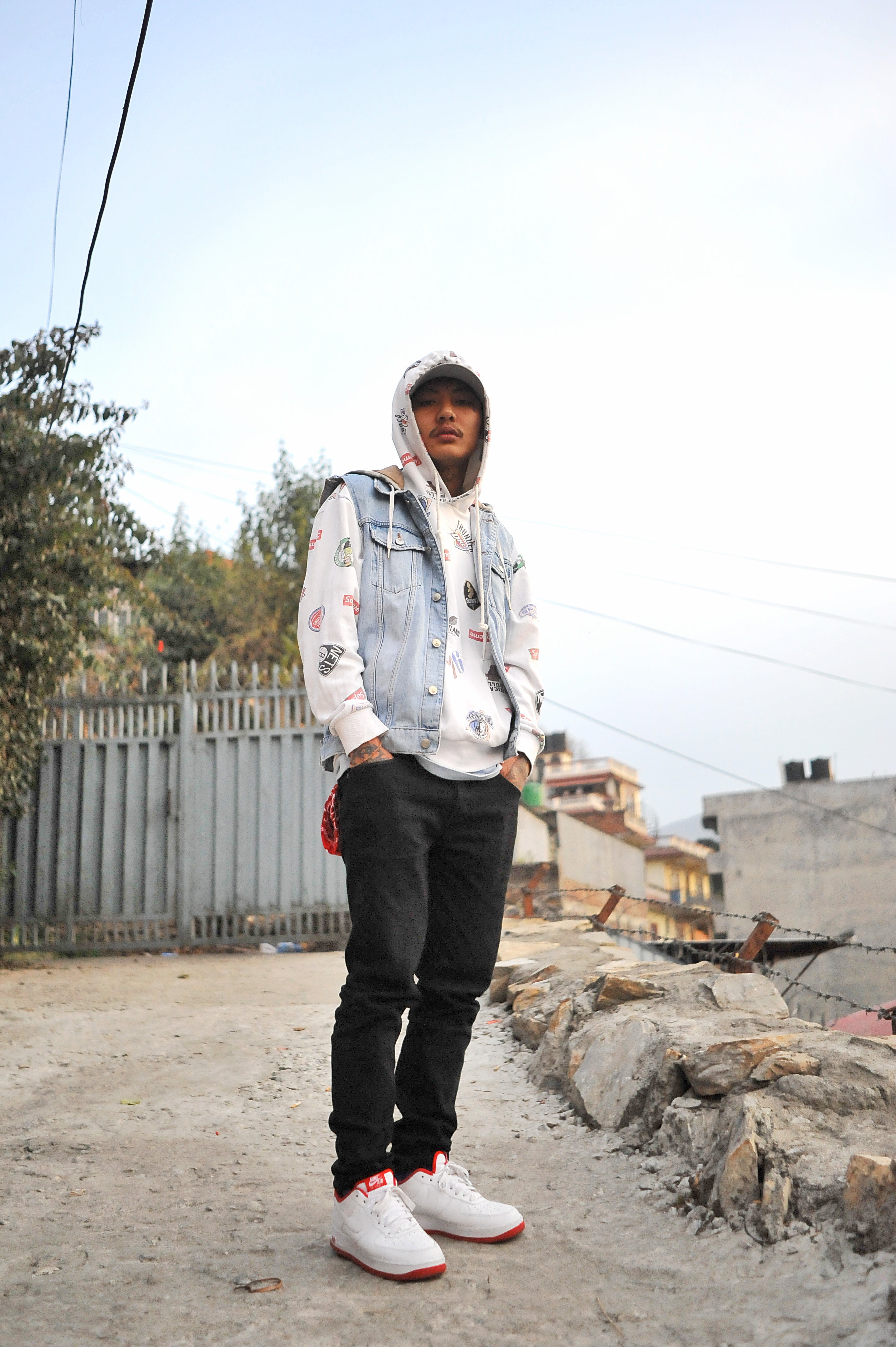 Sanjog Manandhar/TKP
While the aforementioned songs made him a household name, there are two particular songs in his musical repertoire—'Baini (Selin)' and 'Kathaa'—which were appreciated for lyrics of a different nature—songs he himself holds dear. In 'Baini', Ghising tells the story of an unfortunate incident that took place with his younger sister, who suffered severe burns to her hands; in Kathaa he speaks of the poor and common man's hardships. Although the lyrics of both these songs are arguably more meaningful, they didn't receive as much attention as his hits.
But for Ghising it was not a surprise. "We like entertaining songs more than personal and meaningful ones, in general. The songs one can groove to, during parties and in clubs, will always be more popular than those where you express your innermost feelings," says Ghising. The numbers don't lie either, as his YouTube quantifies each song's popularity.
Even though he says it's more satisfying to make songs that reflect his life, struggles and experiences, he doesn't shy away from commercially-fuelled club hits.
"When you are sad or are experiencing some turmoil, you make songs that reflect your emotions, and when you are happy you create something that will make legs move on the dance floor," the rapper says. "Rap is all about being in the moment and creating whatever you are feeling," he says. While his arrest is behind him, and as he seeks some sense of normality, Ghising is currently busy prepping to shoot music videos for his newly released album.
And in that album, "Superstar", which was released last month, he says his songs are a deeply personal reflection of what he has gone through recently.
"For me, singing all sort of songs is rap. It should make you dance, make you feel sad and touch you," says Ghising. "Rap is all about being able to connect the listeners with lyrics, flow and beat, along with emotions."
---
---