Have a seat at Muda Gaun
The villagers of Kalijhoda and Naya Basti in Jhapa have been weaving the traditional stool for the past 35 years, but it is still just enough to fulfil their basic needs.

Seventy-year-old Swamimaya Rana Magar weaves muda at her home in Kalijhoda, Jhapa. Parbat Portel/TKP
bookmark
Published at : December 23, 2019
Updated at : December 23, 2019 07:59
Jhapa
At 4 in the morning, Swamimaya Rana Magar is ready to begin her day. After completing morning chores, she heads straight to a corner of her house, which is a designated spot to make muda, a traditional wicker stool. She sits down and continues weaving the thinly sliced bamboo stems, right from where she had left the night before.
For the past seven years, Magar has been making these traditional stools to make a living. From early morning to late night at 10, she is busy making mudas and stacking them one after another, readying them to be sold to a buyer. But her routine isn't unique—at least for the residents of her village in Kalijhoda, as well as in neighbouring Naya Basti.
Muda has been a staple piece of furniture in almost every Nepali household. Due to its lightweight and portable nature, it can be used indoors as well as outdoors. Some of the plastic furniture manufacturers have also come up with their own version of the traditional stool. But the aesthetics, durability and sustainability of the traditionally made muda are incomparable to its modern counterparts. Due to the steady demand, around 300 households spread over two villages in Mechinagar Municipality are involved in making these traditional stools. Now, they have earned a new name—Muda Gaun.
"It is not a lucrative business, just enough to make a living," says Magar. "At least, weaving mudas make me financially independent."
For the residents of these two villages, although the income is minimal, anyone who wants to pursue this profession does not have to conduct research or look for potential buyers.
Shani Rajbanshi has been weaving mudas for the past 25 years. He even dabbled on other businesses, he bought a tractor and rented it out. But he decided to sell his tractor and get back to his old profession.
"I thought it wasn't necessary to toil hard," he says. "The income we get from weaving muda is enough for me and my wife to fulfil our basic needs."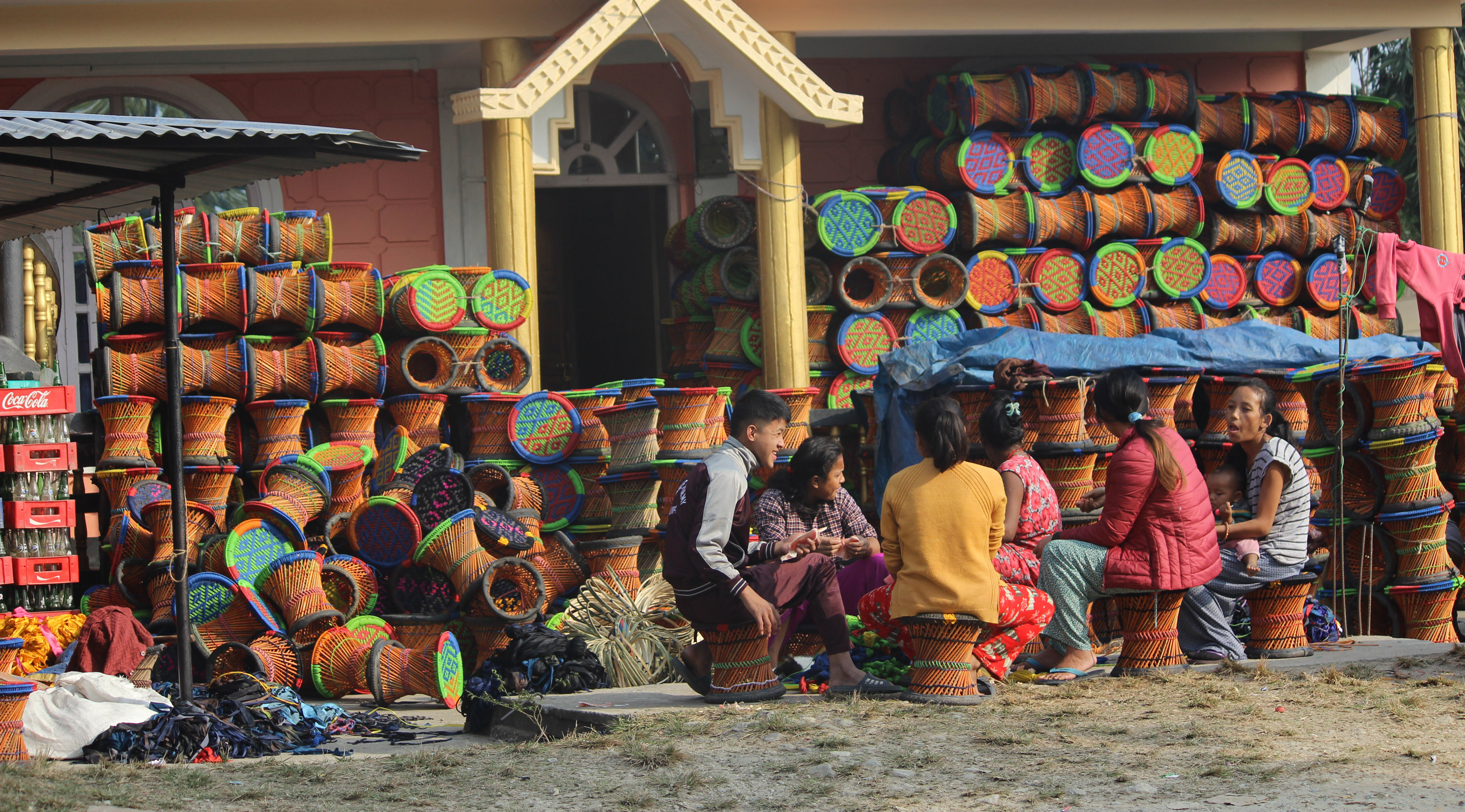 Almost every household is engaged in muda-making in this village. Parbat Portel/TKP
For others like Durga Siwakoti, it is something she does on the side while she waits for her customers in her small shop. "I manage to weave at least five mudas a day,' she says.
In recent years, many interior designers have also attempted to incorporate this traditional furniture into contemporary designs. Tyre treasures, a company based in Kathmandu that turns old, used tyres from cars, trucks and buses into recycled furniture, has also been making mudas.
The villagers of Kalijhoda and Nayabasti, however, credit Khadga Sarki for bringing the skill of weaving muda-making to their village some 35 years ago. When Sarki and his family came to live in Jhapa from Tehrathum during the 70s, he brought with him the skills of weaving muda.
"Whoever learned weaving muda in these two villages, either learned from Khadga himself or from someone who learnt it from Khadga," says Lekhbir Sarki, Khadga's brother-in-law.
When Khadga came to Jhapa, he settled in a small plot near a forest. For making mudas, he and his family used the skin of oxen and bulls. But after Bansbari leather shoe company filed a case against him for using the skin of oxen and bulls acquired from Jhapa, which at the time the company claimed they contractually owned, Khadga was sent to jail for three months.
But as even the darkest clouds have a silver lining, during his jail time, he learned to weave muda from plastic ropes. And when he was freed, he again transferred that skill and technique to other villagers.
But the person who transferred the skills has himself stopped making muda, says Lekhbir.
Lekhbir has also resorted in selling bamboo rings used in making the base of the stool rather than weaving the whole product.
"It's more profitable to sell these rings than to put your labour into making a stool," he says. "The price of other raw materials needed to weave mudas has skyrocketed, while the price of muda is the same."
For every dozen mudas made up of plastic rope, the villagers sell it for Rs1,700. The mudas made up of velvet cloth, however, costs Rs2,200 per dozen. These mudas are then sold around different cities in Jhapa and some are even exported to Kathmandu and Pokhara. This, according to the villagers, is a nominal price given the cost of plastic ropes has spiked to Rs280 per kilogram while the price of the tyre to Rs20.
But the residents of Kalijhoda and Naya Basti are still continuing to earn their living by weaving mudas. In some households, the entire family is involved in muda-making. One such family is that of Wiskut Rajbanshi's. The family of five spend their time making mudas from early morning to late evening.
Twelve years ago, when the sole breadwinner of the family Wiskut met with an accident and was left bedridden, the family had started weaving muda as the only resort. Now, in their home, which looks like a warehouse, they make around seven dozen mudas a day and make a decent living, says Gita, Wiskut's wife.
"When we started making muda, we were desperate," she says. "Now, we are financially stable."
These traditional stools made in Muda Gaun have the potential to be marketed all around the country, which can fetch them better prices, say villagers. But even with these disadvantages, they don't seem to stop weaving mudas anytime soon.
---
---