'Bodhicitta Compassion' is more than self-expression, it's self-reflection
In his latest exhibition, artist Tulku Jamyang deploys contemporary cultural motifs to delve into Buddhism and spirituality.

Tulku Jamyang's exhibition 'Bodhicitta Compassion' incorporates contemporary style with its underlying Buddhist philosophy. Beeju Maharjan/TKP
bookmark
Published at : December 5, 2019
Kathmandu
They say art reflects the artist. This particularly stands true in the case of Tulku Jamyang's latest art exhibition, where he uses his paintings as a tool of self-expression.
Jamyang's paintings may seem ordinary at first glance. But a deeper look into his artworks offer the spectator an invitation to the world of a man who does not adhere to set narratives. He dresses in monk robes, but sports sneakers and a cap. And it is not just the attire that juxtaposes with the philosophy of Buddhist monasticism, but his possessions, such as an iPad, an expensive car and a casino slot, is something that does not belong to the institution he represents as well.
But the artist's aim is not just to create a 'rebel' character or create commentary on how social expectations contrast with individual desires. Explaining the marriage between his paintings and the title of his exhibition 'Bodhicitta Compassion', he says he wants to urge his audience to look beyond the presumption of what a Buddhist monk should or shouldn't do or be.
"Buddhism teaches that the intention of a person matters the most. That's why we must know someone's intention first rather than judging them on the basis of their physical actions," says Jamyang. "But that has become the least of our concerns nowadays."
Bodhicitta, which is defined as a spontaneous wish to attain enlightenment motivated by great compassion for all sentient beings, or 'awakening mind' in short, Jamyang says, cannot be just limited to how a person decides to live his life. The 'awakening' is internal, and that is what he is trying to portray in his paintings.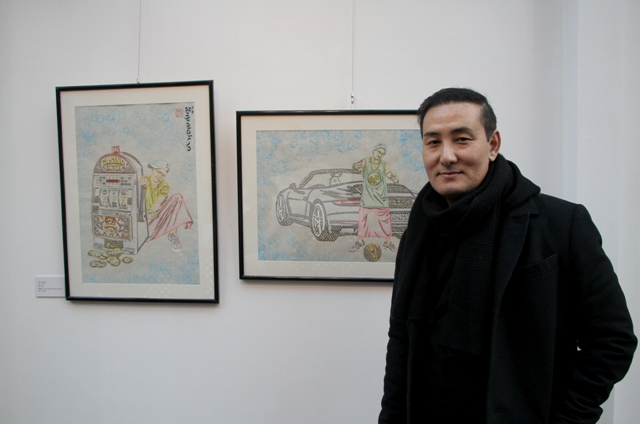 Tulku Jamyang during his exhibition. Beeju Maharjan/TKP
Jamyang himself used to be a Buddhist monk, and hence, his paintings and the corresponding themes carry a personal narrative. The artist also says he has taken inspiration of the paintings from one of his friends.

"In my artworks, the character is just doing normal things, like eating a pizza or relaxing by the beach," he says. "I just want people to change their perspective on how they see monks."
Rather than judging the outer appearance of a person, even if they belong to a certain institution, it is more important to discuss the knowledge they have. The knowledge he gathered about Buddhism and its philosophy, during his time as a monk, still seem to be near to his heart, that has trickled down to his artworks too.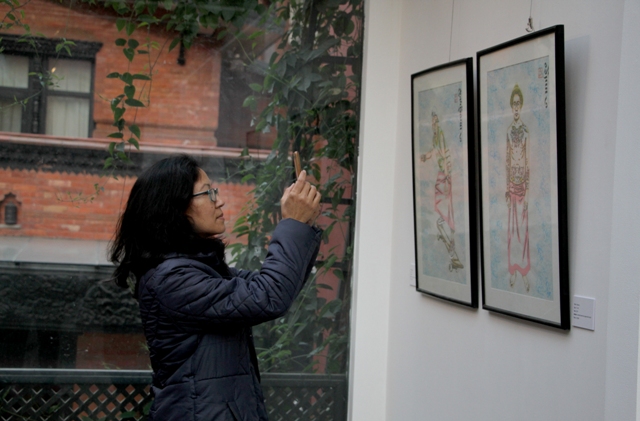 Beeju Maharjan/TKP
Every painting featured in the exhibition, according to him, represents the ten paramitas of Buddhism, perfect virtues that must be practiced by one who undertakes the path to Buddhahood. The practice of these virtues are regarded as the path to enlightenment.
"If you look at the painting of the man using an iPad, I have titled it 'Meditation', one of the paramitas," he says. "As we all have reached a stage, where we use electronic devices so
attentively, like how meditation is done, I have named the painting after it."
Another common noticeable thing in all of his paintings is the use of the same five colours—white, yellow, red, blue and green. These five colours, the artist says, have a symbolic meaning in Buddhism. As per Buddhist philosophy, the five colours is associated with a benevolent characteristic that one needs to achieve to attain nirvana (enlightenment).
But this is not the only way through which he has used the teachings of Buddhist philosophy in his art. Pancha Tattva, the five elements of nature (air, water, fire, space and earth), is also weaved into the process of creating his art, which shows how much spirituality has influenced him and his art.
But apart from the theme and underlying philosophy of his paintings, the art itself is very intriguing. The process too, however, is heavily influenced by Buddhism.
"I burn rice paper by using fire, use colour which has water, blow the fire in order to have a distinct texture, and use a dedicated space to exhibit my art," says Jamyang.
The technique of burning the paper with incense sticks is his personal style. The process makes distinct dot like texture. Like the philosophy, his artworks can be understood only in layers. One has to unravel the paintings, their colours, the meticulous process of making the artworks and the meanings behind them.
"This is my way of paying homage to the teachings of Buddhism," he says. "For the younger generation to understand the concept of Buddhism and spirituality, we need to teach them in the language they know. This is why I have mixed contemporary culture with meanings that relate to Buddhism."
'Bodhichitta Compassion' will be on display until December 17 at Dalai-la Art Space, Dalai-la Boutique Hotel, Thamel.
---
---