They've got jokes. But who's laughing?
Nepali stand-up comedians say their jokes reflect society, but the audiences' reactions in the past have not always matched the comedians' intentions. This is making many of them to rethink their content.

Sisnu Pani Nepal performs on the stage during this year's annual 'Deusi Bhailo' programme at Nepal Academy in Kathmandu. Screengrab via YouTube
bookmark
Published at : December 3, 2019
Updated at : December 3, 2019 13:17
Kathmandu
Pranesh Gautam is no stranger to open mics. As a stand-up comedian, he is accustomed to the stage life, speaking in front of a live audience, cracking jokes—which are both politically correct and incorrect. He is also accustomed to the criticism, even some audience members cringing at his jokes. What he had not anticipated was getting slapped across his face by an audience member during one such open mic event.
But that wasn't the worst experience Gautam has had to face as a comedian. A few months after that incident, in June, he was taken into police custody for his video review of Nepali film Bir Bikram 2 on Meme Nepal, a popular Facebook page. His arrest made national headlines, with many taking to the streets protesting the arrest, for they believed the move tightened the government's grip on the freedom of speech.
Reflecting on both the incidence, Gautam says he has very different reactions. "It's sad that I got arrested just for making a video," says Gautam. "But at the same time, the open mic incident has made me more sensitive towards gauging the audience's reaction."
Social media, television shows and a growing culture of open mics have contributed to the recent popularity of stand-up comedy in the country, but Nepal has had a long history of comedians poking fun at social and political aberrations. The festival of Gai Jatra can be considered one such event, where malpractices are called out enveloped in humour and satire.
But with the advent of social media, where the audience is instantly and constantly expressing their reaction and the state increasingly trying to control free speech, creating content has become dicey, comedians say.
"It is human nature that people will laugh when the joke is on others, and get upset when its on them," says Laxman Gamnange, chairperson of Sisnu Pani Nepal, a comedy club, which has been organising 'Deusi-bhailo' comedy programme during Tihar festival for the last 22 years.
This year too, in their event organised at Nepal Academy, many parliamentarians, top political leaders and even Prime Minister KP Sharma Oli were amongst the audience. But the comedians didn't mince their words. From issues ranging from wide-body controversy to nepotism in Nepali politics, Sisnu Pani Nepal left no stone unturned to criticise the government's unsatisfactory performance.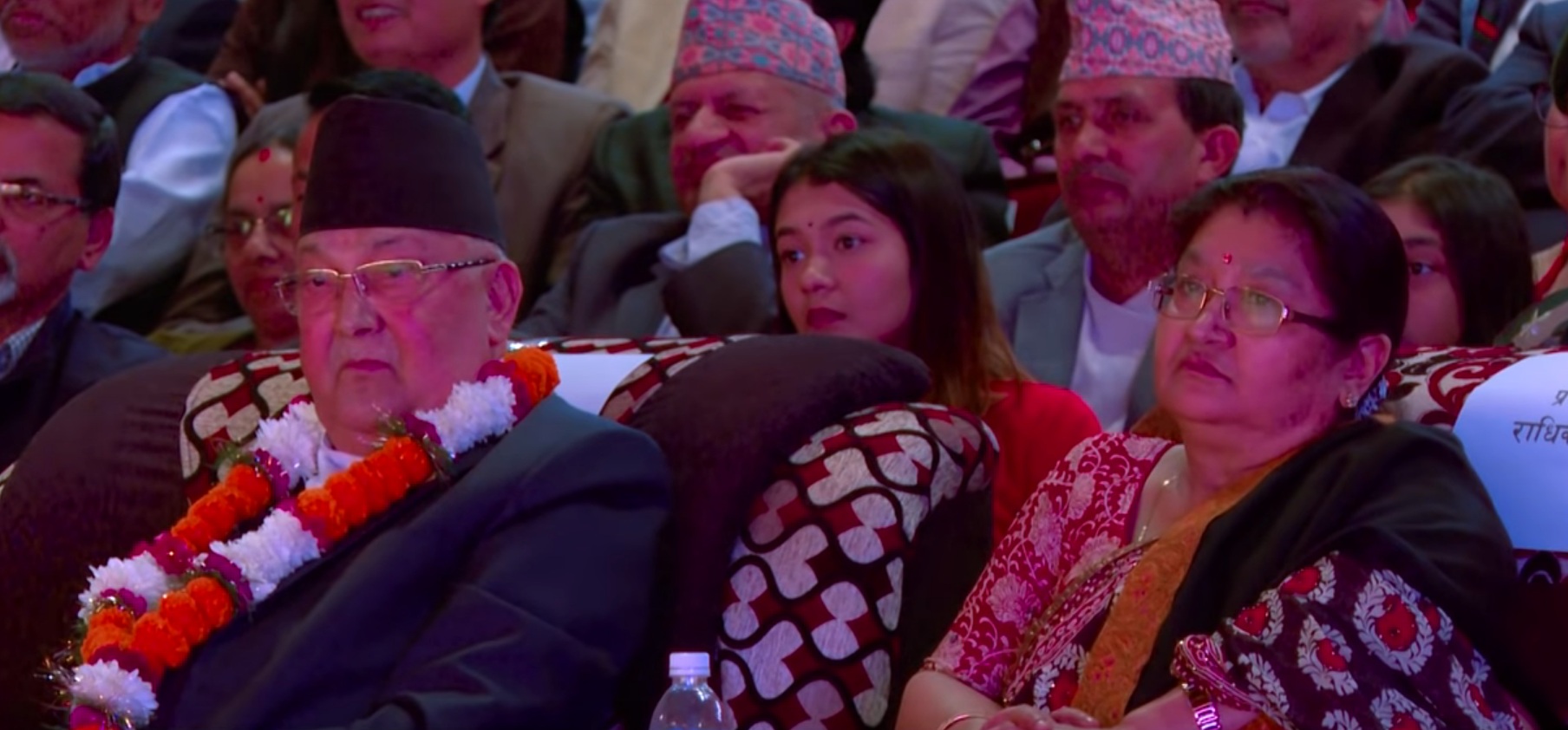 Prime Minister KP Sharma Oli along with his wife watching Sisnu Pani Nepal's performance on stage during this year's annual 'Deusi Bhailo' programme. Screengrab via YouTube
While the jam-packed hall echoed with the audiences' laughter, and some politicians even biting their tongue in disbelief, Prime Minister Oli mostly carried a stoic face.
Gamnange, however, said that he was impressed by how well the politicians took their jokes. "I think the political leaders took it sportingly," he says.
But the same fate wasn't reserved for some other artistes. Only a few months ago, rapper Vten was arrested for "promoting similar anti-social values" in his songs; singer Pashupati Sharma was forced to remove his viral song "Lutna sake lut kanchha" from YouTube after NCP youth wing issued a strong statement against the singer and the song.
"Arresting artistes in the name of moral policing is definitely not right," says Gamnange. "When it comes to art, it should be left to the artistes' discretion."
But it is not just the government that has taken issue with artistes' content, many on social media and otherwise have criticised comedians for cracking sexist and racist jokes. Sometimes, especially during open mics, rather than taking the comedy set as lighthearted, the audience are seen taking offence to the joke, say comedians. Gautam getting slapped during one such performance was also the result of a misunderstanding between his satire and the audience, he says.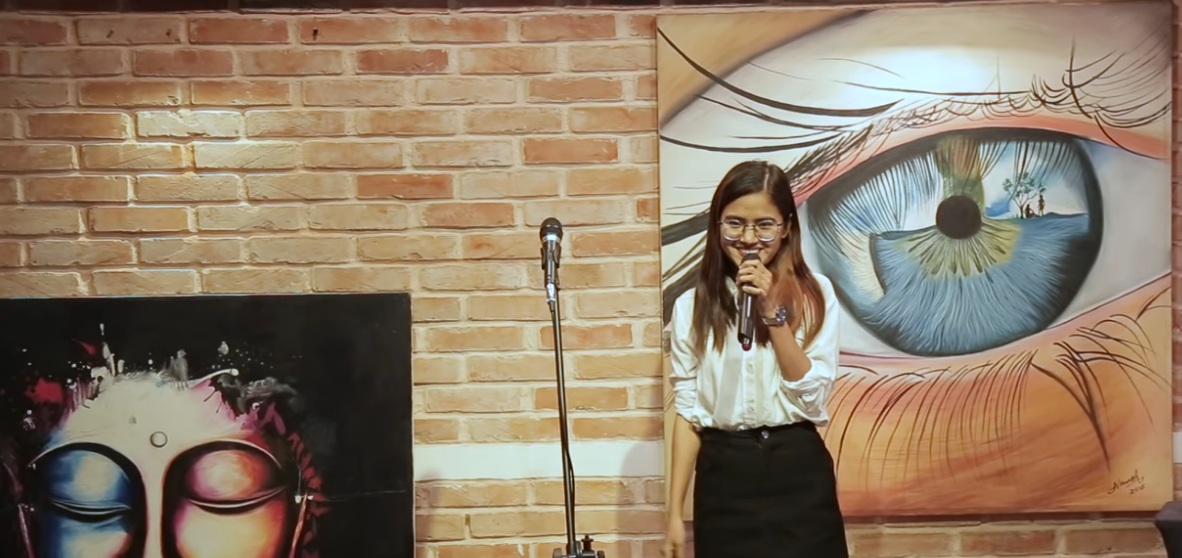 Yoznaa Thapa during her open mic session. Screengrab via YouTube
Another young stand-up comedian, Yoznaa Thapa, says she invests more time in open mic performances so that she can understand audiences' reactions to her jokes, and avoid any unfortunate events.

"I might find something funny, but the audiences may not," says Thapa. "Open mics can help me improve my performance."
Thapa shares that sometimes it's important to know what the audience prefers and work on common things that people can find funny. "Jokes can be about everything. But, yes, we must work on material that can make more people laugh," she says. "If I make a Star Wars reference, a few people will understand. But if I make a joke about former prince Paras, many people will understand it and there will be more laughs."
Manoj Gajurel, another veteran stand-up comedian, agrees with Thapa. He believes that art should respect the values of society, and thus comedians should also analyse their content well before putting it out in the public.
"I like the current generation of stand-up comics; they are trying something new," says Gajurel, who is teaming up with Gautam for a new television show. "But sometimes, self-censorship is important, as every society has a different set of values."
But Thapa believes that comedy is the mirror of any society, and it is important for artistes to push the boundaries with their content—to shift the mindset of people and society.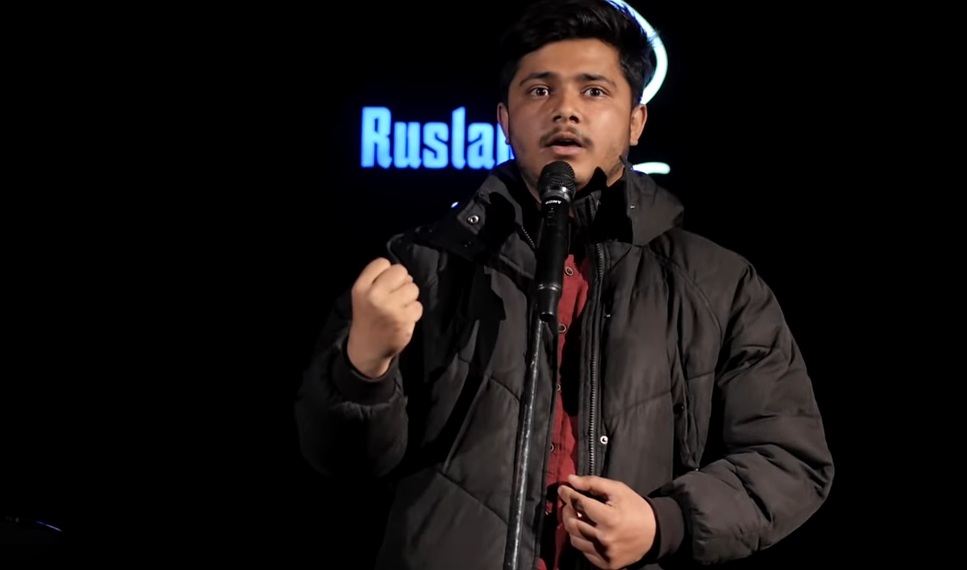 Pranesh Gautam during his open mic performance. Screengrab via YouTube
"Society can be in denial sometimes," she says. "That's why they may not like our jokes because we are showing them a reflection of themselves in the form of comedy."

While she is open to taking constructive criticism from the audience, she is also aware of the purpose of her jokes, which is—as it is with all forms of art—to question socio-political malpractices.
"Anything against the current structure can be deemed controversial," she says, who is against the mistreatment faced by the comedians, by the mass or by the state, in the form of so-called reaction to a joke.
Gautam says he has been continuously refining his jokes and refraining from making offensive ones but the arrest has left a lasting impact on his psyche, he says. "It made me more conscious about what contents featuring me will go in social media platform as the authorities have access to it," he says. "I don't want to get into trouble again."
---
---