Loud artistic juxtapositions steal Krama exhibition's charm
'Krama—The rise of the female artists in the 21st Century' celebrates the work of female artists, but disappoints as spectators get no lasting impression.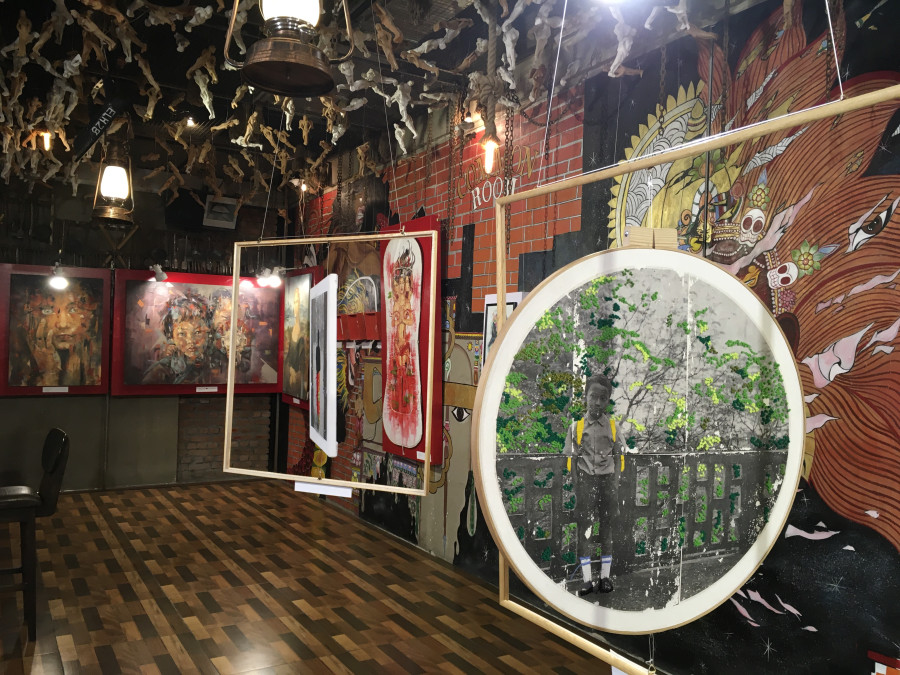 Twelve female artists came together for an exhibition on the theme of women empowerment but not everyone stuck to it. Srizu Bajracharya/TKP
bookmark
Published at : October 22, 2019
Updated at : October 23, 2019 17:40
Kathmandu
At Common Room, inside Prive Nepal, a tall canvas cut out in the shape of a huge sanitary pad immediately grabs attention. In the artwork, is a three-headed woman expressing different emotions: one is distressed, one is indifferent, and the other has a finger placed on her lips. The woman's body is covered in splotches of red acrylic paint, while her hair floats in the background. Her body is submerged thigh-deep in a red pond, and it is quite clear to viewers that the painting is a depiction of the monthly menstrual cycle of women. Rashana Bajracharya, the artist, titles this work as 'Purity of Impurity'—telling spectators how period are normal and pure.
Bajracharya's work is part of the exhibition titled 'Krama-The Rise of the Female Artists in the 21st Century' organised by Tilicho Kala, an artwork store in collaboration with Shtrii Shakti, a women-led national development organisation. However, the painting is one of few that come close to the umbrella theme of the exhibition, which is to empower women. Krama brings together the works of 12 women artists who explore various topics from history, identity, places, imagination to everyday mundane. And although the paintings are beautiful individually, together they fail to synchronise. And much to its disadvantage, the venue as well doesn't serve to enhance the narrative of the exhibition.
In recent years, art exhibitions in Kathmandu have been frequent. For many artists, 2019 has been a good year, with many platforms offering new- and old-artist space to showcase their works. However, despite this wave of change, art exhibitions still falter to pull together a powerful narrative. Many exhibitions just seem to bring works of various artists together without giving much thought as to how the artworks will make meaning together. While Krama is a celebration of women; there is much more that is happening in the exhibition that may be distracting to spectators.
Often curators of artworks in exhibitions, choose a plain backdrop to showcase artworks so that the spectators' attention is drawn towards the subject of the paintings. However, the juxtaposition of artworks at Prive Nepal does the opposite and that too very bluntly.
Many spectators will be awed by the architecture of the venue. There are more than a hundred miniature mannequins hanging down the barbed roof of the Common Room, Prive Nepal, which is actually a night club. And the walls of the club feature various murals and installations of hardware—making it a little too cluttered. On the stage, there are about 12 vintage television sets used as decor to give an artful vibe to the room. But this is possibly what doesn't work for Krama—the venue itself, for the artistic liberal vibe of the place that dominates the storytelling of gender roles. The free-spirited casualness of the place doesn't support the seriousness of Krama. And in that setting, almost all artworks just become a statement as spectators can be distracted with the vibrant backdrops, consequently not letting them visit the depth of the artworks.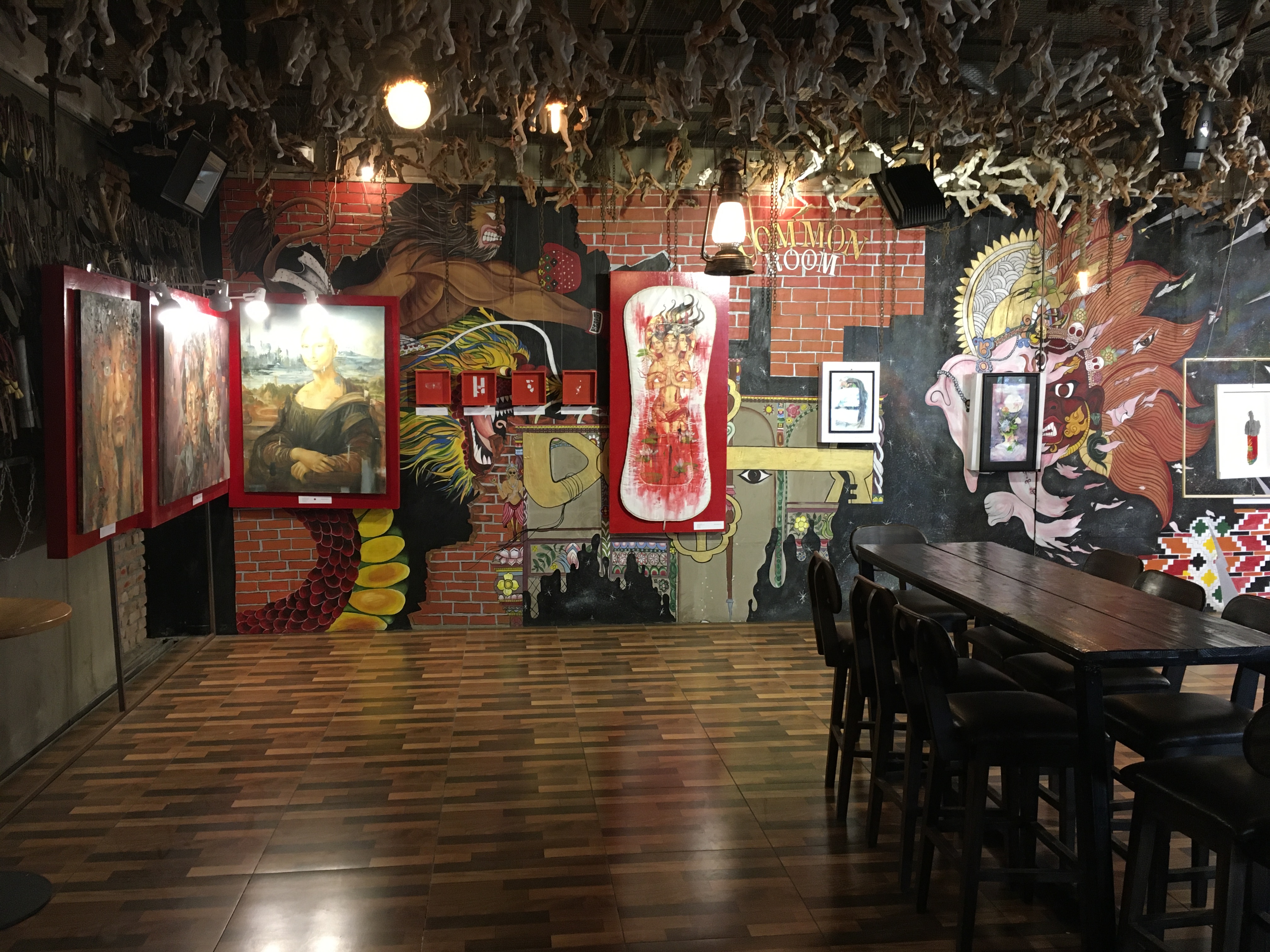 Srizu Bajracharya/TKP
But even then there are some artworks to look forward to. Like, Sony Rai's artwork titled 'Wonderland' which shows two stray dogs sleeping against the backdrop of a chaotic traffic scene where vehicles try to manoeuvre their way out of a busy junction. Rai perhaps intends to emphasise how humans have no concern about animals that they live among; but amid a busy club will someone notice the misery that Rai portrays in aquatint.
Rai's other artwork 'Replacement' is also equally powerful, as it shows the imprint of changing times and withering traditions. Two women in a traditional fariya cholo are seen walking into the unknown, donning sports shoes adjacent to the abandoned traditional rug weaving machines; one of the woman's cholo also bears prints of big brand names like Puma, Lote, Lee, and Nike.
Sabita Dangol's paintings of solicitude are also quite captivating, with their use of vibrant colours. In one of her paintings, a man and a woman, shaped as peacocks, look like they are enjoying nature. But her painting is much like a collage of different elements filling the canvas, such as random peacocks flying towards the couple, long tulip flowers, fishes that have faces of humans, and emoticons. The artwork stands out among others because of its creative articulation of a different world.
Priyanka Singh's artworks titled 'The Passage of Time and What Remains' is also thought-provoking, as she tries to grasp the essence of her withered memories in a canvas made out of embroidery hoop.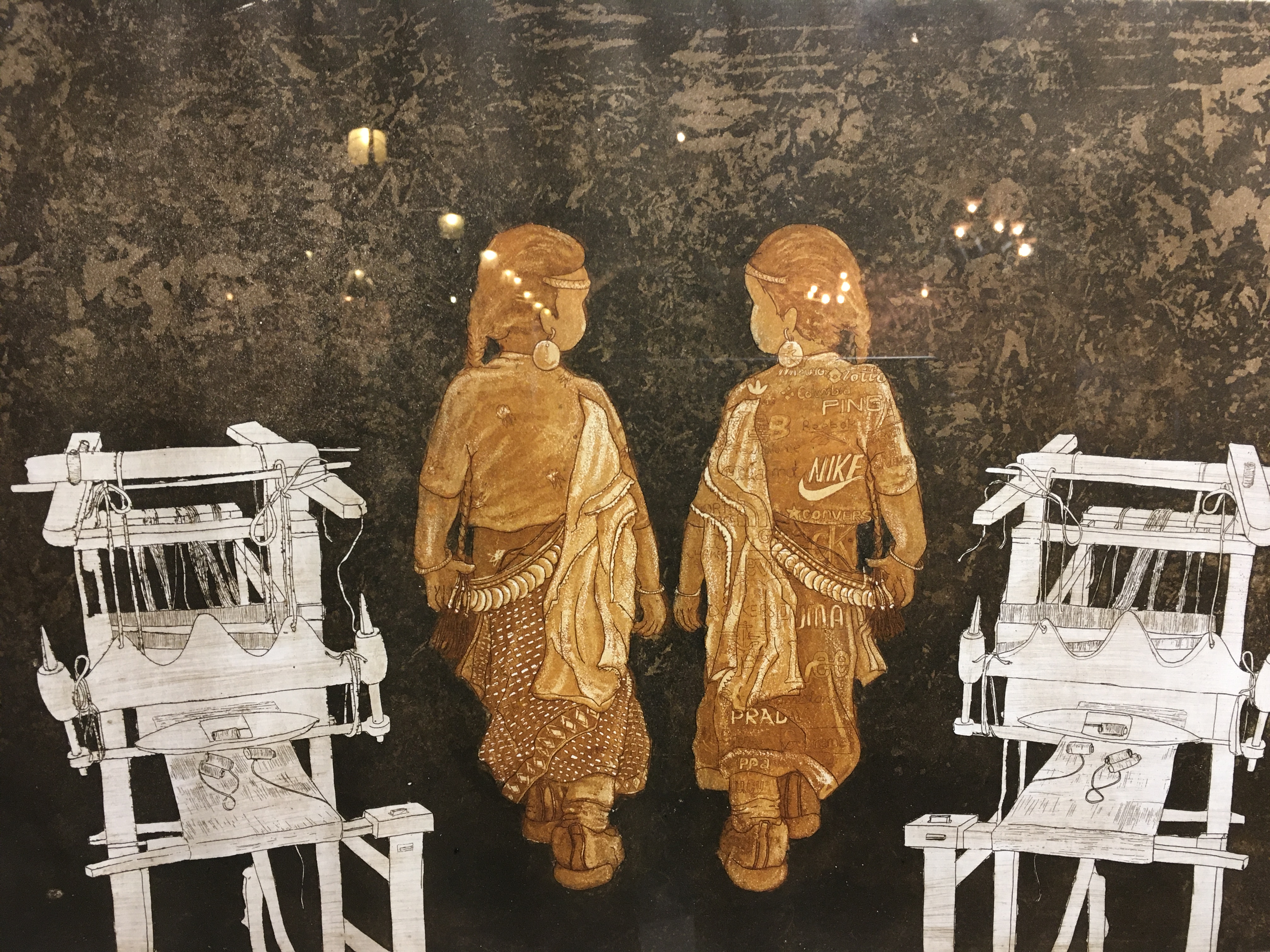 Srizu Bajracharya/TKP
But it is Dr Seema Sharma Shah's artworks that show the calibre of female artists in the 21st century. Her artworks are giant and magnificent, with a sharp focus on intricate details. They document the different postures of powerful deities like Laxmi, Krishna, even Dipankar Buddha. However, as one immerses in her work, one will wonder how her artworks of Dipankar Buddha and Krishna Leela fit with the overarching theme of 'empowerment of women'.
On the whole, it is hard to say how these paintings have shaped the perspective of these artists, as there is not much information to rely on to make meaning of the artworks. Individually, the artworks are interesting and delightful, but they aren't engaging enough; they don't leave you impressed, wanting to rave about the rise of female artists in the 21st century. Perhaps, a less loud venue would have done the exhibition more justice.
'Krama—The rise of the female artists in the 21st Century' will be on display until October 23 at Common Room, Prive Nepal, Soaltee Crowne Plaza.
---
---