Dashain is a time for celebration—but just for men.
Gender biases are more visible during festivals, with household and kitchen chores assigned solely to the women of the house.

Sanjog Manandhar/ TKP
bookmark
Published at : October 3, 2019
Updated at : October 3, 2019 11:00
Kathmandu
As soon as Dashain starts, Gopini Khati is swarmed with household chores. She usually spends all her mornings in the kitchen, preparing food for her guests. The rest of the day goes to cleaning and planning food items for the other days of the festival. This Dashain too will be the same for her, she says.
"Yes, it's holiday time, but if I don't cook and look after my house who will? I am the caretaker of my house," she says.
Dashain is regarded as the biggest festival in Nepal, celebrated by a majority of the population. Most workplaces, including government offices, grant holidays for 4-5 days to celebrate the festival.
And although Dashain is all about enjoying some time off from work and responsibilities for men, most women spend the days inside their kitchen, cooking meal after meal for guests, for at least five days—from the day of tika to purnima. This culture distinctly reveals how our society still continues to harbour gender stereotypes.
In Nepal, the sharing of household chores between men and women, especially during festivals is a concept less explored—people still follow the routine as it had been done for generations, like upholding a tradition that is carried out unquestioned. But some women voice their disagreement with such discriminatory practices.
"It's still women who are called out to tend the houseguests' supper and refreshments while men's responsibility is to chat with them," says Khati, who runs Snow Drop Beauty Parlour in Sanepa.
Although she also takes on the same role at her home during Dashain, she says that tries to manage some time for herself during the holidays. Khati, who lives with her partner and children, can accommodate some free time in between festival chores but women who live with their in-laws may not have the same privilege.
"In the beginning, when I had just got married, I did feel like I was married to look after the household," says Rita Basnet, managing director of Mali Travels & Tours. "But over the years, things have changed because I have communicated about these things with my partner and family."
In the majority of Nepali houses, it is like an established practice that women take over the kitchen and household duties during Dashain, while men socialise, play cards and enjoy the festival, says Basnet.
"One of the reasons I think this culture still persists is because women ourselves have not taken initiatives to making any changes," says Basnet.
Basnet's statement holds true for people like Radhika Rai Thapa, who feels like it is her duty to carry out all festival chores as she is currently a stay-at-home mother and her husband is the sole breadwinner of the family.
"I don't go to work every day like my husband, so Dashain is a holiday for him but not really for me," says Thapa.
Household chores, regardless of how tiring and time-consuming it can be, are regarded as unproductive and less important than workplace achievements—as this work is not counted in the country's GDP, the measure of the size of a country's economy. Thapa, too, agrees that household chores are important but she doesn't want to challenge the norm that she says she has comfortably adjusted to.
"Although that is how things are seen, I love looking after my home, and I enjoy Dashain despite all the heavy chores," she says.
Basnet believes that stories of women taking care of households are ubiquitous, and although she does not take it as discrimination, she says women need to talk about how doing the chores all day is unfair.
"It's important for families to nurture the habit of helping each other; it's not about whose role it is, as families we should be able to work and celebrate together," says Basnet.
Some women, however, also believe that by associating household chores with gender discrimination, women are themselves debasing themselves. "I think as women and men, we have different roles to play during festivals, and it's not true that men only enjoy and relax while women continuously work," says Dr Chunda Bajracharya, a professor at Tribhuvan University. "Equality is not comparing work."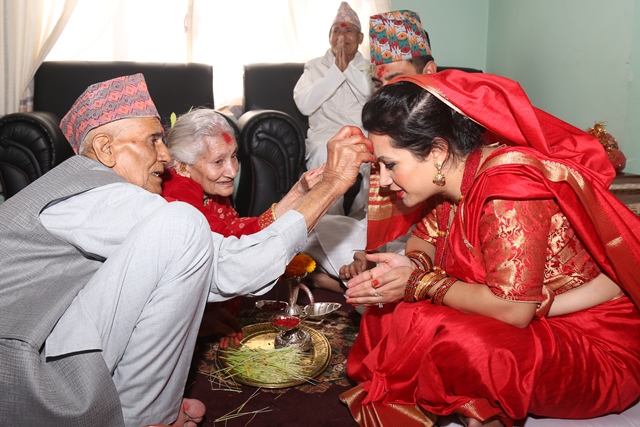 Kabin Adhikari/ TKP
Bajracharya says women need to educate and push their horizons to defy gender roles. "There are a lot of instances where I have felt discriminated because of my gender but my reaction towards these experiences has always been about working hard and moving forward," she says. "It's best not to get intimidated by such issues."
But when there are social expectations for women to take the sole responsibility of handling all household chores, even during festivals, it already builds an intimidating environment, says Khati.
"We are not told to do all the house chores, and it's not that we are forced to take on the roles but there is also the fact that if we don't do it, there is nobody else to do it," says beautician Khati.
According to her, social norm forces women to carry out chores while men feast and play cards and it is unmistakably an imprint of the patriarchal society that the country still cultivates and families still practice.
"Some men also say women can cook well and can manage the house better than men but sometimes, in such language, I can trace that they are seeing us in traditional gender roles. It's not always the case but it's there," Khati says.
But with movements of women empowerment attempting to aware people about the informal prejudice that still exists in society, and women pushing their limitations, some families today believe in sharing household chores among all members of the family equally.
"When I was newly married and was a daughter-in-law in the family, I was expected to carry out all the household chores for Dashain. But now that I have a daughter-in-law, I don't think that she is solely responsible for that," says Nisha Manandhar, associate professor at Chaitanya Multiple Campus. "Even in our everyday routine, whoever has the time helps with the chores, and when we are all busy we divide them."
But Manandhar also understands that the same is not the case for every household; many daughters and wives during festivals are subjected to back-breaking chores and sometimes household abuse and discrimination.
"Of course not all homes have the kind of environment as we have, but members of a family need to share household chores," she says.
For many women, this year too, their holidays will end with them carrying out household chores. "Every Dashain is the same: I will be cooking and cleaning, and before you know it the holidays will be over. I probably will have peace once I am back in the parlour, back at work, as there will be fewer customers right after Dashain," says Khati.
---
---