Trisara: Don't come for the food, come for the space
At the restaurant's Durbar Marg locale, there are more Instagrammers than diners.

bookmark
Published at : January 23, 2020
Updated at : January 24, 2020 14:19
Kathmandu
Walk up the stairs of Trisara's Durbar Marg location and there is a collection of quotes on the underside. "A king can make a lord, but only God can make a gentleman—King James I," one states. Upstairs you'll find yourself surrounded by wood and rusted metal, in the shadow of a glaring godly motif of the Buddha.

Then, you'll run into a number of gentlemen and gentlewomen doing their best to earn themselves promotions from Instagram boyfriends and girlfriends to Insta husbands and wives. Donning their finest livery, it's fair to say that this spot is especially social media-friendly. The space—somewhere between antique and hipster chic with a massive mural of Buddha, a token gramophone and rotary telephone—is destined to be filtered with Clarendon or Juno. The restaurant surely uses social media as its secret weapon, and likes are its ammunition.
But to get a full David Attenborough view of the Instagranimals striking poses, I jumped off my high horse and settled into my seat on the mezzanine. And I could see why they love it so much: there's bamboo roofs and walls, along with lofty brick walls. The seats are a mix between well-turned wood and lazy couches and tables.
Perfectly comfortable, the staff is quick to serve up the menus and set the table. The menus are textbook in nature and size. Eleven pages for the food, eight for the soft and alcoholic drinks, and a long skinny one for hot drinks (some cold too) for good measure. Continental, nominal Pan Asian, Nepali and Indian dishes fill them, while the drinks menu is certainly aimed at the slippery nipple shooting crowd. Some of the Instagrammers are eating dhal bat—which is rather reasonable at Rs260 for veg and Rs310 for chicken—while others seem to have forgotten to eat altogether.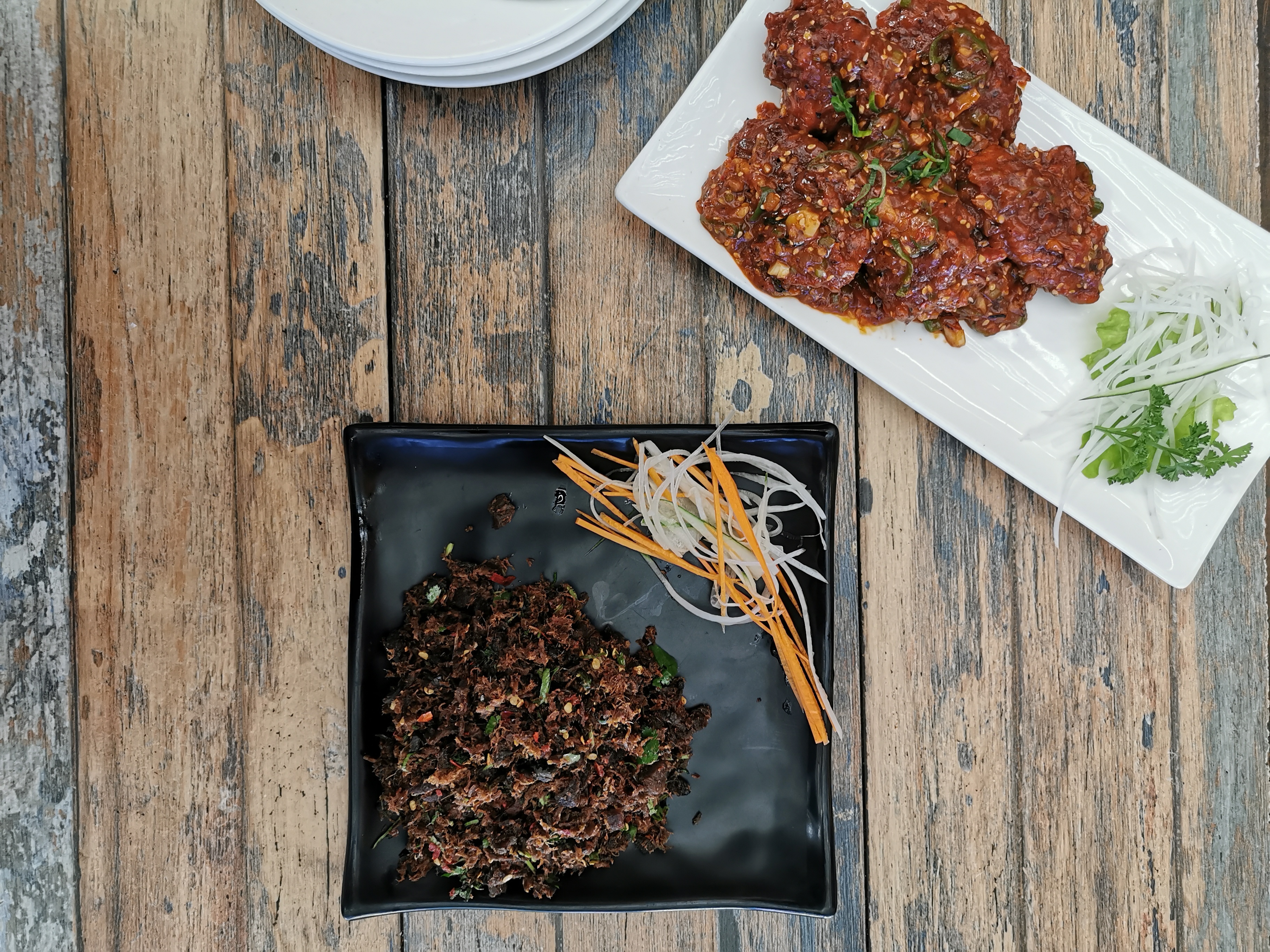 People watching is distracting enough and I hardly notice the first plate arrive. It's a flossy version of buff sukuti—the restaurant's special, apparently—flecked red, white and green with herbs, spices and chillies. There's the compulsory julienned carrot and radish next to it. The floss, shredded to until almost unrecognisable, does the entire dish a service. It's almost succulent, not maw-breakingly tough. Dosed nicely with acid and spice, the entire dish is a rather pleasing thing. It's not a revelation, but it's a declaration of, hopefully, what is to come.
The Korean wings are the next thing to arrive, but what I see and what I expected are two very different things. If these wings are Korean, they must have flown via a few different countries, because they're certainly a departure from my own expectations. Rather than the sweet glisten of gochujang, soy and rice vinegar, these are in a gravy. If it was served alongside rice, I would have said it was a rather nice tarkari. The only thing that seems to stay true to the Korean name is the fry before saucing, although the symbolic addition of sesame does nothing. It's all masala, nothing else, and it's a messy finger-licking dish that will send you to the serviettes as quickly as you can say "this ain't Korean."
There's a rather long collection of wing-related products on the menu, but it would probably be safer to say the regular wings are closer to Korea than the ones we ate. But that aside, there are a few more dishes that we want to try. The third is from a little further south—Myanmar.
This coconut-based Burmese soup is called Khao Soi. It's a little hard to judge on its fidelity to the original, given that the dish is as diverse as the country it's from, but the constitution is a little odd. The noodles, served separately, would have been better served along with the soup—serving them alone reveals their chewiness, and cooked-a-long-time-ago taste. The soup, no matter your definition, is a pleasant experience. It's warm, coconutty, and is rather close to what Malaysians or Sinagporeans would call laksa. There's a little acidity and fishy funk missing, along with the ever-present affinity for texture that people in Myanmar seem to love. The soup has yellow capsicum (a feat, considering the country is a green-only space), mushrooms and a good amount of chicken thigh.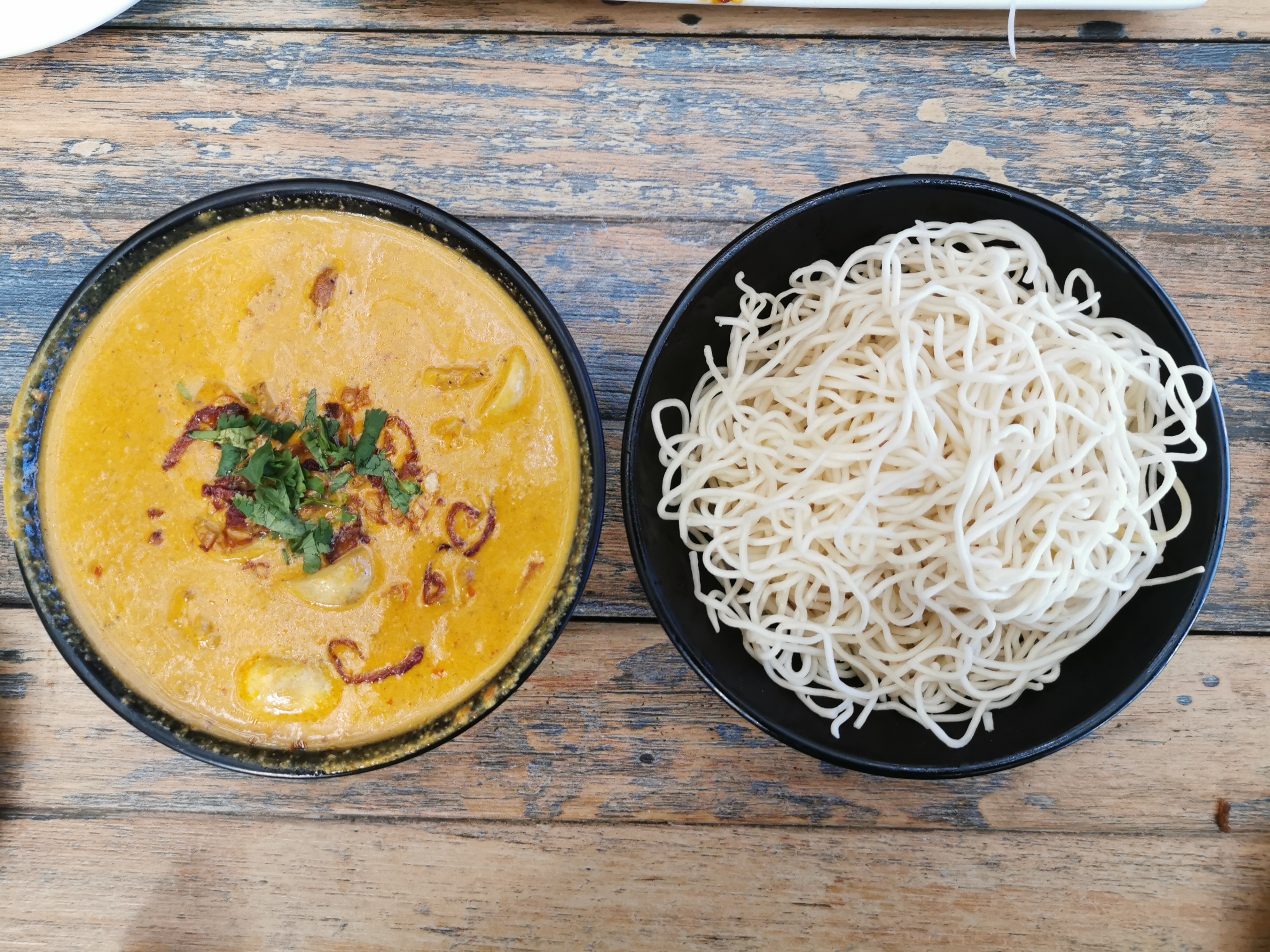 The table is already looking like a sty, with people pigging out on three already generous portions when arrives a plate of face-smudging, finger-sludging ribs. Four rather huge ribs are served with noodles (why?) and steamed vegetables (we're already pigging out, don't give us vegetables). The noodles are better than those that came with the Burmese soup given they're freckled black and the vegetables are ones you can find in every multi-cuisine restaurant in the country.
The ribs, though, are apparently "wood flavoured". I understand what they mean, but once again I'm going to have to go Merriam-Webster on them for their delivery. Wood-flavoured? Is that because of the BBQ sauce that has some liquid smoke in it? I'm not sure either way, because it tastes like a souped up BBQ sauce with a bit of additional spice. These aren't smoked ribs, and I never expected that, but I would have expected some smokiness. Rant aside, the ribs are meaty enough and rather soft and succulent in places; occasionally, however, they'll require a dog-like tear. Napkins required after, if you want to leave a gentleman or woman.
Finally, a muddy chocolate cake arrives. It's dense and chocolatey, with various textures coming from each of its layers, and just as messy on the plate as the ribs. It's good, but not worth reporting on much more than that.
The key to Trisara's success seems hinged on social media. It clearly does rest on its laurels when it comes to food but it doesn't deliver an offensive set of flavours. The main thing about the place, and what will draw me back, is the ambience. It's a well-considered space, but I would urge owners to consider it further: urge Instagramming yuppies to spend no more than 10 minutes taking photos post meal, because it's actually a little off-putting.
Trisara Durbar Marg Rs 260 to 800 per person

Food: ★★
Ambience: ★★★
Value: ★★★
---
---