Survival of the smartest
Gymkhana Fight Night, a privately organised combat sports event featured two combat events, boxing, and Muay Thai.

Prakash Chandra Timilsena/TKP
bookmark
Published at : March 12, 2020
Updated at : March 13, 2020 09:00
On March 7, Lord of the Drinks in Thamel had a different mood; the dance floor had turned into a boxing ring. The crowd was louder than the music and air was heavy with expectations of an epic fight night. The ring was ready for a bout of boxing and Muay Thai where Faphayao Sorsorjeeradech from Thailand and Karan Bajracharya from Nepal were set to step into the ring for the final combat on the third edition of Gymkhana Fight Night. By the end of the fight, Faphayao had registered a plain sailing win against Karan.
Gymkhana Fight Night, a privately organised combat sports event featured two combat events, boxing, and Muay Thai. Muay Thai, with originations in Thailand, is a kickboxing-styled martial art with adaptations worldwide in various forms. Many Mixed Martial Arts fighters such as Cosmo Alexander and Rafael Dos Anjos use Muay Thai training in order to maximise their striking skills.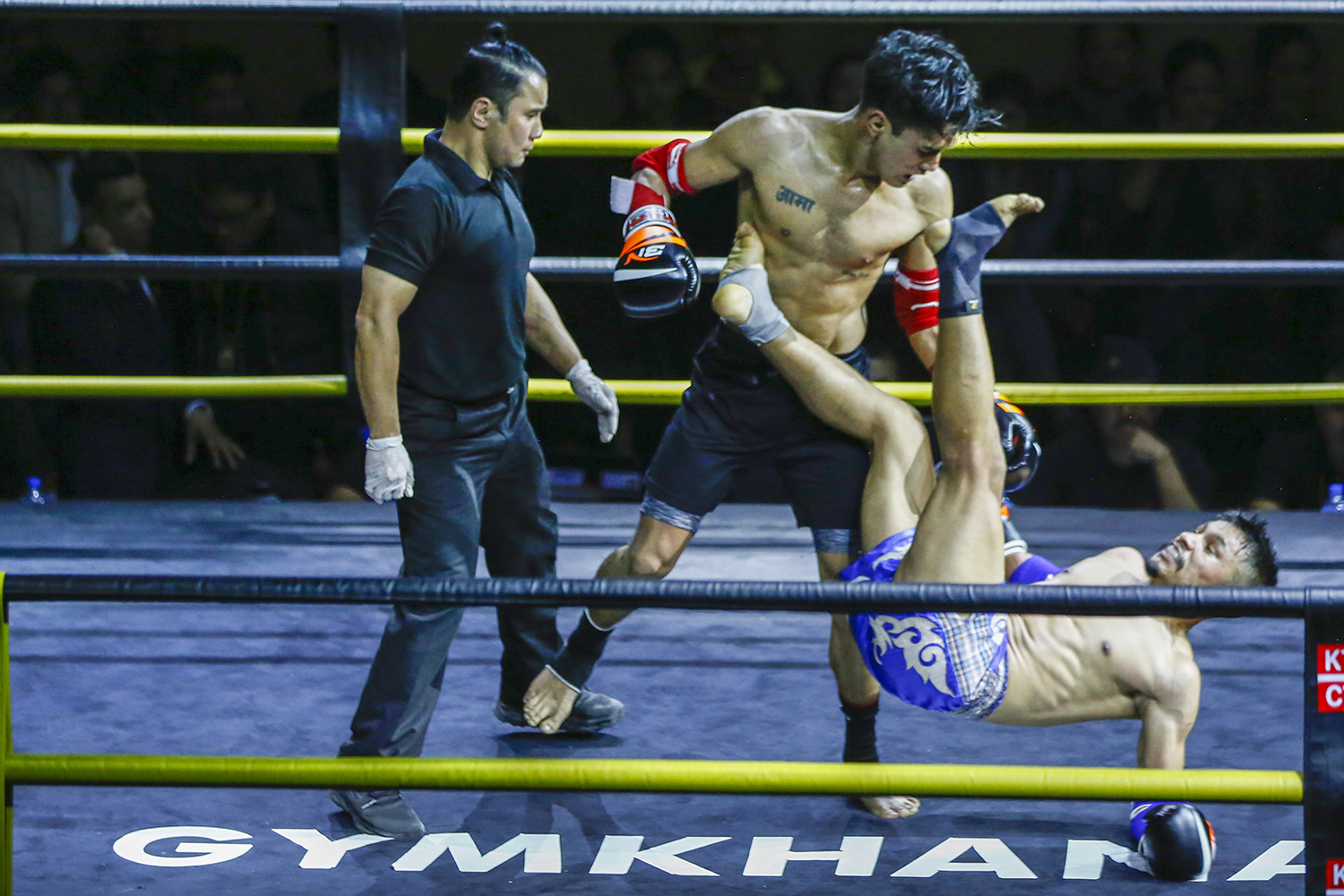 Prakash Chandra Timilsena/TKP
Organised annually, Gymkhana Fight Night is growing larger and wider every year with the participation of international players as well. "Despite the Covid-19 fear, around 700 people made it to the game. This clearly shows us that we are not only great fighters but also great fans of fighting," said Raul Moktan, coach and founder of Gymkhana Muay Thai.
On that Saturday evening, the match between Faphayao and Karan under the 60kg category was the highlight. Faphayao started a defensive game in the first round but it didn't take too long for him to change the strategy in the game. The second round began with his equally balanced attacking and defensive game. His sidefoot kicks and knee strikes started crashing his opponent. Karan's stamina and techniques were not impressive enough and his defense tactics failed with each passing round. He had a few excellent leg movements but they weren't enough to register the win. The final bell declared the Thai contender the winner after Karan's corner threw in the towel in the fifth round. "My responsibility is also to maintain a long and healthy career of the fighters. Throwing the towel was one of the hardest decisions I had to make as a coach but Karan had sustained an injury. He broke his arm. I didn't want him to take more damage," said Raul.
Though the event featured four boxing bouts and four Muay Thai bouts in different weight categories, the show-stealing game was the co-event where Manish Dangol aka Daku of Gymkhana Muay Thai fought with Shiv Kumar, the guest participant from Crosstrain Fight Club, Delhi, India in 65kg boxing category.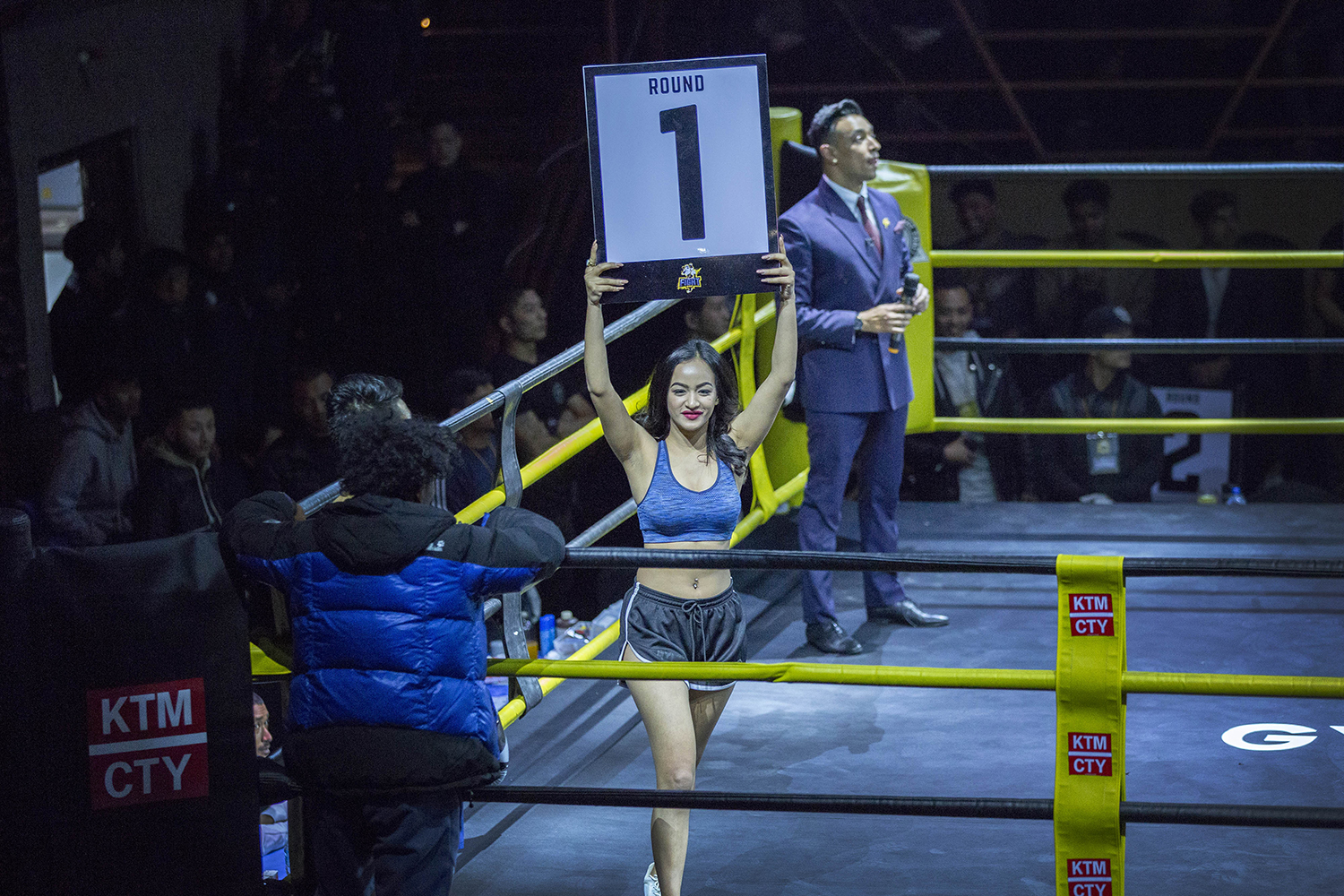 Prakash Chandra Timilsena/TKP
Shiv had barely settled in with the crowd when the defending champion Manish entered the arena. His fans started chanting his moniker, 'DAKU' and as the fight began, Daku set his attacking mood from the first second itself and was quick to finish his job. In less than a minute, Shiv was on the floor, knocked out. It was unbelievable to every spectator considering the hype created around this game.
The evening also featured a Muay Thai match between Diwiz Piya and Santosh Khatri under the 60kg category. The first round of the game ended with mild punches and kicks but Diwiz picked up pace in the second round and kept an attacking attitude throughout. The third and fourth rounds were also dominated by him with aggressive punches. For the last round, Santosh came up with an attacking strategy and showed his best moves. It didn't completely help him win the game, but it surely made an amazing game to witness.
Similarly, Lakpa Sherpa from Rage Fitness beat Sandip Gurung from Gurkhas Fight Academy to lift the 60kg Muay Thai win and Koshish Shrestha representing Rage Fitness knocked down Suman Ghising of Gurkhas Fight Academy in the second round under the 70kg category.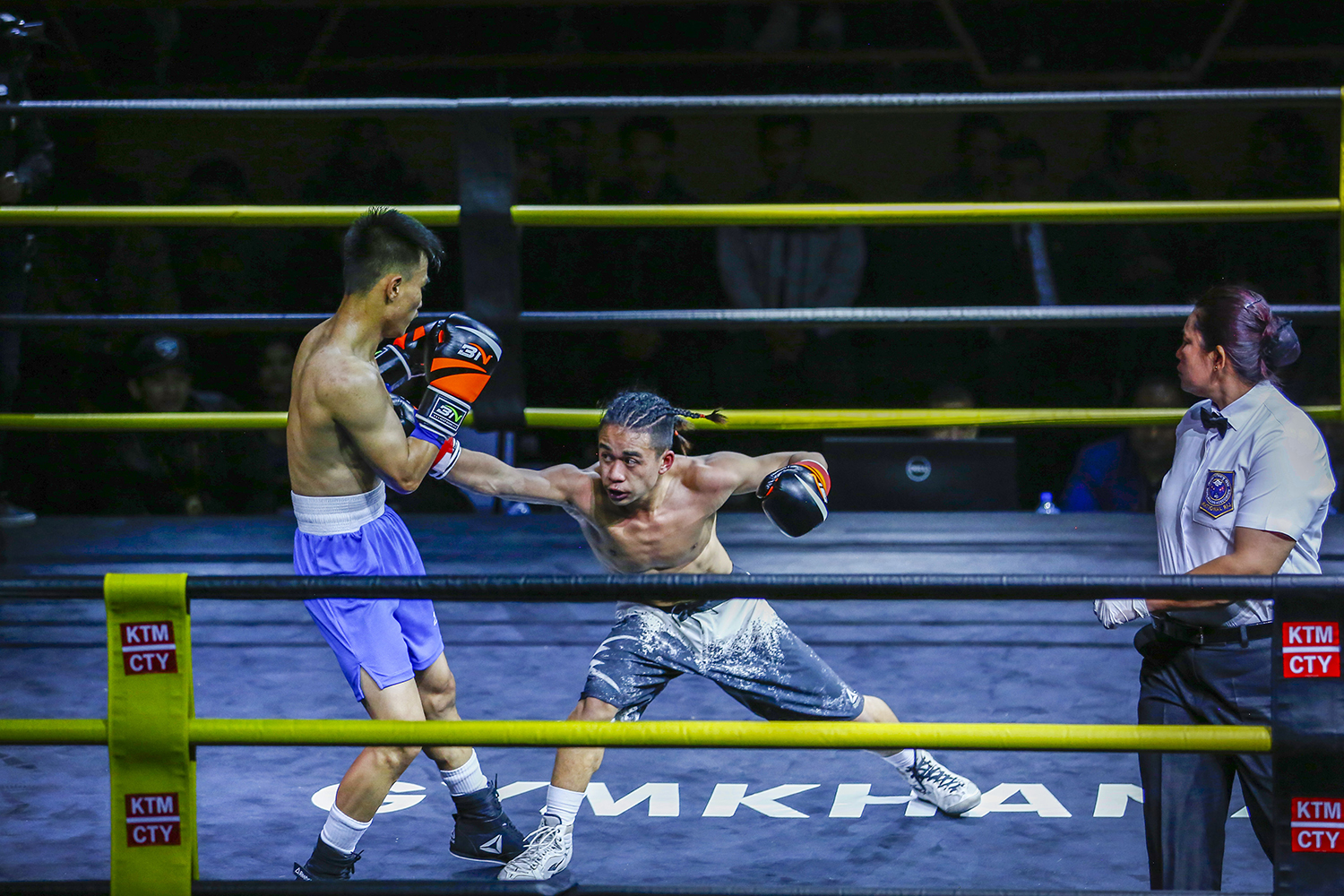 Prakash Chandra Timilsena/TKP
Surendra Rai representing Jhapa Boxing Club won against Jenish Gurung from Ex-Army Boxing Club to set a clear win in the 60 kg boxing category. Similarly, Buddha Lama from Tikathali Boxing Club beat Robin Thapa of Gymkhana Muay Thai to win the 55kg category and Diwash Bhoomi of Gymkhana Muay Thai won against Pratik Tamang from Tikathali Boxing Club under the 75kg.
Gymkhana Fight Night is sanctioned by Nepal National Muay Thai Association and Nepal Boxing Association with the vision of providing a platform for Nepali combat sports athletes. "Such events also help Nepali players gain exposure and maybe one day take Nepali combat sports to the international arena," said Raul. "Many capable players are struggling today for a lack of sponsorships. They need visibility. Hopefully, what we're doing with the Gymkhana Fight Night helps the athletes build a career out of the sports they choose."
Gymkhana Muay Thai plans to make the fourth installment of Gymkhana Fight Night a much bigger affair, says Raul. "We have already started looking for a venue with a capacity of 2,000-5,000. This will help us reach out to a wider audience. There is a lot to expect in the next season, which is already exciting news for many fans."

---
---