Carry the world on your wrist
The GT 2 isn't a massive upgrade from the GT, so the question becomes whether the improvements that have been made are enough to recommend it.

Hritik Shrestha/TKP
bookmark
Published at : March 12, 2020
Updated at : March 13, 2020 09:06
Smartwatches are difficult to get right. Some of Huawei's past offerings have fallen short, sometimes with respect to software, other times with battery life. Other companies have tried to do too much—putting a tiny smartphone on your wrist—with mixed results. Apple's Watch OS and Google's Wear OS certainly offer more tools and features than Huawei's Lite OS, but is more always better? The Watch GT 2 aims to strip everything superfluous from a smartwatch and nail the basics.
Last year's Huawei Watch GT had some issues, particularly with the laggy interface. The differences in hardware this year aren't as big as you might expect—the Watch GT 2 and its predecessor are housed in similar external shells. The main improvements with the Watch GT 2 lie under the hood with performance, stability, health tracking, and battery life. The GT 2 isn't a massive upgrade from the GT, so the question becomes whether the improvements that have been made are enough to recommend it.
Design
Huawei offers the Watch GT 2 in two sizes; 42mm and 46mm. Surprisingly, the design is a little different for the two variants. The smaller one has a plain casing, while the bigger variant has markings around the bezel that give it a sportier look. Whichever size you choose, Watch GT 2 is gorgeous. The classic version takes a more executive approach than the previous model, and you will really dig the industrial design. Physical features of the Watch GT 2 are few, yet well-conceived. There isn't a dial or crown, but there are two physical buttons on the right side. One of these is the home button, which also brings up the built-in app selector, and the other is specifically for health tracking and launching workouts.
The Huawei Watch GT 2 has a crisp display that is viewable under direct sunlight. The ambient light sensor is quick to bump the brightness up when needed. Huawei does not offer an always-on mode on this smartwatch but you can keep the display on for up to 20 minutes after use. This might disappoint people wanting an always-on display. The watch is quick to wake up when you raise your hand, and the display goes off when you lower it.
Hardware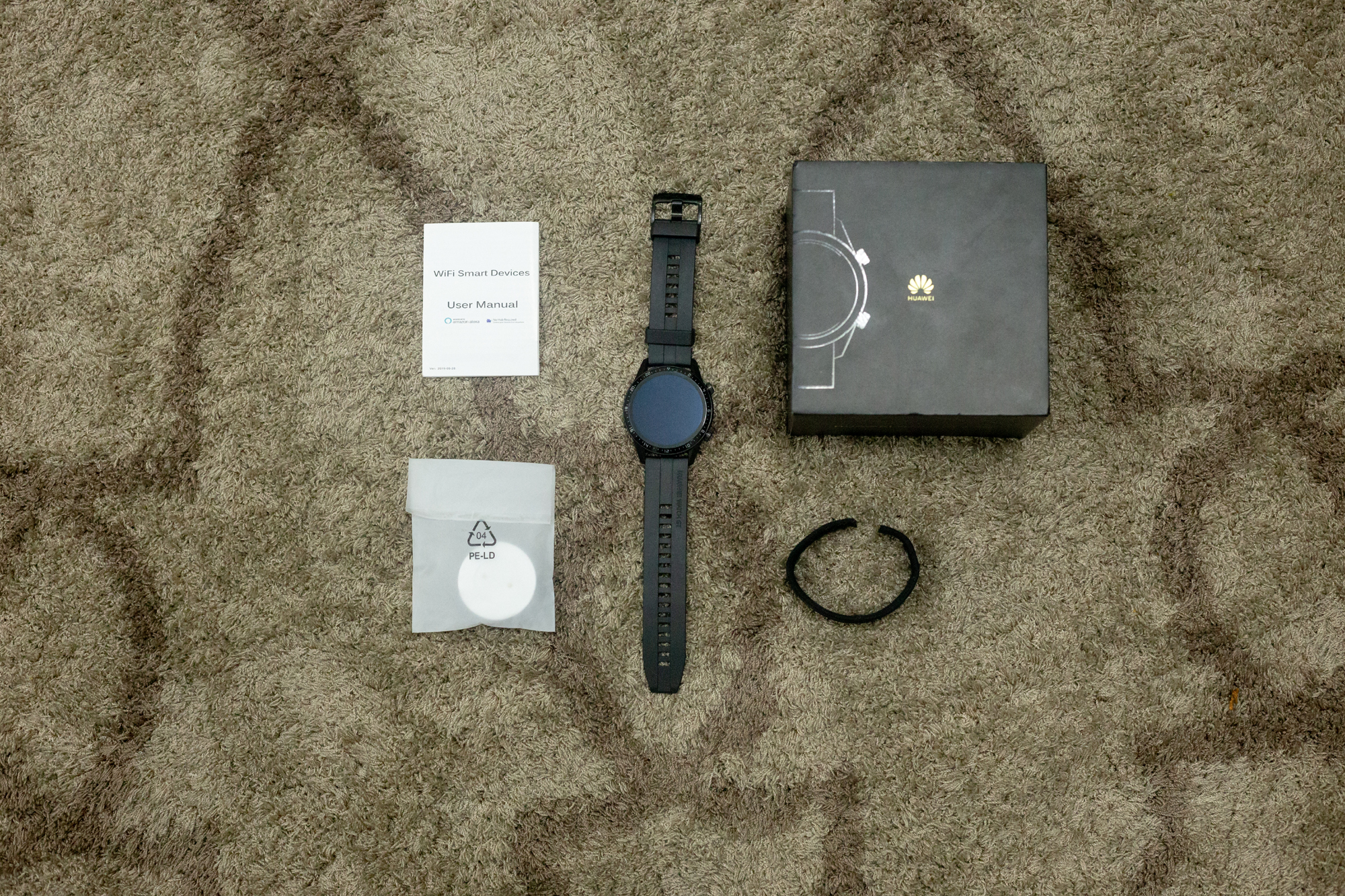 Hritik Shrestha/TKP
The Watch GT 2 also has a speaker and a surprisingly loud one at that. It's used primarily for taking calls on your phone, through the watch, as well as for listening to music (if you're into that). It's not fancy smartphone quality but considering it's on a watch, it's quite impressive.

The GT 2 doesn't come in an LTE variant, so your phone will be the source of cellular connectivity for calls. Local storage (handled through the app) allows you to preload your favourite tunes and go for a run without taking your smartphone with you, which was perhaps the biggest omission from the original Watch GT. You can also use the Watch GT 2 to control music playback on your phone.
Performance and battery life
Performance could have been better, as the smartwatch feels slow when scrolling through the UI, compared to the Samsung Galaxy Watch Active 2. If you swipe quickly a couple of times, the Watch GT 2 might fail to register the last one. It also takes some time to open submenus, which might get annoying when you're in a hurry. While using the watch at a casual pace you might not notice these issues.
Huawei does not state the device's battery capacity, but does claim two-week battery life for the 46mm Watch GT 2. This might seem too good to be true, and it isn't. However, the Watch GT 2 still managed a respectable 10 days with the default settings, which is much better than most other smartwatches out there. If you enable stress tracking and log workouts actively, expect the battery life to go down. Charging was quick in our experience, and it only took a little over an hour to charge the battery completely. The charger is compact and easy to carry around.
Verdict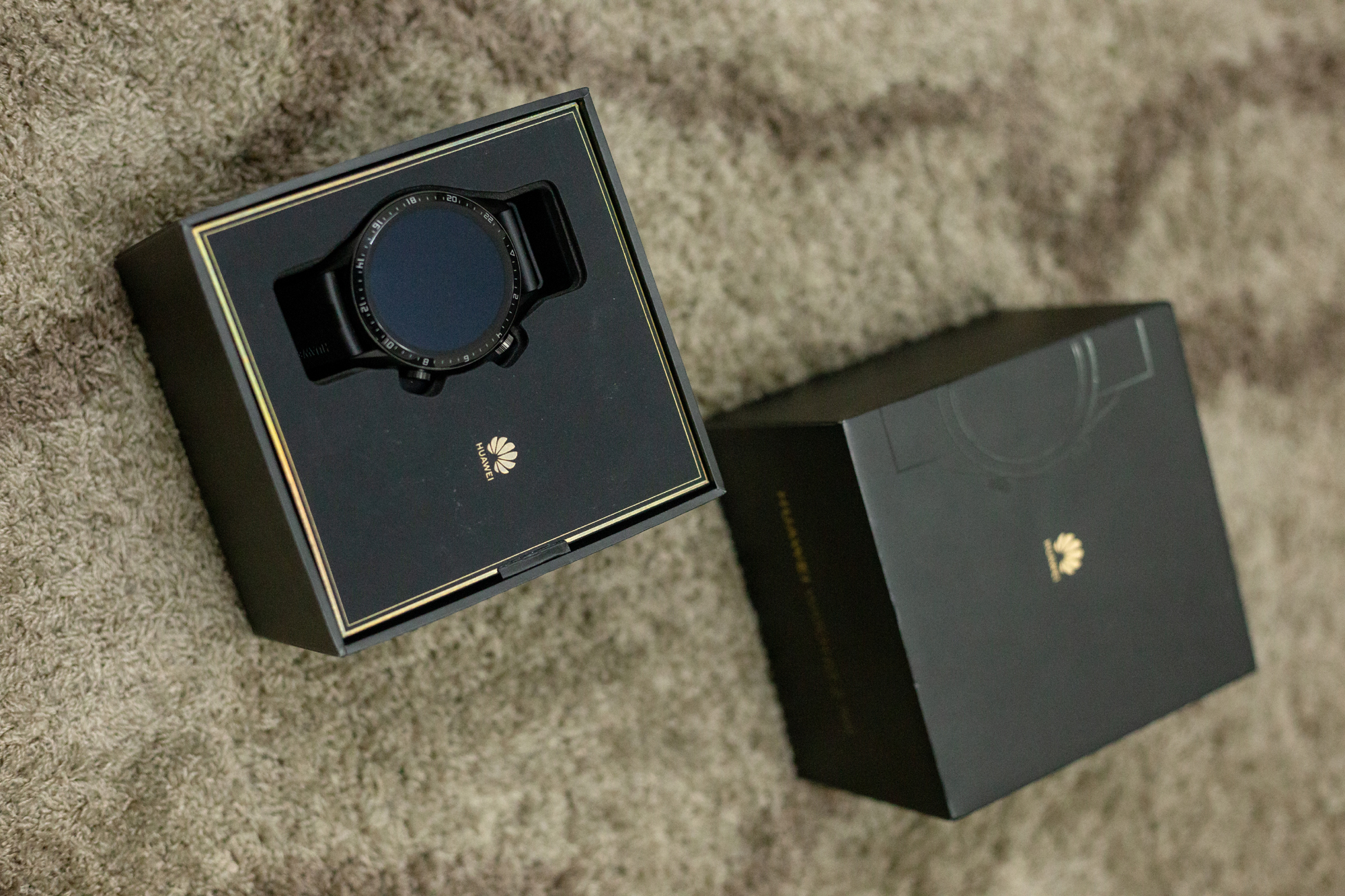 Hritik Shrestha/TKP
The watch doesn't feel chunky or overly bulky on your wrist. It fits comfortably under the shirt sleeves, and doesn't get in the way during a workout. If you're used to having a regular-sized men's watch on your wrist, you'll feel right at home wearing the GT 2. If you have slimmer wrists, you'll want to go for the smaller model.
Huawei Watch GT 2 is a great looking smartwatch that is made to take you through the week without bothering with charging or over-complicated features that might confuse you. It sits on the wrist, makes an impression, measures everything that needs to be measured and brings your phone's notifications to your wrist.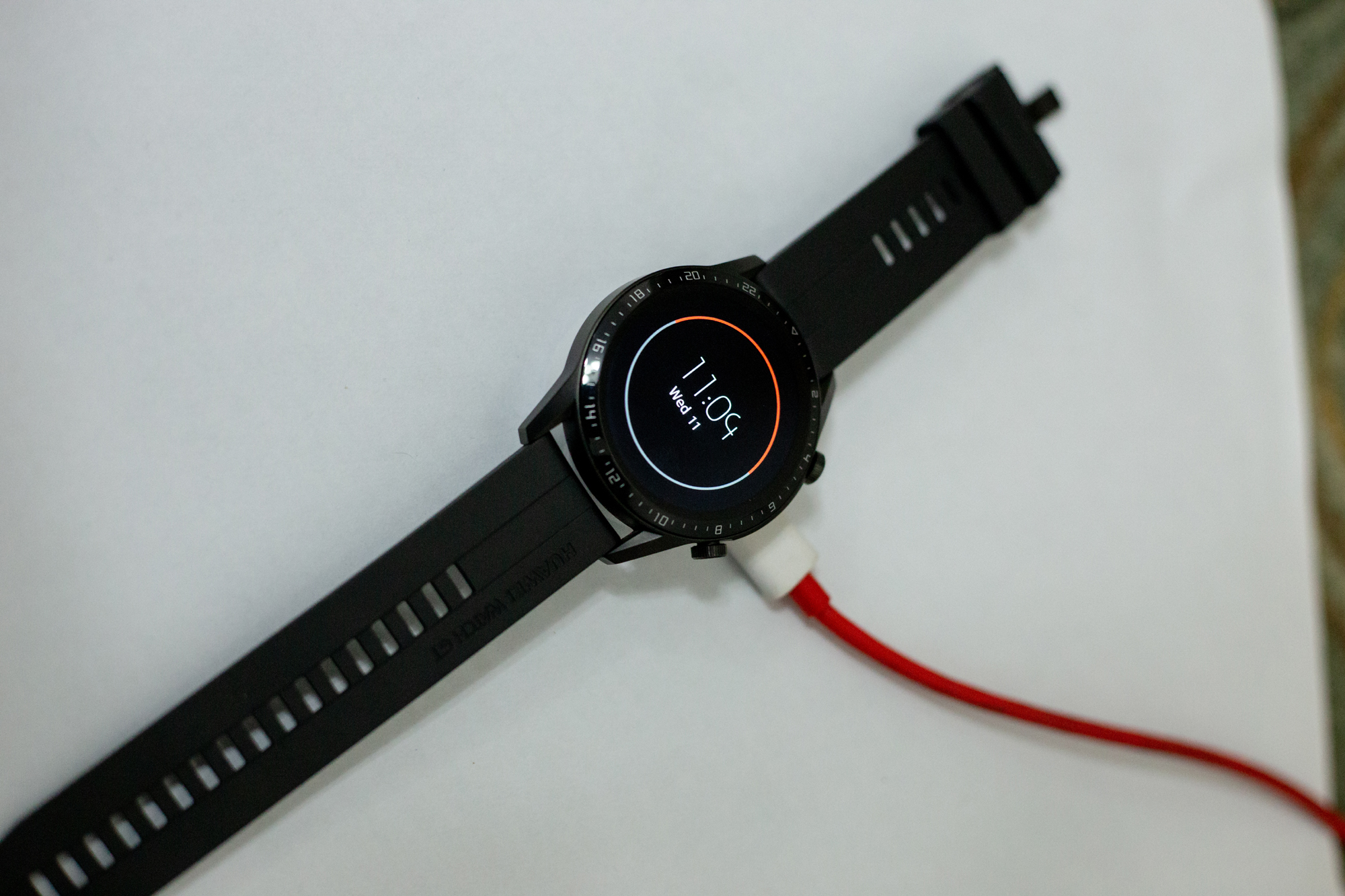 Hritik Shrestha/TKP
Huawei Watch GT 2 specs
Body: 46mm: 45.9 x 45.9 x 10.7 mm, 41g weight 22mm strap; 42mm: 41.8 x 41.8 x 9.4 mm mm, 29g, 5 ATM water resistance; stainless steel frame, ceramic back.

Display: 46mm: 1.39" OLED, Resolution 454x454, 326 ppi; 42mm: 1.2" OLED, Resolution 390x390, 326 ppi.

OS: Huawei Lite OS

Memory: 2 GB RAM + 4 GB storage (2.2 GB user available).

Battery: 46mm: 455mAh (14 days typical use); magnetic charging base.
Connectivity: Bluetooth 5.0 + BLE; GPS.

---