Where the dragon dances
On the day of Buddha Jayanti, the Mayadevi Temple in Lumbini had a special visitor--a mythical creature that had travelled all the way from China.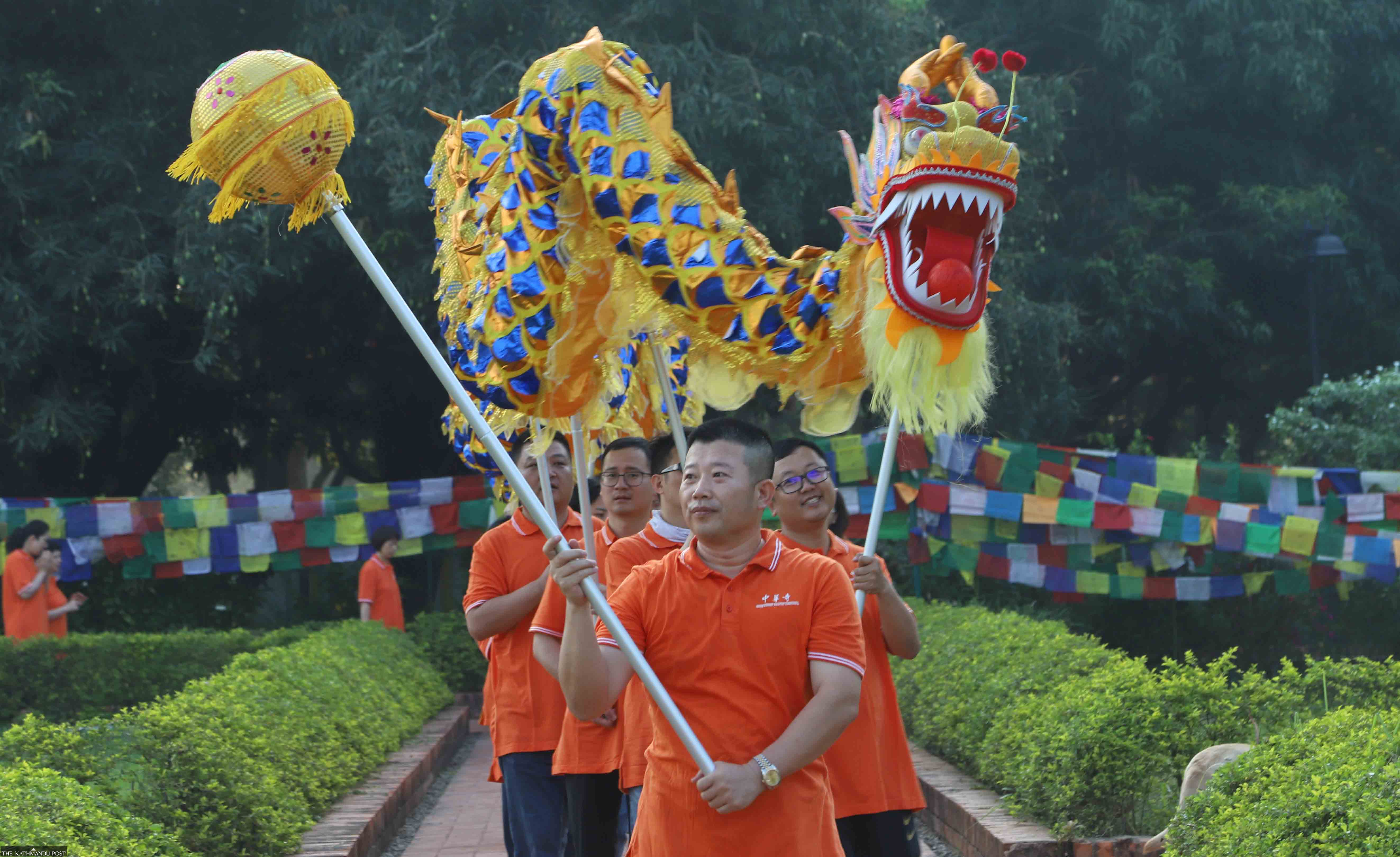 Manoj Paudel/TKP
Published at : May 27, 2023
Updated at : May 27, 2023 07:38
According to an English dictionary, a dragon is a type of mythological creature that breathes fire. Similarly, a quick Google search will tell you that in South Asia, the dragon symbolises water and heaven and is also a deity for a good harvest.

A scene in Mayadevi Temple in Lumbini has all its visitors enamoured. And this time, it's not the temple. It's a 10-meter-long yellow, golden dragon with a red face and enchanting eyes. Anything new is beautiful, and they inherently attract your attention. And it was exquisite to look at. That's why people were constantly taking selfies with it.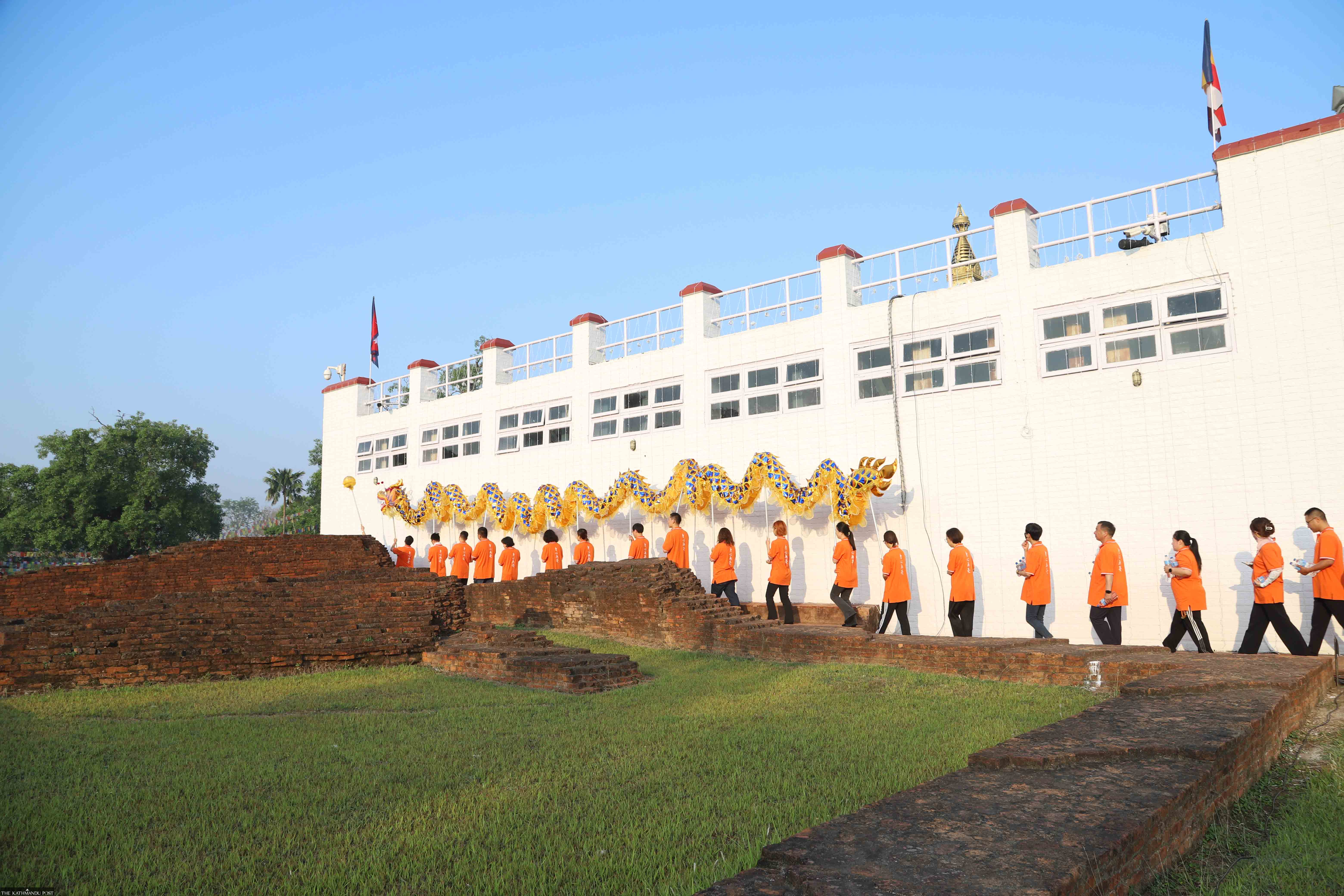 Manoj Paudel/TKP
The existence of mythical reptiles has always been an interesting topic for researchers and historians. This particular dragon was the main attraction of the 2567th Buddha Jayanti on May 5. The dragon was brought to Nepal by students of Buddhist studies in the Hainan province of China. The large creature was carried around by ten people--its body balanced by a meter-long stick held by each individual. The poles were lifted over their heads, and the dragon danced gracefully under the group's command.
After word about the dragon sighting spread, the temple's premises became more crowded than usual. The show continued for three days—the dragon circled the temple and floated over the space near Ashoka Pillar and Pushkar Pond. Children, especially, were excited to see the dragon dance.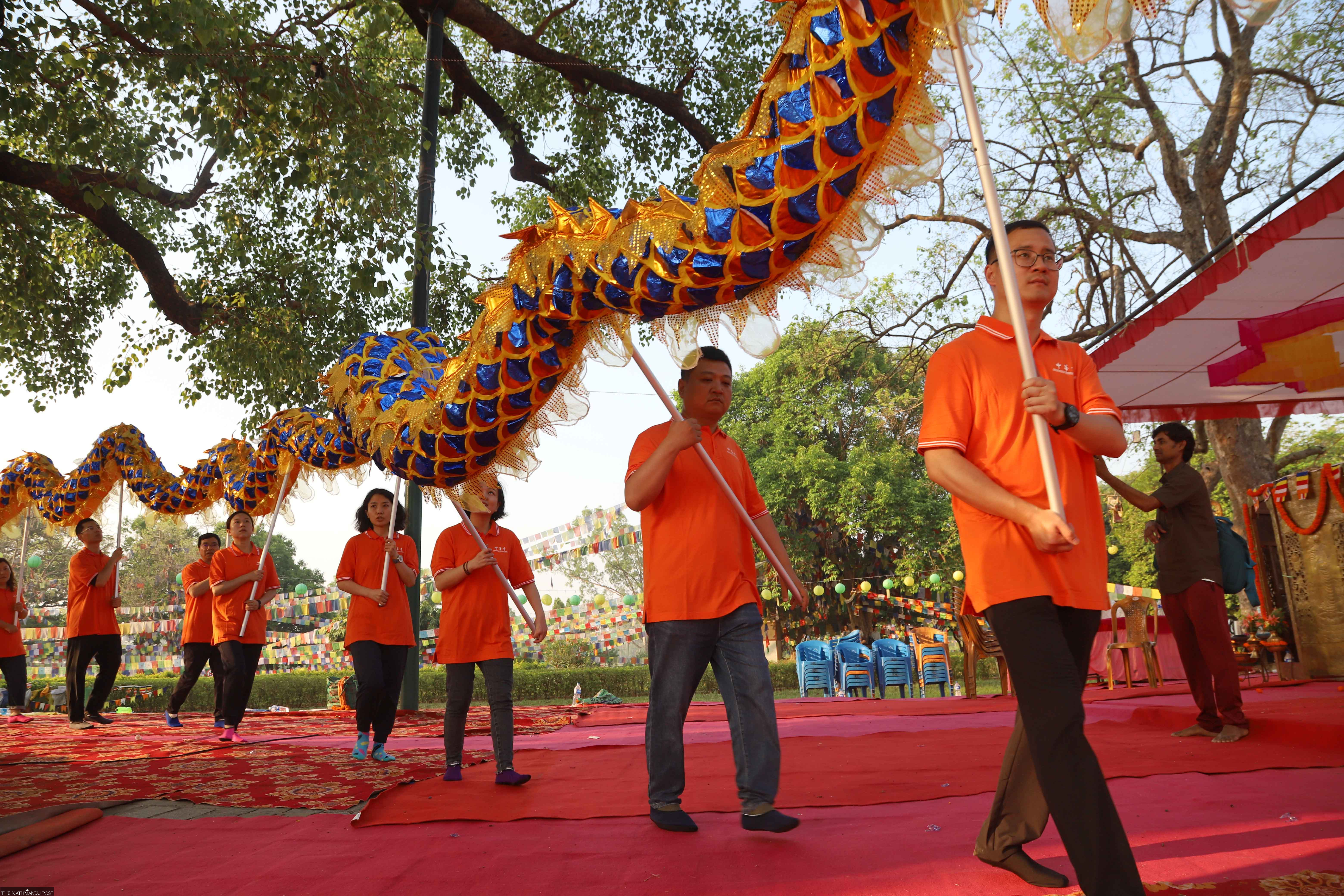 Manoj Paudel/TKP
The dragon's eyes and face were painted red in accordance with Chinese tradition. Buddhists believe that dragons instil peace in your mind and symbolise safety. A religious teacher of the Mahayana community, Rimpoche Padmav Sambhav, believes that dragons help remove envy and instil positivity in people. "People today are filled with a sense of ego and hate. It is believed to get rid of these feelings and replace them with positivity," he says.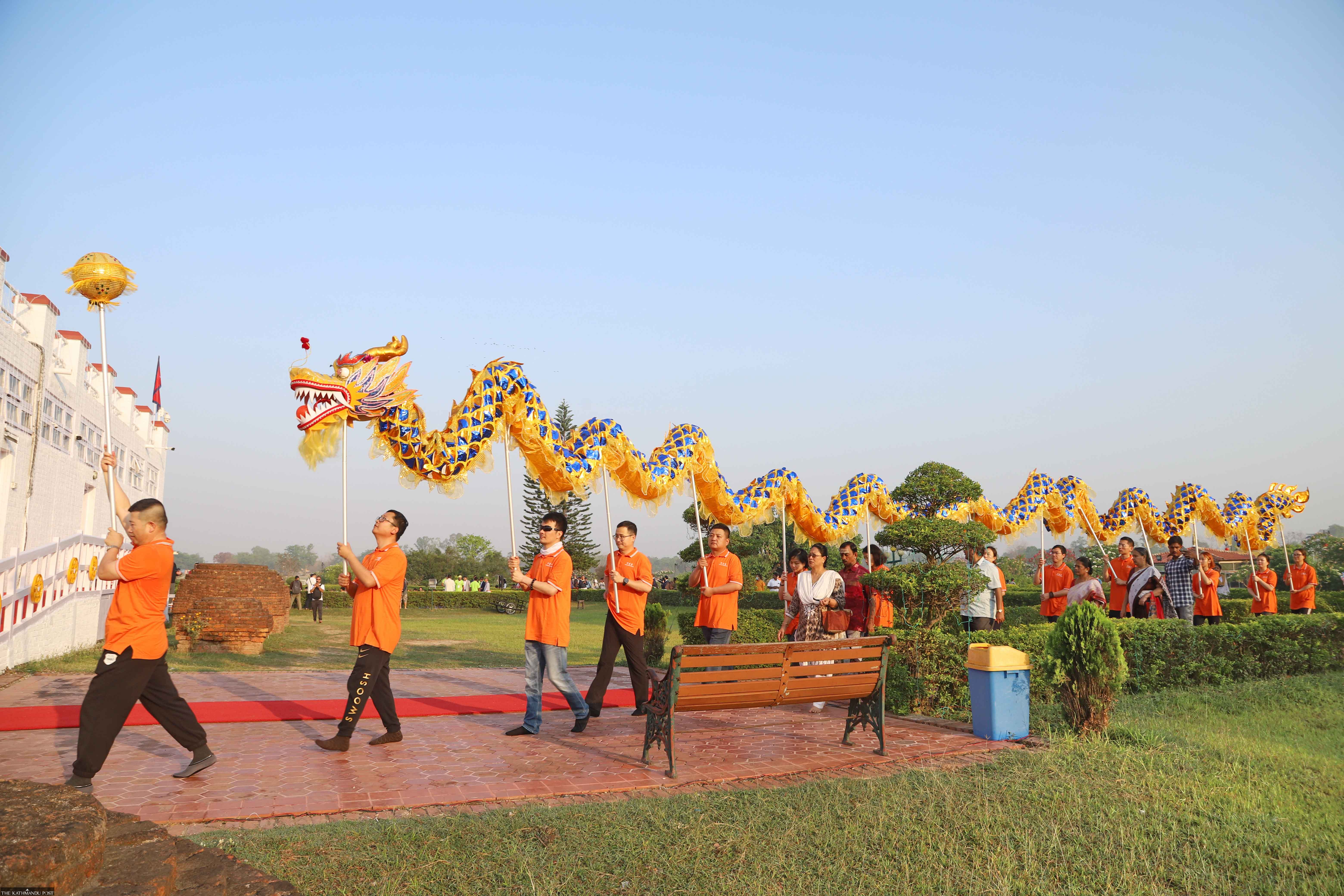 Manoj Paudel/TKP
"Dragons are a dominant symbol for Buddhist people," said Buddhist scholar and senior anthropologist Basanta Bidari. Therbadi community also considers it as a symbol of protection. In one of their legends, in the sixth week after Lord Buddha achieved enlightenment in Bodhgaya, there was heavy rainfall. He kept on meditating even though he was surrounded by water. Eventually, only his head remained above water. That is when a snake named Muchalinda approached Buddha. The snake wrapped itself over Buddha's body and protected him from the rainfall. However, many people believe it was not the snake but the dragon that helped Buddha survive the rainfall. This is why the Therbadi community believe in the protective power of the dragon.
"Though the dragon is a fantastical creature", says ornithologist Hemsagar Baral, "its history and symbol are very important. That is why worshipping it is of huge cultural significance."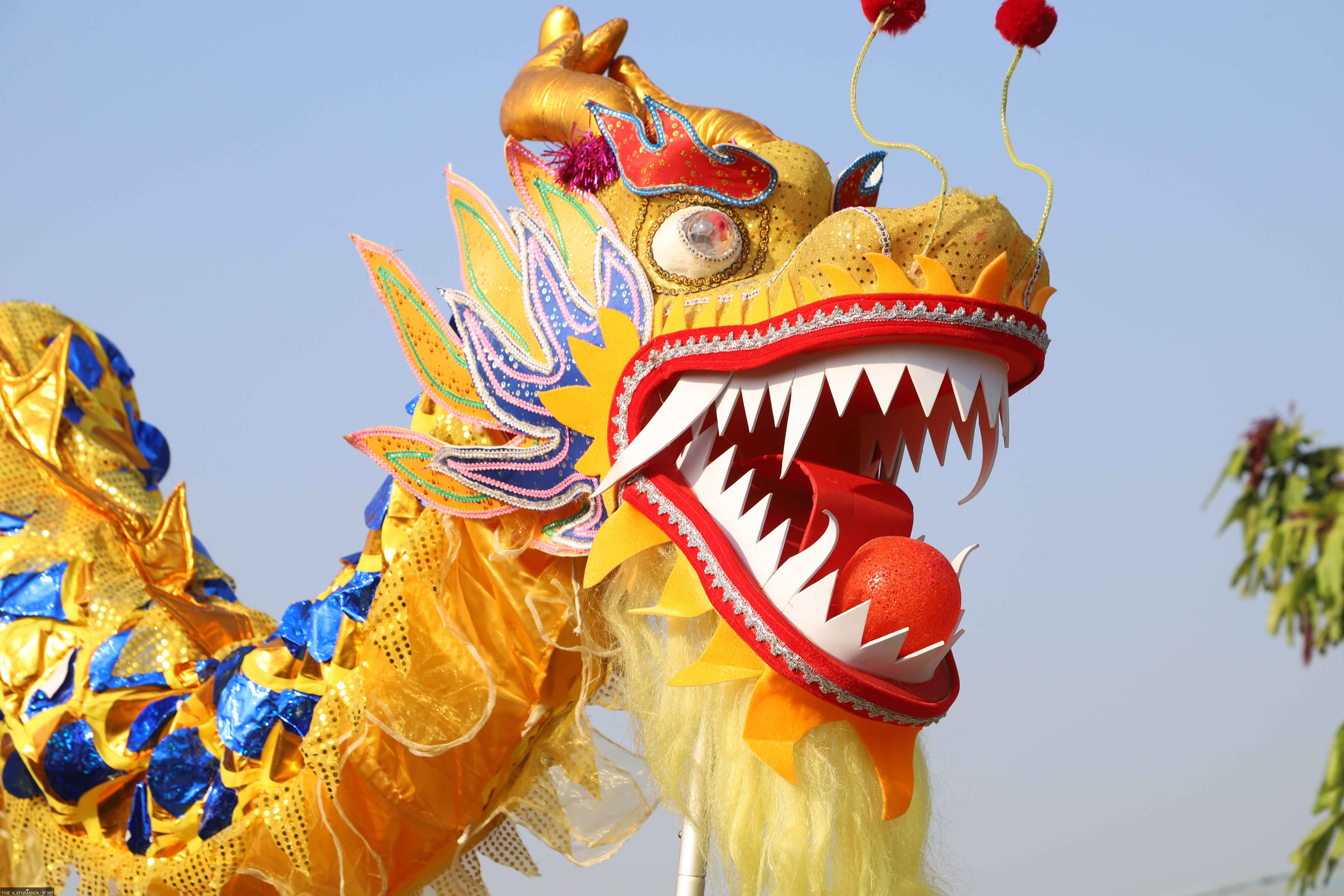 Manoj Paudel/TKP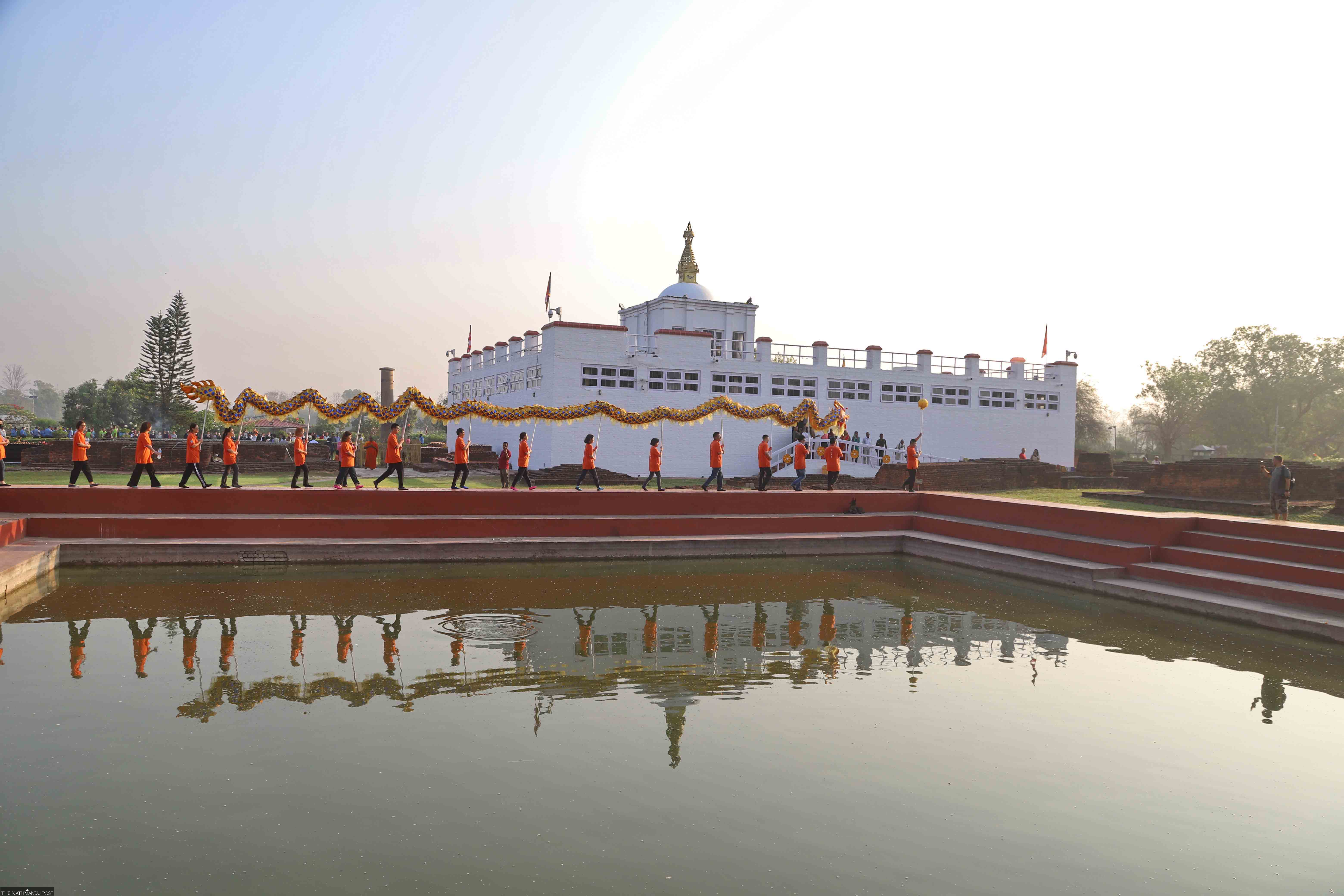 Manoj Paudel/TKP
---