Youths protest demanding justice for Prem Prasad Acharya
Acharya, who had set himself on fire near the parliament building, succumbed to burn injuries.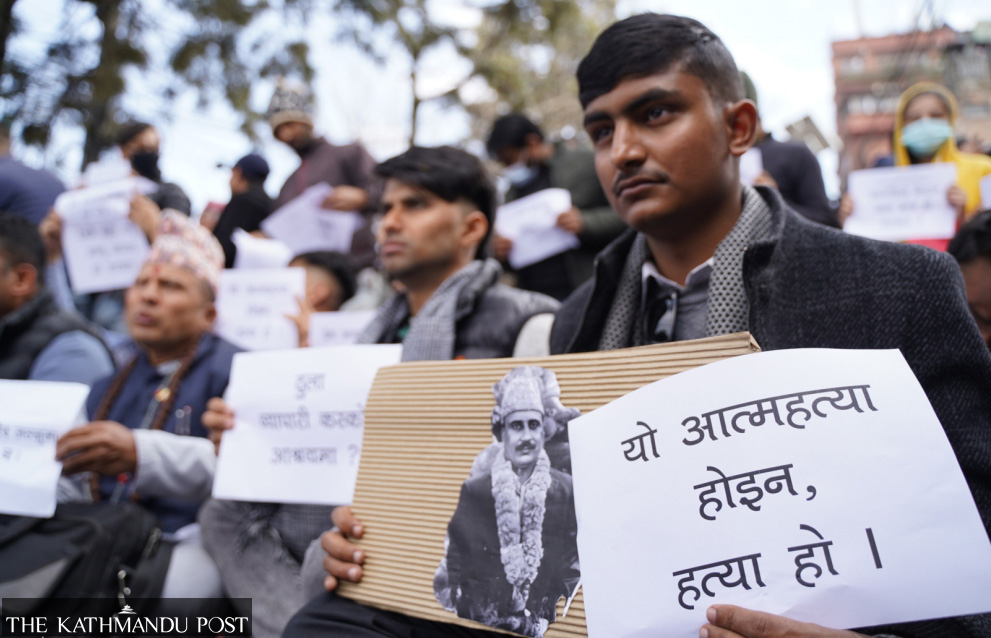 Published at : January 25, 2023
Updated at : January 25, 2023 16:03
A group of youths on Wednesday staged a protest at Maitighar Mandala of the Capital demanding justice for Prem Prasad Acharya of Ilam who died after setting himself on fire.

They expressed their condolence to the bereaved family and demanded the government address the 25-point demands put forth by Acharya.
The protestors marched from Maitighar to New Baneshwar, carrying placards with messages: 'Create an environment to work and live', "It's a murder, not suicide' and 'Is this country a slaughterhouse?' among others.
Acharya, who attempted self-immolation in New Baneshwar of the Capital on Tuesday, died while undergoing treatment on Wednesday.
Acharya had posted a suicide note on Facebook before attempting self-immolation by sprinkling petrol on his body and setting himself on fire in front of the Federal Parliament building on Tuesday afternoon. He was rushed to the hospital for treatment.
In his post, Acharya mentioned failing in his business venture and the problems he had to face while studying, getting a job, doing business, going for foreign employment and running an industry.
Here are some photos of the protest taken by Post photographers Angad Dhakal and Sanjog Manandhar.
---