'I will treasure my time as the Lakhey while I can'
After twenty-five years of dancing as a Majipa Lakhey, Shiva Ranjit knows his age is slowly weighing him down for the part.
Shiva Ranjit, who works as a cook, has been one of the many faces behind the Majipa Lakhey for almost twenty-five years. For him, taking on the role of the Lakhey has been about upholding the intangible heritage of the Newa community. Elite Joshi/ TKP
Published at : October 2, 2021
Updated at : October 2, 2021 08:11
At Majipa Lakhe nani, near Basantapur, as Shiva Ranjit cooks one Newa delicacy after another, beads of sweat form on his forehead. Celebration for Nasa Dyo (the god of music and dance) has just been completed and now it's time for people to feast. Ranjit is so busy cooking and making sure that the food reaches the guests on time that he doesn't even have time to engage in small talks.
This type of hectic schedule is normal for Ranjit during this time of the year. Last week, when the Valley was celebrating Indra Jatra, Ranjit was immersed in his role as Majipa Lakhey, a ferocious deity. While performing his role as the deity, he is often swarmed by devotees, who want to get a good close glimpse of him. For the last 25 years, Ranjit has been dancing as the fierce Majipa Lakhey.
"My father also danced as the Majipa Lakhey for several years, and I followed in his footsteps. You see, for centuries, Ranjits have been the caretakers of this tradition. People from our community have played the role of Majipa Lakhey and danced in front of the Kumari chariot as it enters the neighbourhoods and alleys of the city. I am happy and grateful to serve as a Lakhey for people for so many years," he says.
Ranjit was just 16 when he first started dancing as one of the faces behind the Lakhey. At the time, he didn't fully understand what the journey would entail and how differently the people around him would see him once he put on the mask for the dance. But now, he looks forward to the experience and understands there is much more to being a Lakhey than just dancing away in neighbourhoods.
"There's a lot of goodwill attached to what I do as a Lakhey in the festival. People call me 'Aju' and surround me all the time. It's a whole different experience that gets my adrenaline rushing," he says.
The Majipa Lakhey's origin story, however, is obscure. According to locals, Majipa Lakhey's history is tied to the Valley's Kumari tradition.
In oral tales, Lakheys often appear as protectors of people and children. But the deity is also the protector of Kumari, the living goddess. And it is why the Majipa Lakhey dances ahead of the Kumari chariot in the Indra Jatra and guards.
At 41, however, Ranjit says, it has become physically challenging to perform his role as Majipa Lakhey. In recent years he has found himself burnt out after performances, he says. "I do feel powerful when I dance, but in between when I sit down to rest, I feel exhausted. I know I won't be able to do this for long," says Ranjit, at the courtyard of Lakhey nani as he takes a breather from cooking the Newa bhwey.
"I know that after a few years I will no longer have the physical strength and will have to step down from my role as an Aju. But until then, I will play and treasure the role. This is something that holds a lot of meaning in my life. Because I know this tradition is a matter of pride and dignity for our community," he says.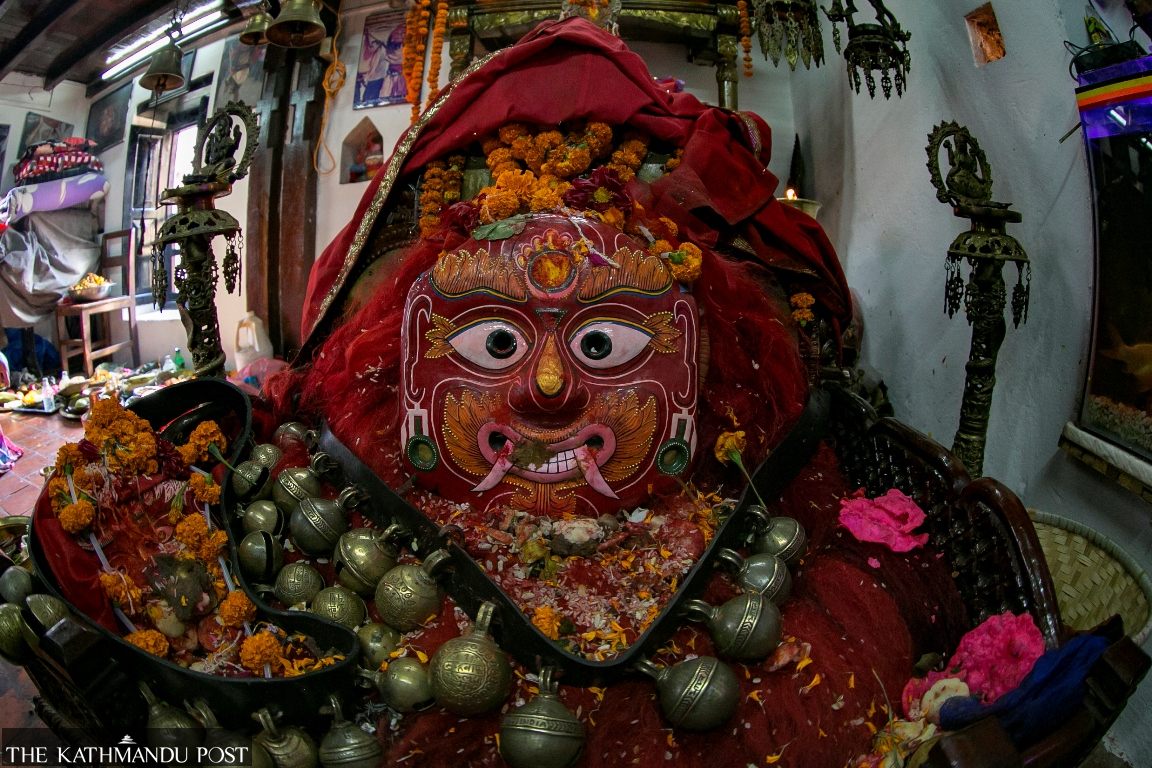 The main totem of Majipa Lakhey, a protector deity at the deity's esoteric house in Majipa Tole. The house is overseen by the Ranjit Newa community. The deity is also regarded as essential for the Newa community's tradition of music and dance. Elite Joshi/ TKP
Shiva Ranjit's family members help him get dressed as the Lakhey during Indra Jatra. Elite Joshi/ TKP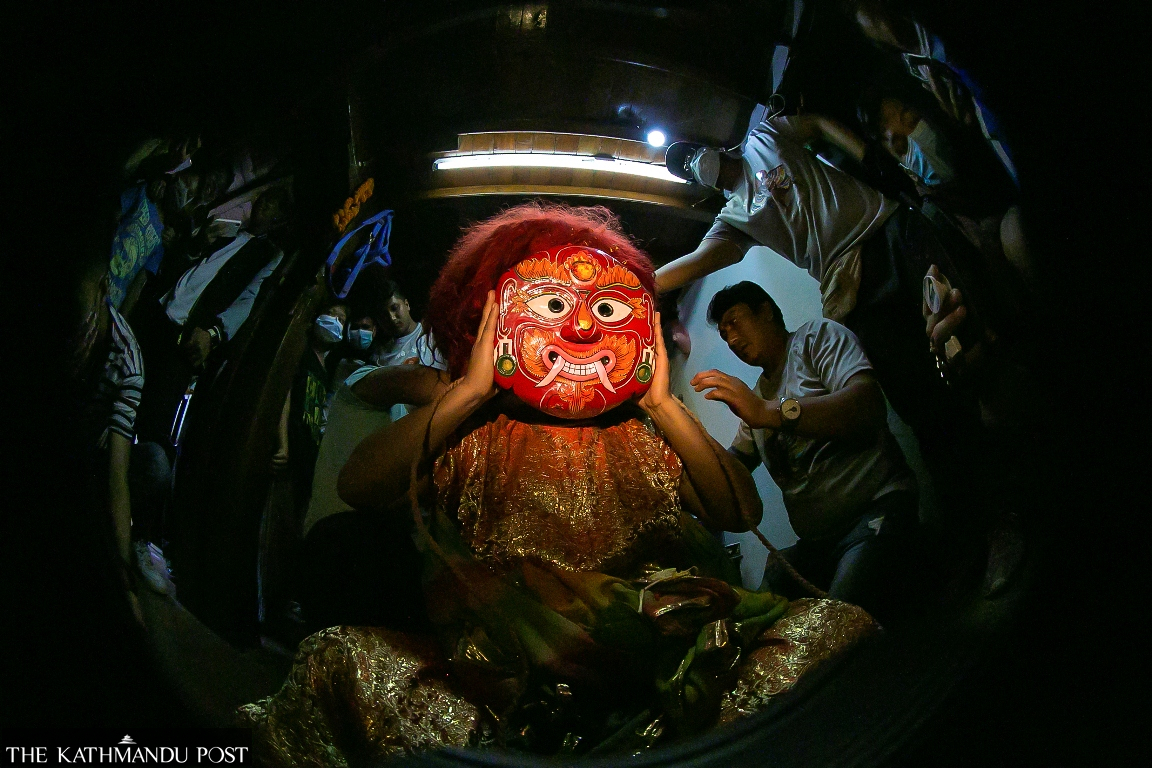 People help Shiva Ranjit tie the Majipa Lakhey mask. With the heavy jewellery and the mask, Ranjit bears over 70kg of weight. Elite Joshi/ TKP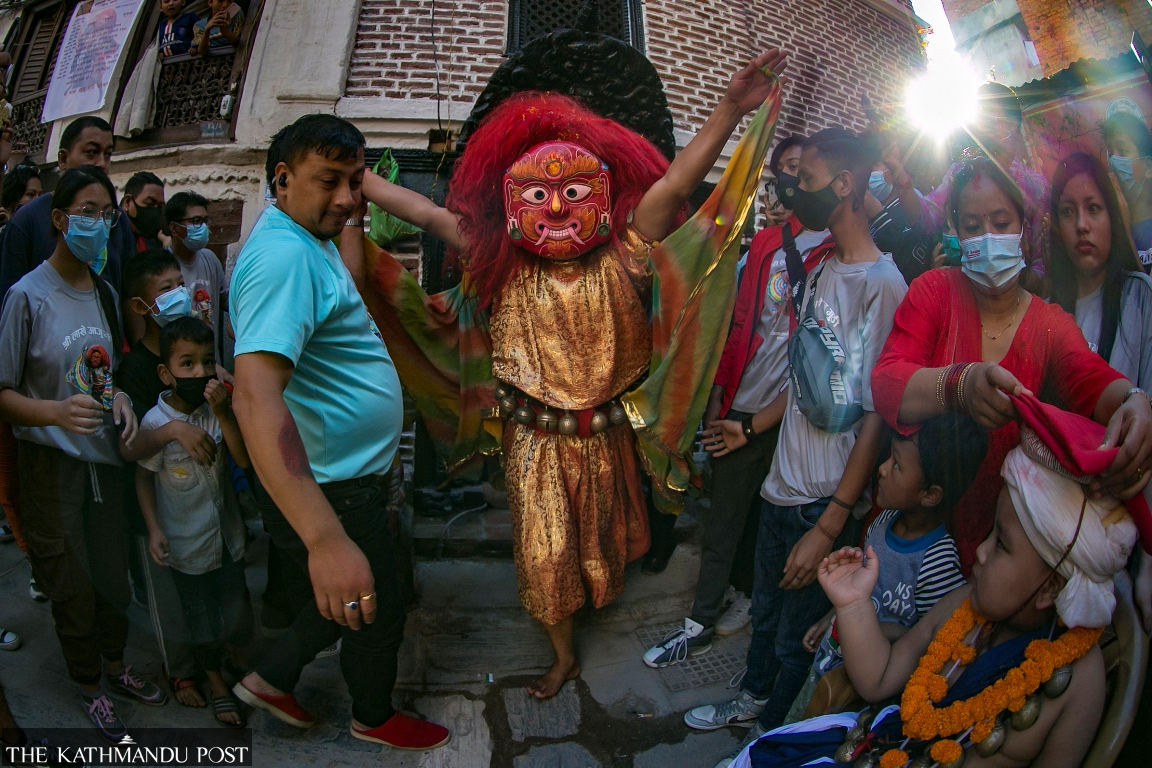 Forty-one-year-old Shiva Ranjit dances out of the deity's house in Majipa, Lakhenani. The Majipa Lakhey only comes out during the Indra Jatra. Elite Joshi/ TKP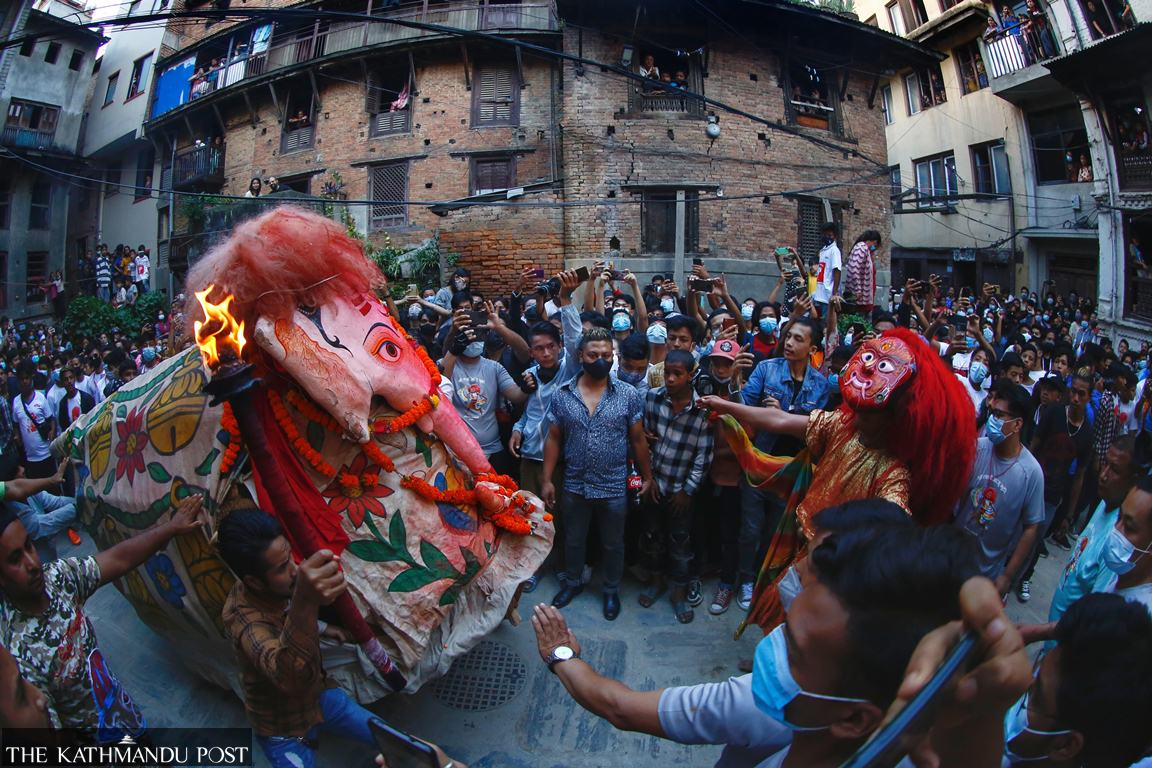 Shiva Ranjit as the Lakhey chases and dances with Pulu Kisi, the white elephant that's looking for Devraj Indra. Elite Joshi/ TKP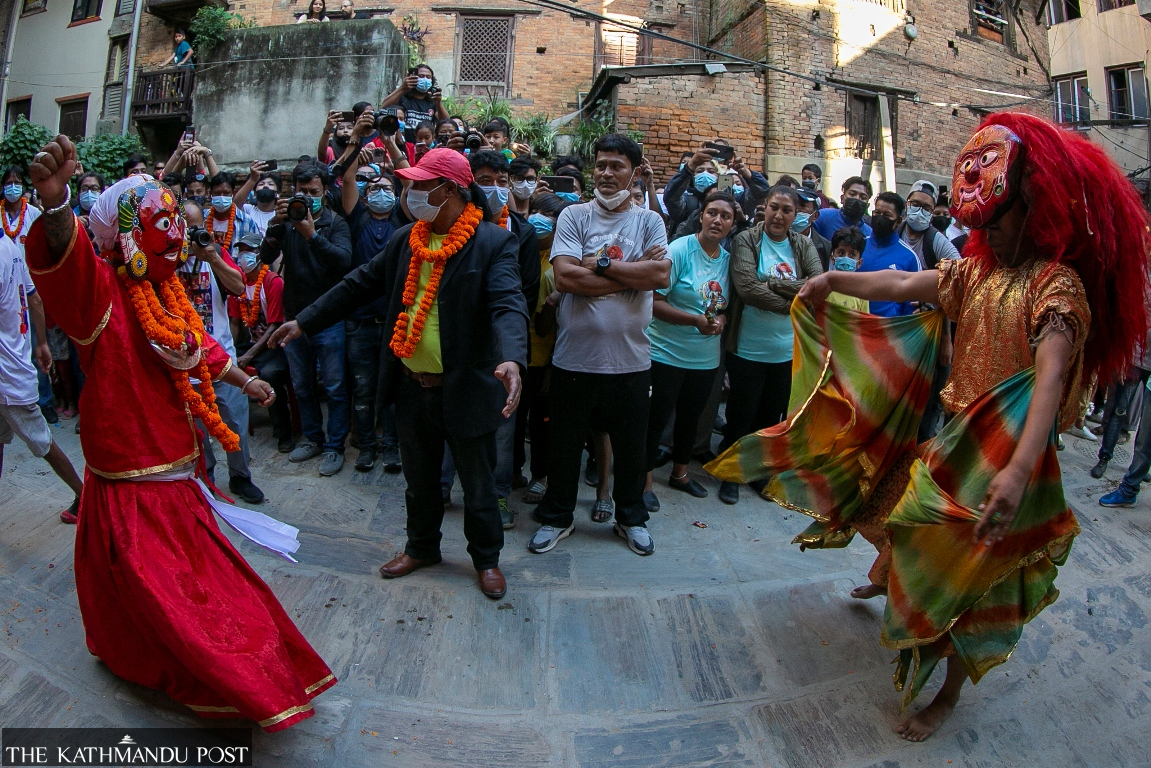 Shiva Ranjit as the Lakhey dances with Chandi Kumar, a protector deity who is also the child of Aakash Bhairav, during the Indra Jatra. Elite Joshi/ TKP
---