The week in 33 photos
Here are some of the best photos taken by our photographers in between January 19 to January 25.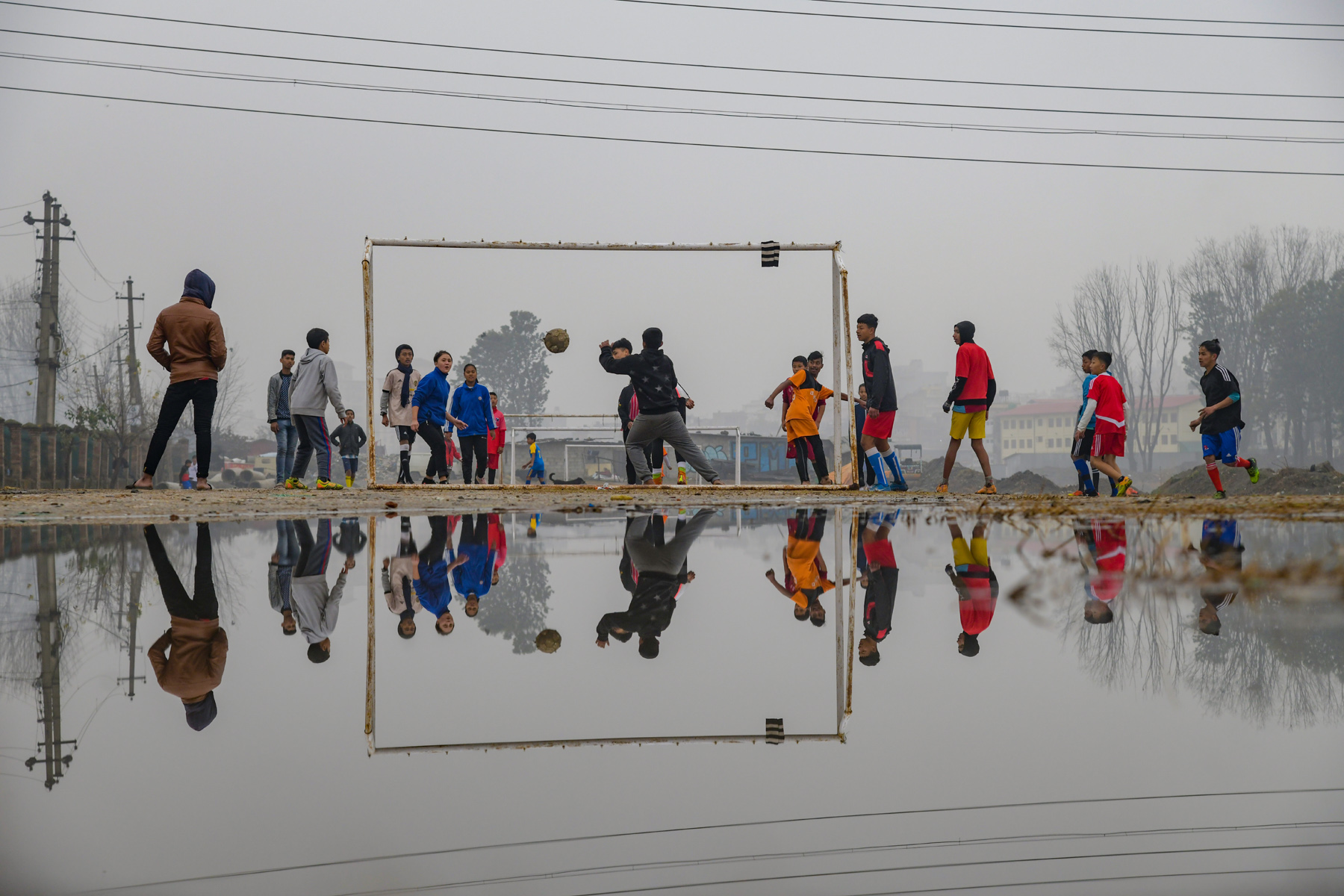 A reflection of children playing football on the bank of Bagmati River in Kupondole. In a cramped Kathmandu Valley, people utilise every space that is available to play, jog and take a stroll. Deepak KC/TKP
Published at : January 25, 2020
Updated at : January 26, 2020 11:21
Some of the photos shot by our photographers in the past week.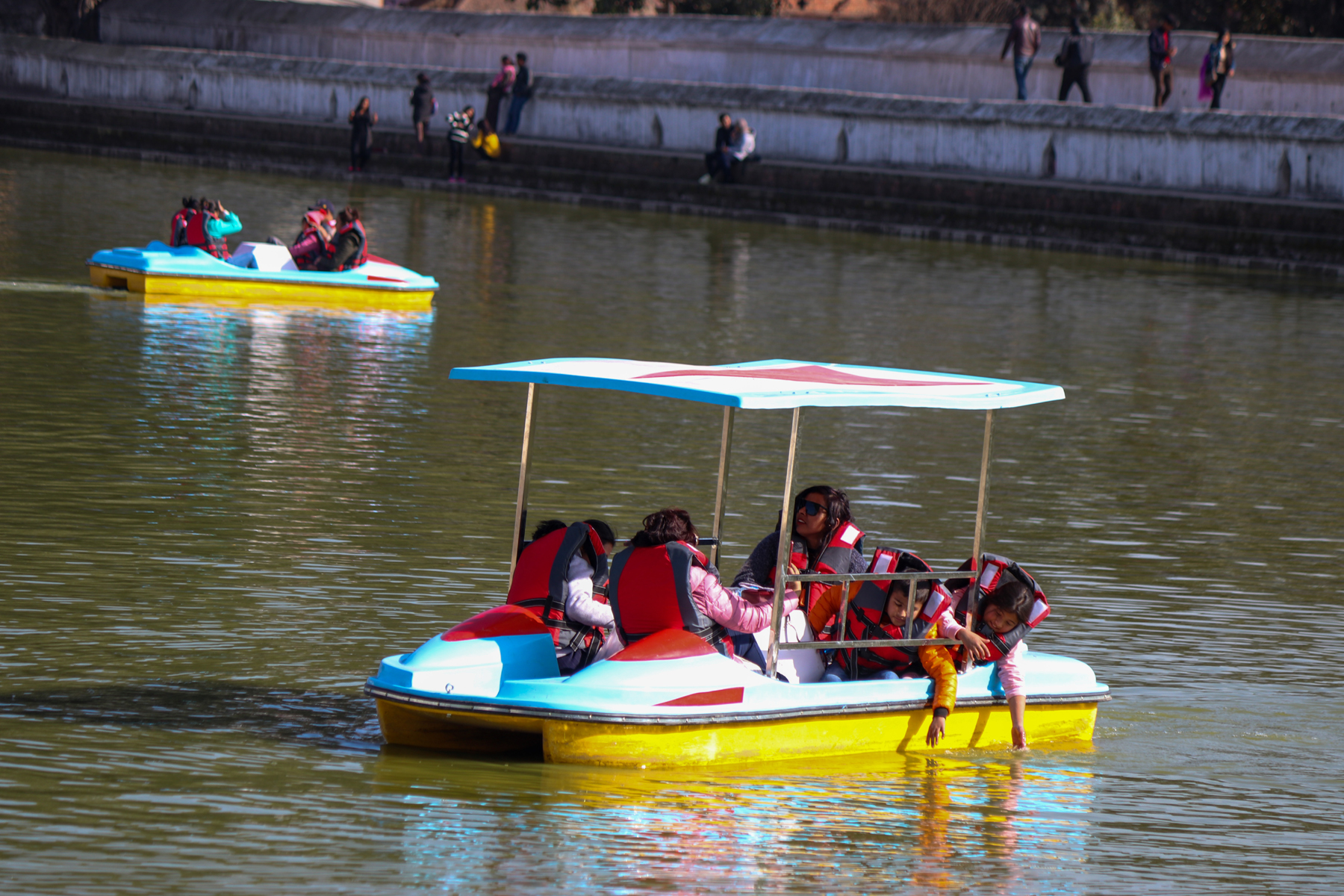 People enjoy boating at Siddha Pokhari in Bhaktapur on Monday. Pratham Bista/TKP

In this combo photo, taken on a foggy Saturday morning shows a woman crossing a suspension bridge over the Manohara river in Balkumari and a scene at the Bhaktapur Durbar Square. Hemanta Shrestha and Angad Dhakal/TKP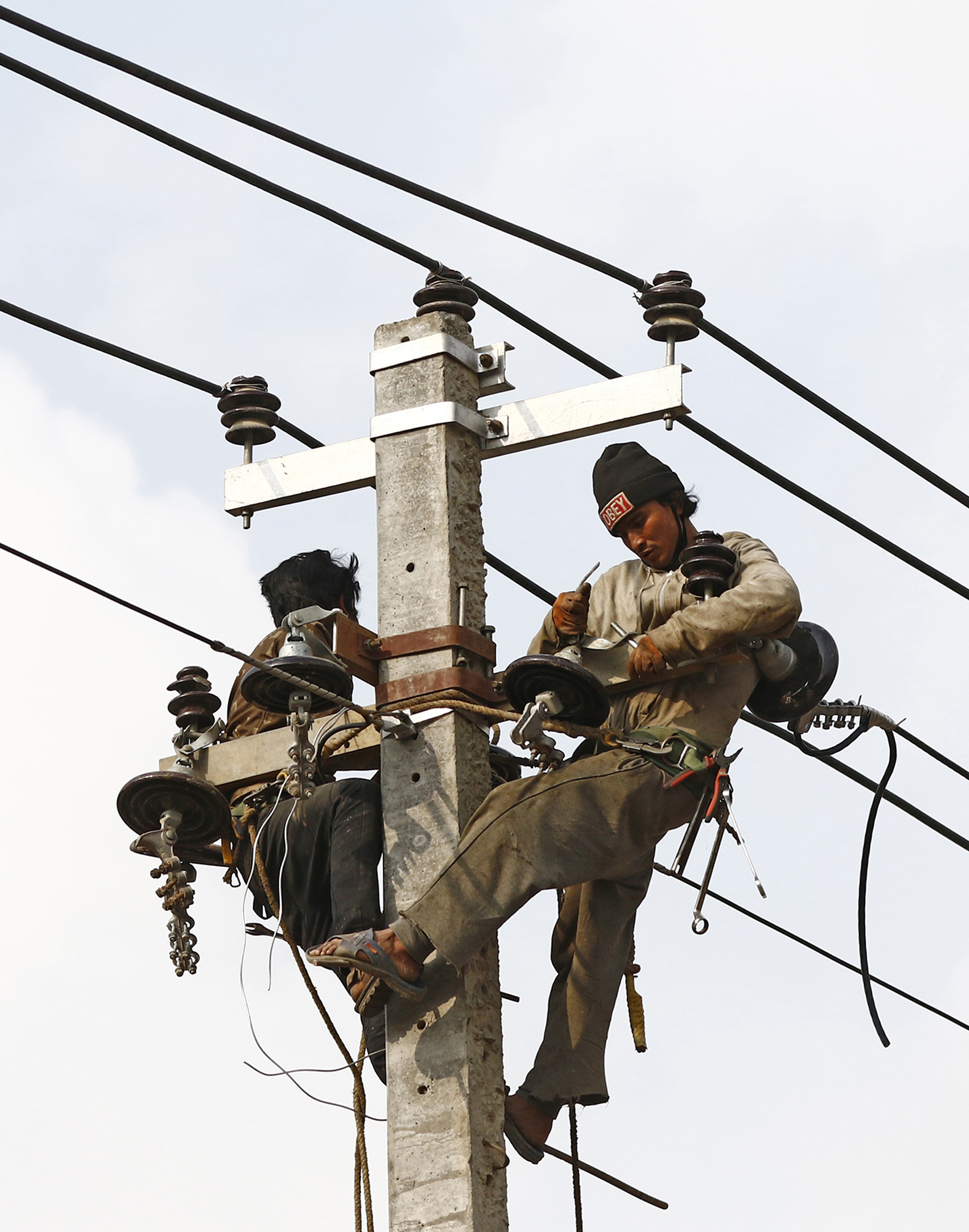 Technicians, with little protection, fix electricity transmission cables on newly installed poles in Nakkhu, Lalitpur. Keshav Thapa/TKP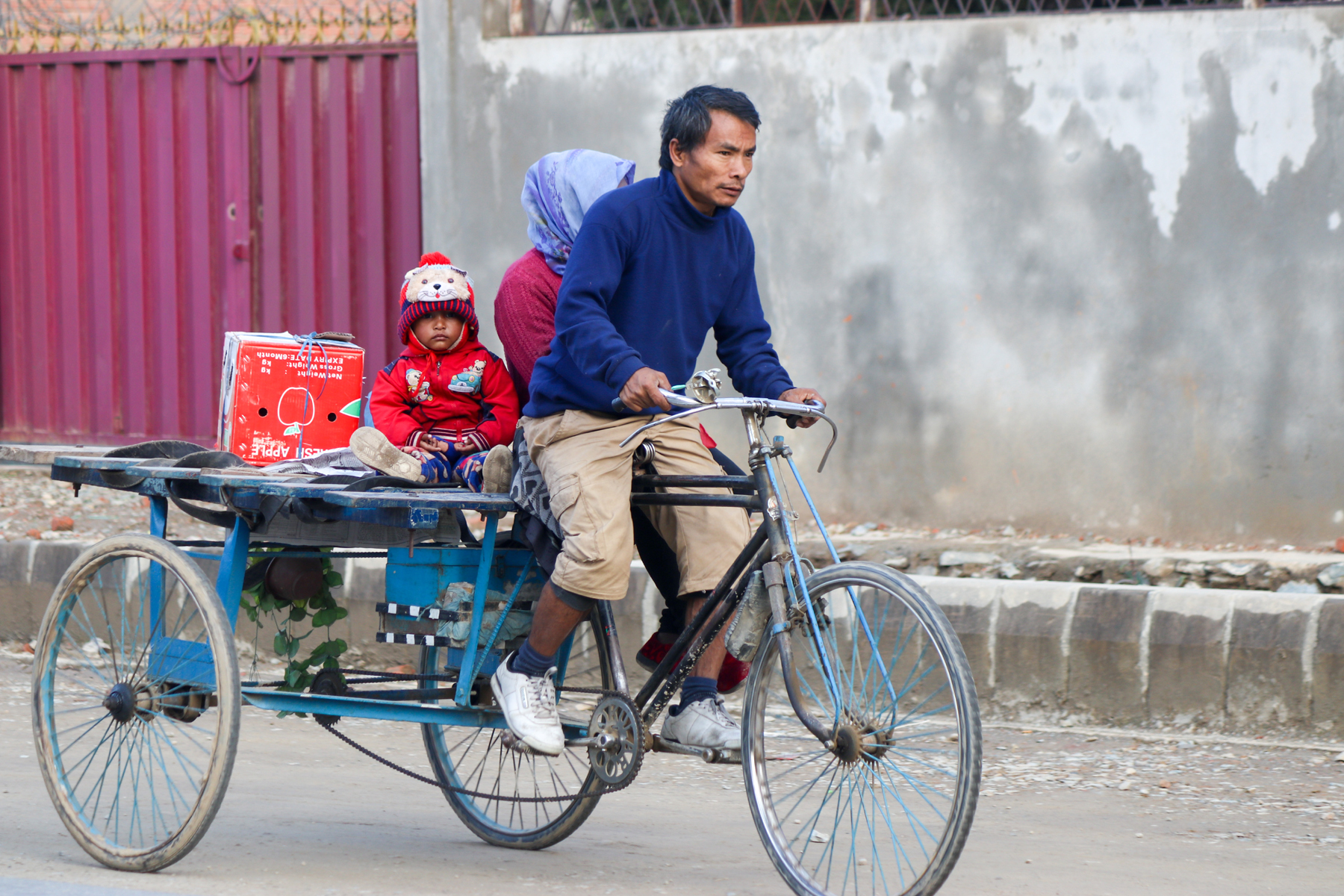 A man and his family ride on a tricycle cart on Saturday at Dholahiti, Lalitpur. Pratham Bista/TKP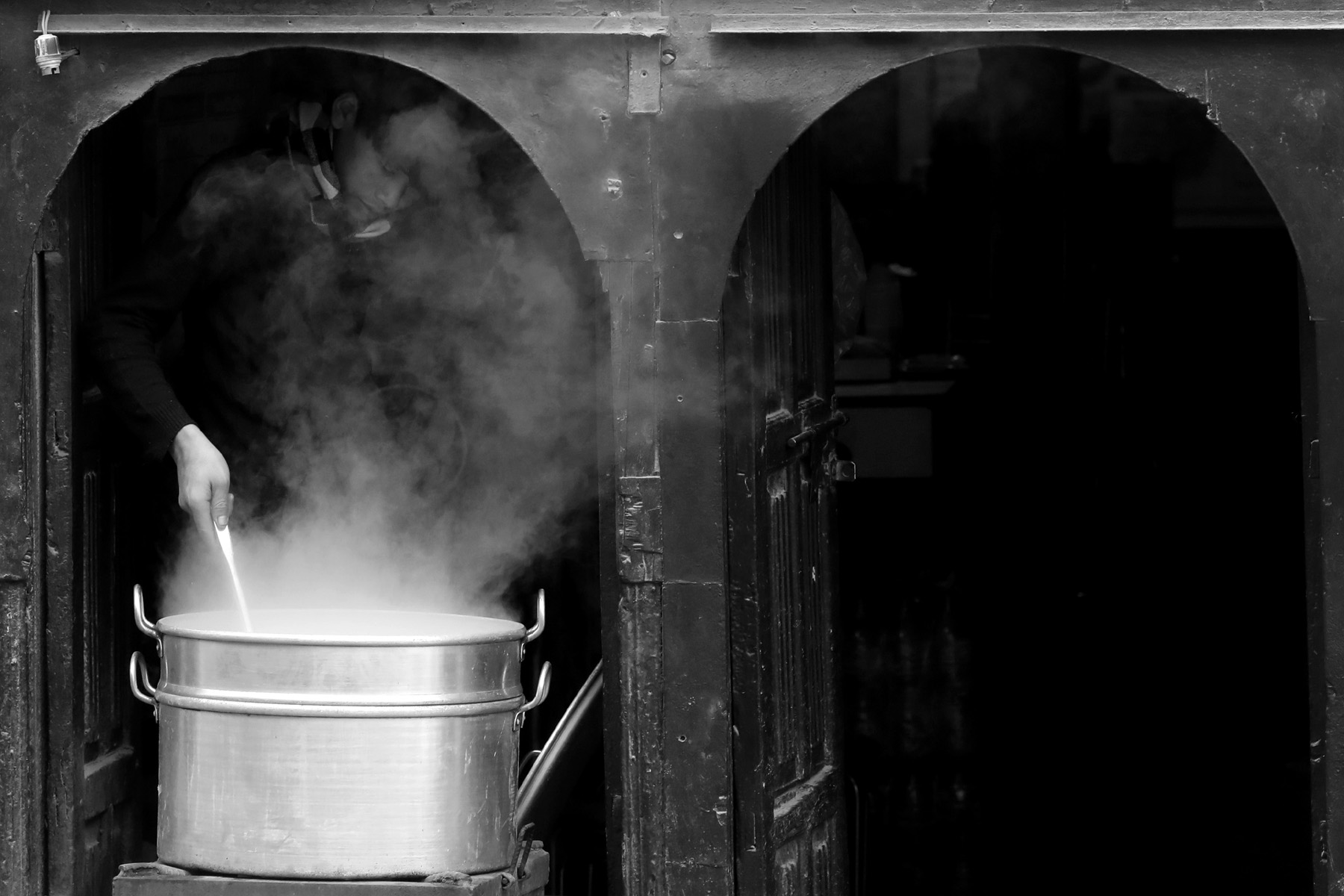 A man prepares to serve momos at a shop in Mangalbazaar, Lalitpur. The demand for momos is especially high during cold days. Hemanta Shrestha/TKP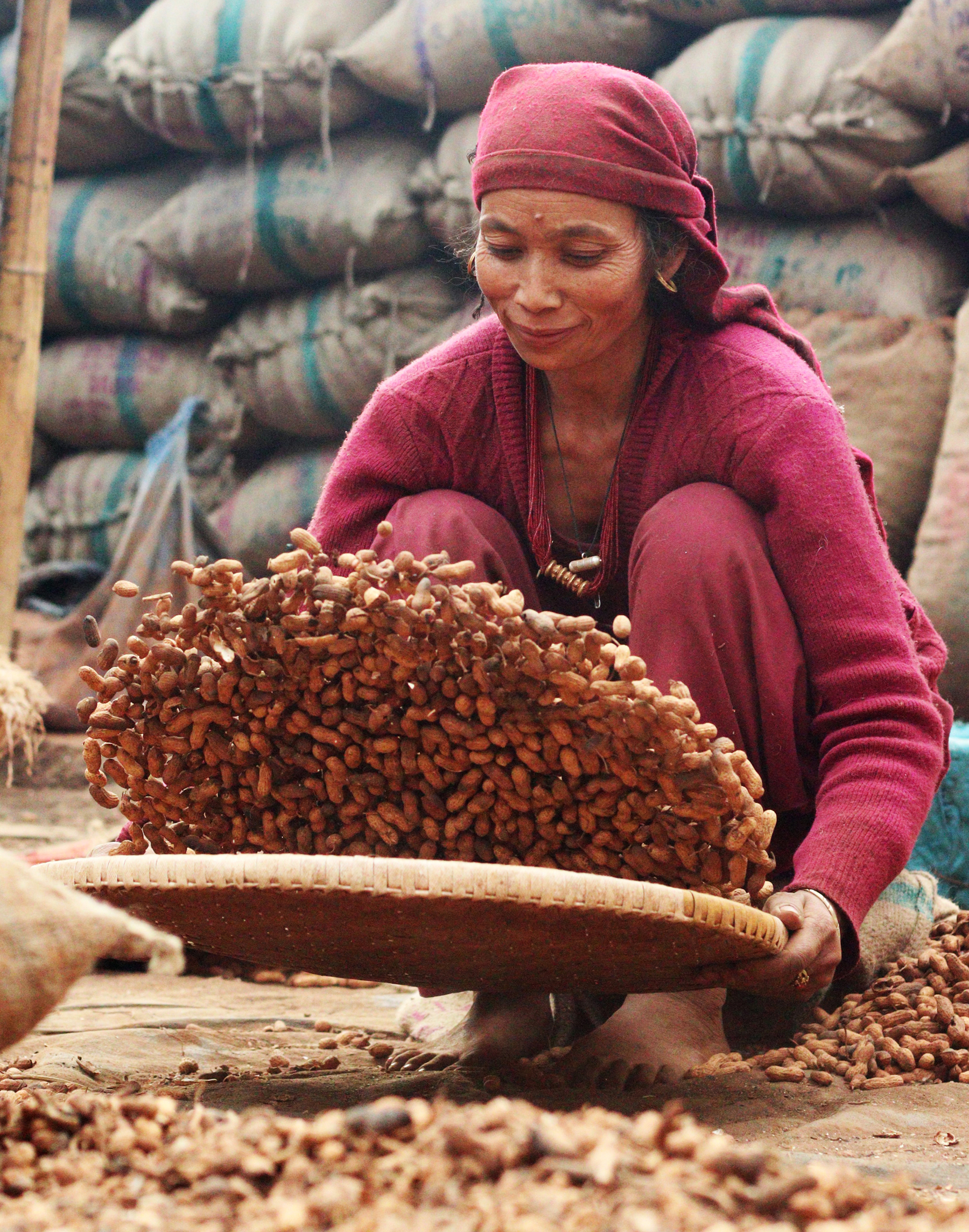 A woman winnows freshly roasted peanuts in Sundhara, Kathmandu. Aabhash Shrestha/TKP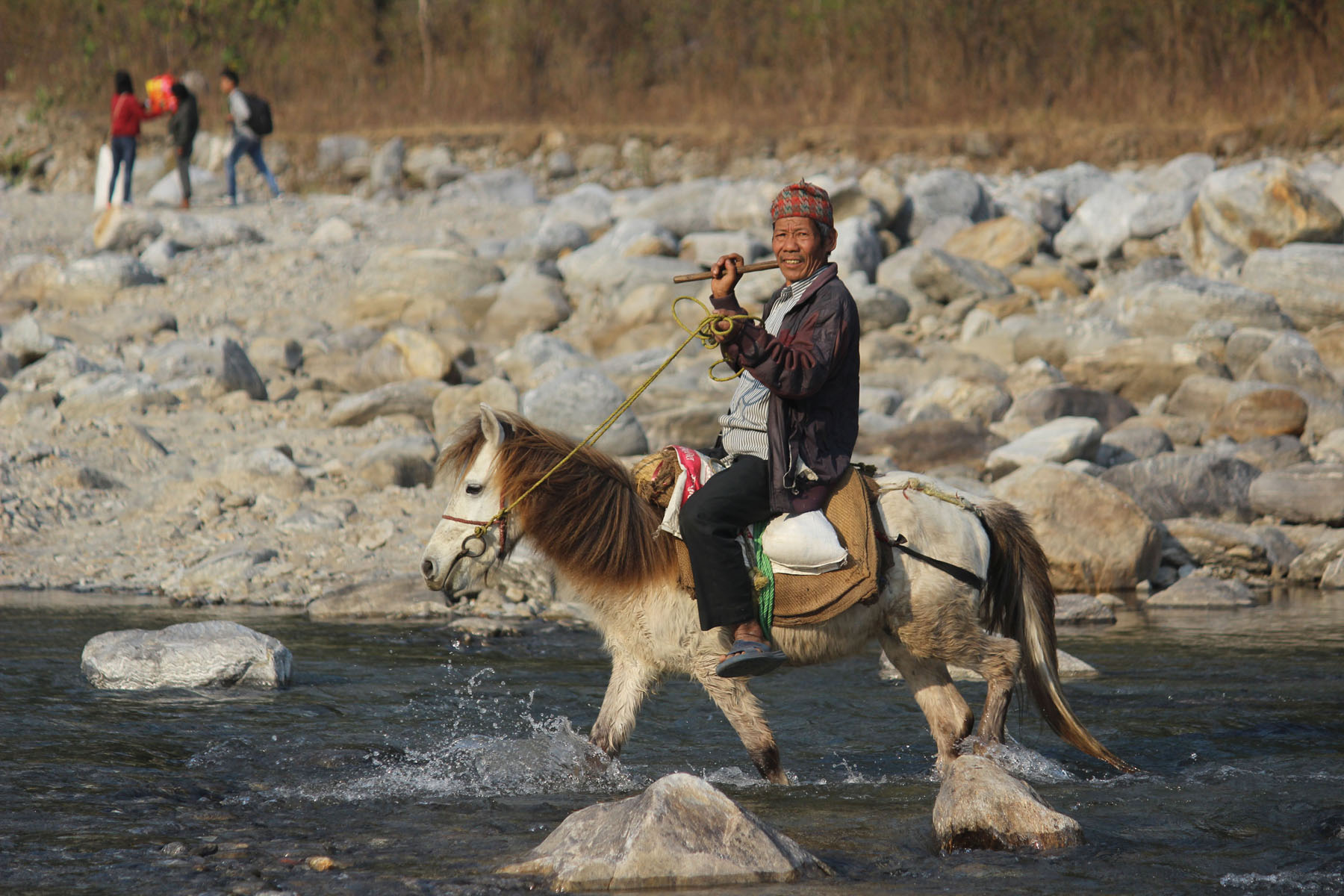 Dal Bahadur Rai of Ramyang in Rong Rural Municipality crosses the Mechi river on his way back from Naxalbari, India. People of southern Ilam cross the border to shop in the Indian market. Parbat Portel/TKP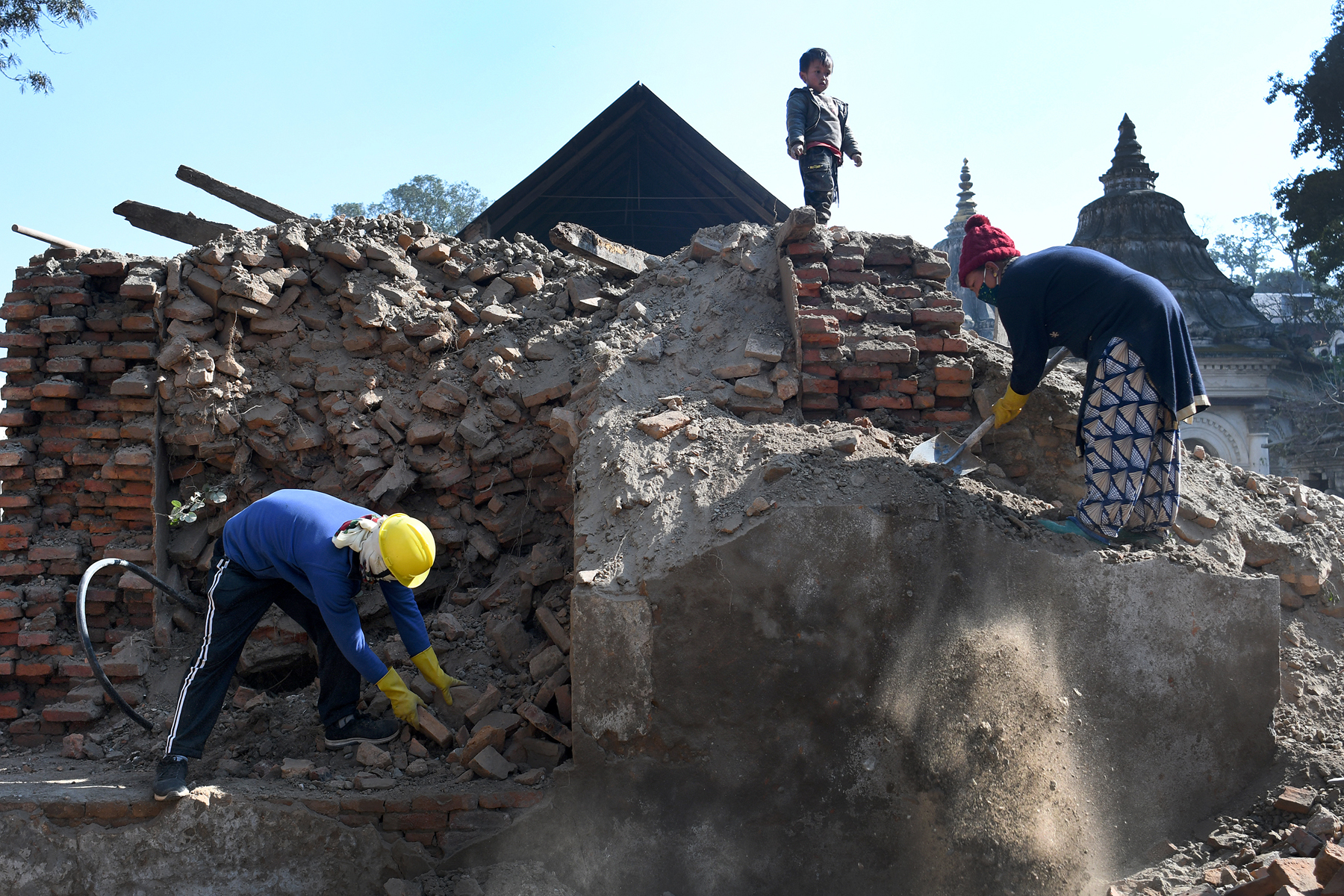 A woman joins in clearing the debris of an earthquake-damaged monument as her child watches at Guheshwori in Kathmandu on Sunday. Anish Regmi/TKP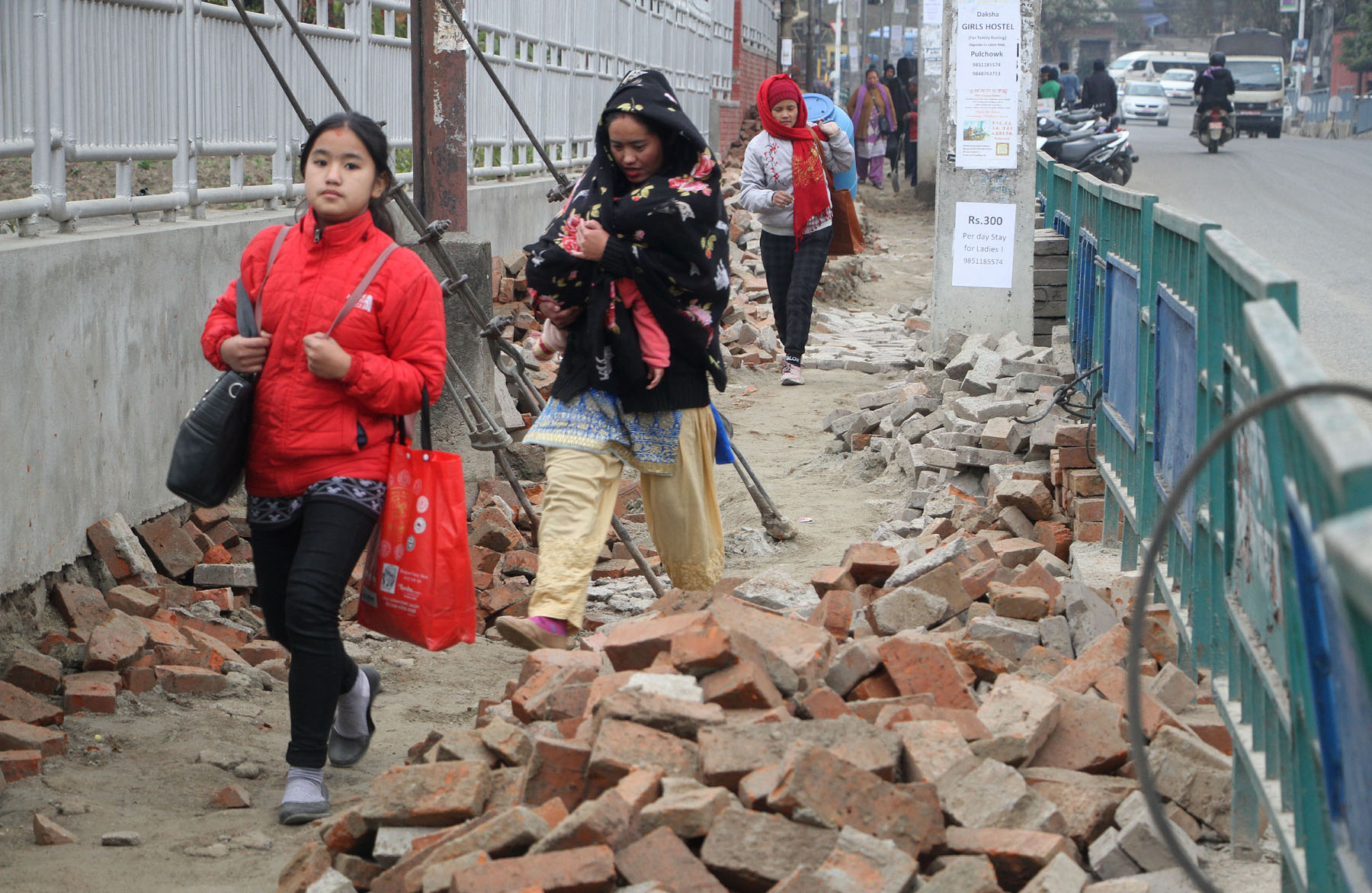 Pedestrians walk among the construction rubble left on a footpath in Pulchowk, Lalitpur. Beeju Maharjan/TKP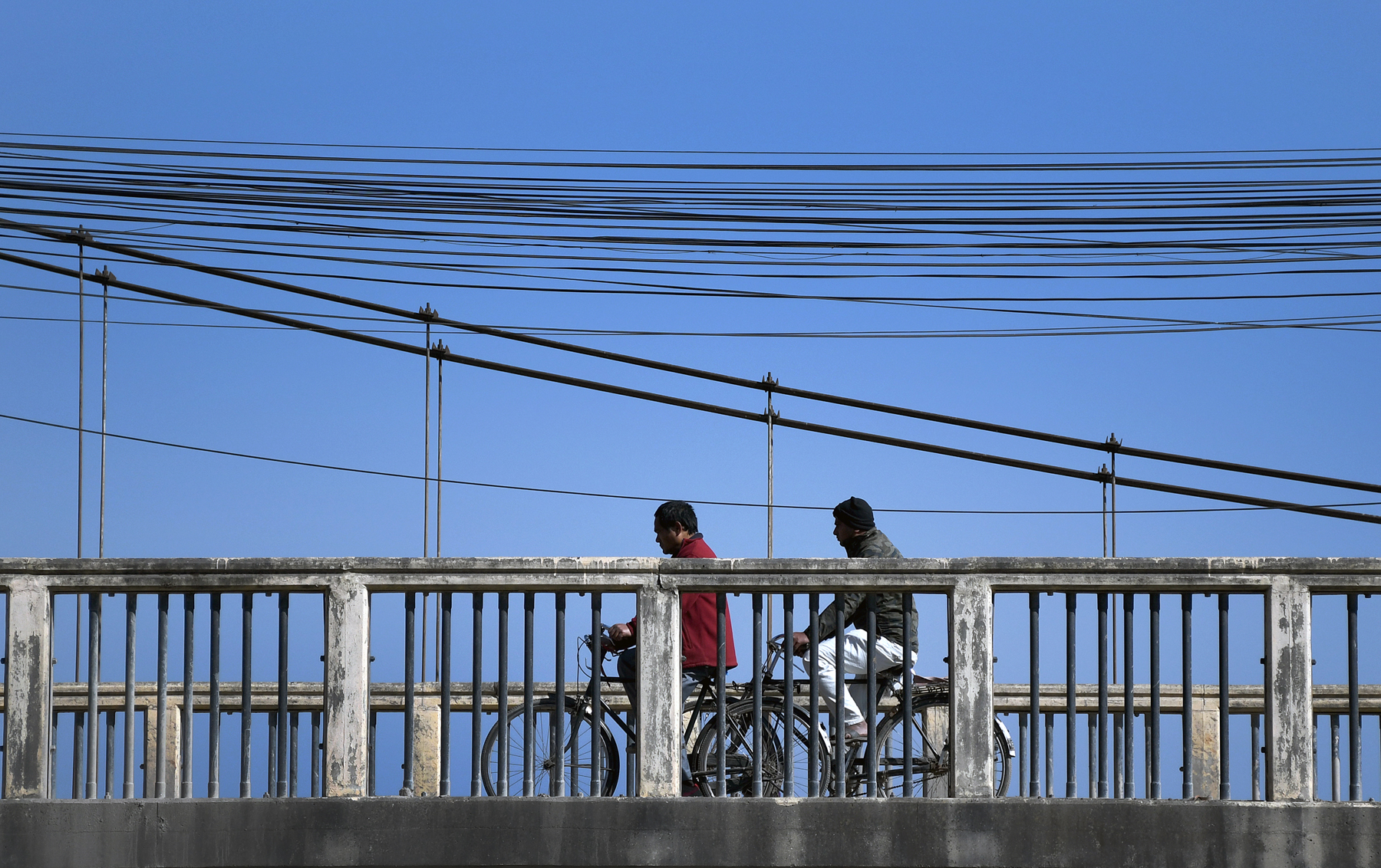 Cyclists pedal along a bridge beneath dangling communication wires at Teku in Kathmandu on Tuesday. Tangles of utility cables hang above the streets in Kathmandu marring the city's beauty. Anigh Regmi/TKP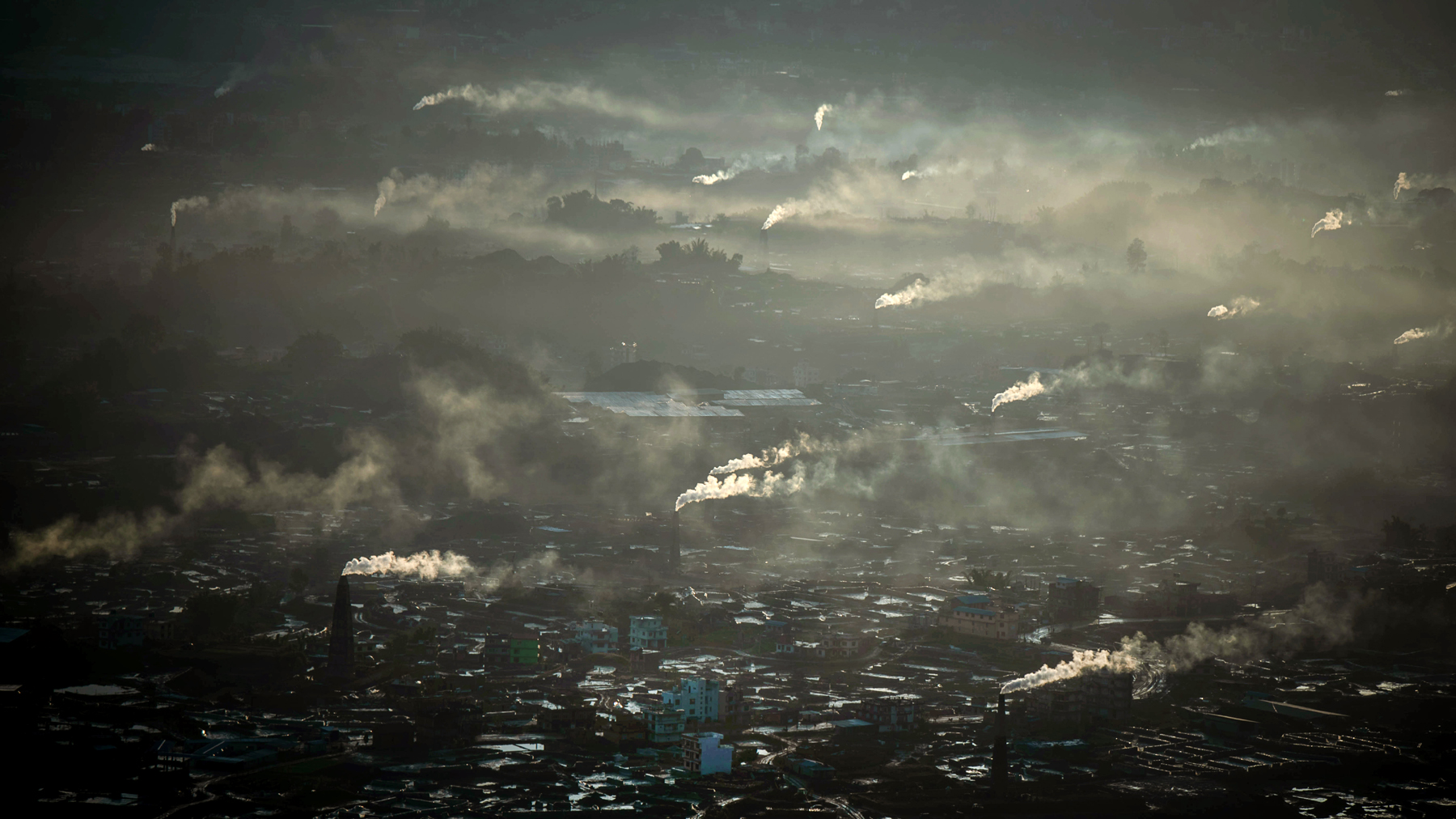 Brick kilns are seen releasing plumes of smoke in this picture taken from Nagarkot, Bhaktapur. More than 60 brick kilns are operating in the district. Dipendra Rokka/TKP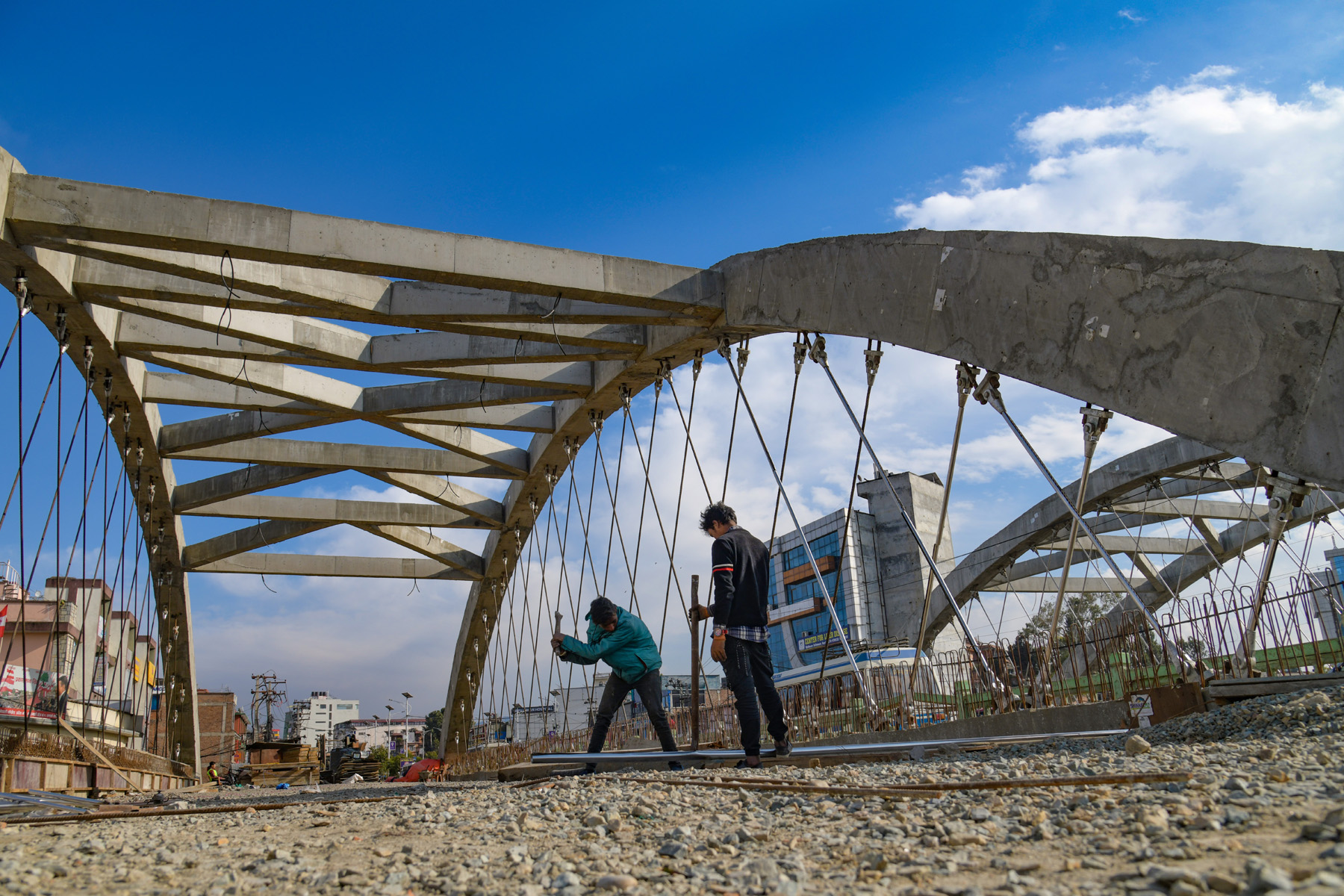 Workers at the construction site of Nepal's first arch bridge over the Dhobi Khola in Bijulibazaar, Kathmandu. Deepak KC/TKP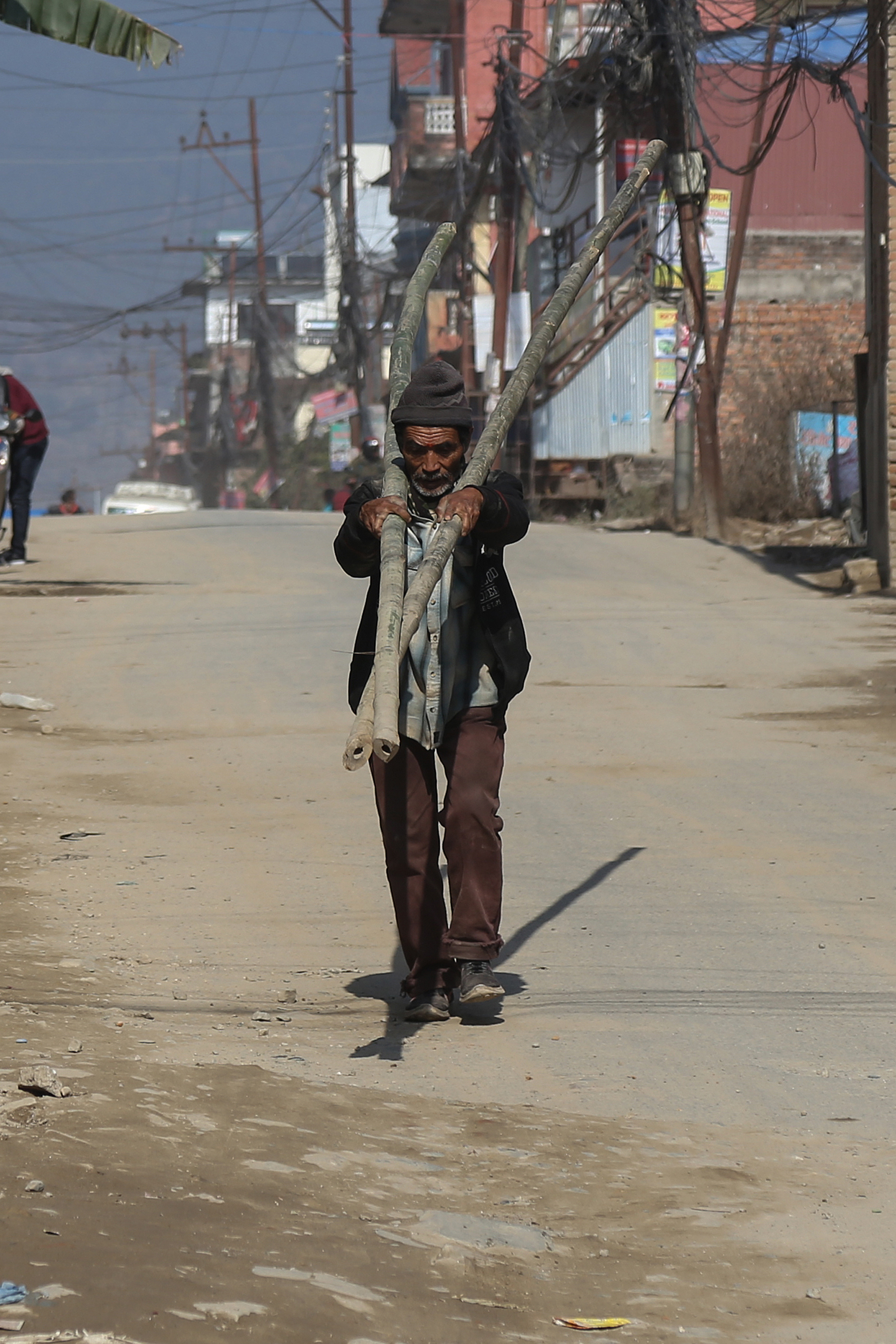 An elderly man carrying bamboo walks on a street at Balaju, Kathmandu, on Monday. Kabin Adhikari/TKP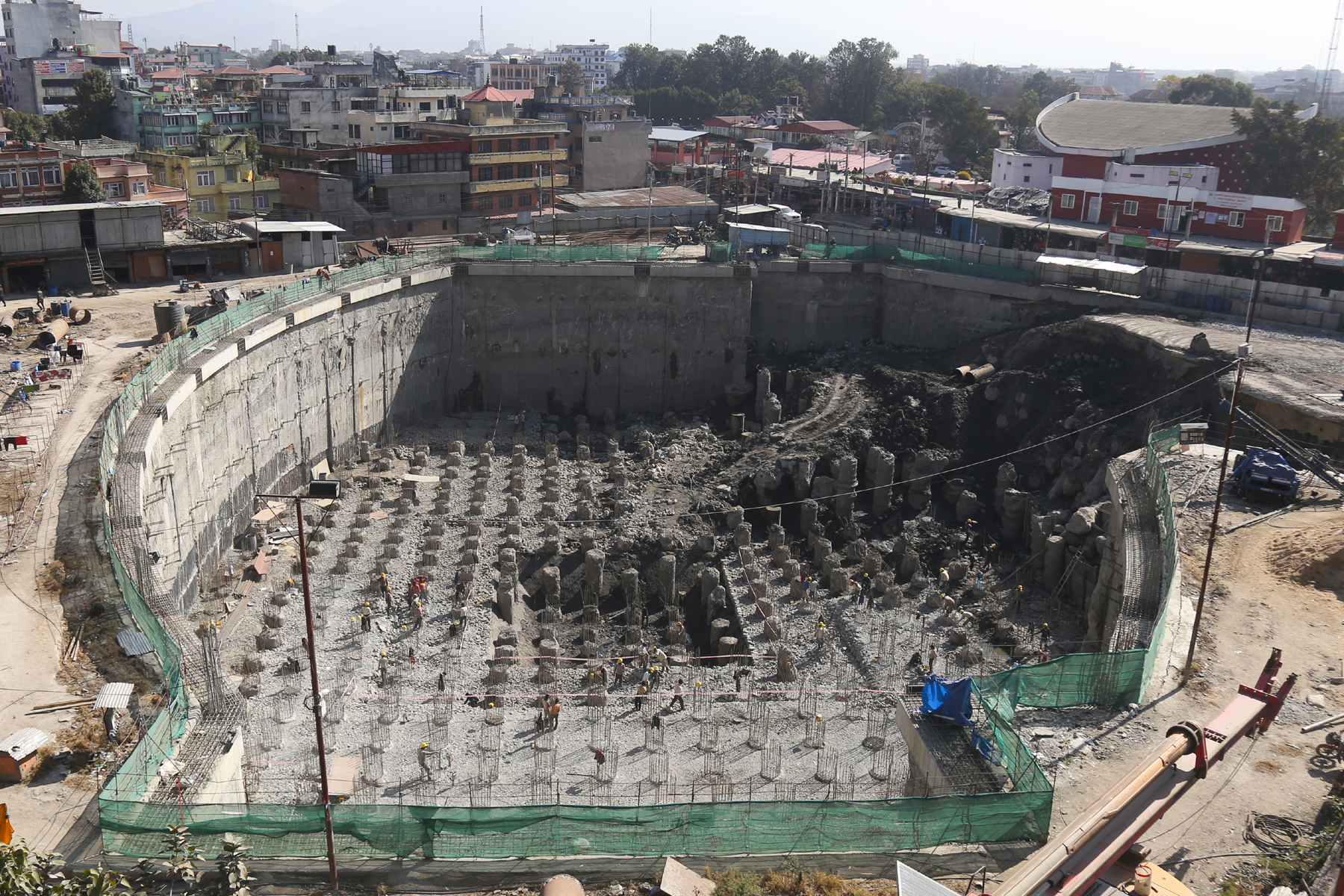 Workers at the construction site of the Kathmandu View Tower. The construction of the 29-storey tower—which is being carried out by Jaleshwor Swachchhanda Bkoi Builders Pvt Ltd with a budget of Rs7 billion—officially started from April 2019. Kabin Adhikari/TKP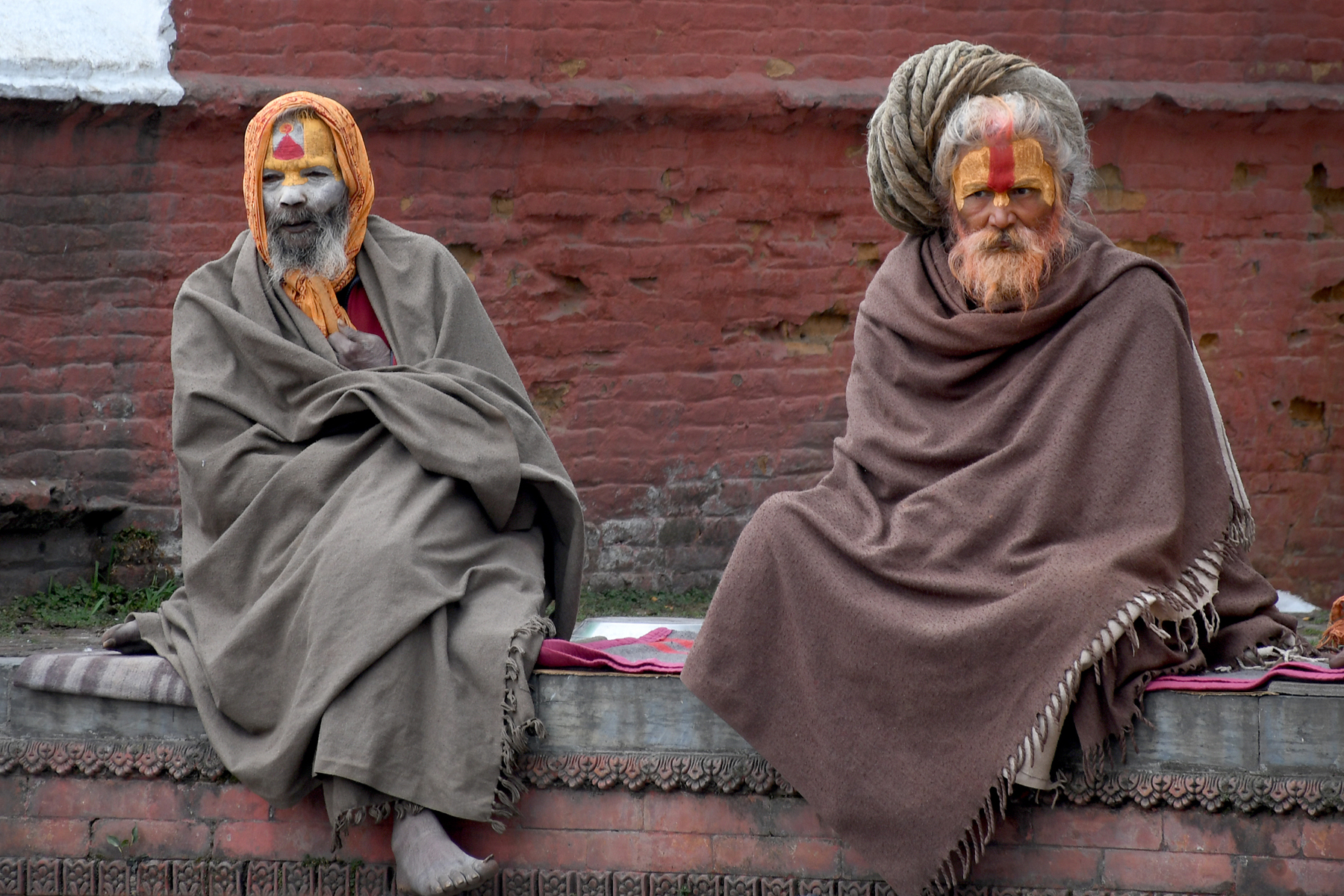 Sadhus draped in shawls sit at Pashupatinath temple in Kathmandu. Anish Regmi/TKP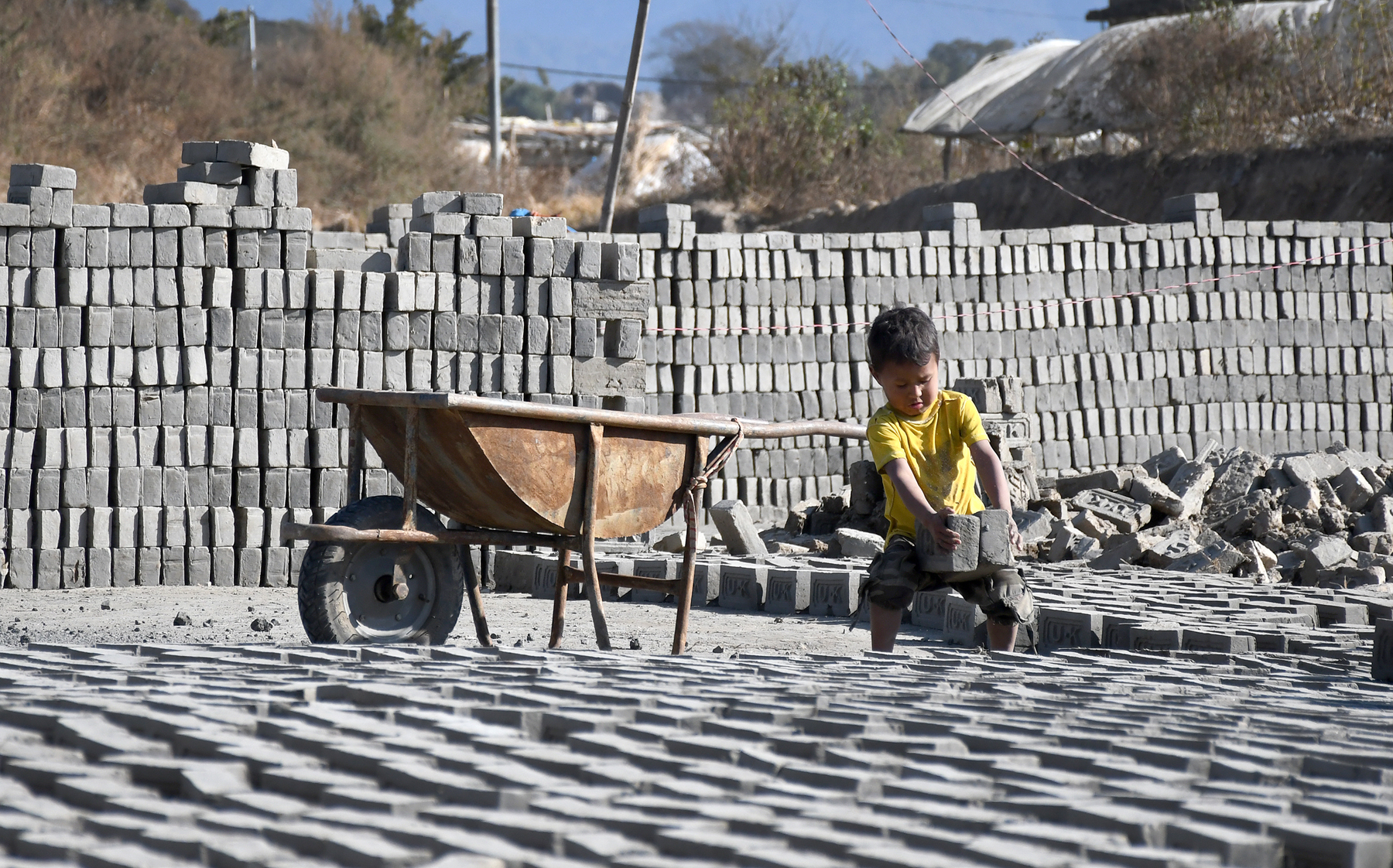 A child plays at a brick factory in Bungamati, Lalitpur. Sight of children playing around brick kilns is common in Kathmandu, as they come along with parents who are seasonal workers Anish Regmi/TKP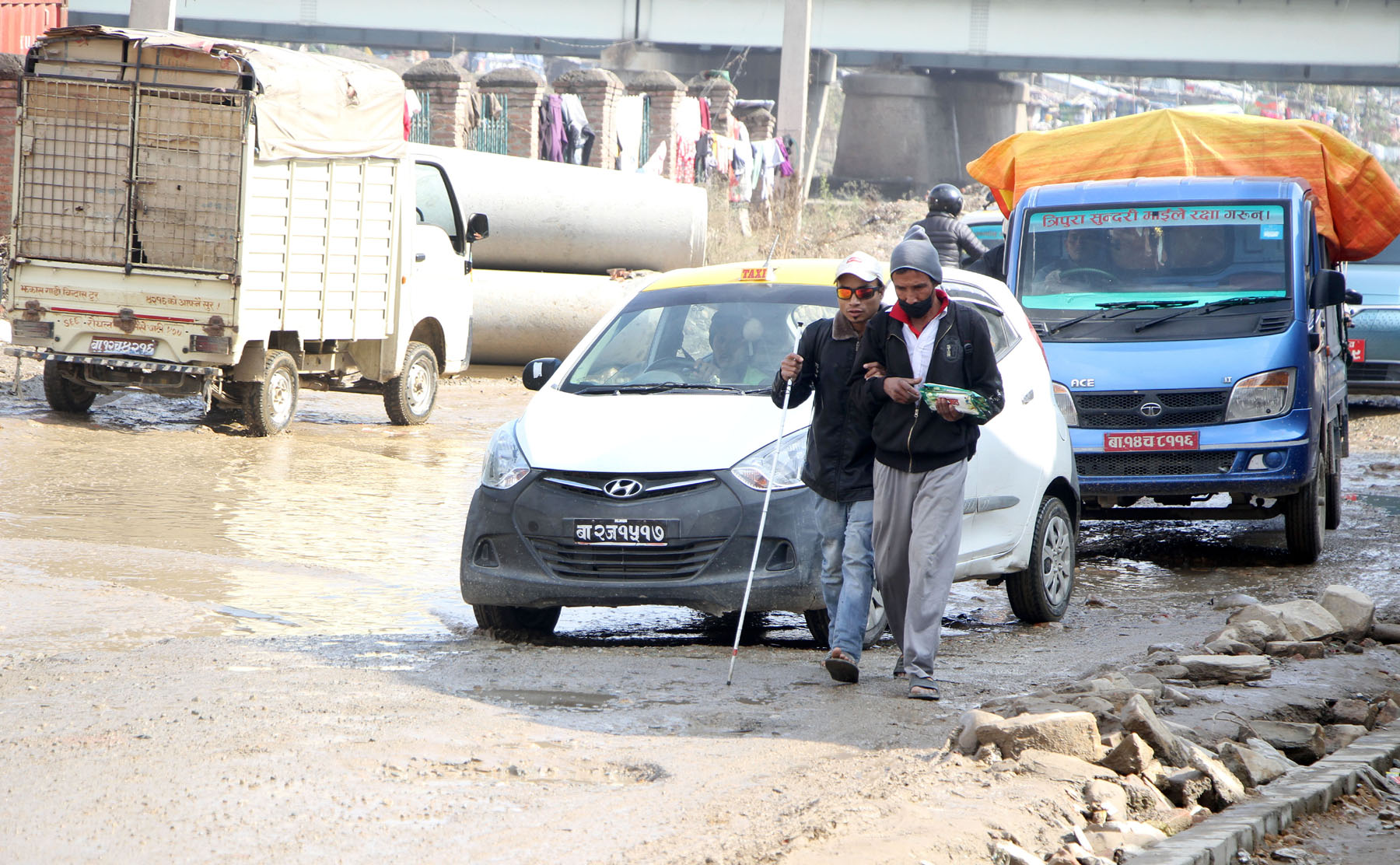 A blind person is assisted by his friend as they walk along a muddy road section in Thapathali, Kathmandu. Beeju Maharjan/TKP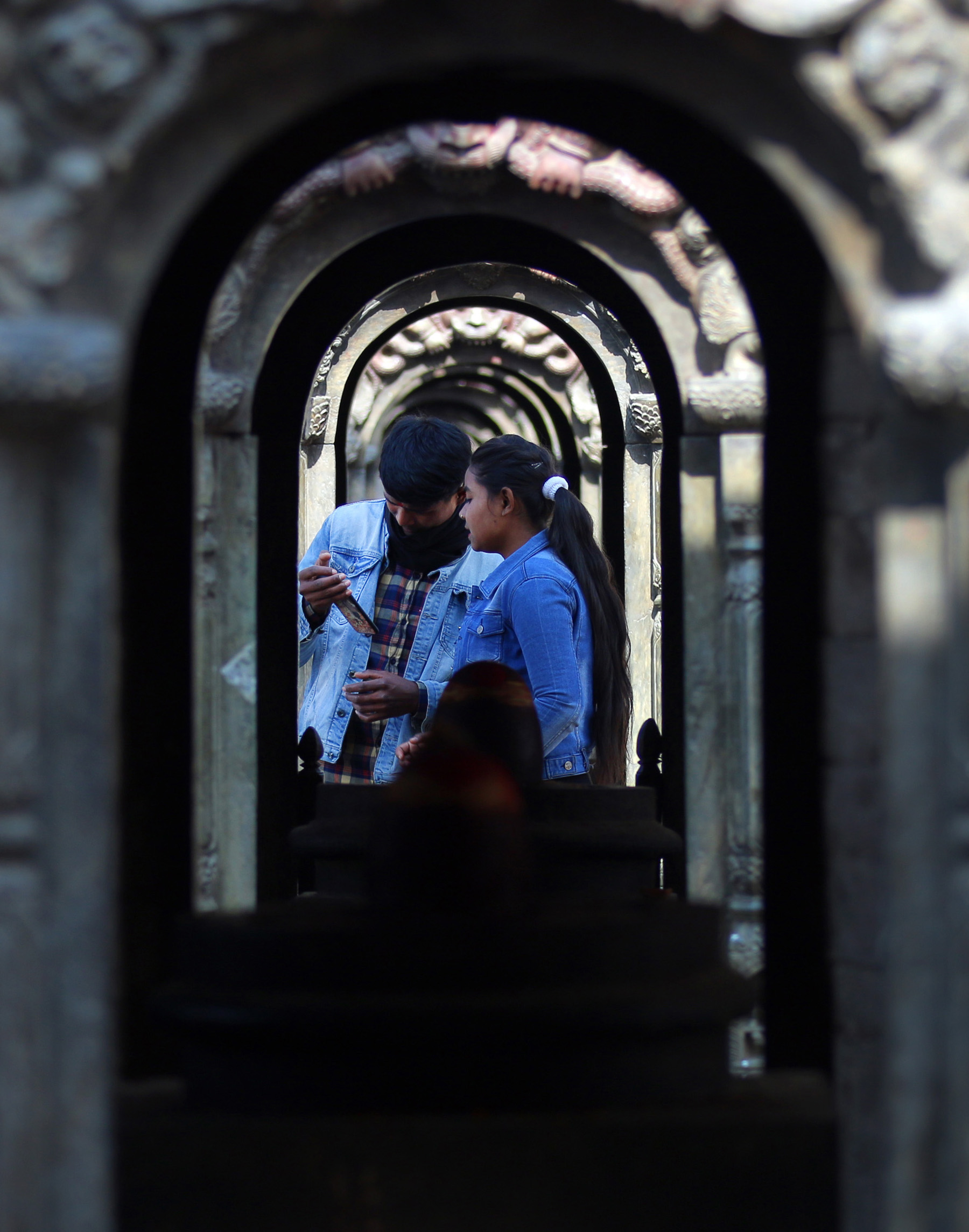 A young boy and a girl look at a cellphone at Pashupati, in Kathmandu. Elite Joshi/TKP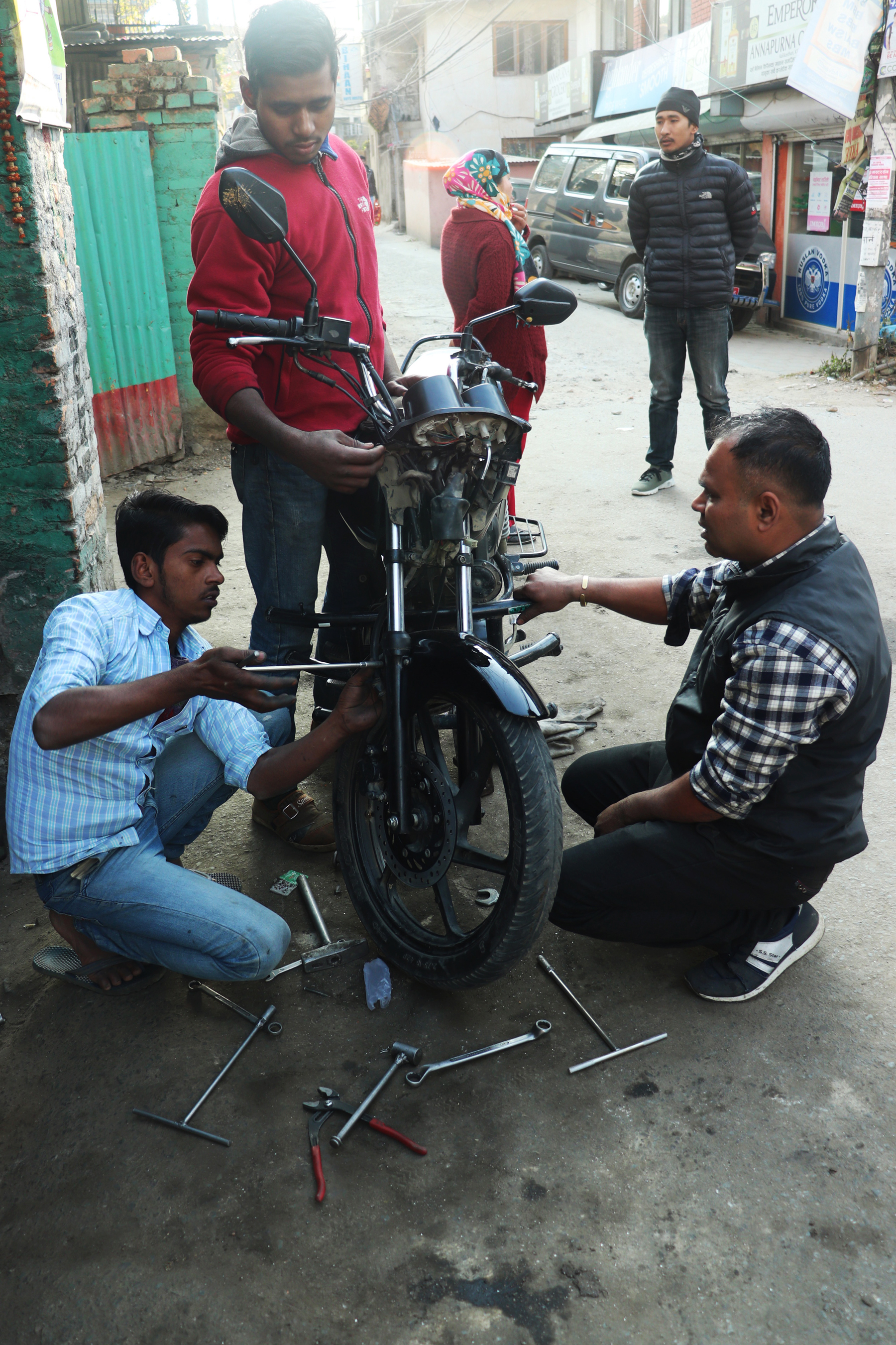 Mechanics repair a motorcycle that was damaged in an accident, at Ghattekulo, Kathmandu. Aabhash Shrestha/TKP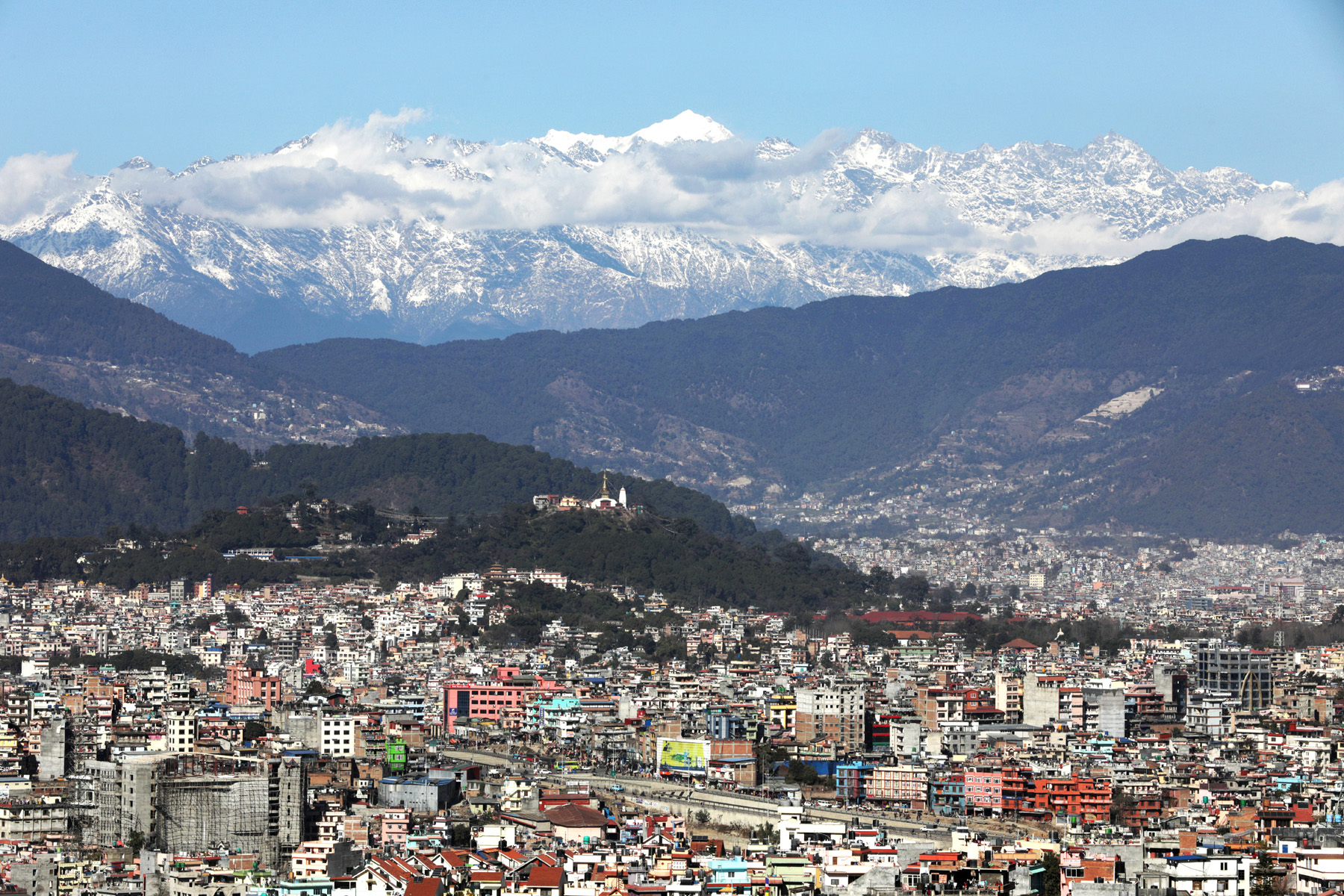 A view of mountains seen from Kirtipur, Kathmandu, on Wednesday. Sanjog Manandhar/TKP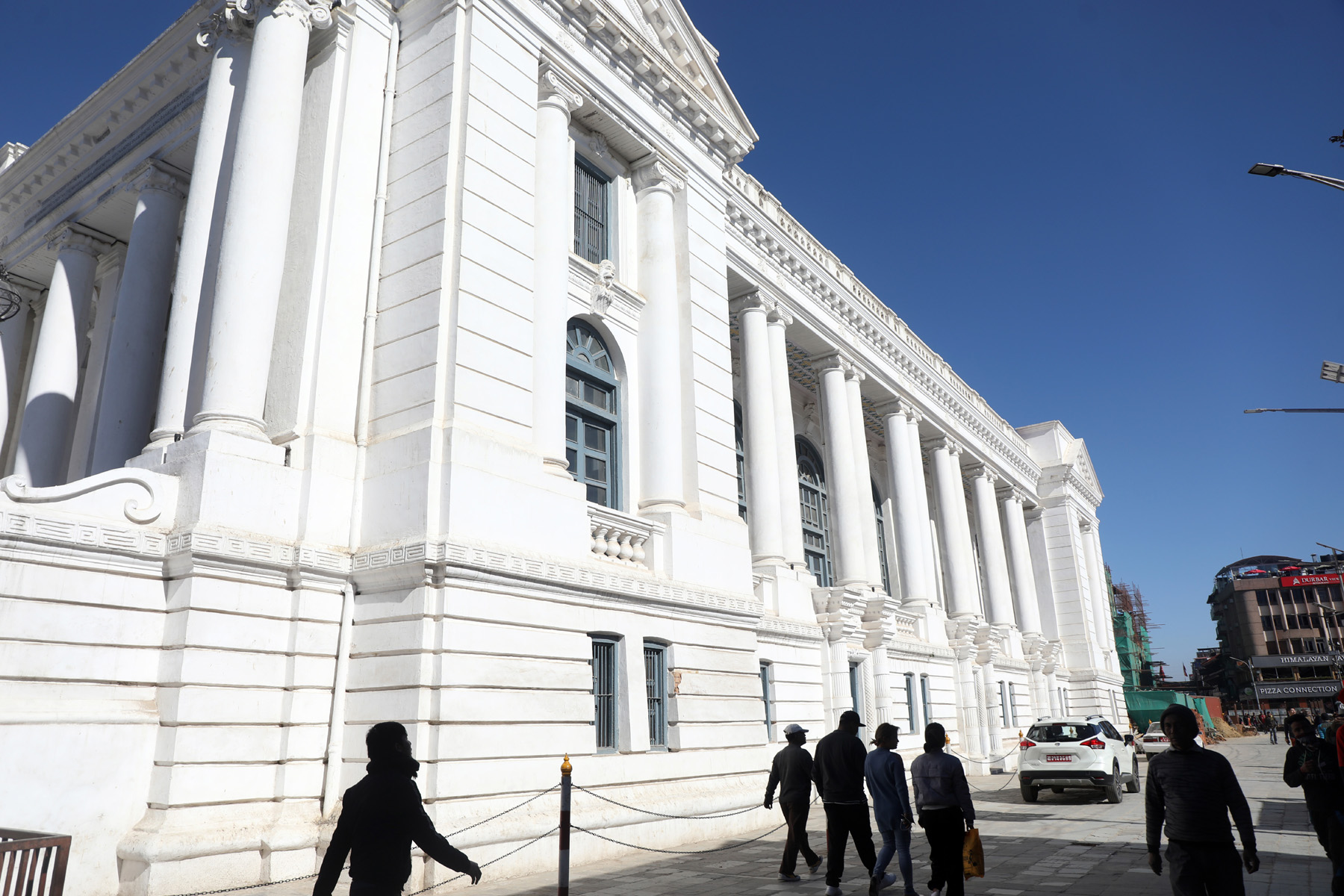 A vehicle is parked in Basantapur Durbar Square on Wednesday. Private vehicles are restricted from entering the heritage site. Elite Joshi/TKP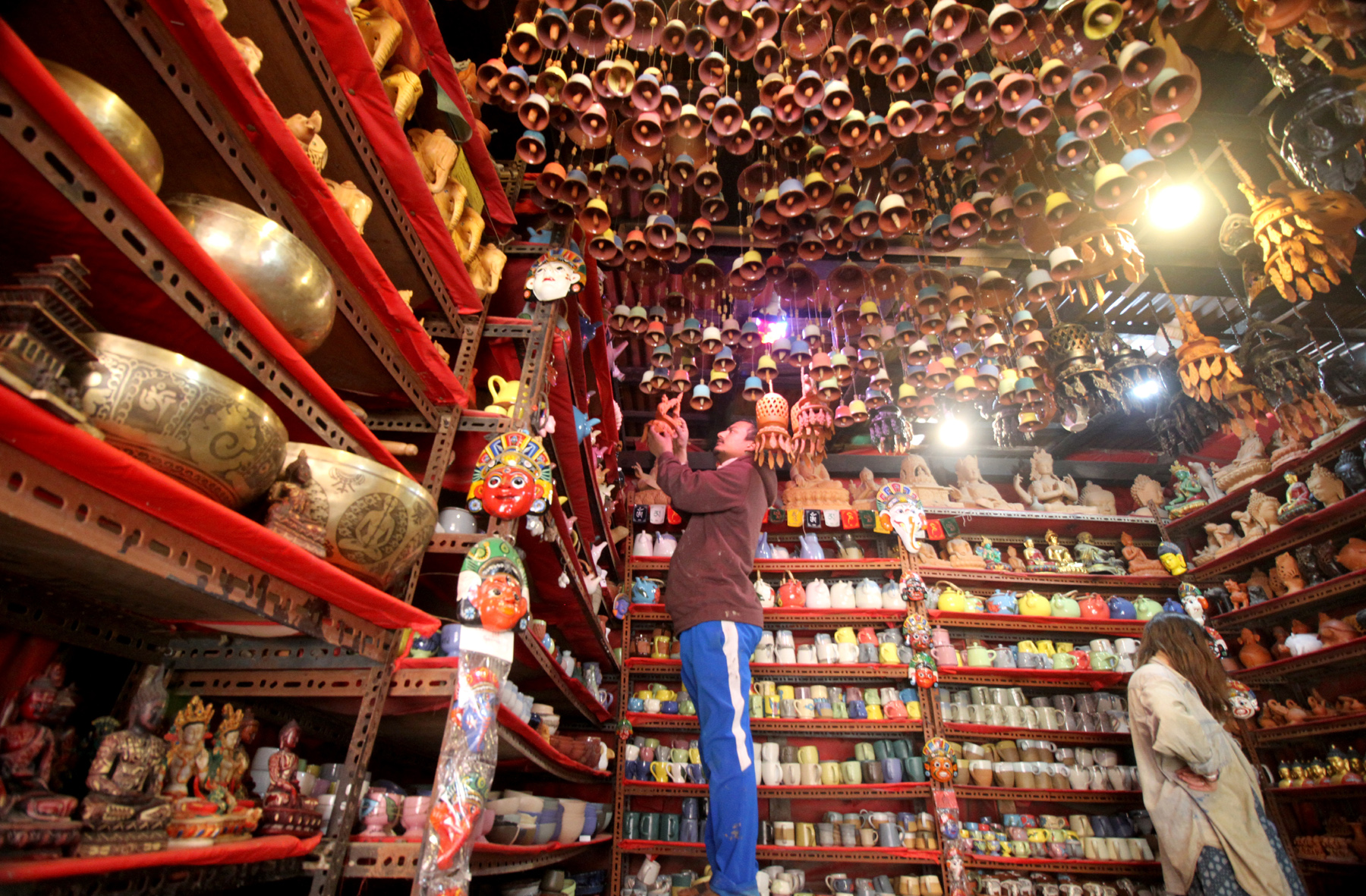 A shopkeeper arranges clay bells as a customer looks at things at Pottery Square in Bhaktapur. Beeju Mahrajan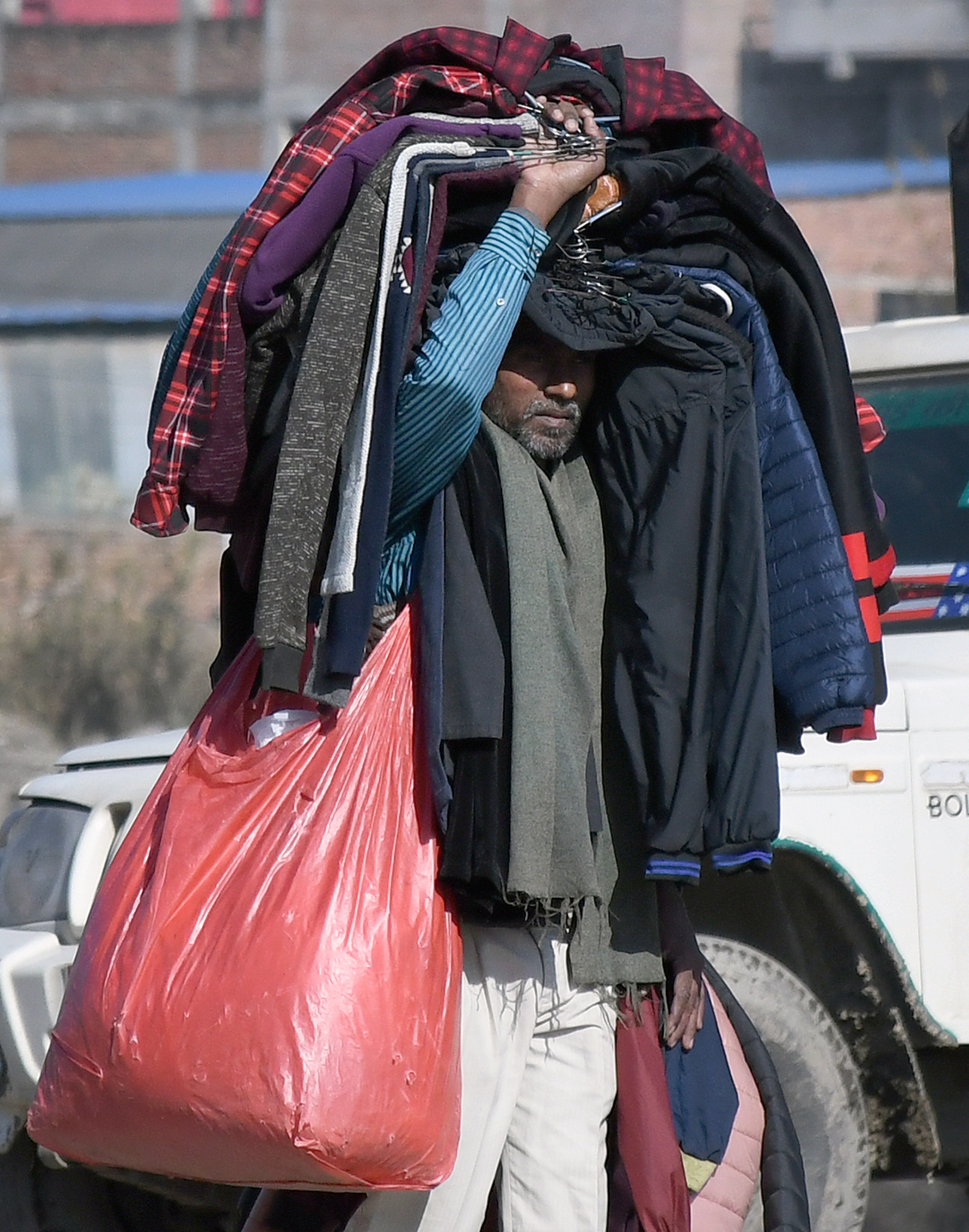 A vendor carries a heap of clothes as he walks towards a market in Kuleshwor, Kathmandu. Anish Regmi/TKP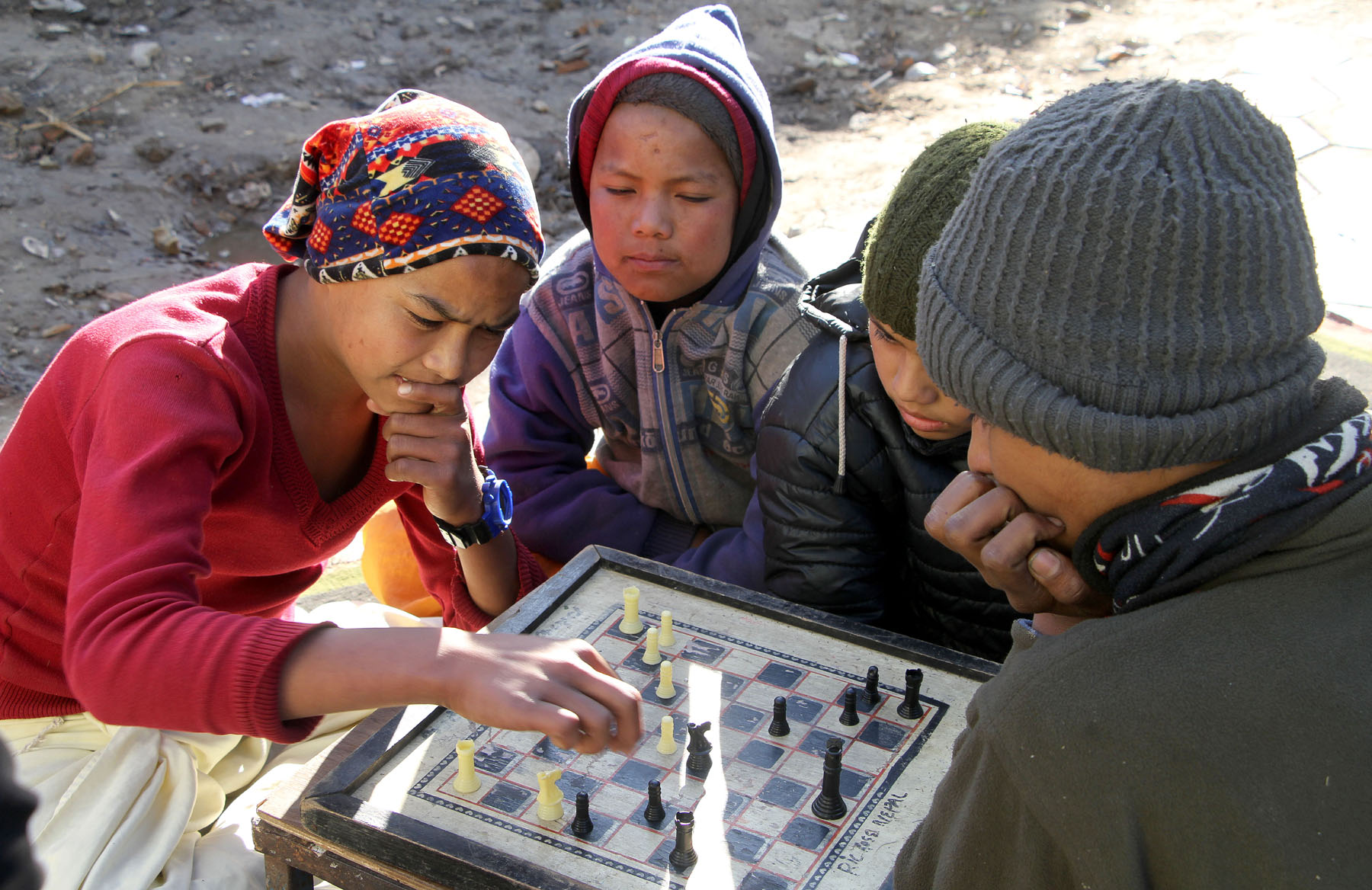 Children play chess at an ashram inside Jagat Narayan Temple in Shankhamul, Kathmandu. Beeju Maharjan/TKP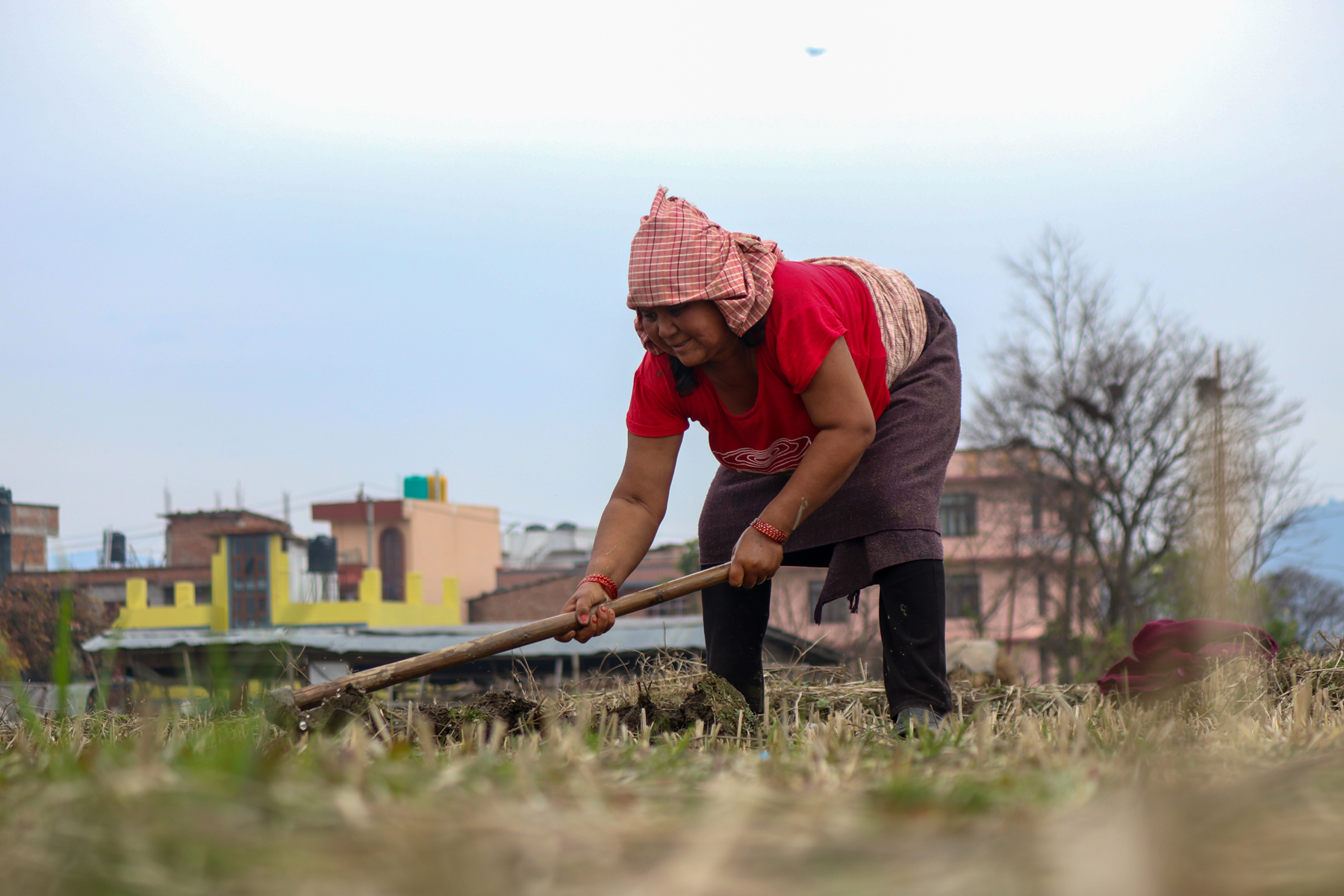 A woman at work in a field in Godawari, Lalitpur. Pratham Bista/TKP
A man working at a vehicle workshop is reflected on a rear view mirror, in Chyasal, Lalitpur. Kabin Adhikari/TKP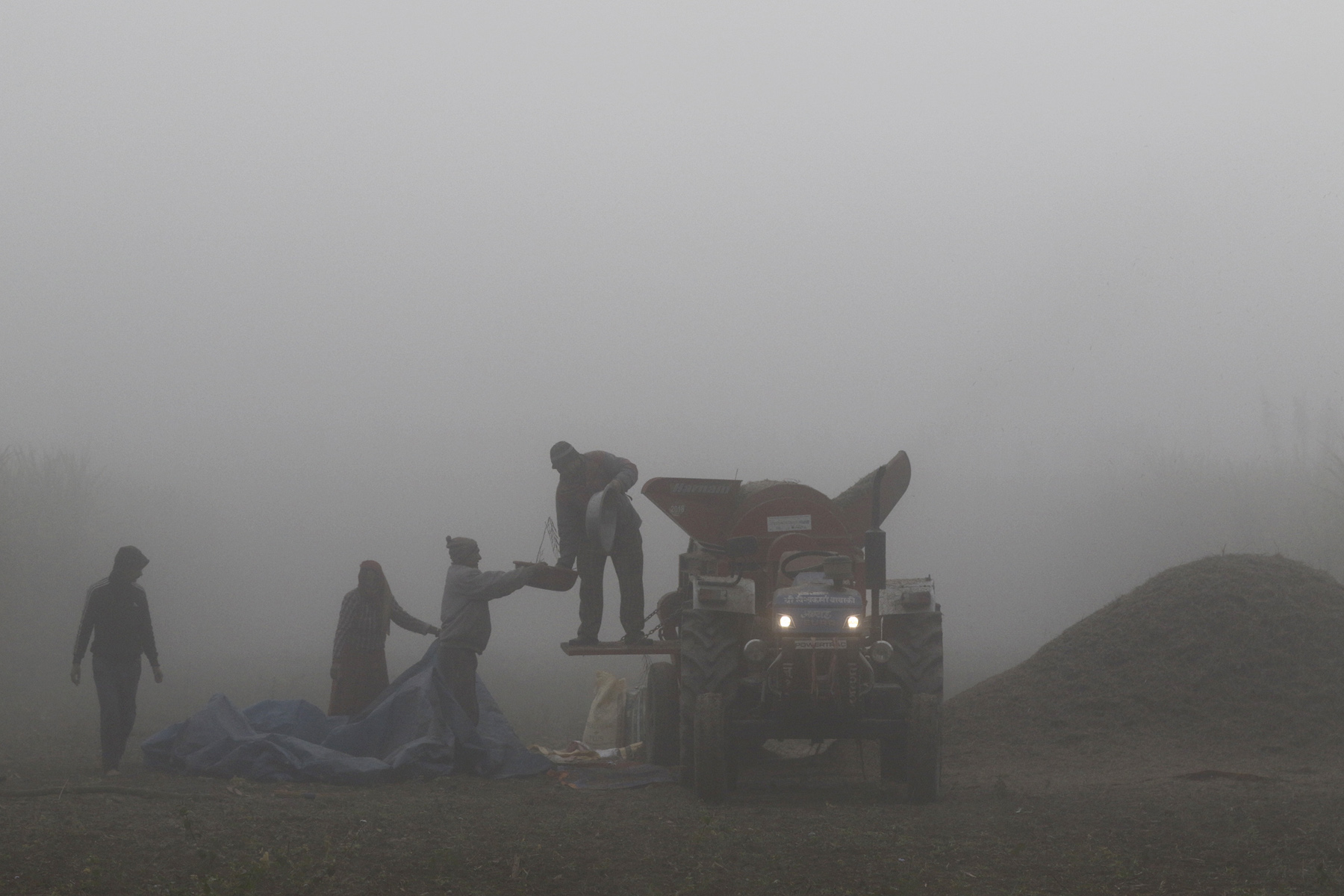 Farmers thresh mustard at Bishnupur in Sarlahi district. Keshav Thapa/TKP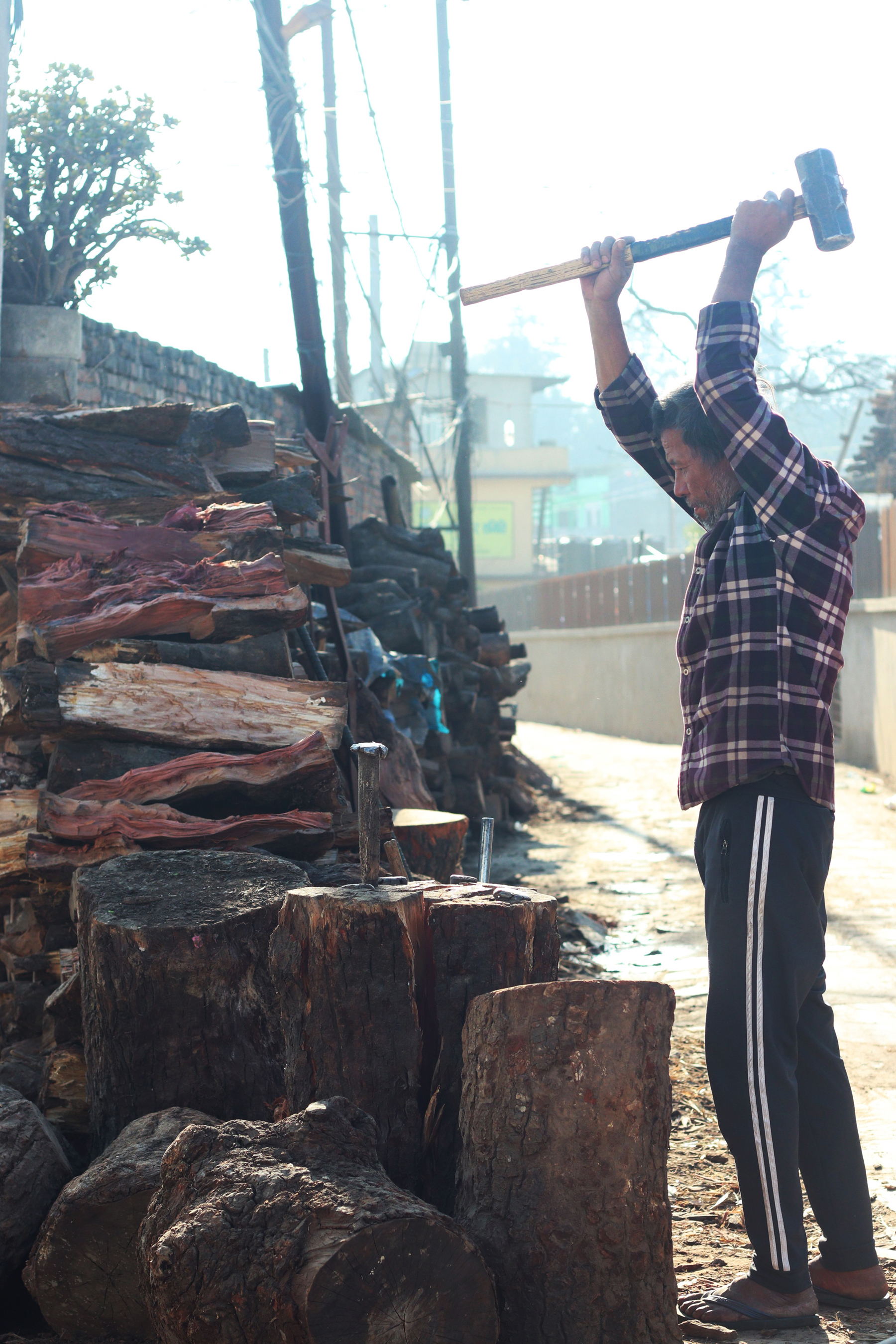 A woodchopper splits wood at a carpentry in Teku, Kathmandu. Aabash Shrestha/TKP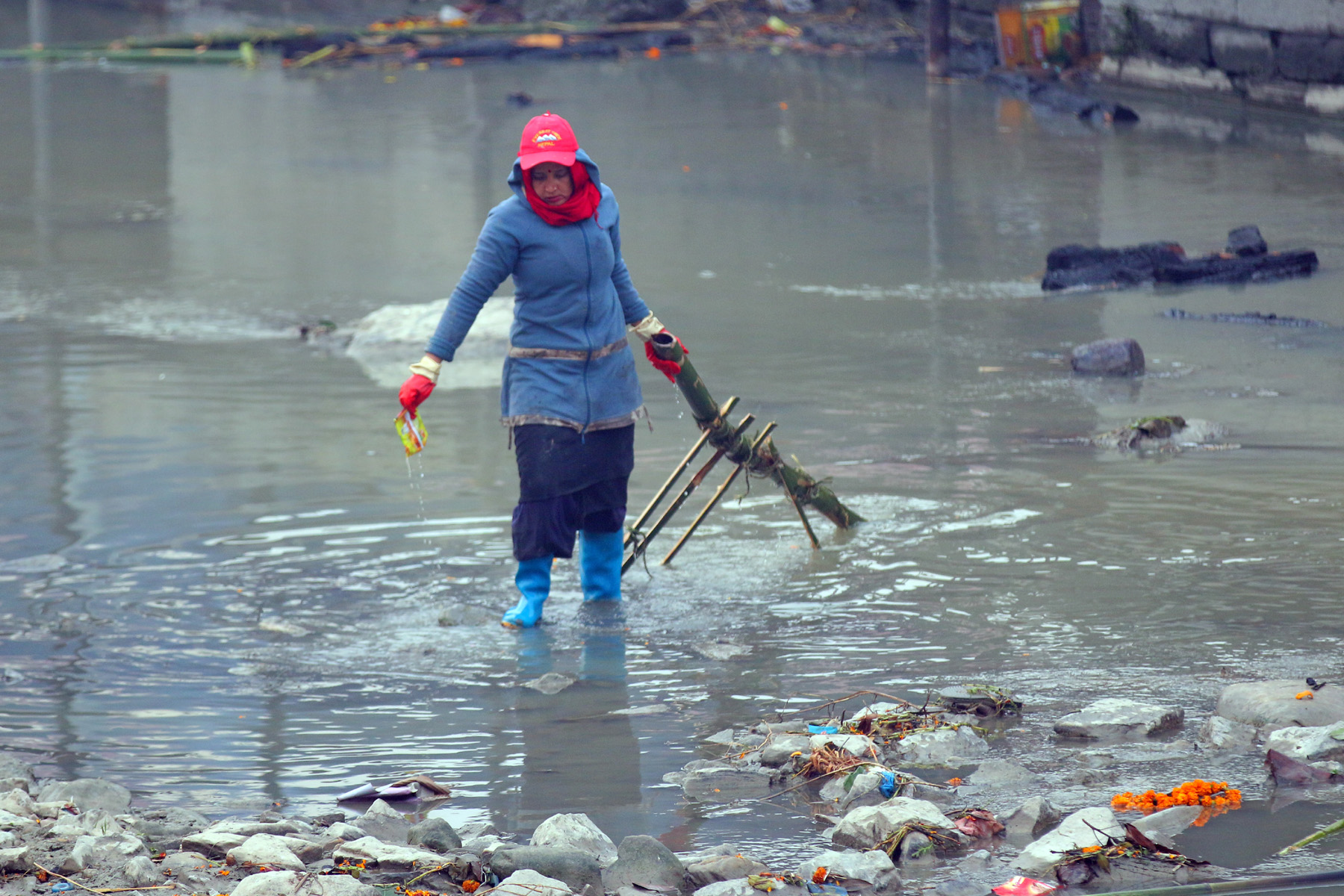 A woman takes out waste from the Bagmati river at Pashupati, Kathmandu, on Friday. Elite Joshi/TKP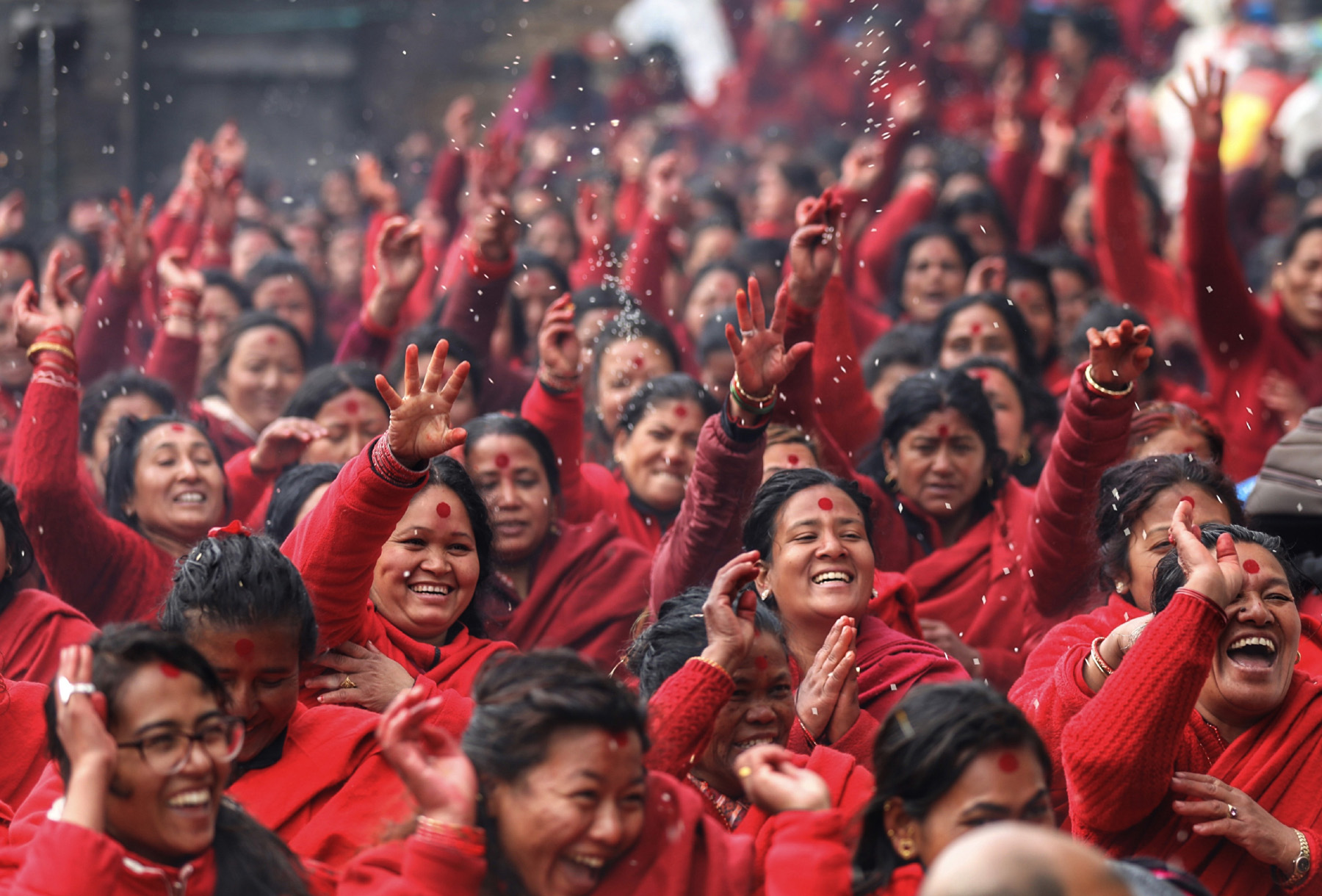 Women observing Madhavnarayan fast throw grains as part of a ritual in Pashupati, Kathmandu, on Friday. Elite Joshi/TKP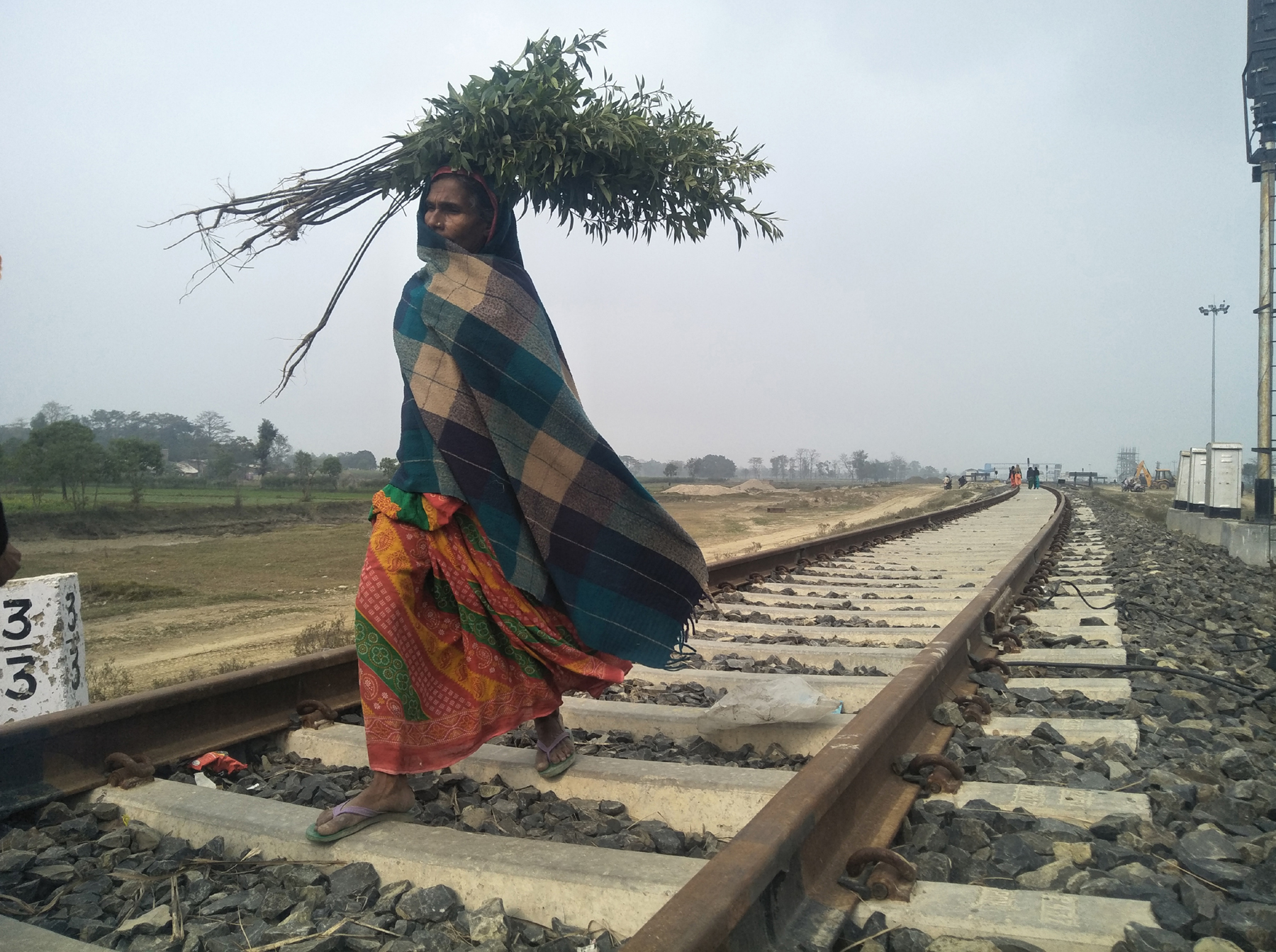 A women walk in the railway near the India border. Santosh Singh/TKP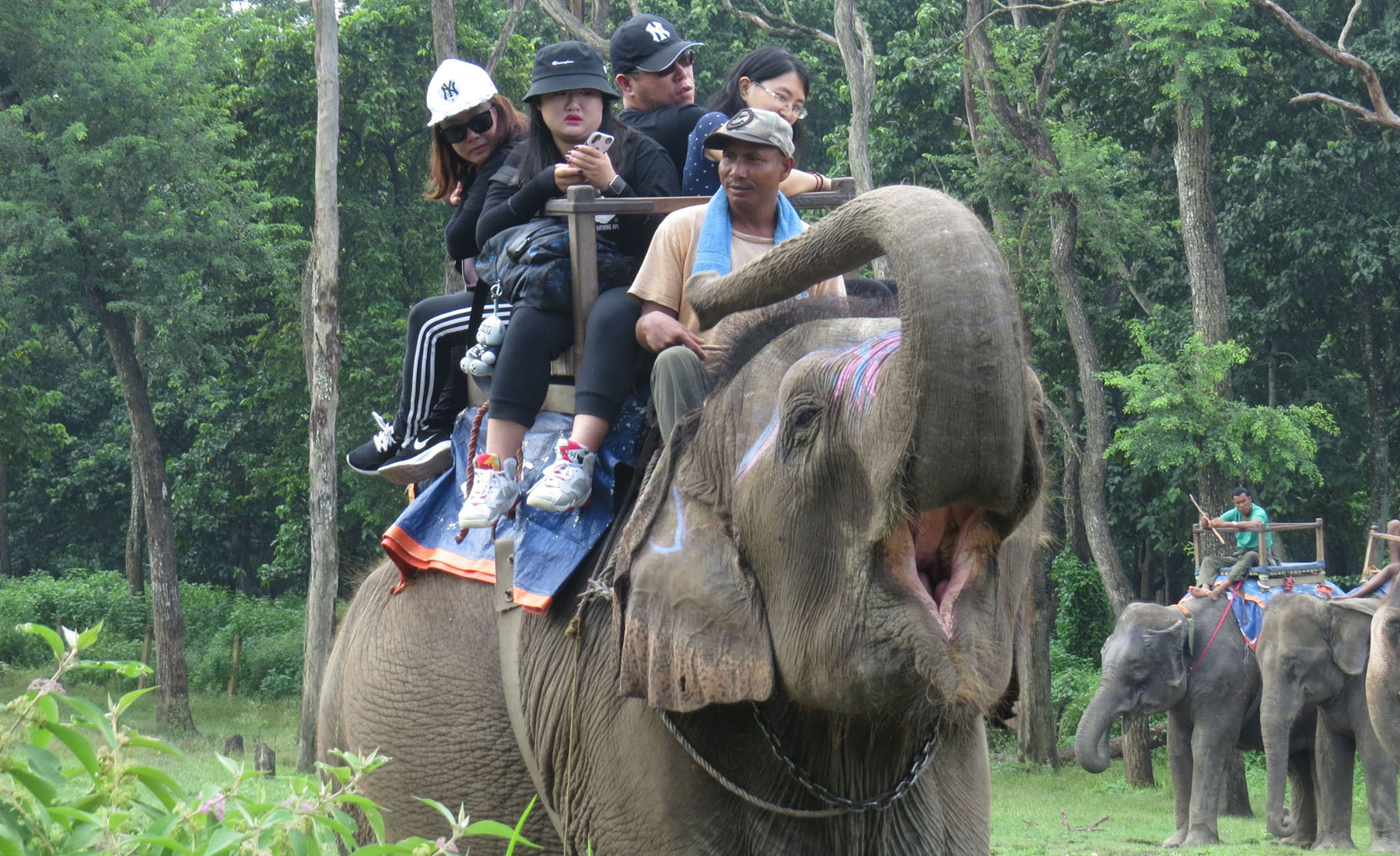 Tourists enjoy elephant safari in Sauraha. Ramesh Kumar Poudel/TKP
---