The week in 27 photos
Here are some of the best photos taken by our photographers between January 11-17.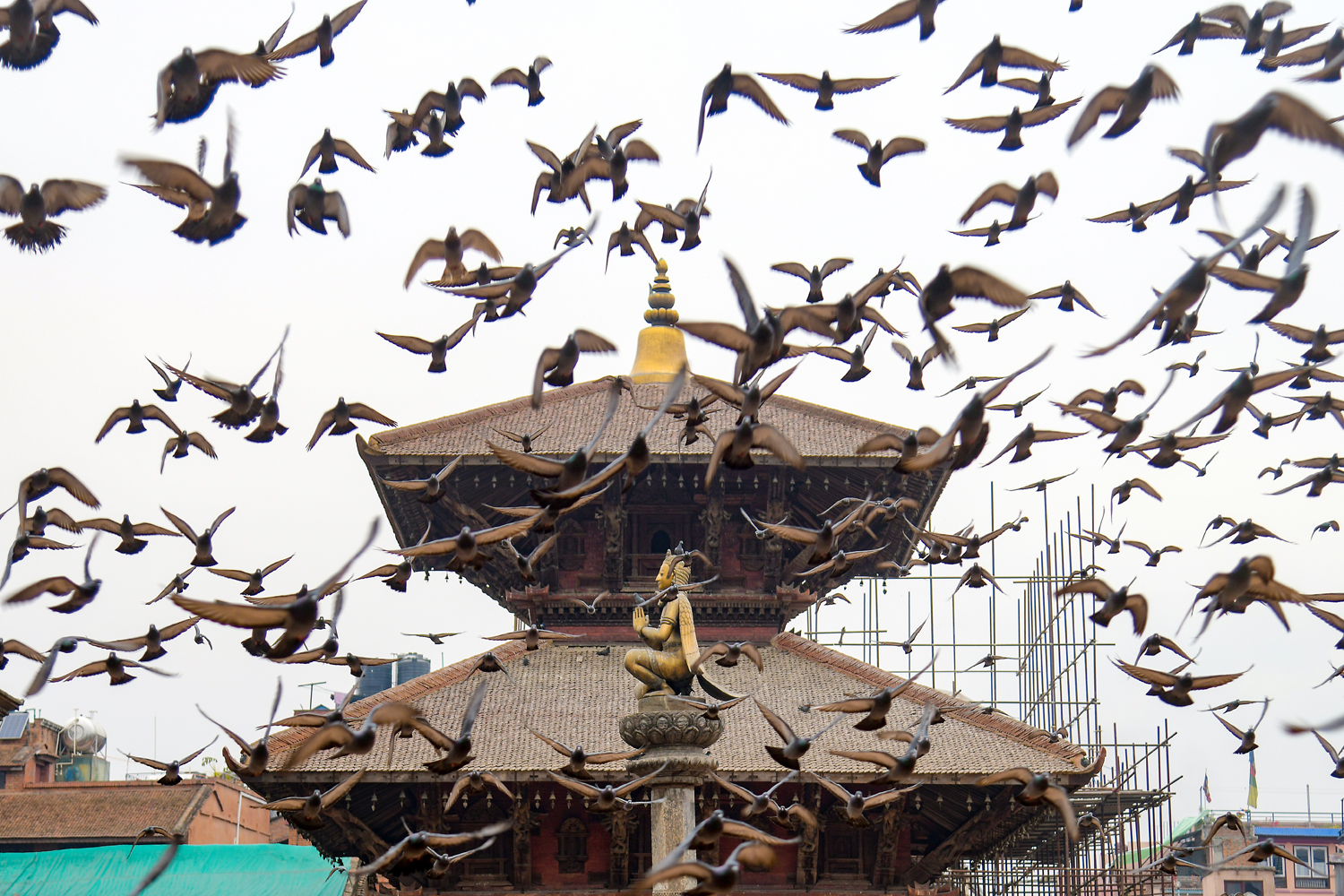 The idol of Garuda is pictured amidst pigeons in flight at Patan Durbar Square in Lalitpur. Deepak KC/TKP
Published at : January 18, 2020
Updated at : January 18, 2020 17:02
Some of the photos shot by our photographers in the past week.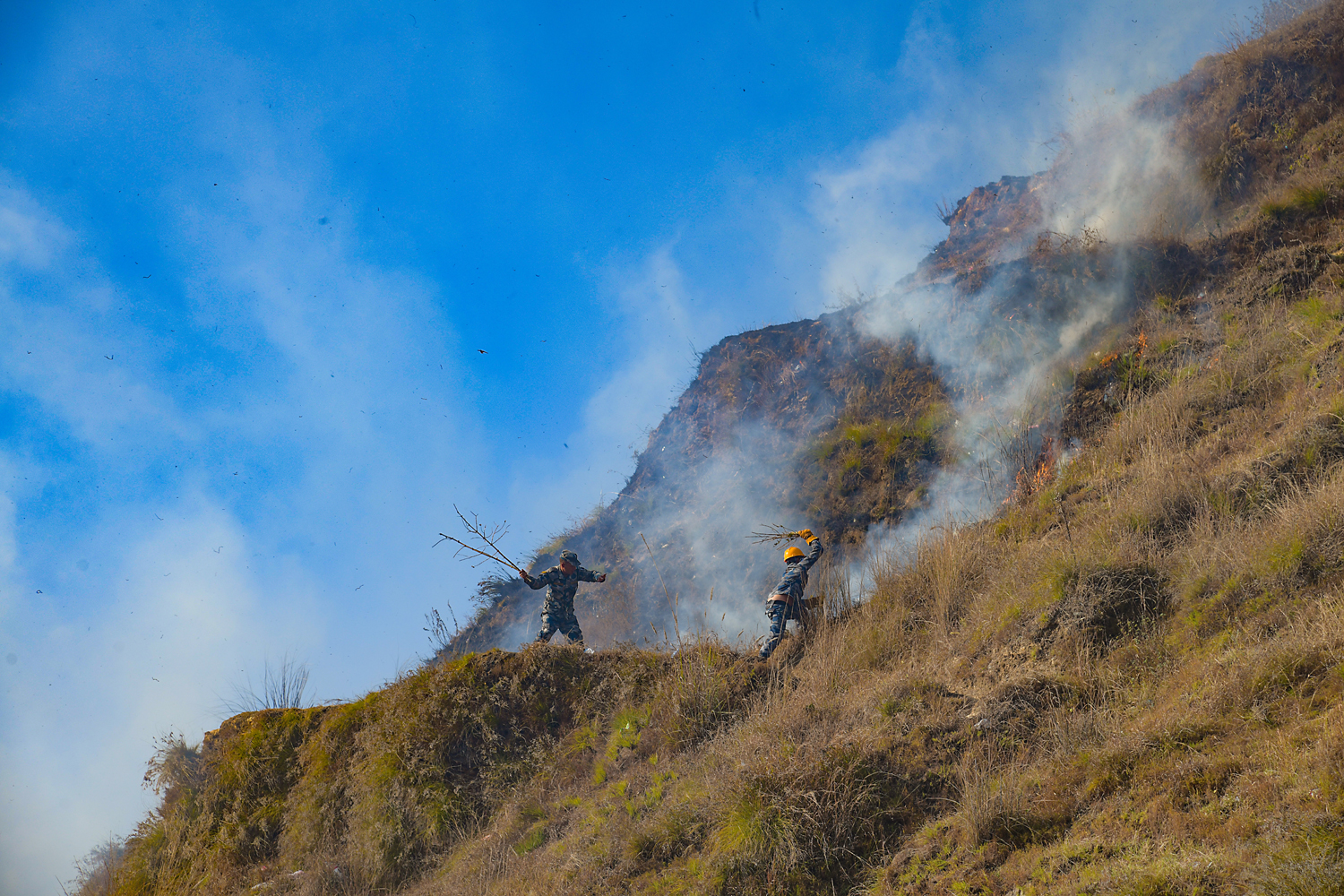 Armed Police Force personnel conduct prescribed burns to rid the forest of dead leaves, tree limbs, and other debris, at Chobhar in Kathmandu on Wednesday. Deepak KC/TKP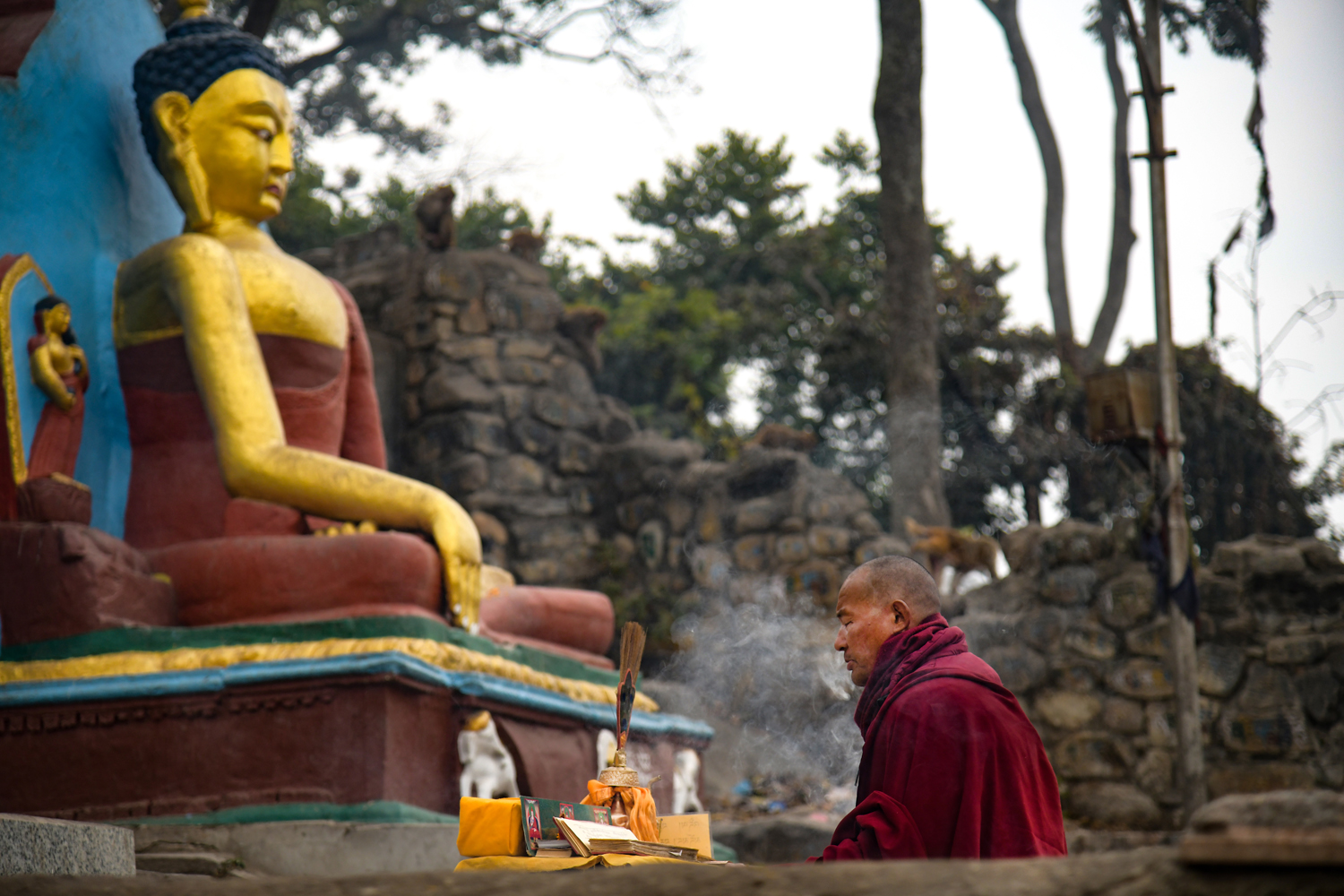 A monk reads holly scripture in front of the statue of Lord Buddha at Bhagwan Pau in Swayambhu, Kathmandu. Deepak KC/TKP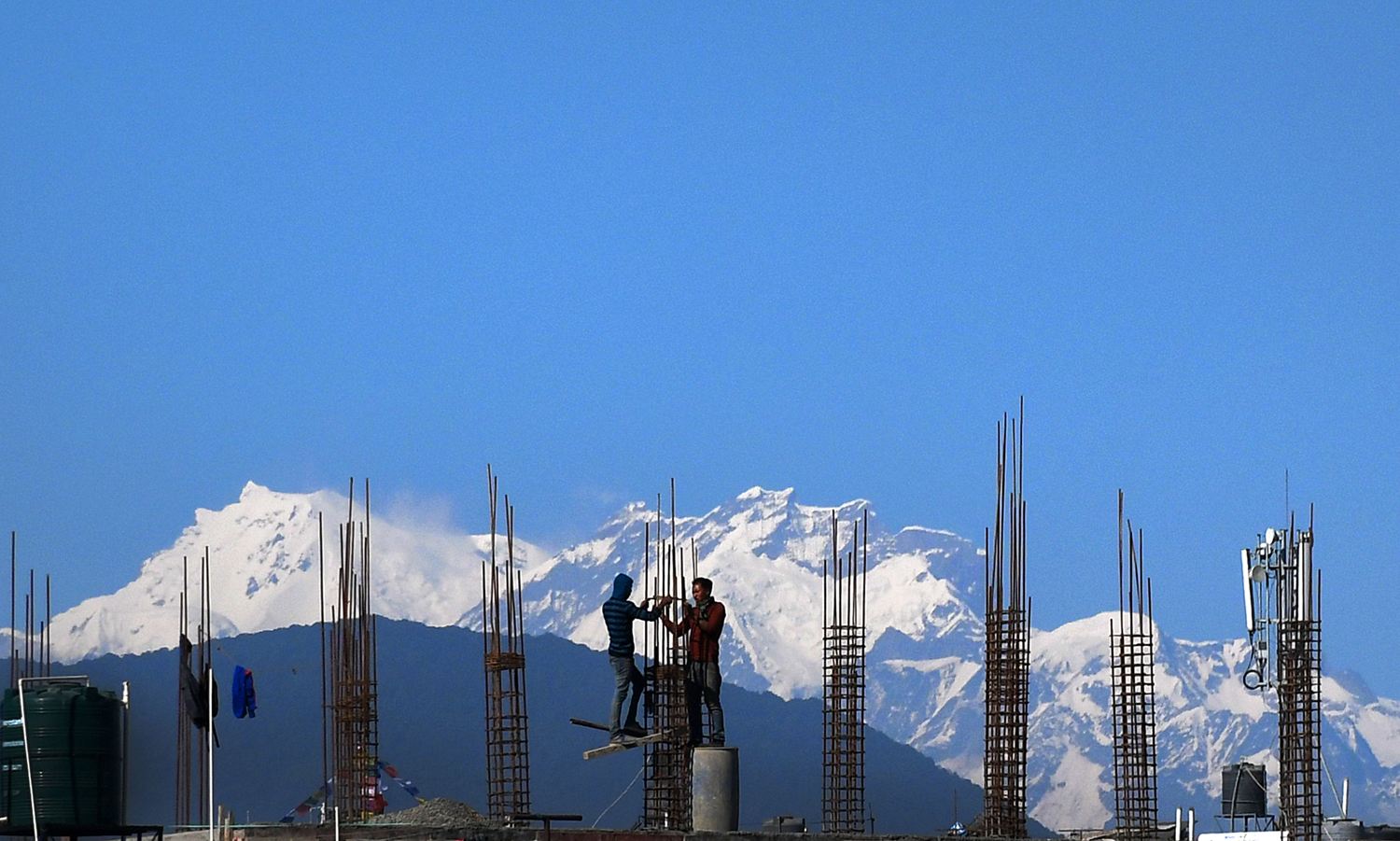 Workers are seen at a construction site, against the backdrop of Langtang and Ganesh mountains, in Balkumari, Lalitpur on Wednesday. Anish Regmi/TKP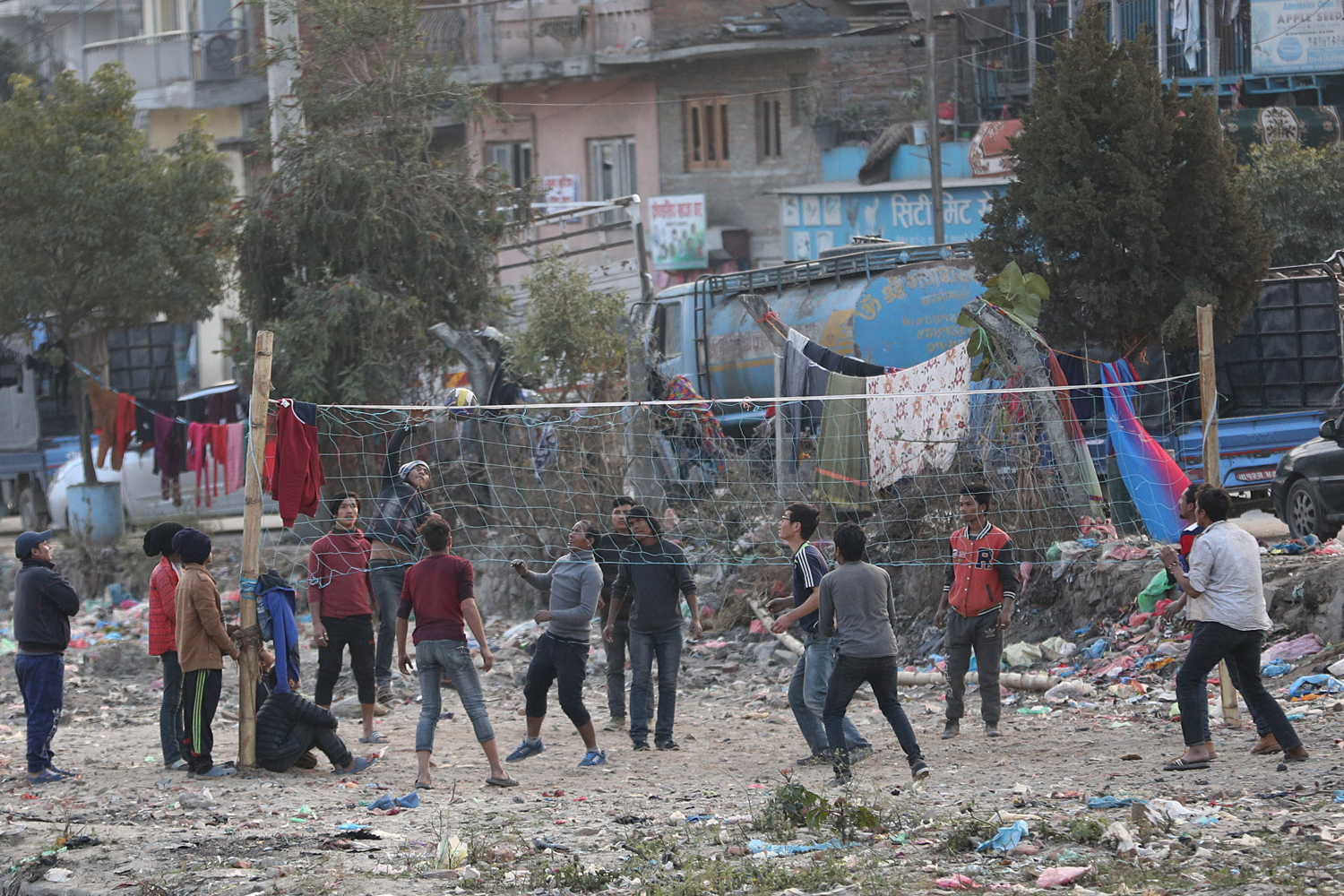 People play volleyball on the bank of Bishnumati River in the Capital. Sanjog Manandhar/TKP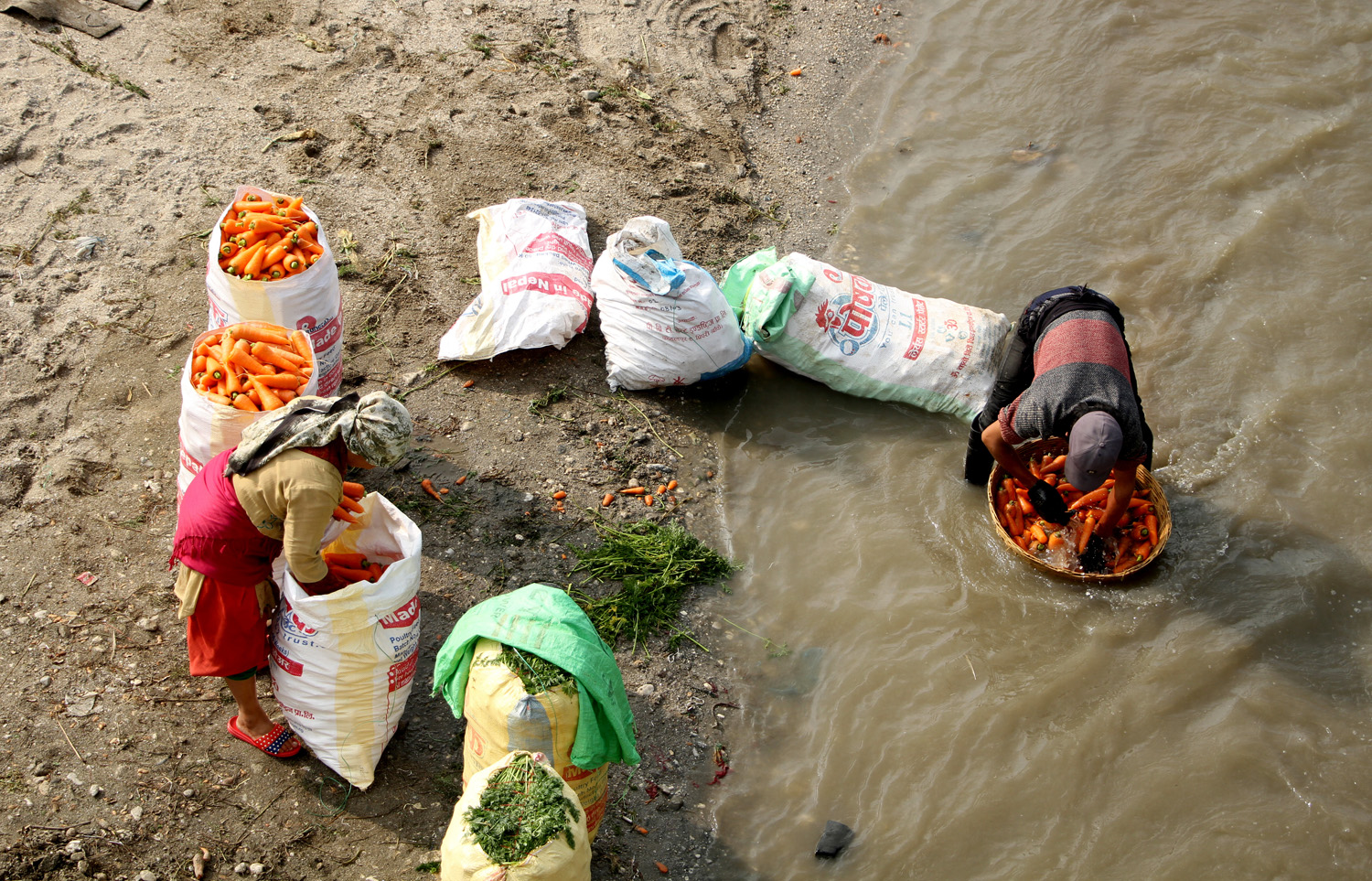 Farmers wash carrots at the Manohara river in Mulpani, Kathmandu. Beeju Maharjan/TKP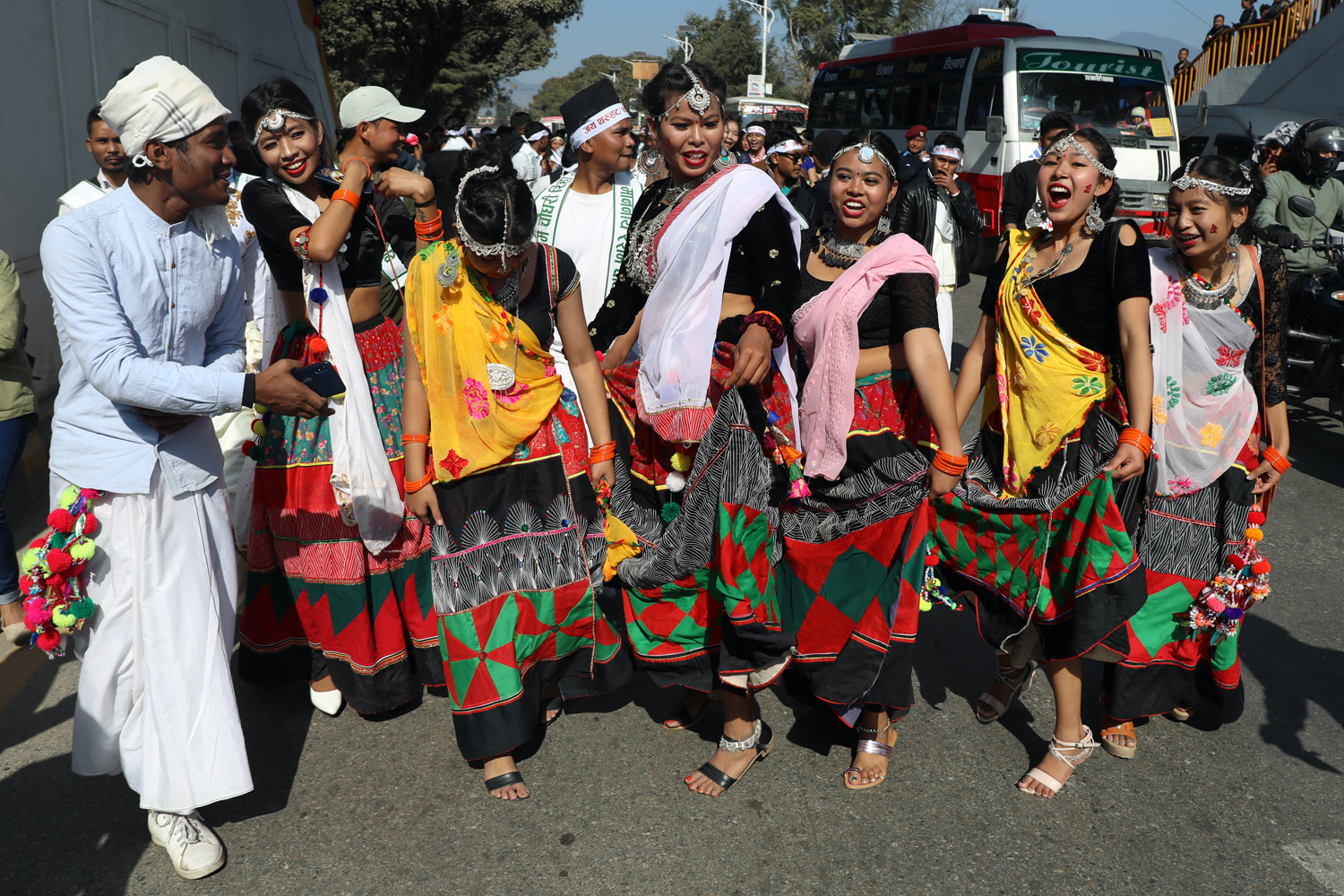 People from the Tharu community celebrate the Maghi festival in Kathmandu on Wednesday. Elite Joshi/TKP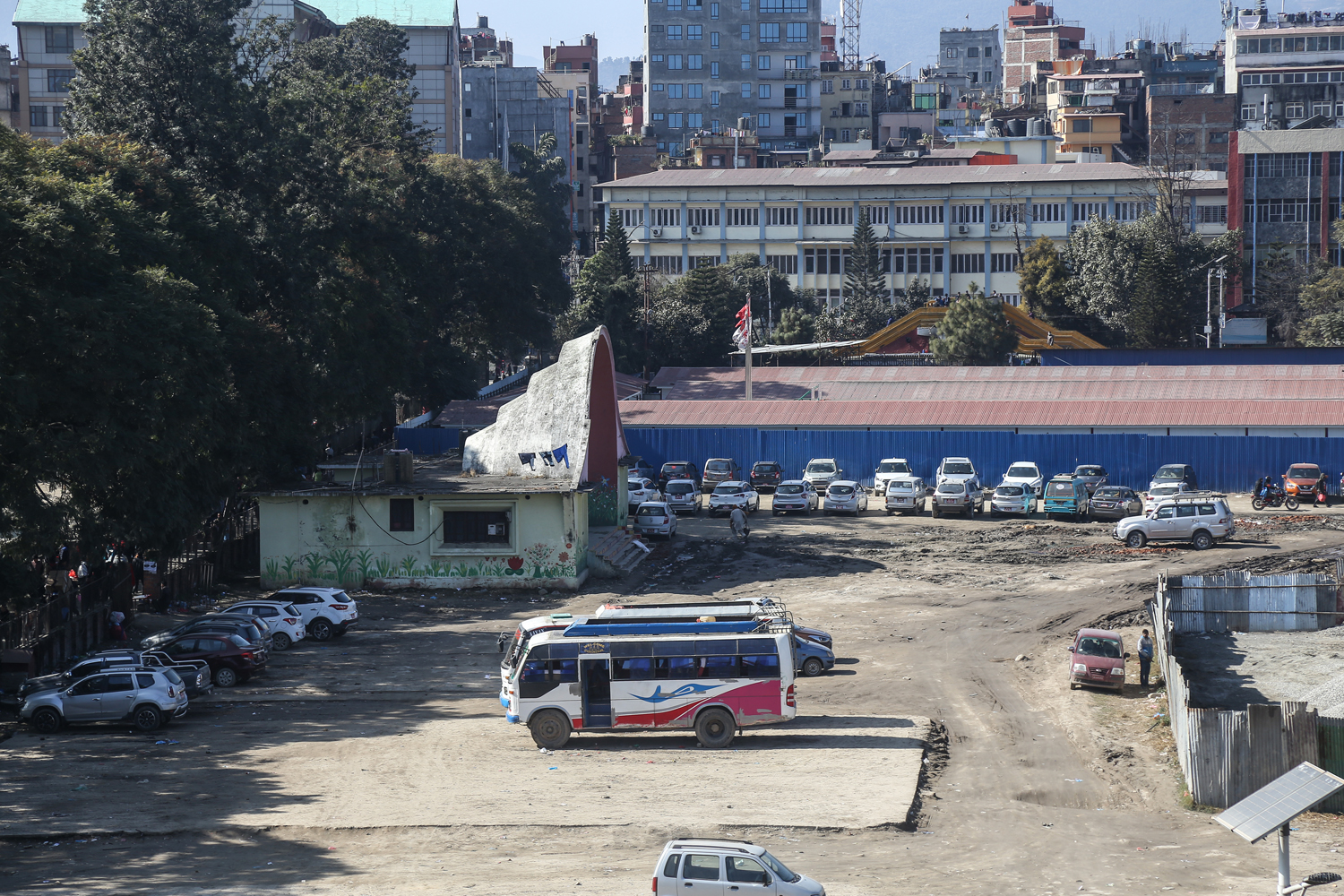 Vehicles are parked in Khula Manch, Kathmandu, defying authorities' orders stating the public space as a 'no-parking' zone from Wednesday. Kabin Adhikari/TKP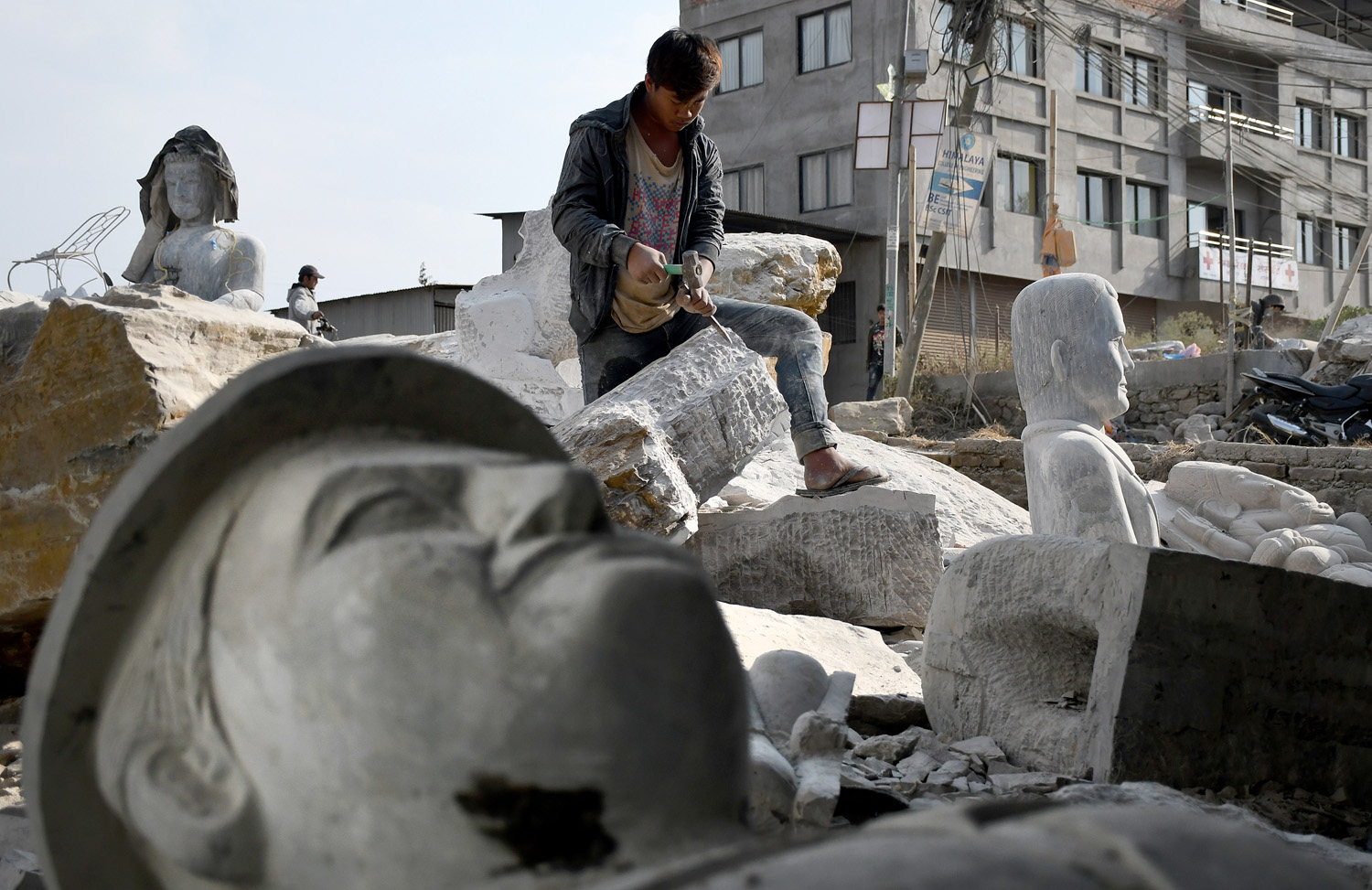 A sculptor makes statues at a stone workshop in Lalitpur on Saturday. According to him, carving an idol takes one to three months depending on its size. Anish Regmi/TKP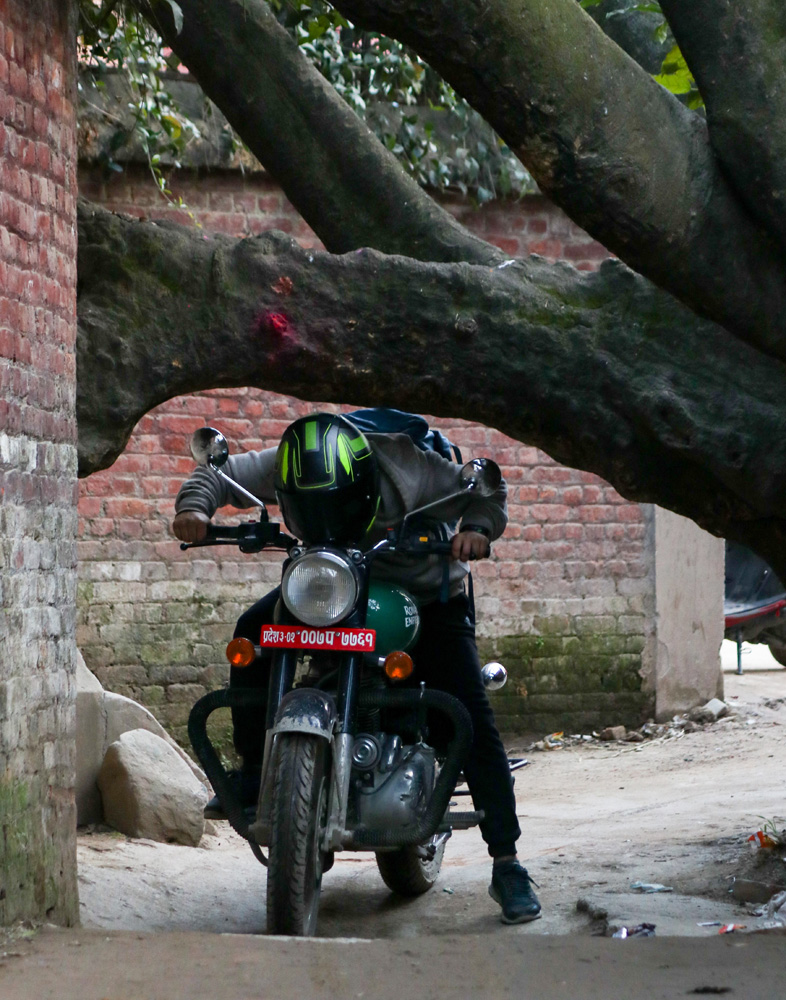 A rider stoops as he tries to make his way from under a tree branch in Kumaripati, Lalitpur. Pratam Bista/TKP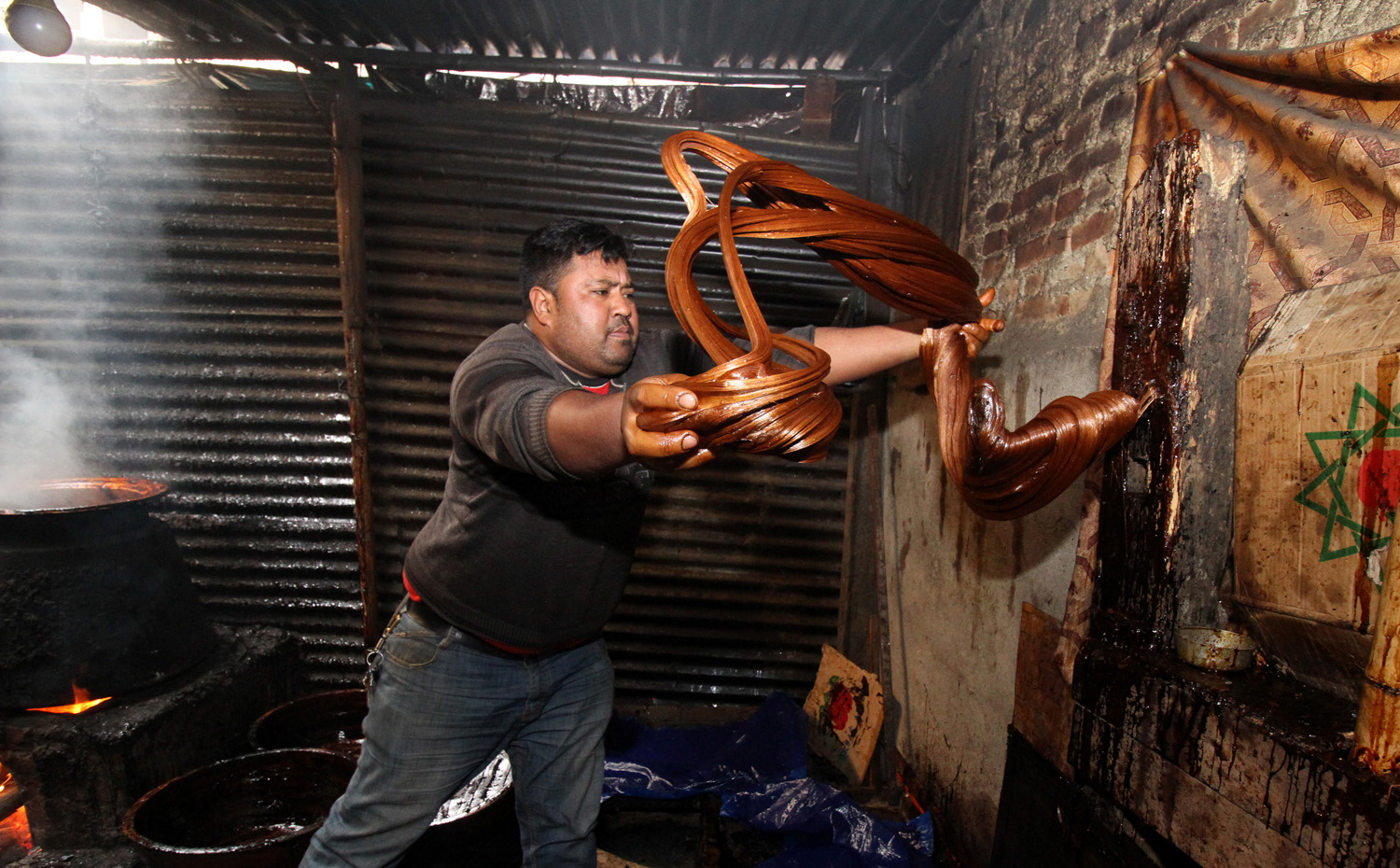 A worker makes chaku (traditional candy prepared from molasses) for the upcoming Maghe Sakranti festival, at a factory in Tokha, Kathmandu on Saturday. Beeju Maharjan/TKP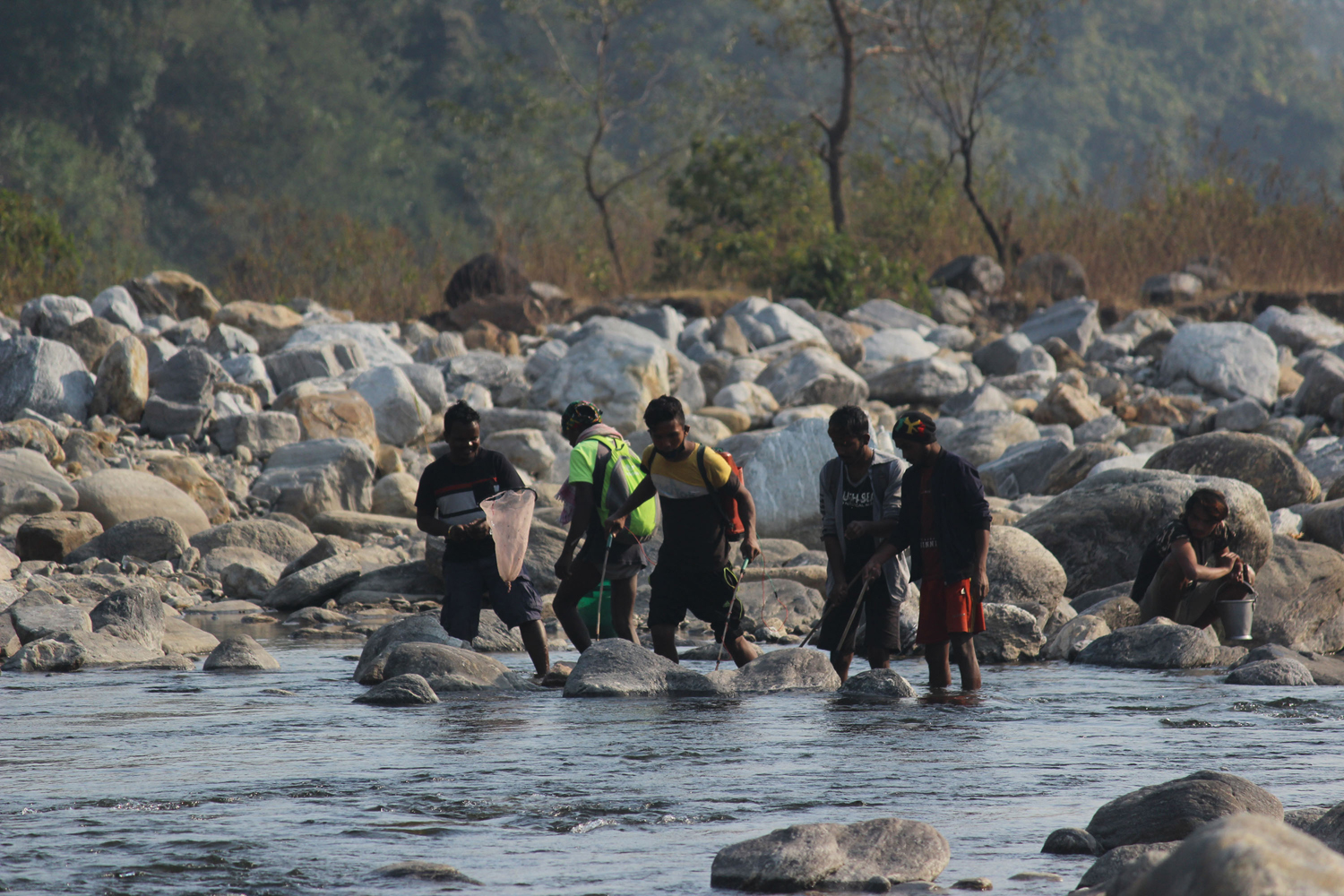 Indian nationals used electric current to fish at Mechi River in Rong Rural Municipality of Ilam district. Indians come across the border to illegally fish in the river. Parbat Portel/TKP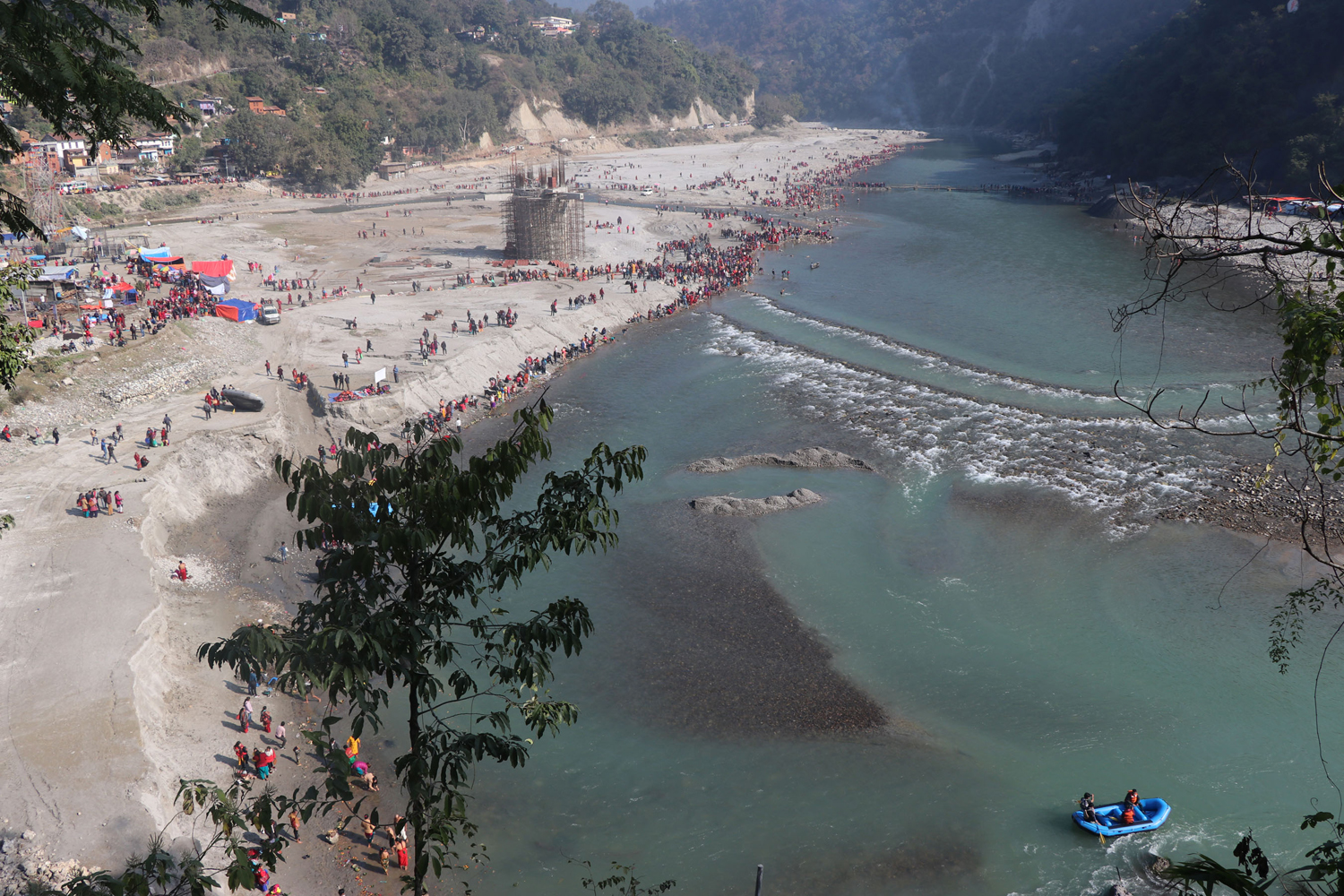 Devotees throng in Rurukshetra, a confluence of Kaligandaki and Ridi rivers, to take a holy bath on the occasion of Maghe Sankranti. Madhav Aryal/TKP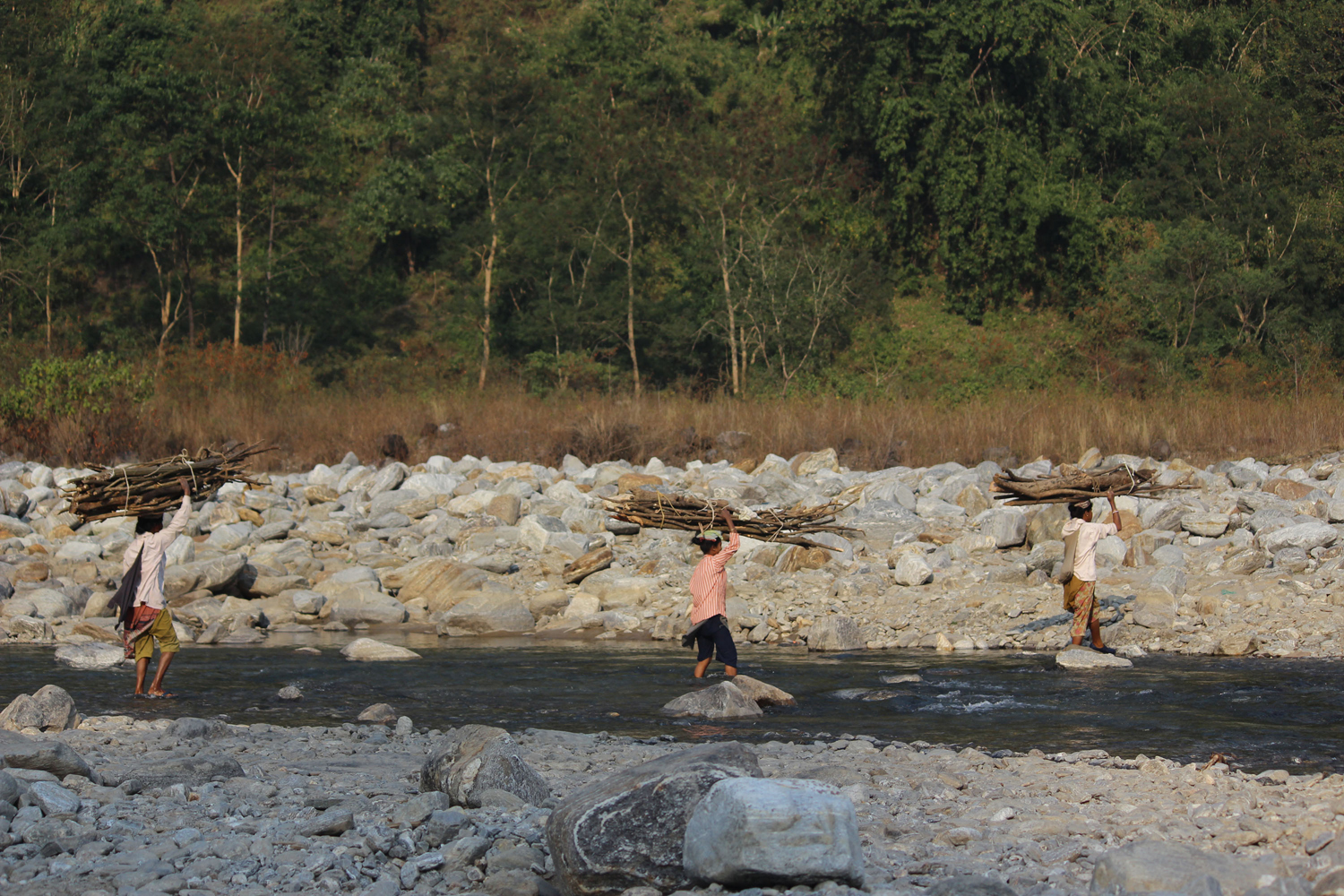 Women carry firewood across Mechi River in Ilam. Parbat Portel/TKP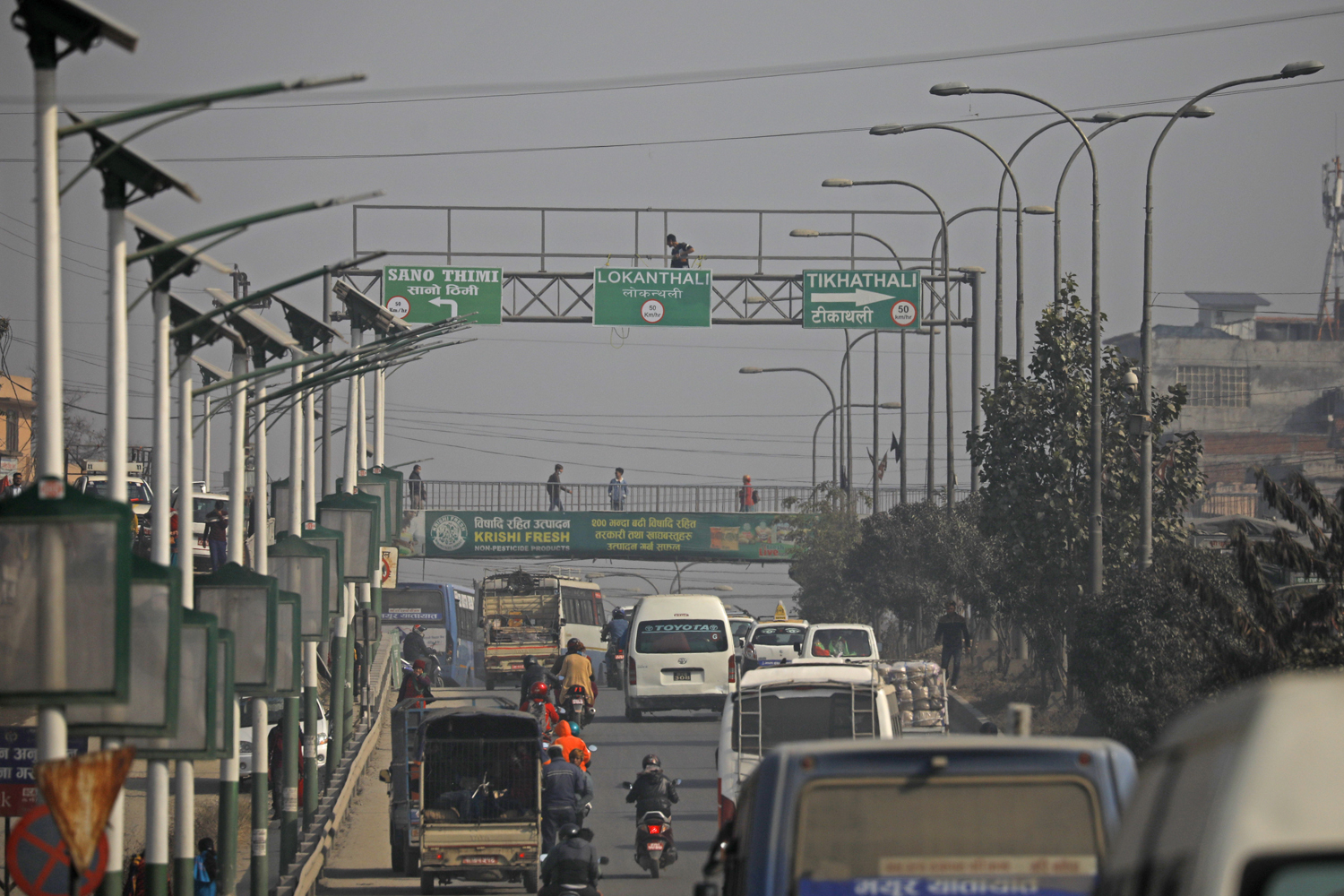 A worker installs road signs in Lokanthali, Bhaktapur, along the Koteshwor-Suryabinayak road section on Monday. Hemanta Shrestha/TKP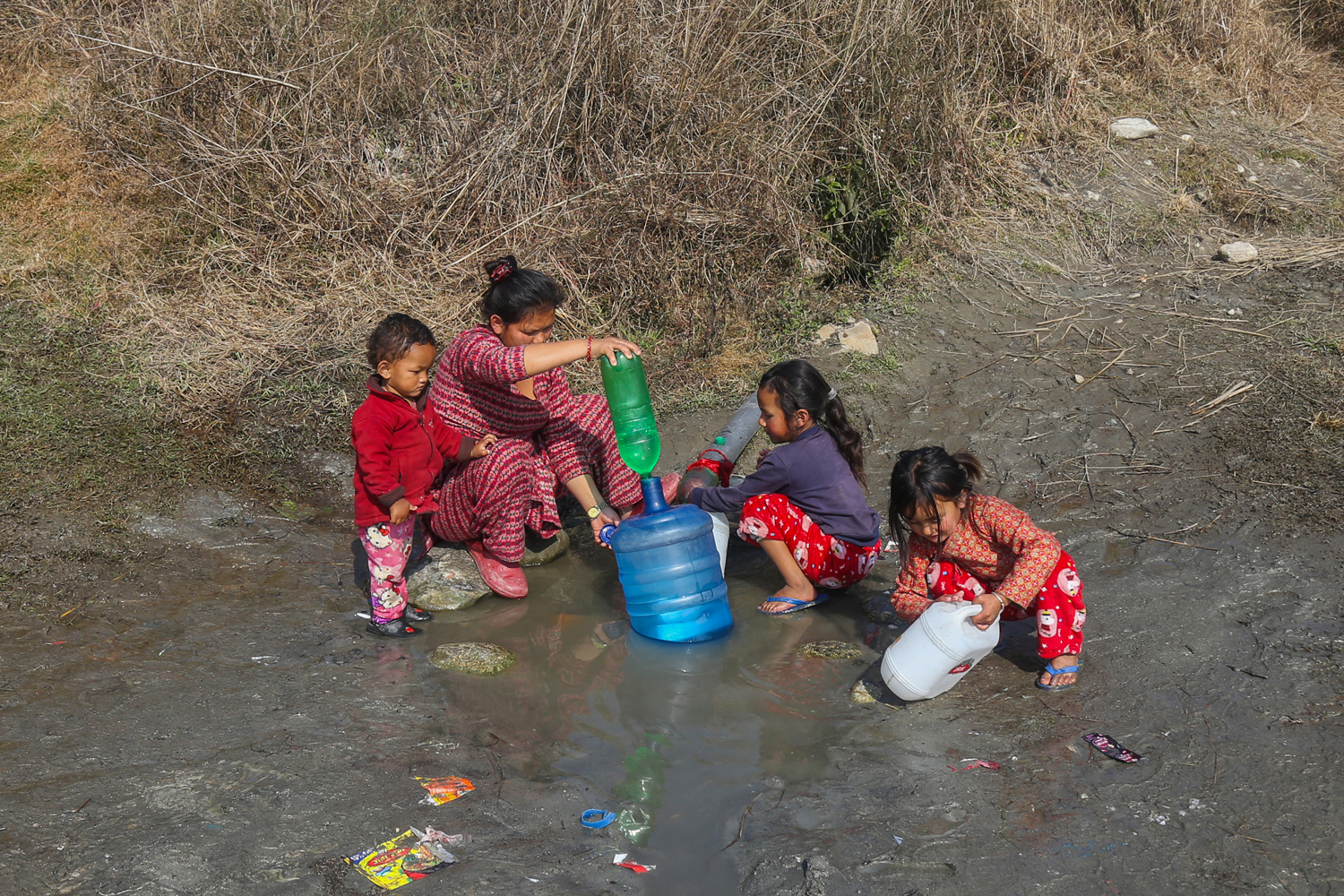 A woman and children collect water from an open source at Futung in Tarkeshwor, Kathmandu. Locals in the area rely on the source for their daily water supply. Kabin Adhikari/TKP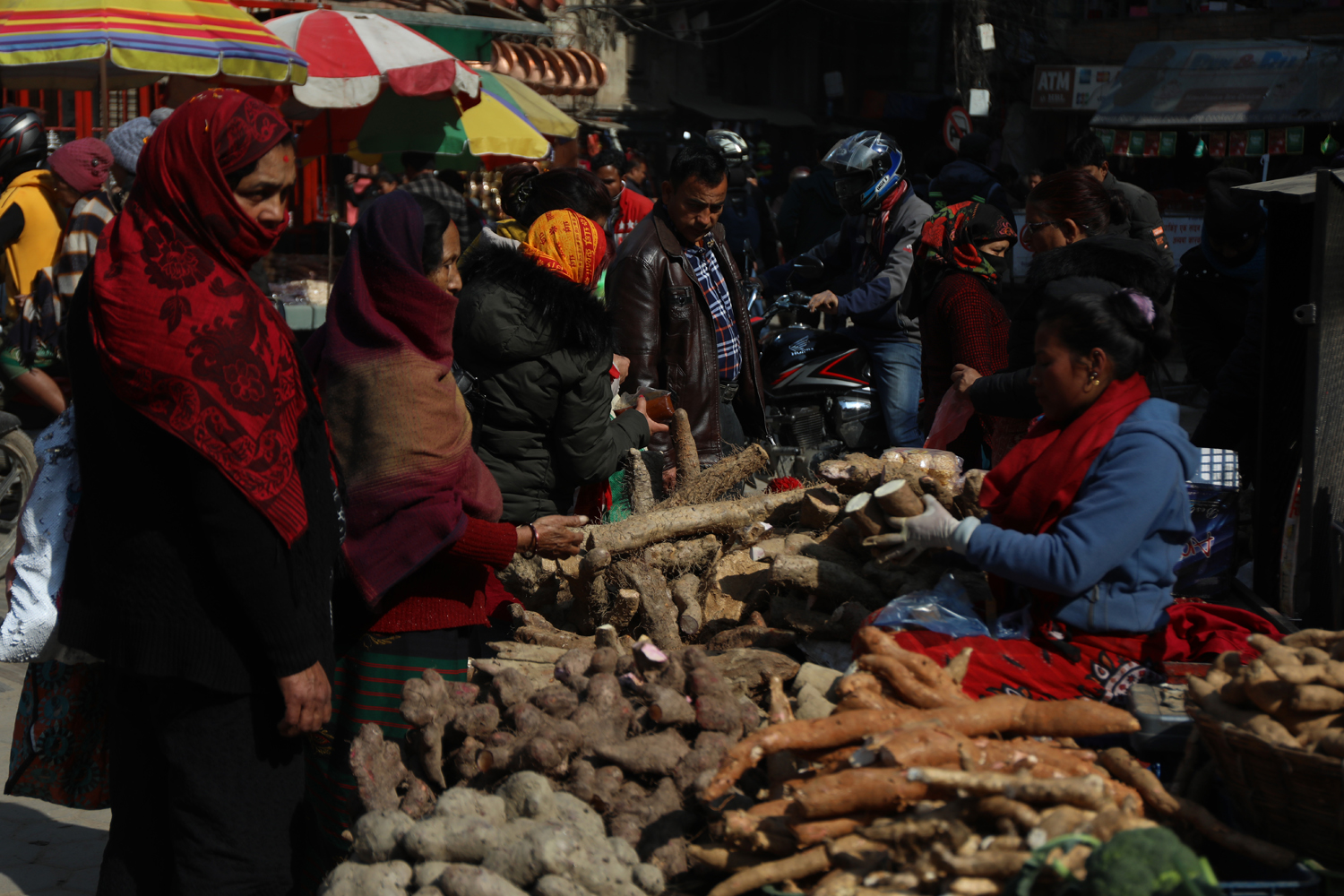 A woman sells yams at Ason Chowk in Kathmandu. These edible tubers are associated with the Maghe Sakranti festival, celebrated on the first day of the Nepali month of Magh. Elite Joshi/TKP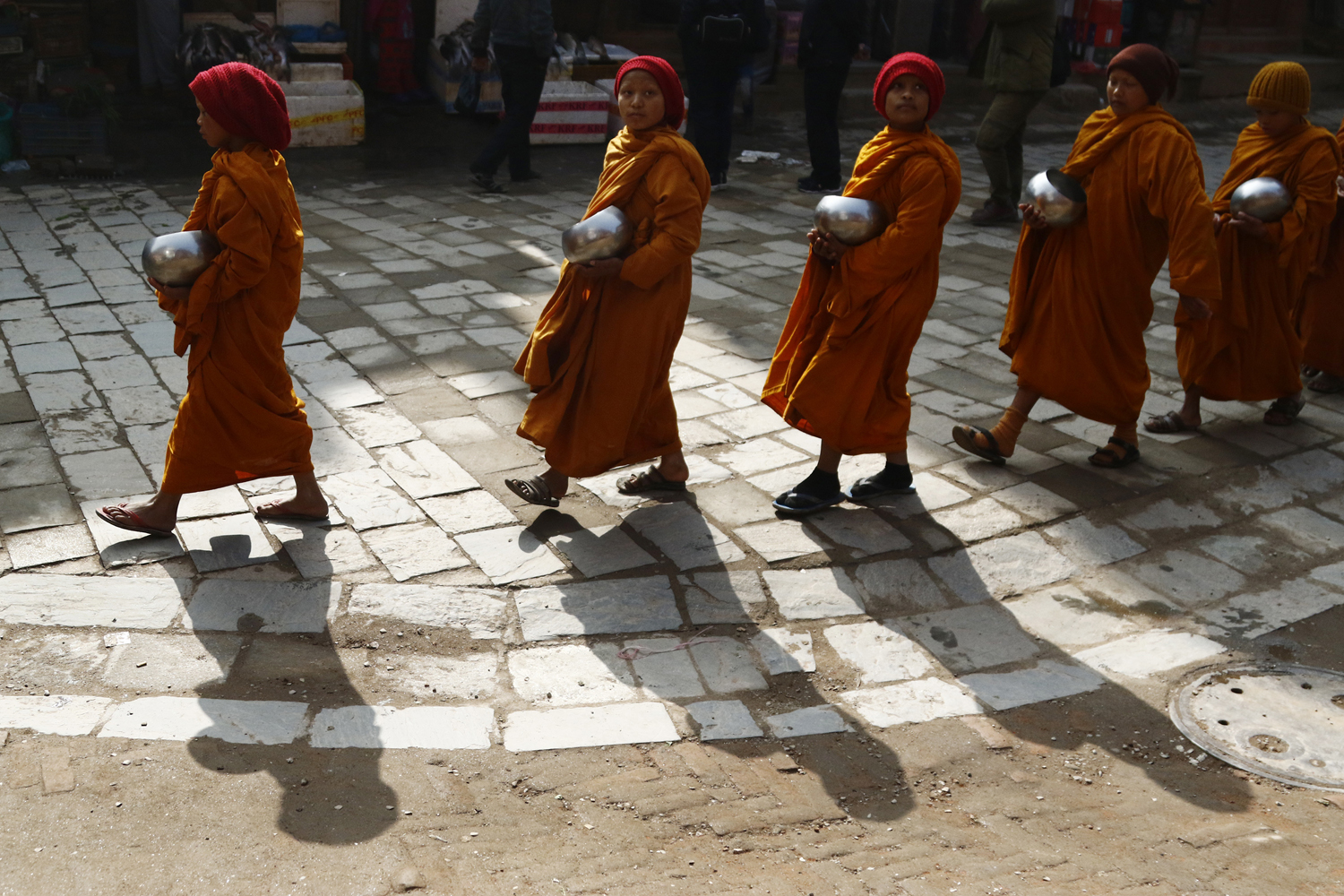 Young buddhist monks collect alms in Inacho, Bhaktapur, on Monday. Keshav Thapa/TKP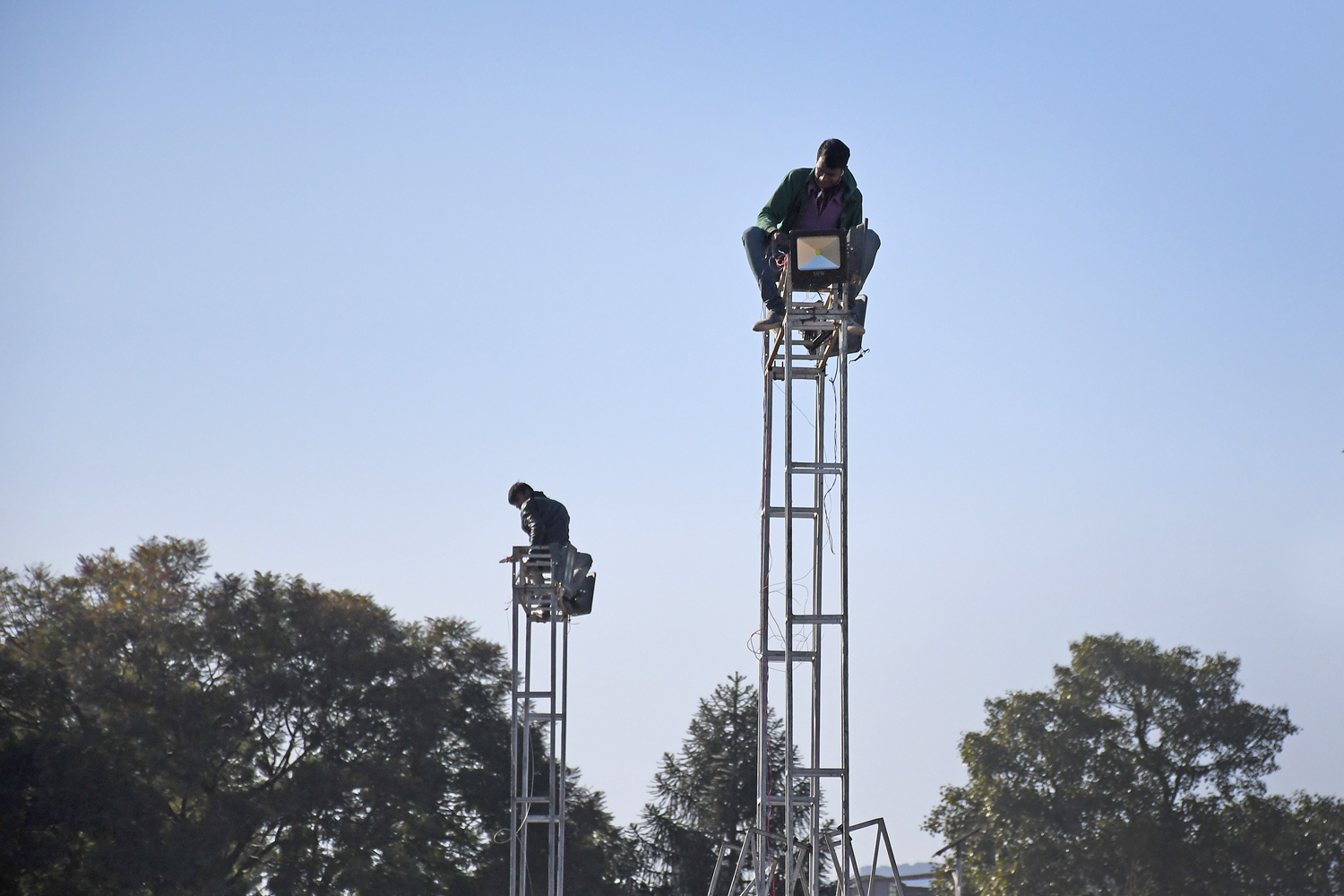 Technicians prepare the stage for Maghe Sankranti celebrations at Tundikhel in Kathmandu on Tuesday. The festival is observed on Wednesday. Anish Regmi/TKP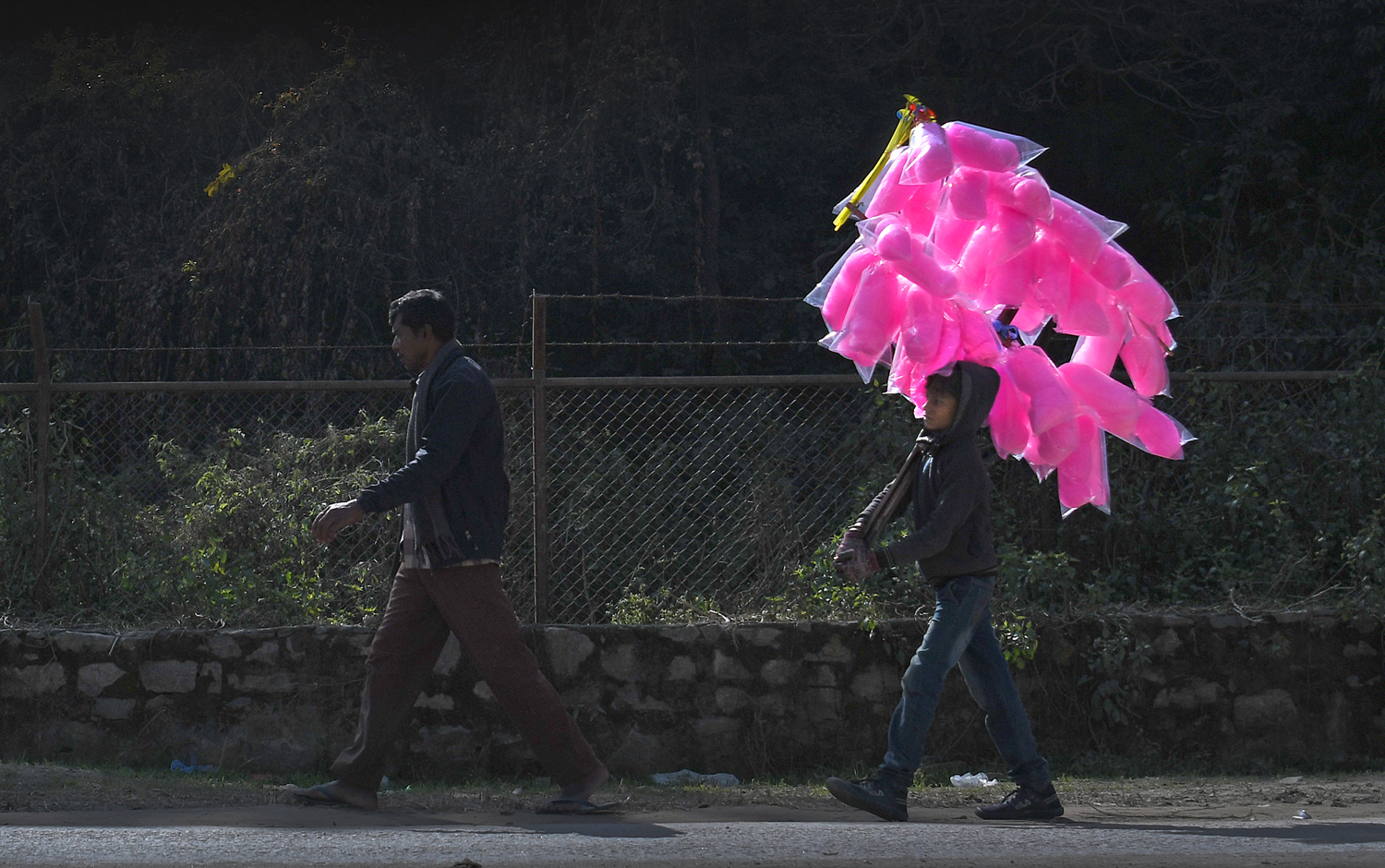 A child selling cotton candies is seen on the street of Guheshwori in Kathmandu on Tuesday. Many children, mainly from the Tarai region, sell candies and trinkets on the streets to support their families. Anish Regmi/TKP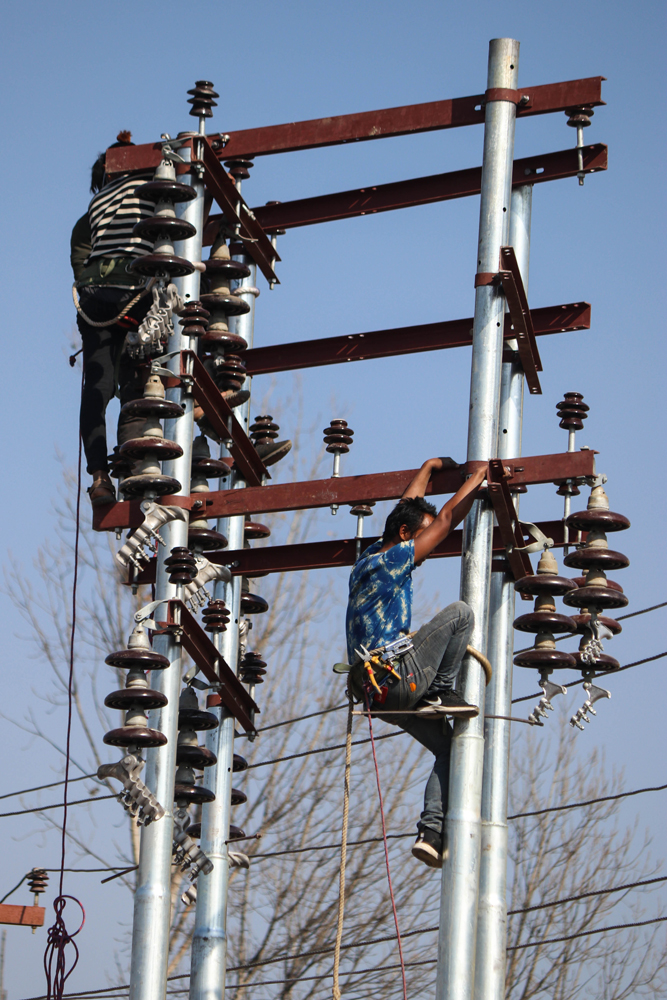 Electricians fix cables without proper safety gear at Satdobato in Lalitpur. Pratham Bista/TKP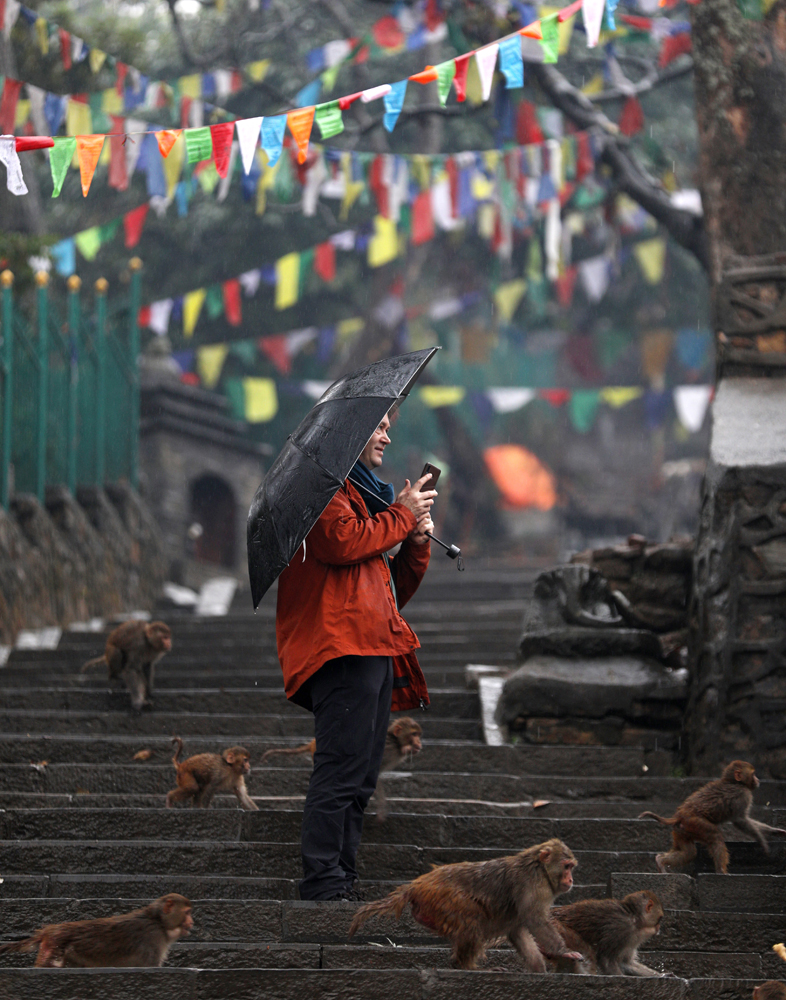 A tourist takes pictures of monkeys at Bhagwan Pau in Kathmandu on Friday. Sanjog Manandhar/TKP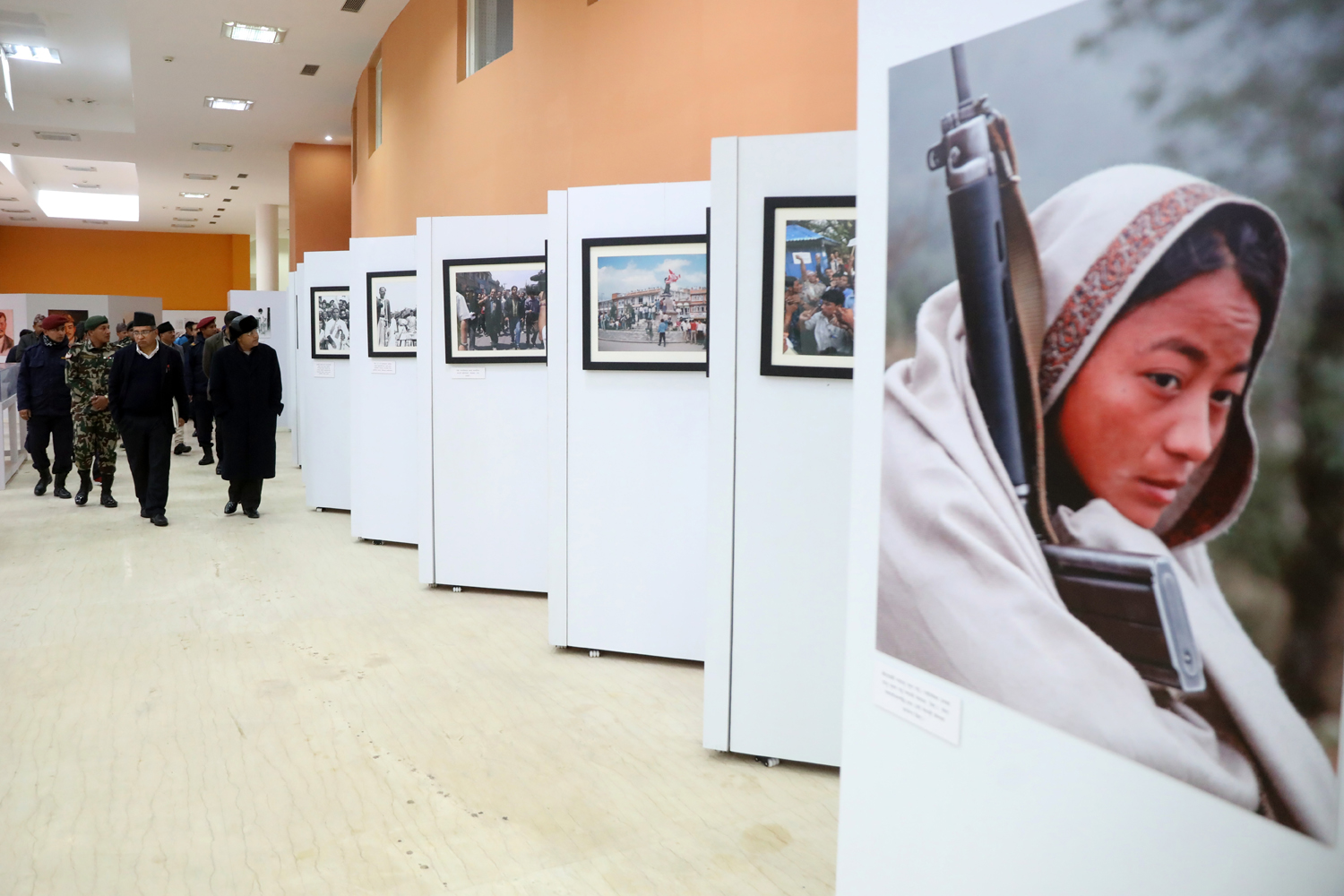 Government officials visit the newly opened Republic Memorial in Kathmandu. The memorial was handed over to the management of Narayanhiti Palace Museum by the Department of Urban Development and Building Construction on Friday. Elite Joshi/TKP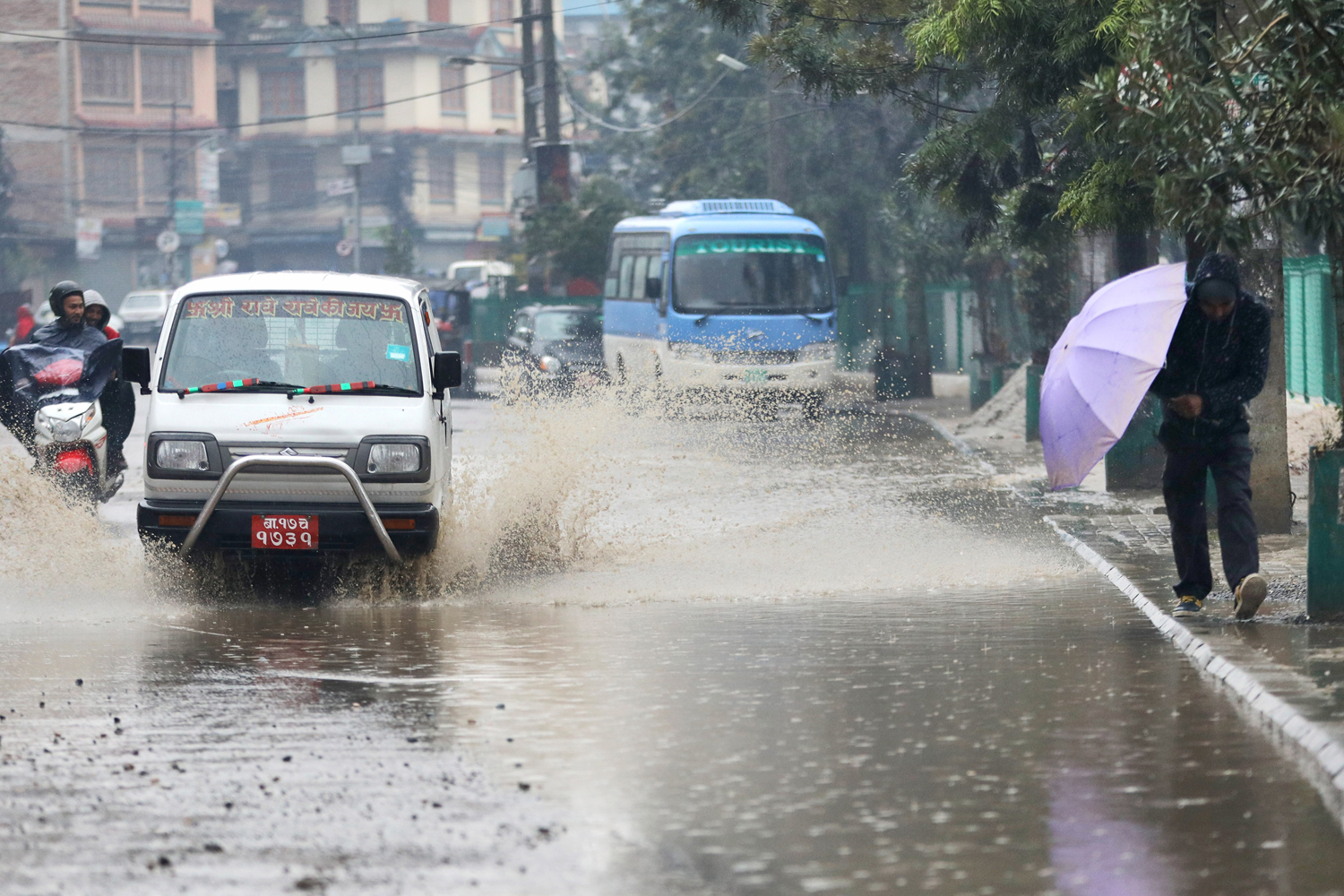 A man uses his umbrella to protect himself from water splashed by a car in Kathmandu on Friday. Sanjog Manandhar/TKP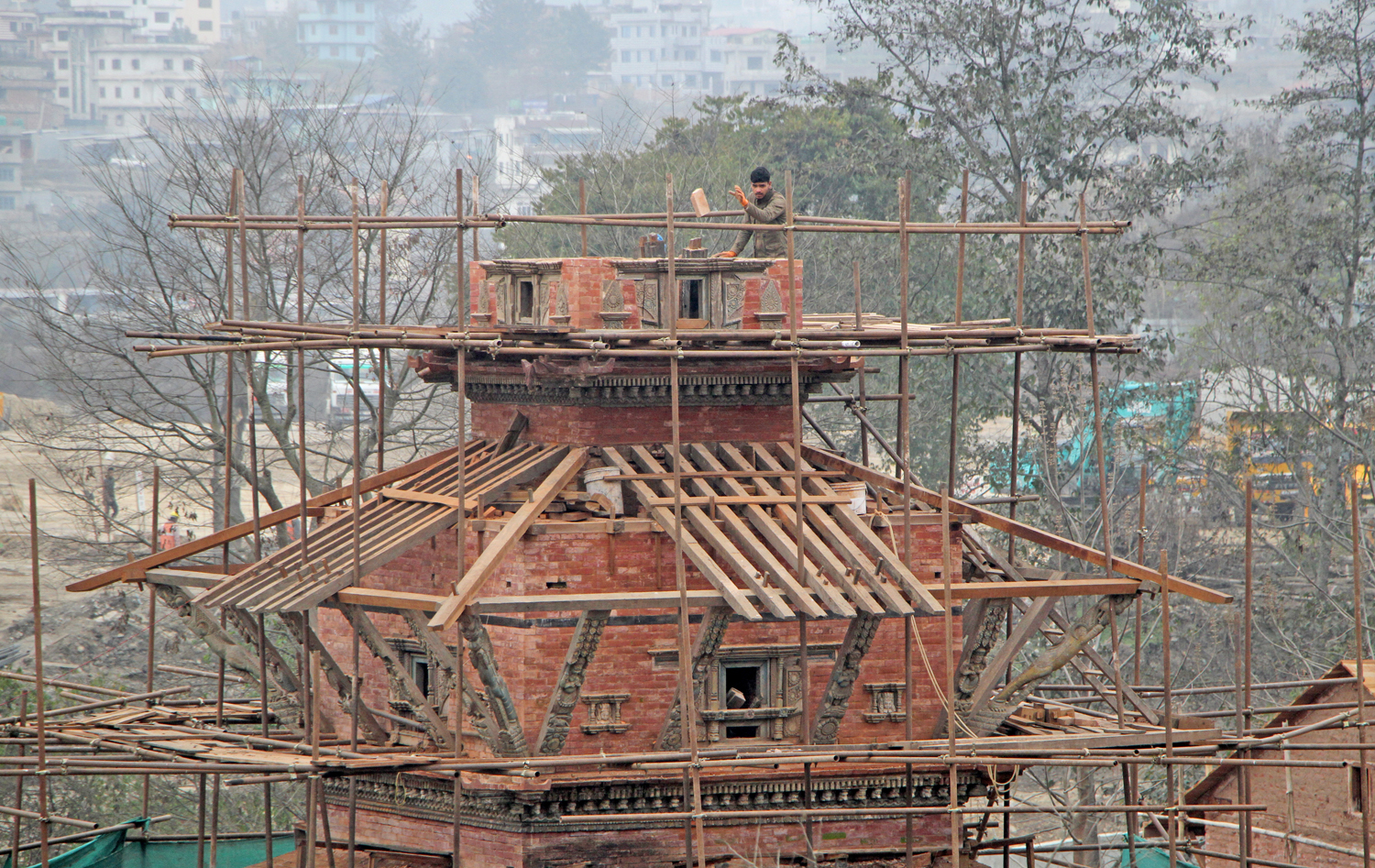 A worker carries out reconstruction of Jalbinayak temple at Chobhar in Kirtipur. The temple was severely damaged by the earthquakes in 2015. Beeju Maharjan/TKP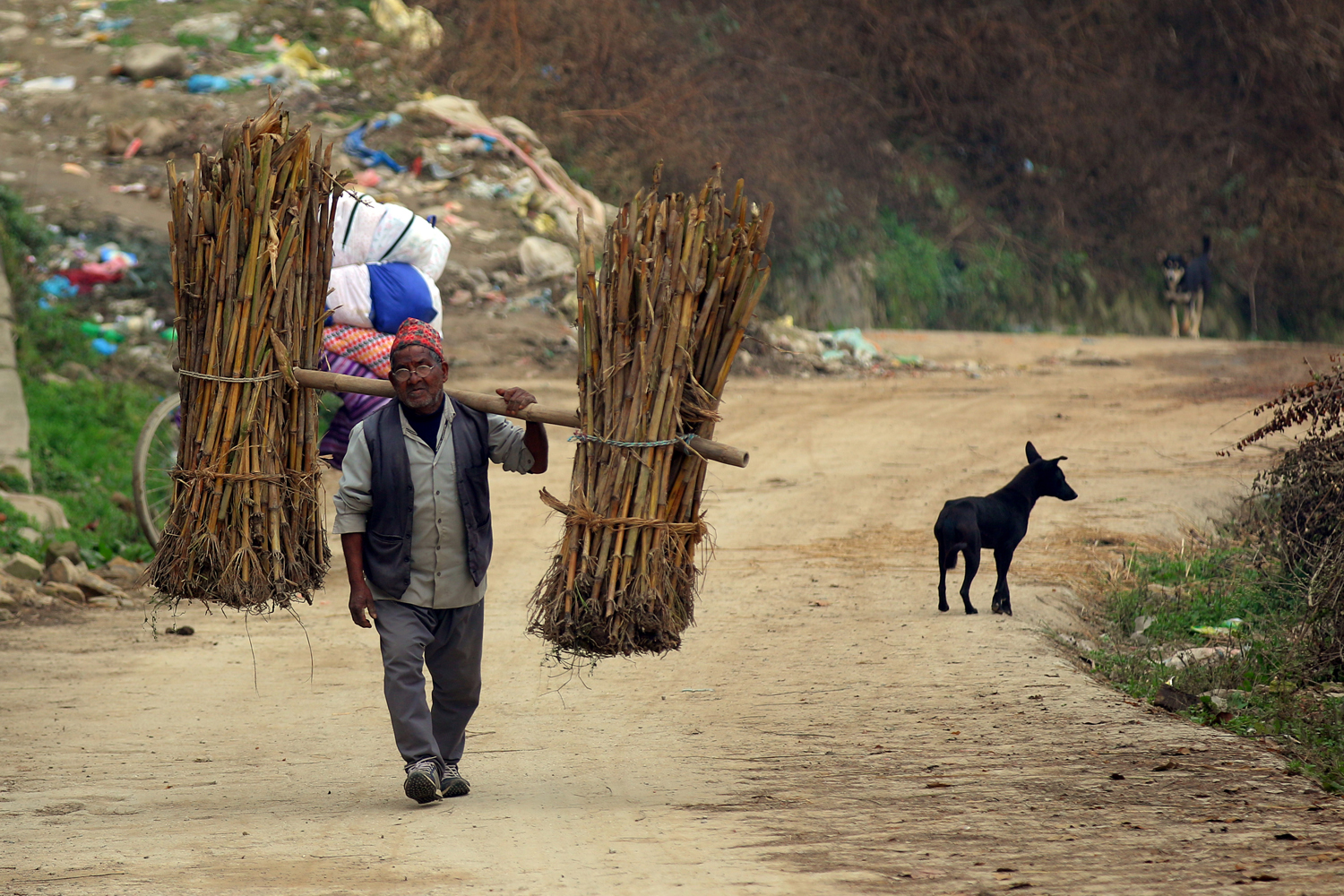 A farmer carries a load of maize stalks at Khokana in Lalitpur on Thursday. Elite Joshi/TKP
A rikshaw driver naps beside a house destroyed in the 2015 earthquakes in Nardevi, Kathmandu. January 16 is National Earthquake Safety Day. Deepak KC/TKP
---