Two-day state visit of Xi Jinping in 19 photos
The Oli administration rolled out the red carpet for the Chinese president
President Bidhya Devi Bhandari shakes hands with Chinese President Xi Jinping before the bilateral talks at Sheetal Niwas in Kathmandu on Saturday. RSS
Published at : October 13, 2019
Updated at : October 13, 2019 19:26
Chinese President Xi Jinping wrapped up his two-day state visit to Nepal on Sunday. It was the first visit by a sitting Chinese president to Nepal in 23 years since Jiang Zemin visited in 1996.

The Oli administration left no stone unturned to welcome the Chinese president in Kathmandu. Xi started his official engagements by attending delegation-level talks with President Bidhya Devi Bhandari, shortly after landing in Kathmandu on Saturday evening.

On Sunday, officials from Nepal and China signed agreements on various issues in the presence of Prime Minister KP Sharma Oli and Xi.
In addition, foreign ministers from Nepal and China as well as finance, home and foreign secretaries and secretaries at related ministries and the Chinese Ambassador to Nepal Hou Yaunqi signed and exchanged 20 memorandums of understanding and letters of exchange.

A joint communique issued on Sunday described Xi's visit as a milestone in Nepal-China relations.

Xi and the Chinese delegation departed for Beijing on Sunday afternoon.
President Bhandari saw her Chinese counterpart off at the airport. Prime Minister Oli, Cabinet ministers and other high-level officials were also present at the airport.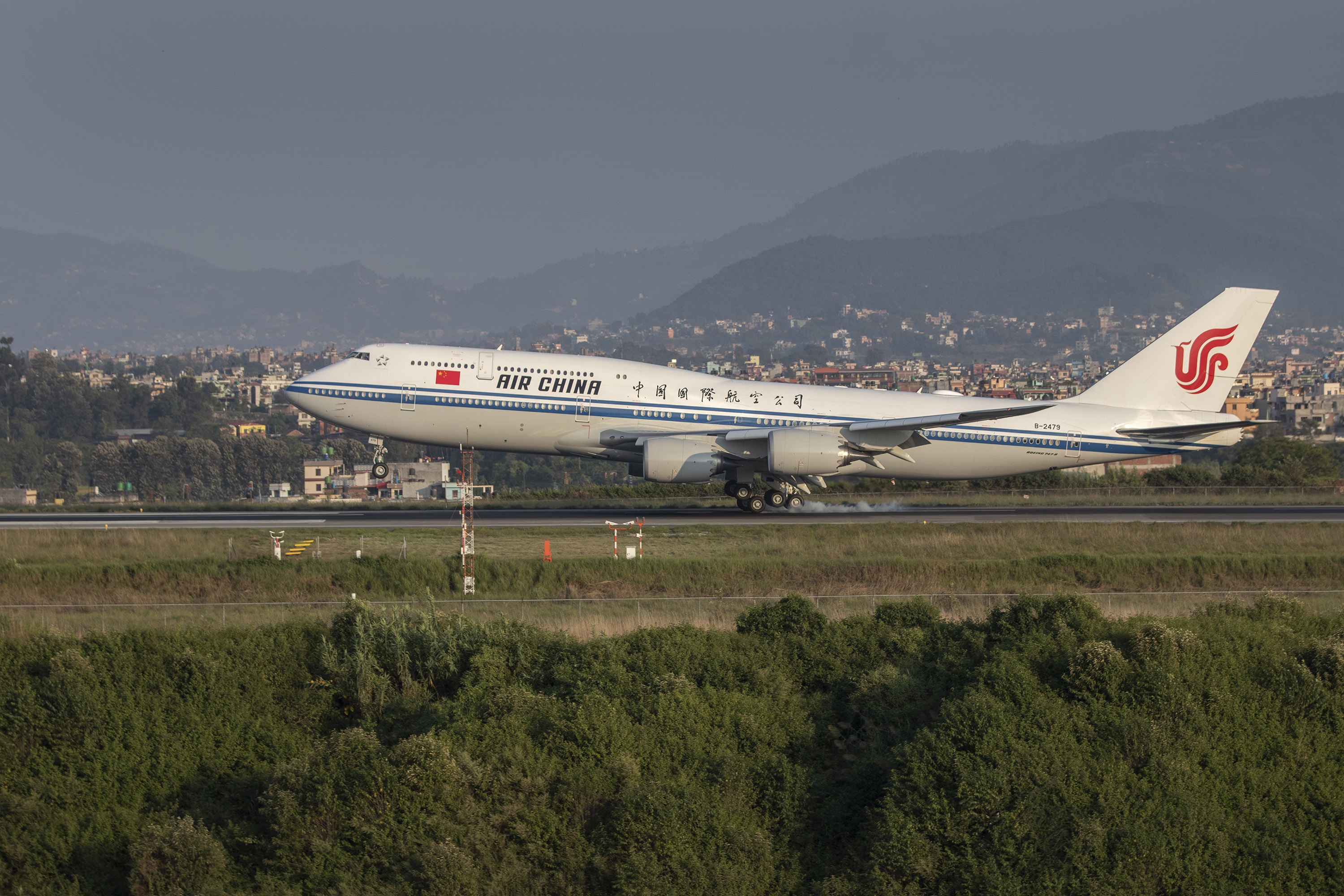 An Air China aircraft carrying Chinese President Xi Jinping and his entourage approaches for landing at Tribhuvan International Airport in Kathmandu Kathmandu on Saturday. Chinese President Xi is in Nepal for a two-day visit. Prakash Chandra Timilsena /TKP
Panchakanya(five young girls) welcome Chinese President Xi Jinping at Tribhuvan International Airport in Kathmandu on Saturday. Angad Dhakal/TKP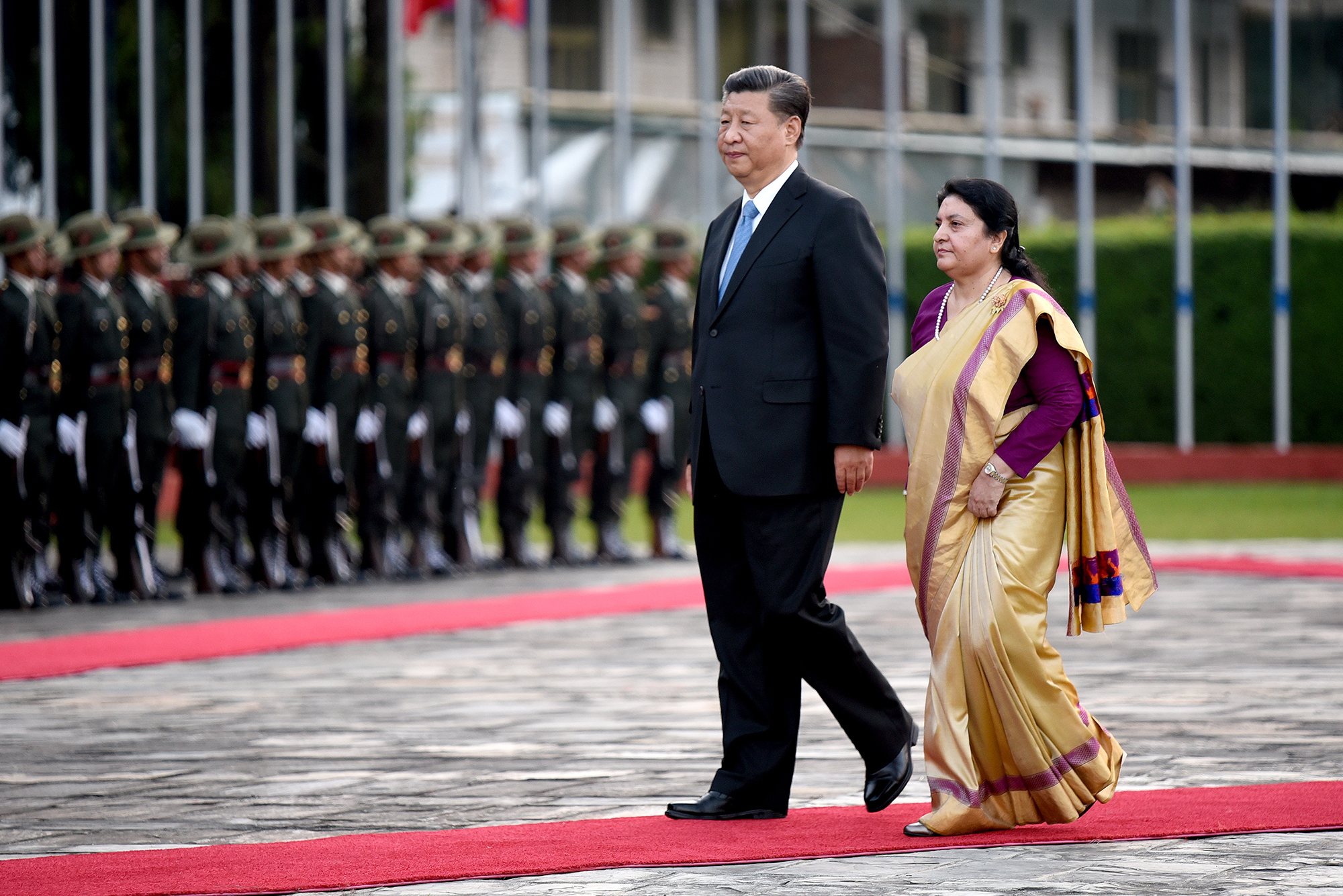 Chinese President Xi Jinping receives a guard of honour at Tribhuvan International Airport in Kathmandu on Saturday. Angad Dhakal /TKP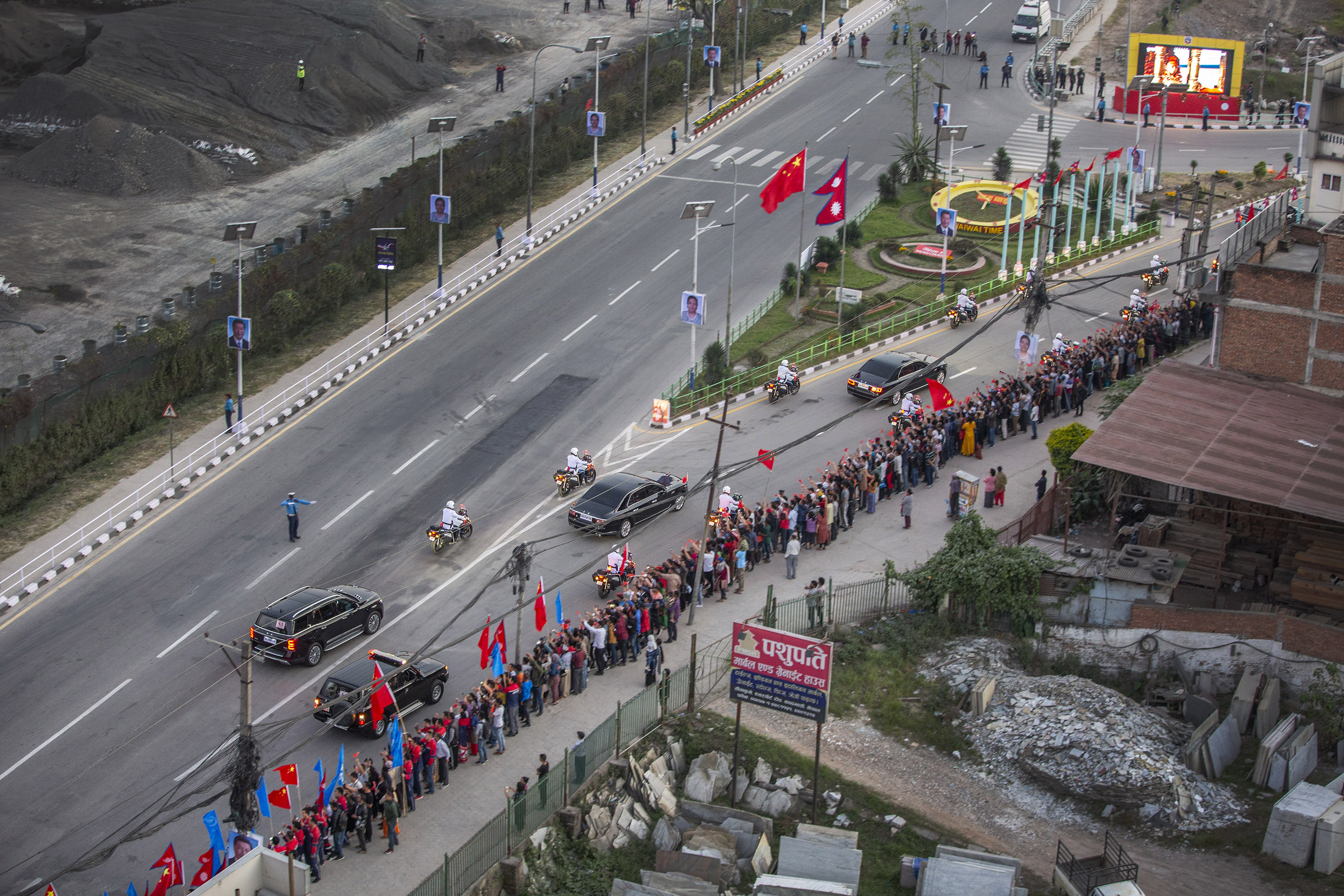 People stand on the roadside as the motorcade of Chinese President Xi Jinping arrives in Tinkune, Kathmandu on Saturday. Prakash Chandra Timilsena /TKP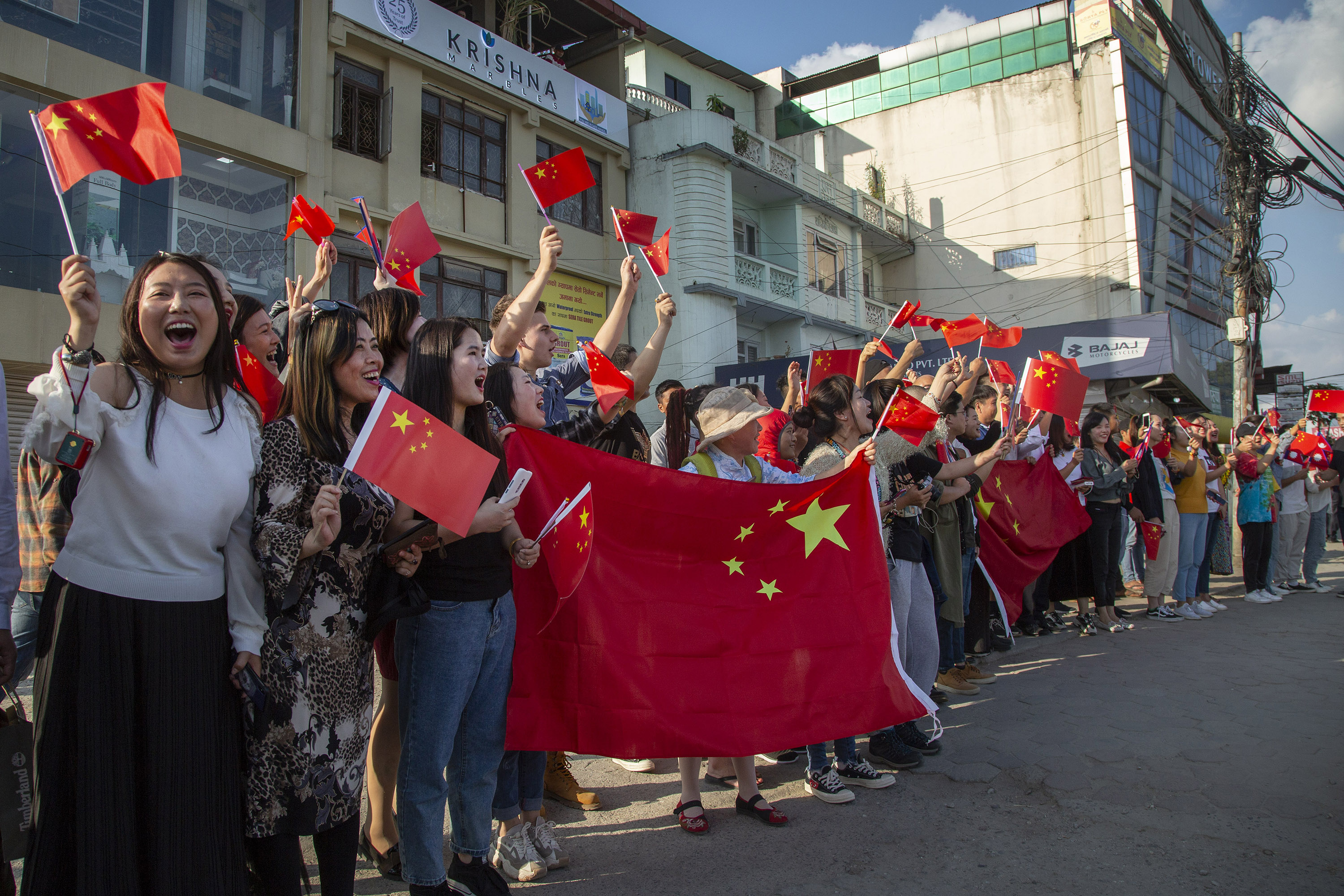 Chinese people wave their national flags as they wait to welcome Chinese President Xi Jinping in Tinkune, Kathmandu on Saturday. Prakash Chandra Timilsena /TKP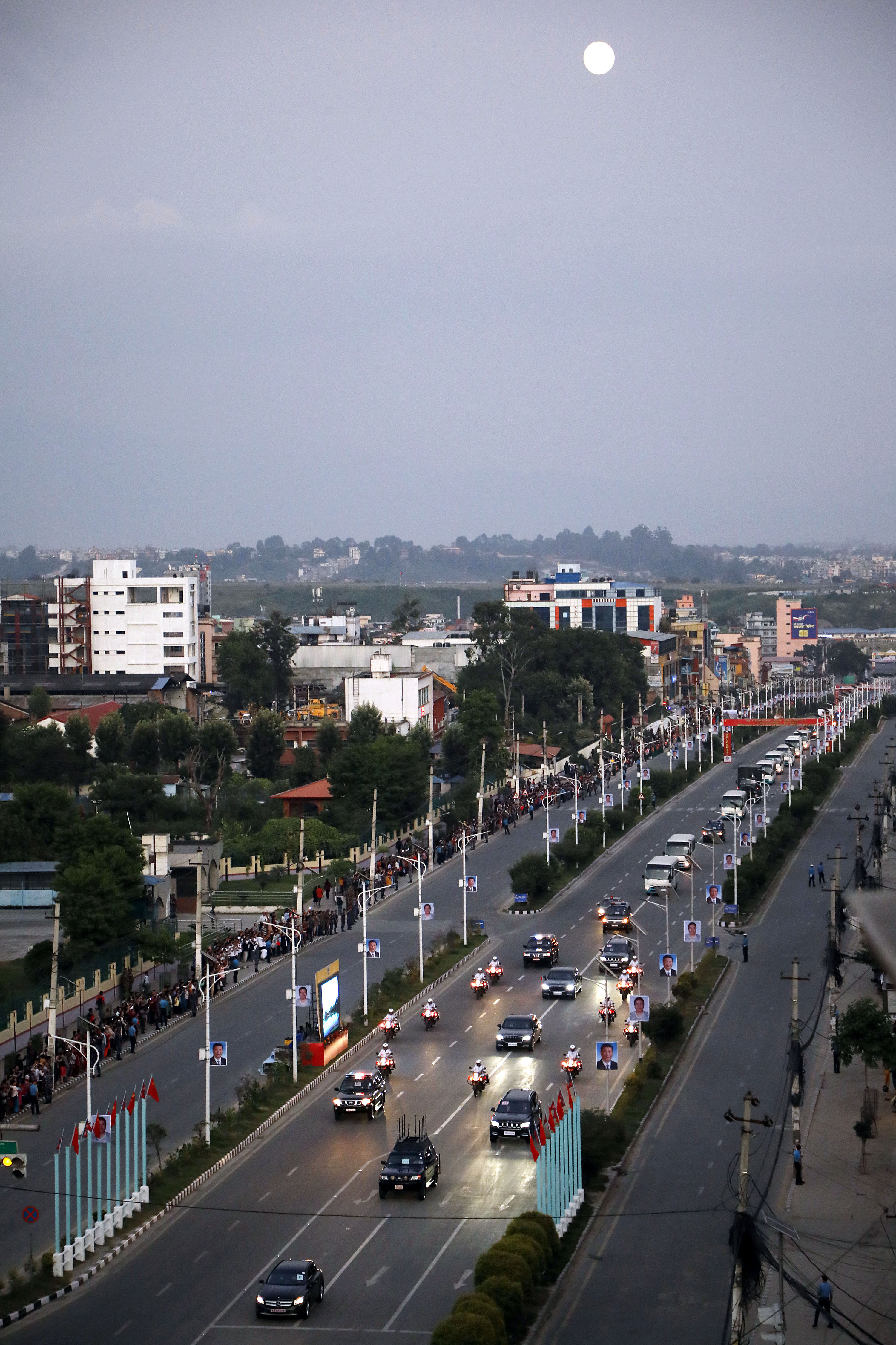 A motorcade of Chinese President Xi Jinping in Baneshwor, Kathmandu on Saturday. Sanjog Manandhar /TKP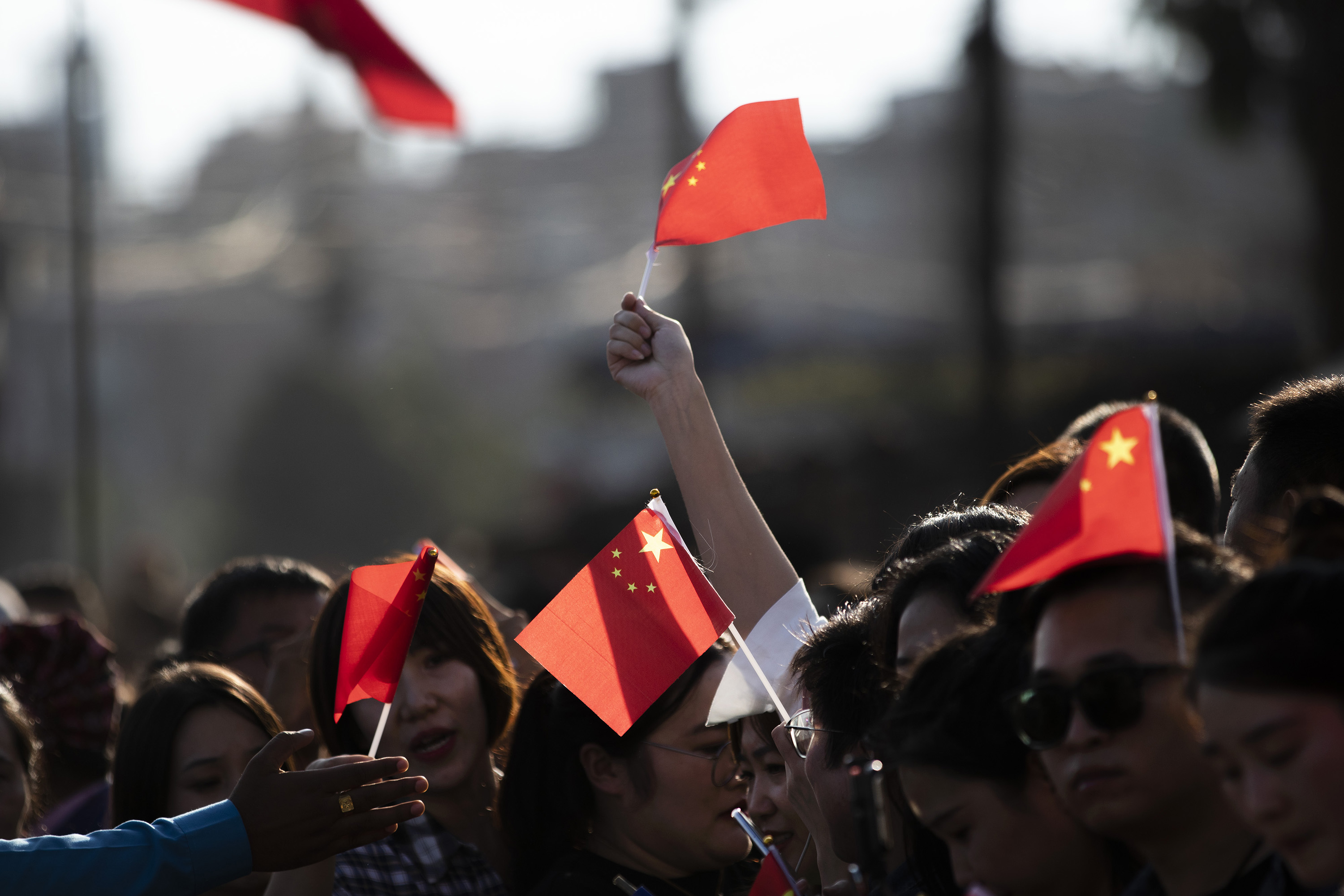 Chinese people wave their national flags as they wait to welcome Chinese President Xi Jinping in Tinkune, Kathmandu on Saturday. Prakash Chandra Timilsena /TKP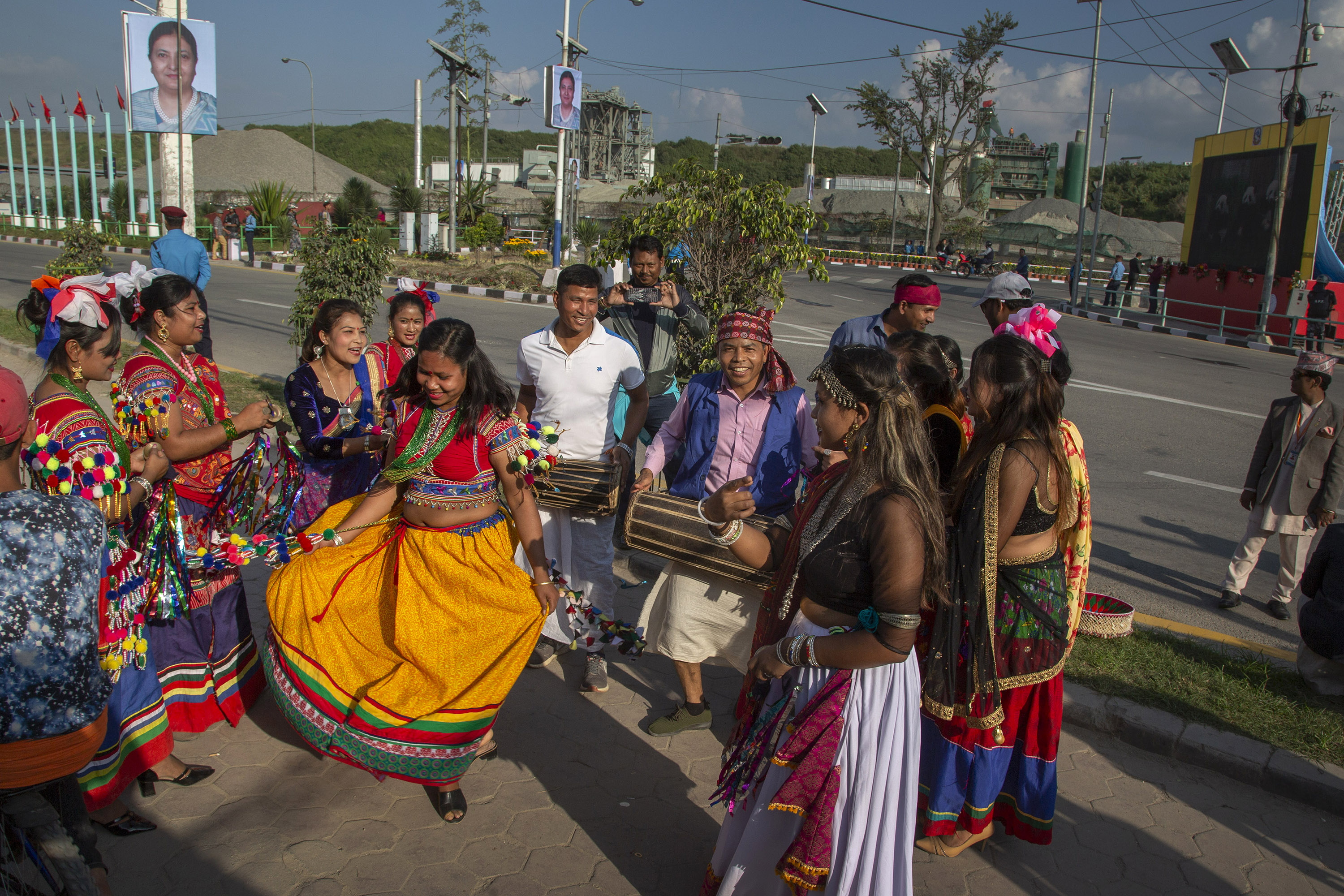 People from Tharu community, dressed in their traditional attire, perform a dance to welcome Chinese President Xi Jinping in Tinkune, Kathmandu on Saturday. Prakash Chandra Timilsena /TKP
A motorcade of Chinese President Xi Jinping captured from Babarmahal, Kathmandu. Elite Joshi /TKP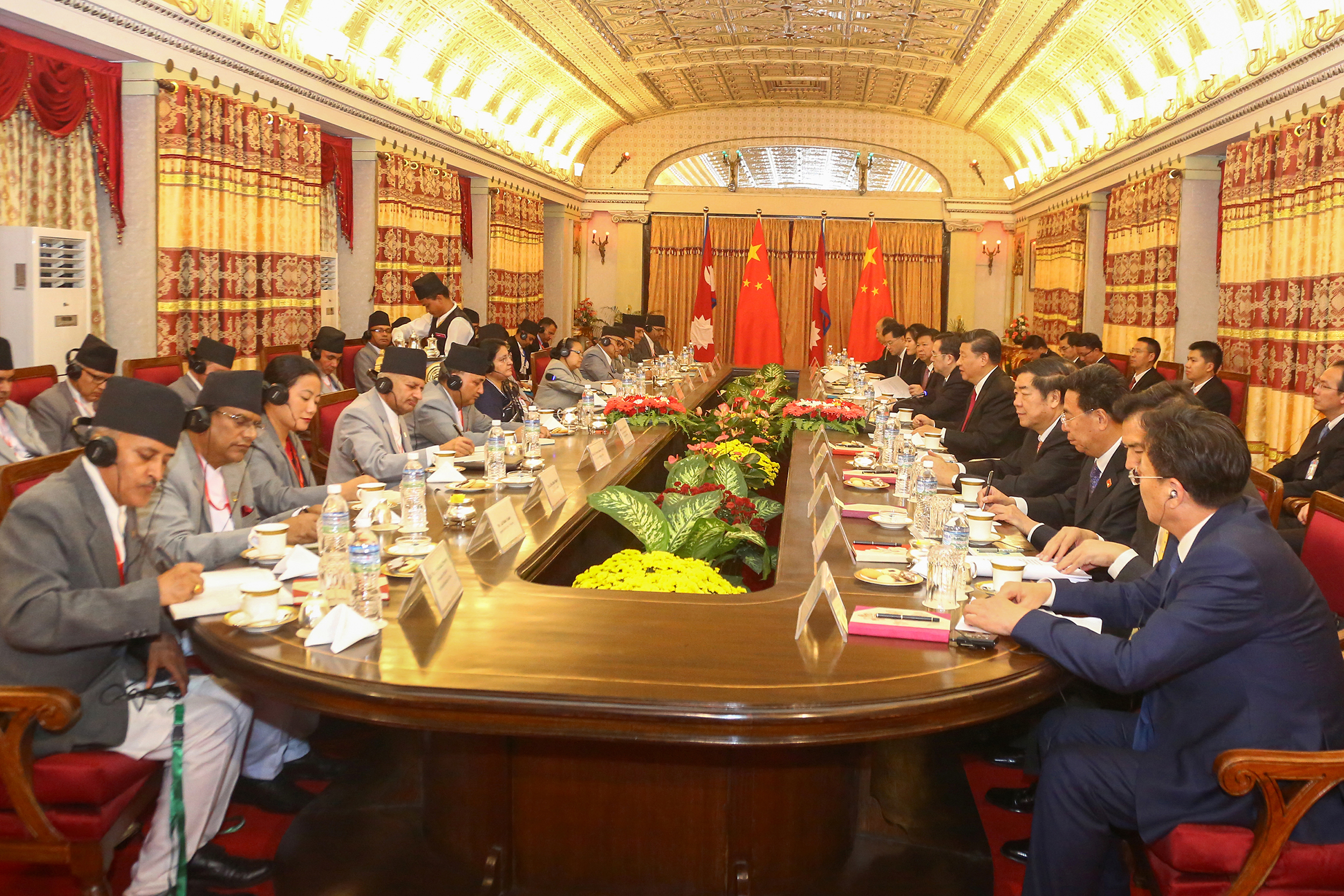 President Bidhya Devi Bhandari and Chinese President Xi Jinping during the bilateral talks at Sheetal Niwas in Kathmandu on Saturday. RSS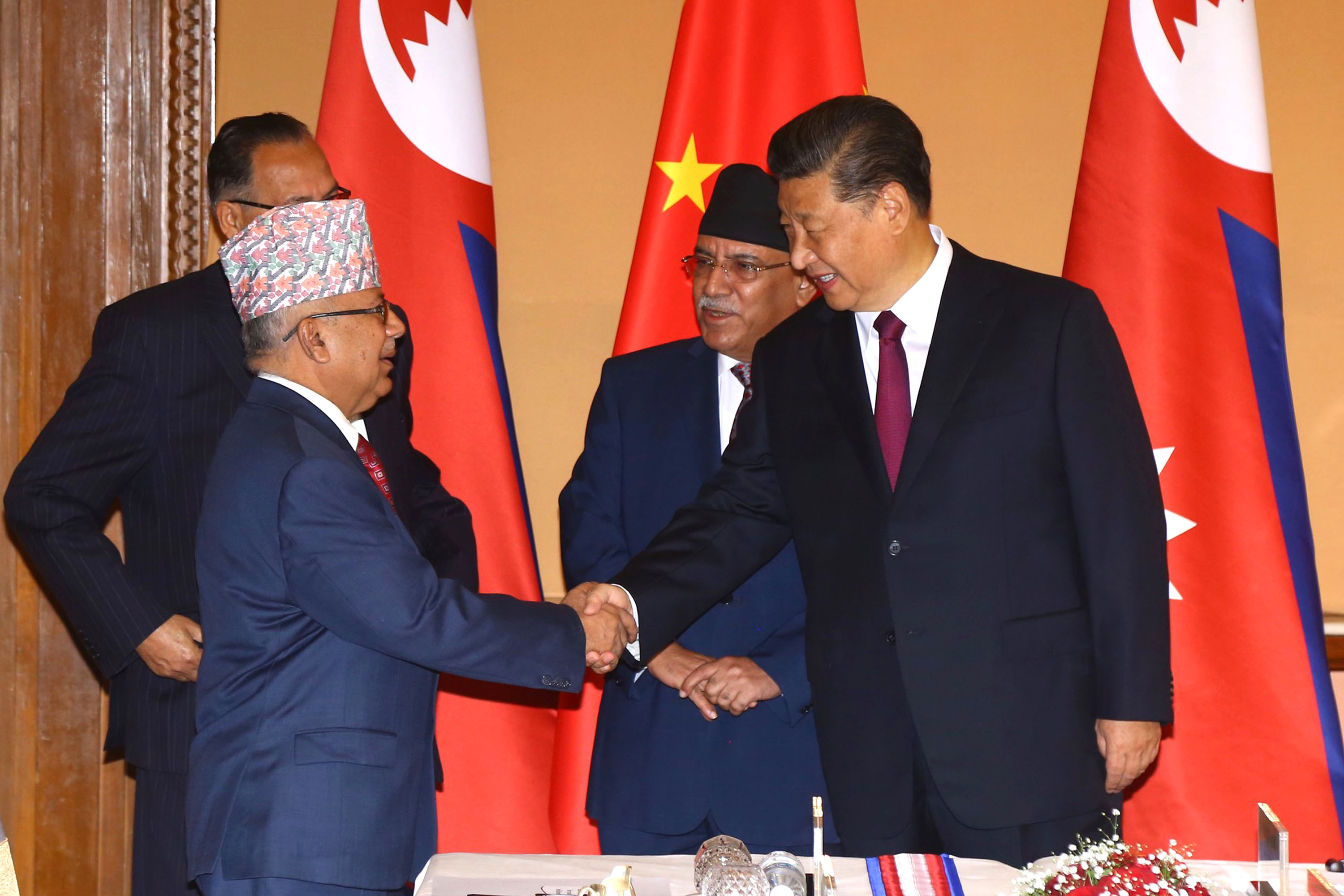 Chinese President Xi Jinping meets leaders of Nepal Communist Party at Hotel Soaltee in Kathmandu on Saturday. RSS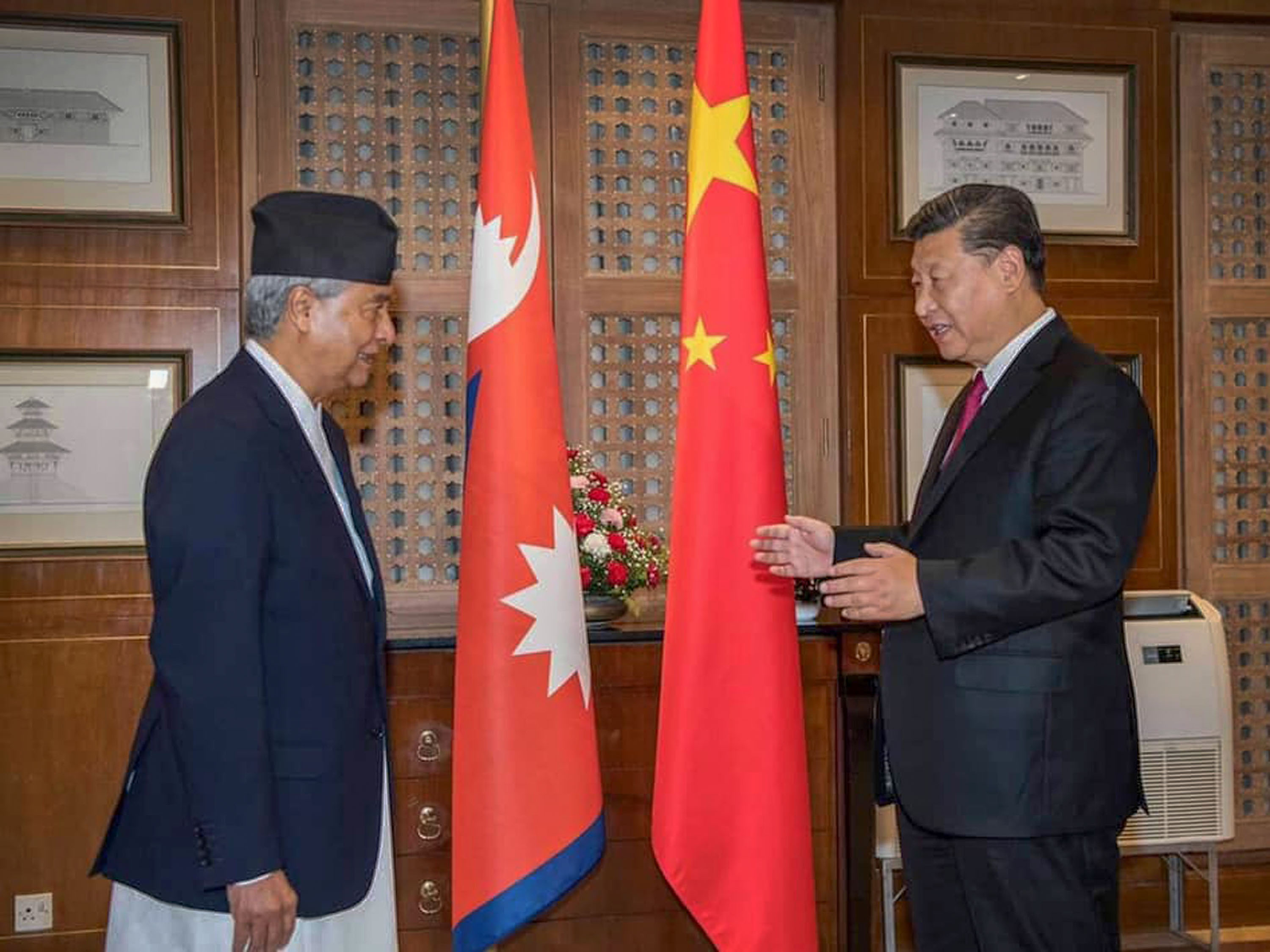 Nepali Congress President Sher Bahadur Deuba meets Xi Jinping in Kathmandu on Saturday. Courtesy of Deuba's Secretariat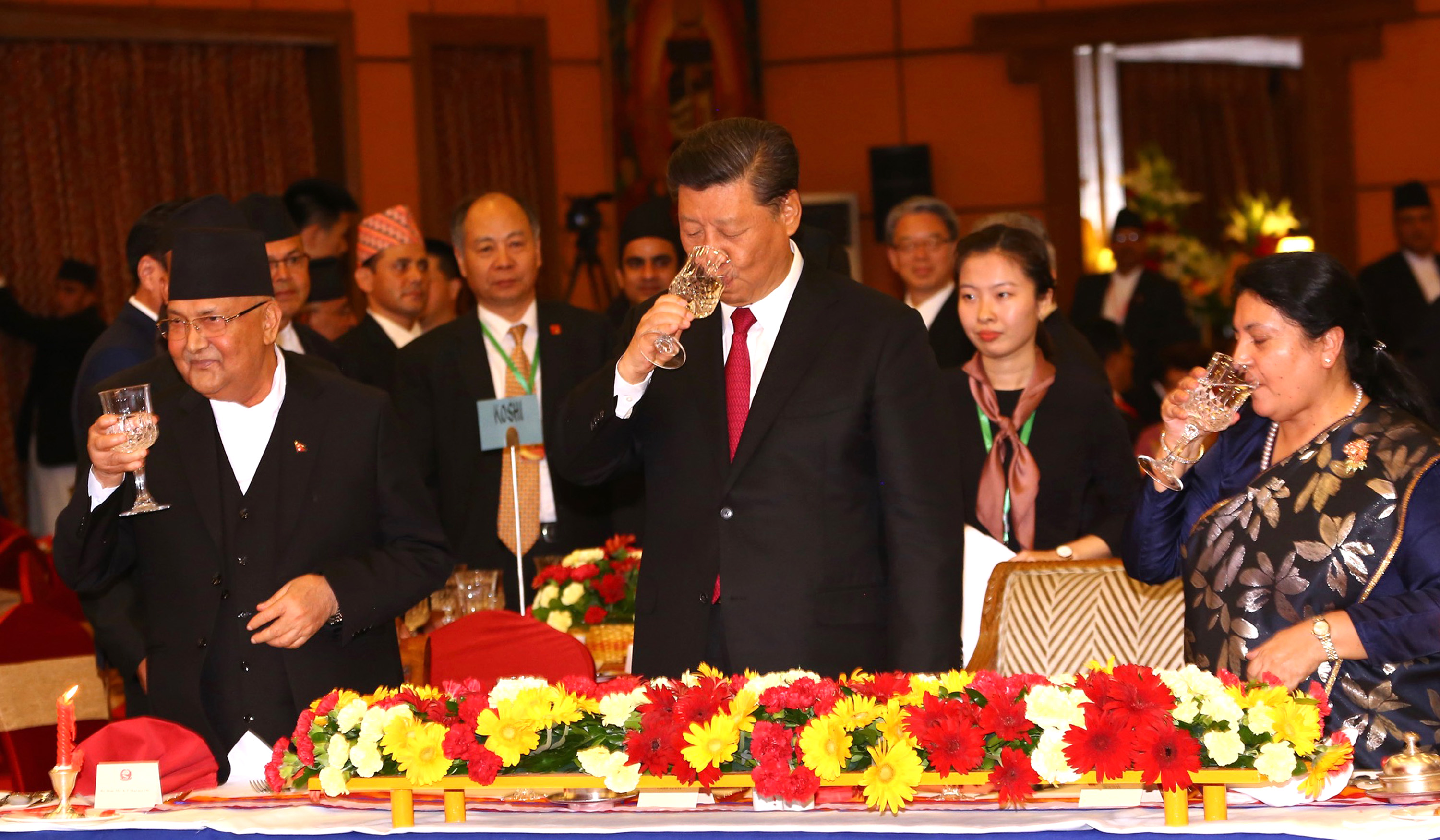 Prime Minister KP Sharma Oli, Chinese President Xi Jinping (centre) and President Bidhya Devi Bhandari during a state dinner hosted by the president at Hotel Soaltee in Kathmandu on Saturday. RSS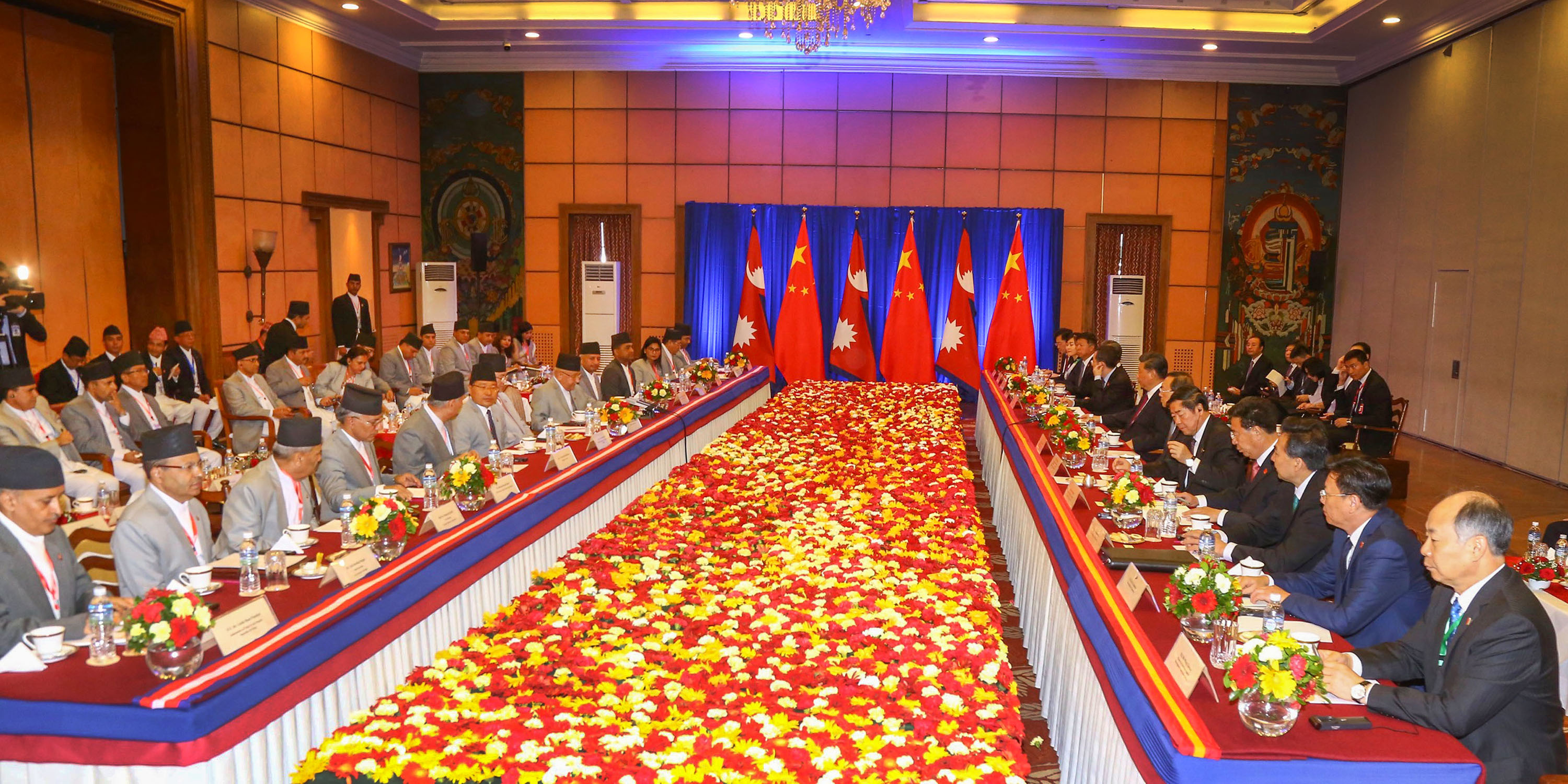 Officials from Nepal and China during a high-level meeting in Kathmandu. Chinese President Xi headed the Chinese delegation and Prime Minister KP Sharma Oli led the Nepali team during the meeting. RSS
People from Newar community perform a traditional dance during a farewell to Chinese President Xi Jinping after his two-day official visit on Sunday. Elite Joshi /TKP
Prime Minister KP Sharma Oli shakes hands with Chinese President Xi Jinping during the latter's departure at Tribhuvan International Airport in Kathmandu. Angad Dhakal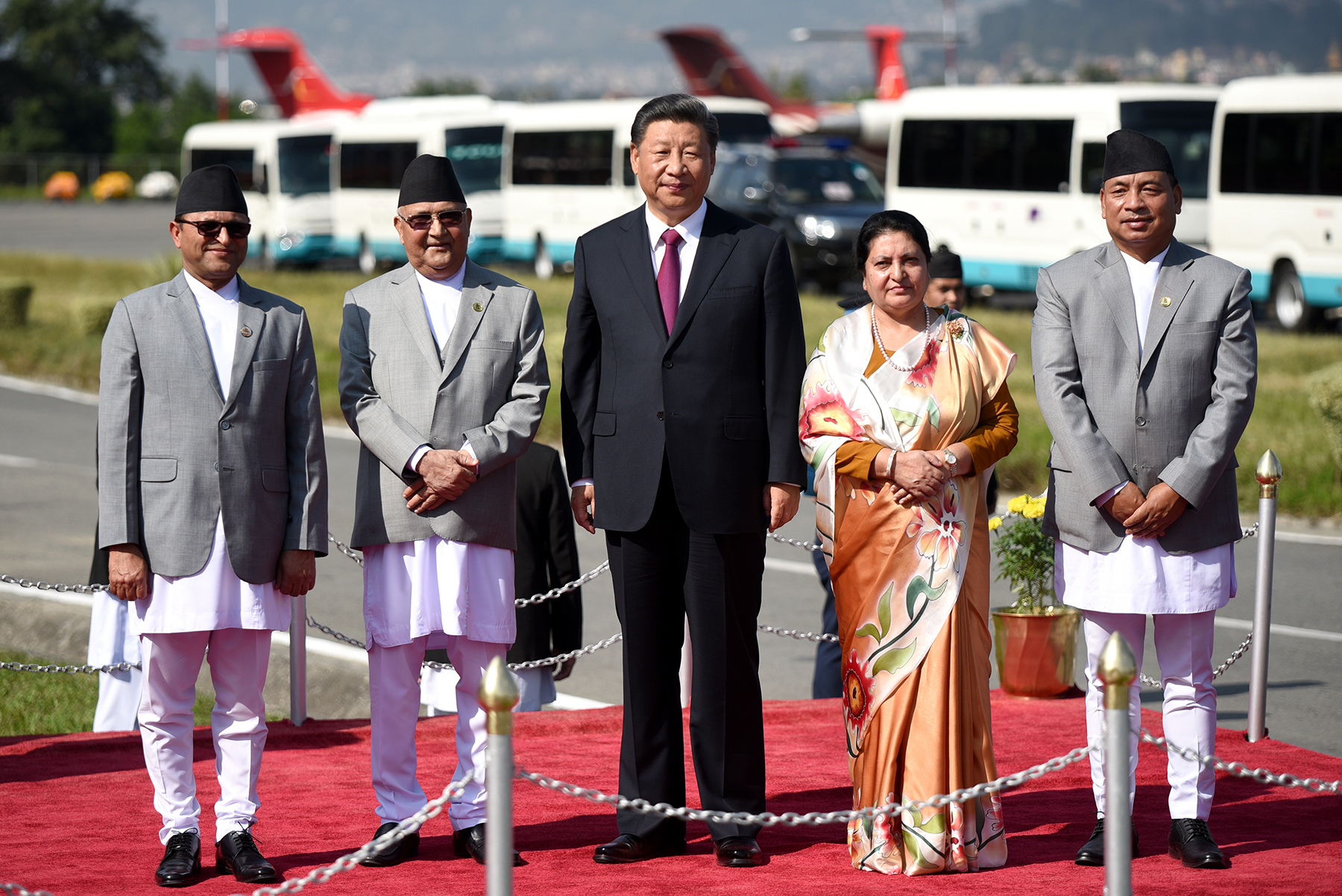 President Bidhya Devi Bhandari (second from right), Vice President Nanda Bahadur Pun (right), Prime Minister KP Sharma Oli (second from left) and Chairman and National Assembly Ganesh Timilsina (left) at Tribhuvan International Airport, Kathmandu before seeing off Chinese President Xi Jinping. Angad Dhakal /TKP
Chinese President Xi Jinping waves before boarding the aircraft at Tribhuvan International Airport in Kathmandu. Angad Dhakal /TKP
---