This is what life is like for those who were disabled in the decade-long civil conflict
The state has always been apathetic towards individuals living with disabilities caused by the conflict.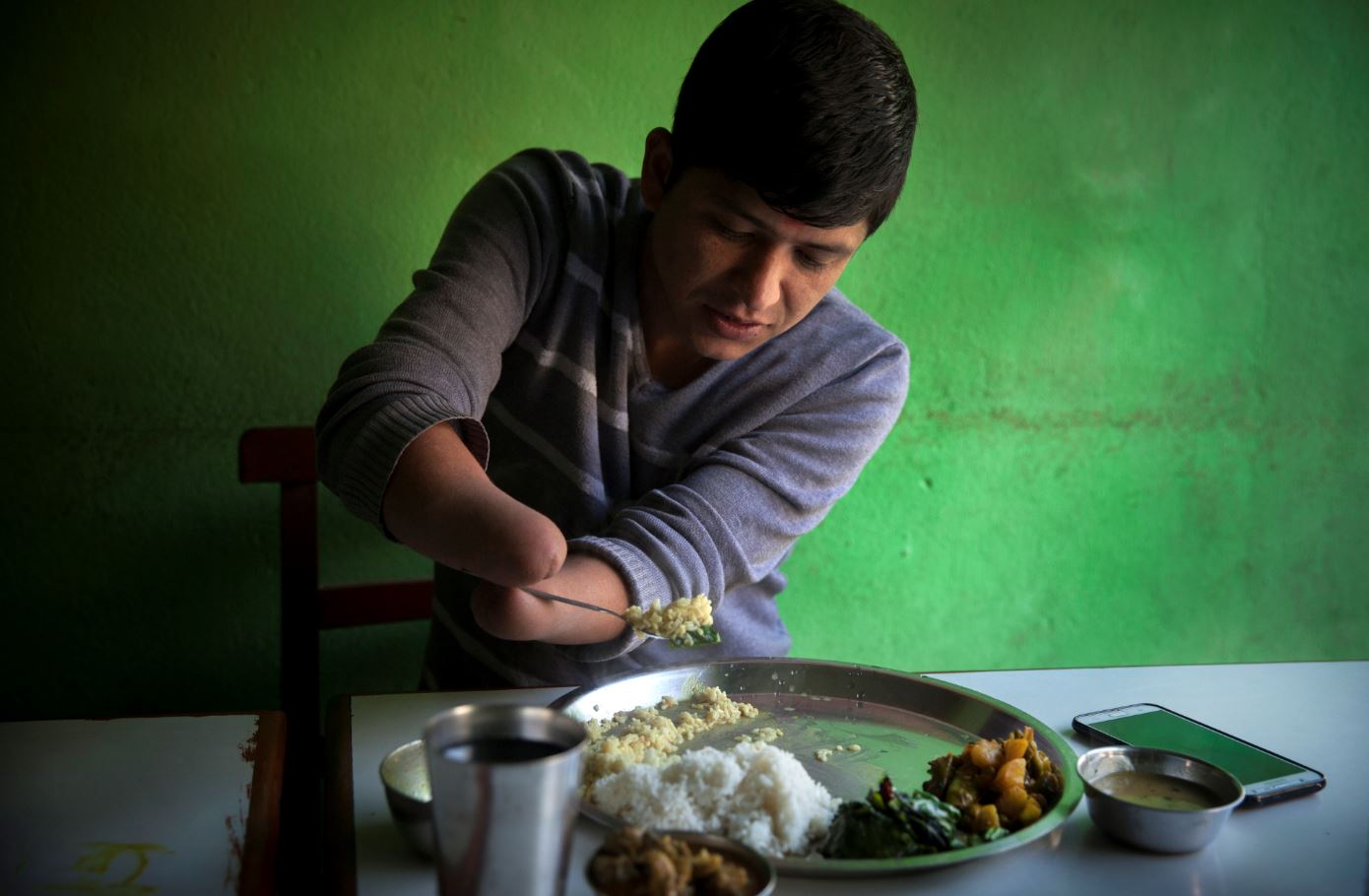 Published at : February 23, 2019
Updated at : May 23, 2019 13:00
On June 16, 2011, Ananda Pandey had returned from school and gone to the fields to weed maize when he found a strange object buried under a stone. Curious, the 12-year-old began to dig it out. Suddenly, it began emanating noise and smoke. It was too late when it occurred to him that the object could be a bomb. He panicked and tried to run away, but he tripped on the vines of a bean plant and fell down. The improvised explosive device (IED) went off in his face. Shrapnel cut into his face, chest and arms.
Villagers carried him in a doko — a basket made from bamboo — to take him to Jumla from his village in Kalikot. When treatment wasn't possible there, he was brought to Nepalgunj. He underwent two surgeries--one for his face and another his chest. When Pandey regained consciousness, he overheard doctors saying that one of his eyes had been completely destroyed but there was still hope for another one. It turned out to be mere assurance for encouragement. The IED took away Pandey's eyesight.
Pandey's accident occurred five years after the formal signing of the CPA. In fact, the rebel Maoists had already led the government once by then. Three years after the incident, the government formed the Truth and Reconciliation Commission, but it was only mandated to look into incidents that took place during the conflict period (1996-2006). So, Pandey was left to fend for himself.
SURENDRA KHATRI
Surendra Khatri's story is similar to that of Pandey. He was 18-years-old when lost both his limbs in an IED explosion on June 26, 2006, five months before the Comprehensive Peace Agreement (CPA) was signed between the Government of Nepal and the then rebel Communist Party of Nepal (Maoist). The bomb had been planted and left behind by the rebel Maoists during the deadly Beni attack in 2004.
"When we talk about conflict victims, we tend to think of either murder or disappearance. Those who've been disabled as a result of the conflict have never been acknowledged, even if the incidents took place during the conflict," says Khatri, from Beni.
BHAGWATI GAUTAM
For Bhagwati Gautam, 51, who lost her leg during the height of the armed conflict, in February 2002, while travelling from her village to Khalanga, Rukum with her friends, the state has neither provided her with any assistance nor assurance.
The state has always been apathetic towards individuals living with disabilities caused by the conflict. Records from the erstwhile Ministry of Peace and Reconstruction show the distribution of compensation to 9,820 disabled conflict victims. However, the government has no records for civilians rendered disabled during the conflict.
Khatri argues that it is mostly security personnel and Maoists cadres who were provided with compensation. Some of whom are even 'fake' disabled victims. "Civilians without political connections never received anything at all. We are raising concerns for justice and we are capable of fighting for our rights," says Khatri.
As a part of their campaign, on February 19, disabled conflict victims formed an 11-member National Network of Disabled Conflict Victims, led by Khatri. They held a two-day national conference in Lalitpur that announced a three-point Lalitpur Declaration, a charter detailing their short-term and long-term demands, their position on the ongoing transitional justice process, and suggestions for national and international non-governmental organisations and the donor community.
A photo exhibition, titled '14 Stories: Memories of War' was on display at the Administrative Staff College in Jawalakhel, from February 19-23, to raise awareness about their plight.
"We are the ones who live with the horror of war. We have to live with the scars of the conflict forever, but the state does not identify us as conflict victims," says Khatri. "The state and former rebel group who is in government now should be held accountable. We want everything that a citizen of this country is entitled to."
---