Over 100,000 leave the Valley on the first day of Dashain
Police booked 14 vehicles which were in bad condition from Thankot on Monday, and 15 from Jagati border on Sunday.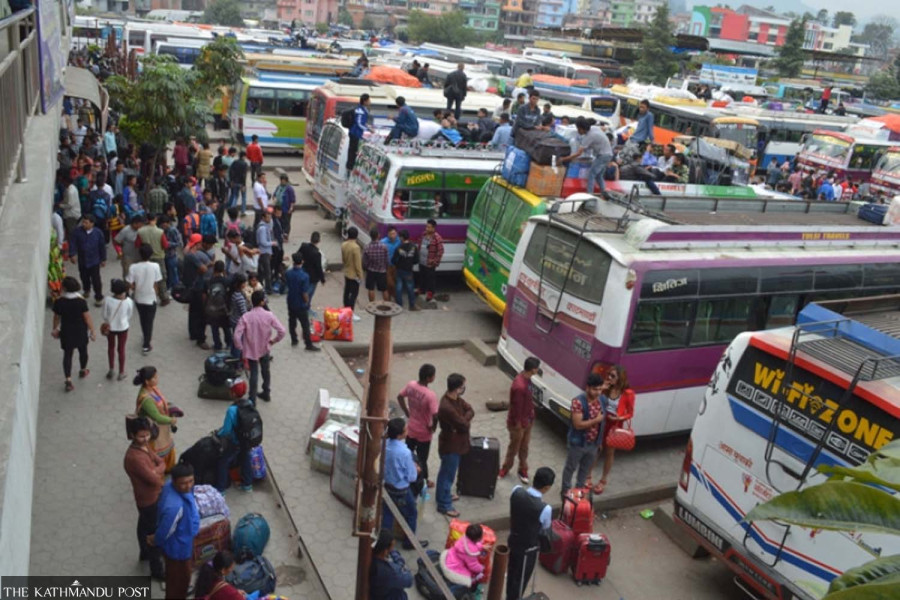 Post File Photo
bookmark
Published at : September 27, 2022
Updated at : September 27, 2022 09:26
Kathmandu
A large number of people left Kathmandu Valley on Monday, which marks Ghatasthapana, the first day of the 15-day Dashain festival.

According to Kathmandu Valley Traffic Police Office, on Monday over 100,000 people left the Valley to celebrate Dashain, the major Hindu festival. On Sunday, 64,110 people had left the Valley. On a normal day around 6,000 to 10,000 people leave the Valley.
"All the exit points of the Valley remained crowded almost throughout the day on Monday," said Senior Superintendent Rajendra Prasad Bhatta, spokesperson for the Kathmandu Valley Traffic Police Office.
People mostly use Nagdhunga, Jagati and Pharping exit points to go out of Kathmandu.
According to data from the Federation of Nepalese National Transport Entrepreneurs (FNNTE), over 600,000 people have left the Valley since bus operators started to sell pre-Dashain tickets on September 17.
Officials at FNNTE said around 6,000 public vehicles have been deployed to provide services to the passengers who want to go to their homes for the festival.
"But due to bad condition of roads, buses are stuck in jams, and they do not reach their destinations on time. This has caused inconvenience for passengers," said Bijay Bahadur Swor, president of Federation of Nepalese National Transport Entrepreneurs. Roads are in bad shape due to prolonged monsoon and construction works.
According to him, buses are stuck in the Butwal-Narayanghat road section. Road department has been widening this section of the East-West Highway. "Because of which, buses that need to come to pick passengers in Kathmandu or other cities often get stuck there in a jam for hours," said Swor. "Road condition is very poor in almost all highways."
After vehicle operators and passengers complained about a multitude of potholes on the Narayanghat-Butwal road section and delay in construction, the Department of Roads has warned the Chinese contractor China State Construction Engineering Corporation Limited to terminate the contract.
The Department of Transport Management has implemented a rule of free queue facilities for public vehicles, effective from Monday. This means buses don't need route permission to ply any sections during these days.
Just like bad road conditions, vehicle condition is another major concern of the passengers. "We have kept the surveillance of public vehicles in different exit points to inspect their conditions," said spokesperson Bhatta.
According to the Traffic Police Office, on Monday, traffic booked 14 public vehicles which were not in good condition from Thankot. On Sunday, it had booked 15 public vehicles from the Jagati exit point.
"We are more concerned about peoples' safe travel, that is why we have been deploying Mechanical Engineers from police headquarters to check the condition of public vehicles that go out of the Valley," Bhatta said.
Traffic police inspect brakes, tyres and engine conditions before they let vehicles go out of the Valley.
Also, the Valley Traffic Police Office and the Department of Transport Management have already set up 14 help desks across the Valley to help people leaving Kathmandu for Dashain.
The desks will provide information on ticket prices and address complaints of passengers, if any.
---