Valley's daily wage earners are worried about survival during lockdown
Many of Kathmandu's daily-wage earners and squatters who don't have much or anything at all back in their home villages have nowhere to go to escape the brunt of the pandemic.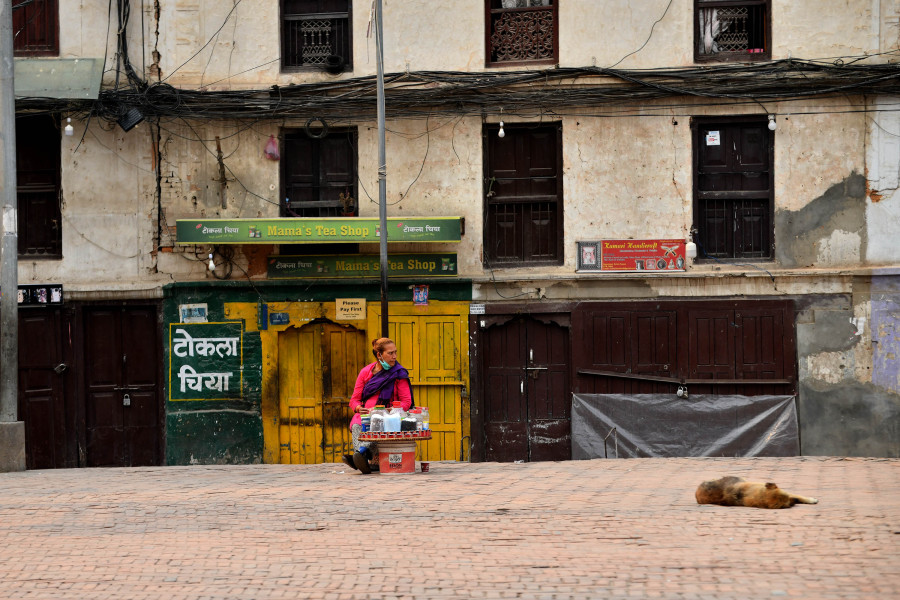 Deepak KC/TKP
bookmark
Published at : April 30, 2021
Updated at : April 30, 2021 09:08
Kathmandu
With the Capital going into a 15-day of lockdown starting Thursday, Rajkumar Nepali on Wednesday bought 10 kg of rice, 3 kg of pulse, 3kg of beaten rice and two packets of cooking oil in preparation to confine himself at home during the lockdown.

"Everyone in my locality is buying necessary items fearing a shortage, so I did the same," said Nepali, 31, who lives in a squatter settlement at Chadani tole in Sinamangal, Kathmandu.
Nepali is semi-literate and works as a mason. He has been living at the squatter settlement for the past one decade. He said he was jobless for about seven months last year due to the pandemic and remembers the period as the most difficult period of his life.
"You know shopkeepers don't trust squatters like me easily so they are reluctant to sell goods on credit," said Nepali. His job is not a regular one. "I have yet to receive Rs 20,000 in wages from a houseowner. Now after buying these items, I am broke," said Nepali, a father of two sons aged 6 and 10.
He said he had to spend Rs 10,000 last month to treat his son Raju for a broken elbow. "The government gave three days for people to return to their home districts but I can't go because our family doesn't own much land and even that is barren," said Nepali, who left his village Makaibari-4, Dolakha, in 2011.
By Wednesday tens of thousands of people have already left the capital for their home districts after the government announced the prohibitory orders. But squatters like Nepali, who don't have much or anything at all back in their home villages have nowhere to go.
According to the Metropolitan Traffic Police Division, Kathmandu, in the four days up to Wednesday over 200,000 people have left the Valley. "The number was very high on Wednesday and police found it difficult to manage the crowds at bus parks," said Superintendent of Police Shyam Krishan Adhikari, also spokesperson of the Division.
"If I had enough land for sustenance, I would have never come to Kathmandu. I left the village because life was very difficult but now since this pandemic started life is not easy here either." He is worried about feeding his two children and wife Ujali.
Like, Nepali, Sabita Ghimire, 29, a mother of two children aged 4 and 10, says she is worried about her day-to-day survival. She used to work at Thuleko Mo:Mo fast food at Bakhudole, Lalitpur, but following the announcement of the lockdown, the eatery is closed and she has lost her job. Ghimire, who is from Musikot Municipality-4 of Gulmi, also works part-time as cleaner at two houses in the Bakhundole area, but after the Covid cases spiked, she is worried that she might lose these jobs as well, the pandemic has made people fearful of outsiders.
Based on Cabinet's Monday decision, restaurants, public transportation, shopping malls, assemblies, seminars including any other places that see gatherings of people are all closed for 15 days, and officials say the Covid lockdown could be extended further as the Kathmandu Valley accounts for over 60 percent of the total infections in the country.
Ghimire's husband works as a security guard at a corporate house but he has told her that he has already sensed that the job won't last long due to the pandemic. The family lives in Bakhundole in a rented room for which they pay Rs 5,000 per month. Their monthly expenses total around Rs 25,000. Now jobless in the expensive city, she is more worried about the present than the future.
"What if we or the kids catch Covid? When we don't have enough savings to sustain ourselves, how will we pay for our treatment?" Ghimire said with a sigh of resignation.
Ghimire's family couldn't claim the food relief distributed by the City during last year's lockdown because they demanded the ward office's recommendation, which the family didn't have as they were "outsiders".
Just like Ghimire, Nepali is worried about the well-being of his children. "Last year, due to the grace of god, nothing happened to my family, but I have heard that the new variant of Covid-19 is especially dangerous for children," said Nepali. "Since we live in a squatter settlement and share taps and toilets, we are more vulnerable to the virus."
Chadani Tole in Sinamangal, where Nepali's family lives, has over two dozen squatter families living in tin-roof shacks. The squatter settlements in Sinamangal's Ward-19 and Ward-31 have around 700 families and most of them work in the informal sectors.
According to the Nepal Landless Democratic Union Party, there are around 29,000 squatter families in the Kathmandu Valley, and many families will have to suffer if the government extends the 15-day lockdown further.
When the Post contacted Deputy Mayor of Kathmandu Metropolitan City Hari Prabha Khadgi if her office has any plans to provide food relief to the people like Nepali and Ghimire, she said they don't have any such immediate plans. "But if the lockdown extends to over a month, then the City will make a decision about food relief," said Khadgi.
---
---