Good samaritans continue to provide free meals to the needy
Daily wage earners say they have to forget their self-dignity to accept free meals but don't have an option since work is not available.

The pandemic has rendered many daily wage workers jobless, leaving them with no option but to rely on food aid. Tsering Ngodup Lama/TKP
bookmark
Published at : September 10, 2020
Updated at : September 10, 2020 13:07
Kathmandu
Every day at eight in the morning, twenty-seven-year-old Shila Magar and her twenty-one-year-old husband, Suman Rimal, both daily wage workers, leave their rented room in Balkumari and walk towards Guheshwori near Pashupatinath Temple. It's a long walk, around an hour and a half.

Once the couple reaches Guheshwori's Shakti Peeth Guhyeshwari Temple, they head northwest of the temple's main gate to a secluded spot where the now-closed dirt road track that once connected Tilganga to Tamarganga is.
By the time the couple reaches the spot, a long line of hundreds of people has always already formed. The couple gets in the line and waits.
Around 10 am, a mini pickup truck from Metta Hope and Challenge, a non-profit organisation, arrives at the spot. In the back of the truck are hundreds of packed hot meals stacked in aluminium packets. By 11 am, the meal packs are distributed and the crowd disperses. For the past six months, this scene has unfolded every day.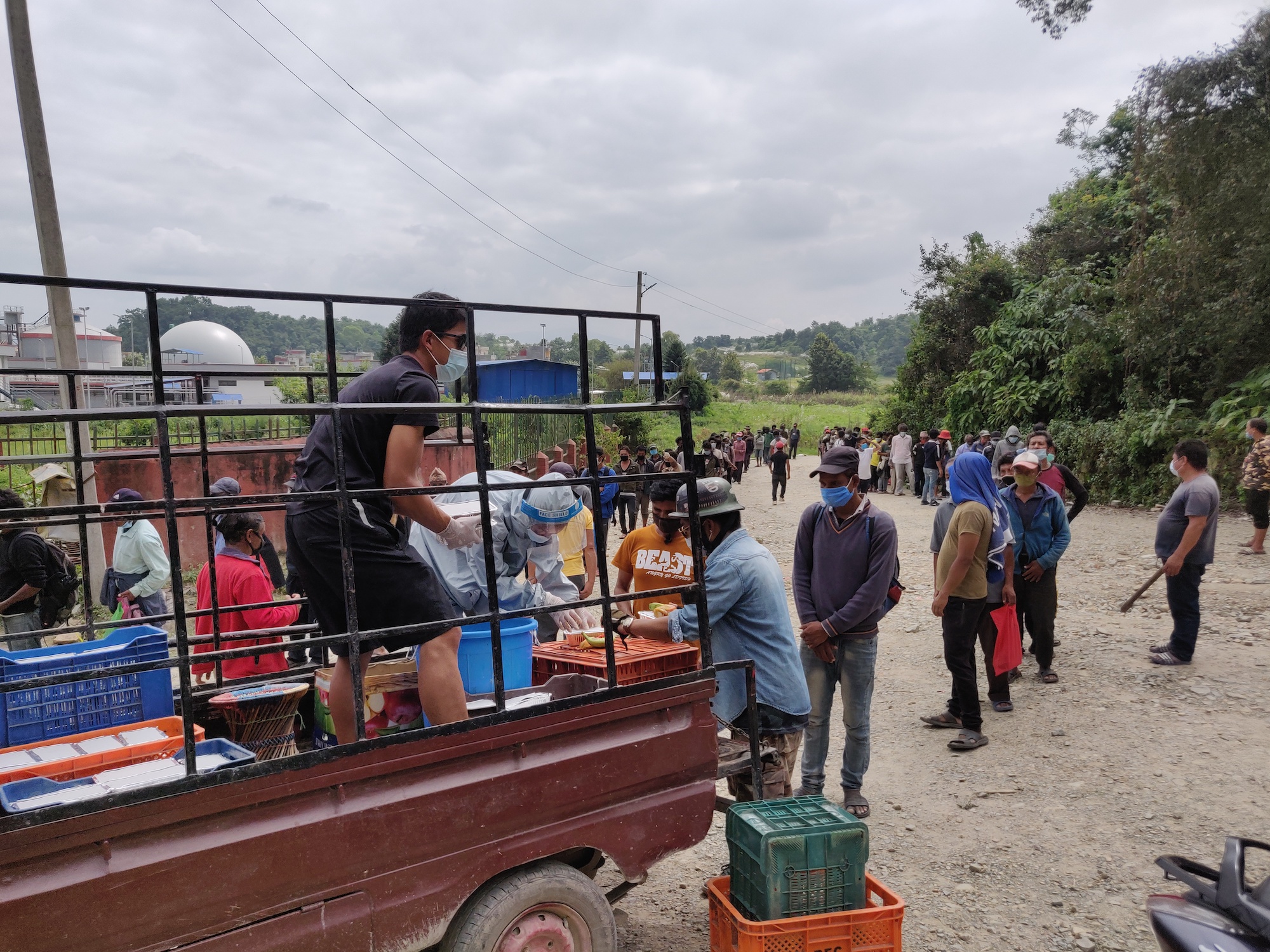 Tsering Ngodup Lama/TKP
Once Magar and Rimal get their packed food, the couple makes their way back to their rented room. Around 3 in the afternoon, the couple again walks to Tilganga, where another organisation distributes free packed meals.
Across Kathmandu, many daily wage workers are relying on food aids for their daily meals. And a network of organisations have been distributing meals across Kathmandu to ensure that those who cannot afford their own meals do not go hungry.
Before the pandemic, Magar worked as a labour at construction sites and Rimal worked as a house painter. "Our total income came around Rs 40,000 a month," said Magar.
The money the couple made was enough to cover household expenses and send a little money to Rimal's parents in the village every month.
"Even though we never had plenty, we could still buy our own food and pay our rent," said Magar.
But when the lockdown was announced on March 24, things quickly took a turn for the worst. "With no jobs, we had no option but to rely on our very little savings," said Magar.
When the nationwide lockdown was lifted on July 21, Magar and Rimal were hopeful that they'd get some work. "But nobody was hiring, and then on August 19, Kathmandu went into lockdown again," said Magar.
Two weeks ago, the couple ran out of their savings, leaving them with no option but to rely on food aid for food. "We have always worked very hard so we could live a life of dignity but this pandemic has turned us into beggars," said Magar, scraping one of the edges of the aluminium meal box.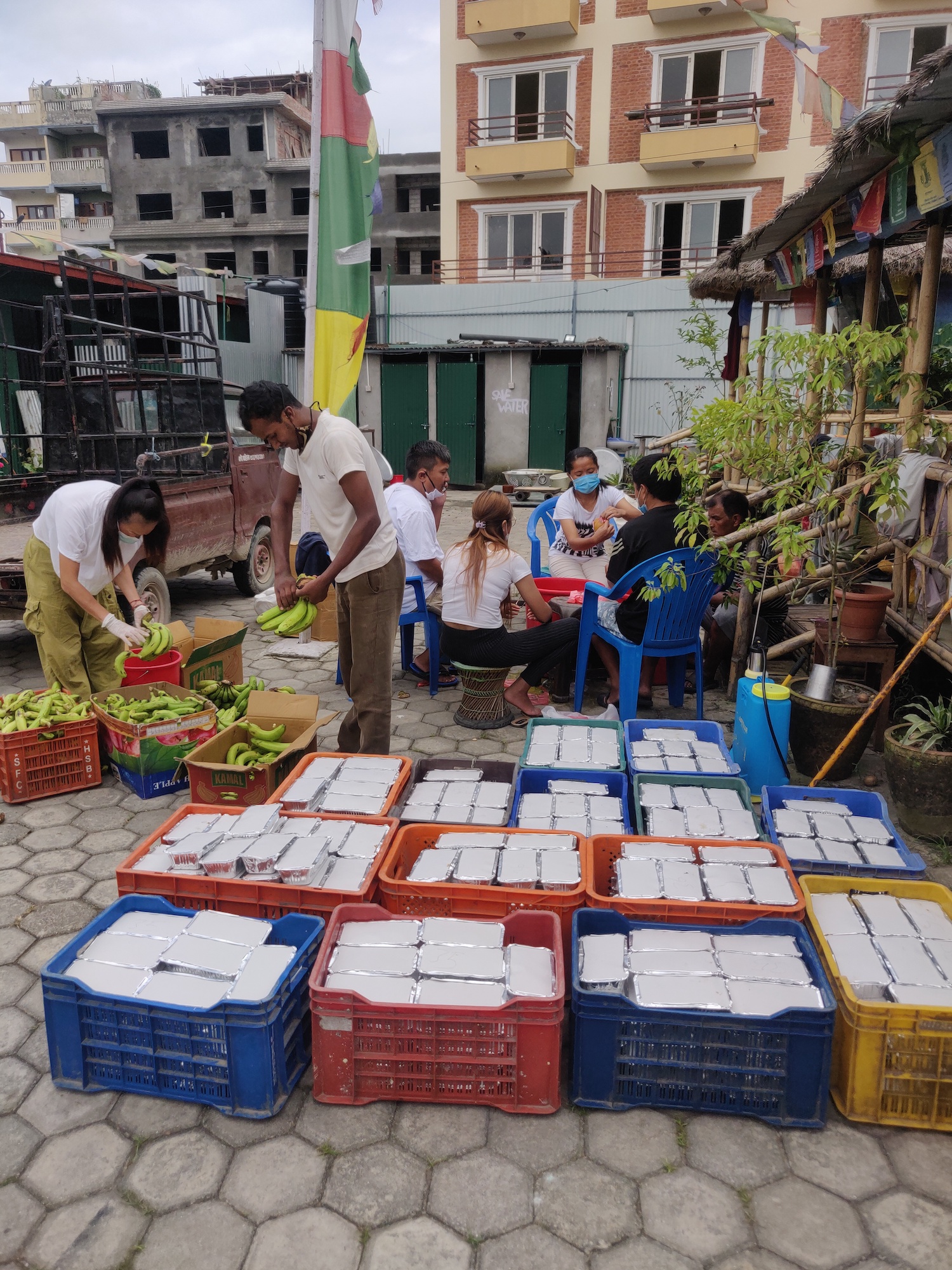 Tsering Ngodup Lama/TKP
Not far from where Magar and Rimal are is Abhir Rai. One of the volunteers of Metta Hope and Challenge told the Post that Rai has been a regular for over four months. Before the lockdown, Rai worked as a daily wage worker at construction sites.
"The first thing I lost to the lockdown was my livelihood," said Rai.
"The second thing I lost to the pandemic was the roof over my head. Without any source of income for months, I was in no position to pay the rent, and three months ago, my landlord asked me to vacate my room. I have been homeless since."
Rai says that he has been spending his nights under a store's awning in an alley near Boudha stupa.
"In the mornings I come to Guheshwori for lunch, and then I head to Thamel where an organisation feeds hot meals around 4 pm," said Rai. "With no work and no place to stay, the pandemic has upended my life, but thanks to the generosity of people, I haven't had to go to bed hungry."
When Nepal went into lockdown, the biggest worry for Geshe Wangchen, the founder of Metta Hope and Challenge, was how the move was going to impact the economically vulnerable population of the society. Since 2014, Wangchen's organisation has worked to uplift the lives of the society's most disadvantaged population.
"When the nation-wide lockdown stopped all economic activities, we knew hunger was going to be an issue," said Wangchen. "So on the second day of the lockdown we started providing free cooked meals to everybody in need of it. The idea of the initiative was to ensure that no single person should be hungry during such a difficult time."
At one time Metta Hope and Challenge, says Wangchen, was providing hot meals to over 1,000 people every day.
Heartbeat is another organisation that has been distributing free meals in the city from the early days of the lockdown. The organisation has been distributing meals at Teku, Thamel, Chetrapati, Basantapur, and at a hospital and children's home in the city.
"We have been providing meals to around 300 people a day," said Juju Kaji Maharjan, the organisation's founder of the organisation. "When we started this initiative, we were feeding 700 people a day, but now there are many organisations providing free meals, we have scaled back our operations."
During the early days of the lockdown Hiteri Foundation's project head Kusum Tamang got a call from the community police of Tikhedewal in Lalitpur.
"They asked us if we could do anything to help the homeless people and daily wage workers who were going through a very tough time due to the lockdown. That's how we started our meals initiative," said Tamang. "Back then there were only 30 people, but as the lockdown extended, the number grew, and for the past few weeks we have been feeding 100 people daily at Mahalaxmisthan in Patan."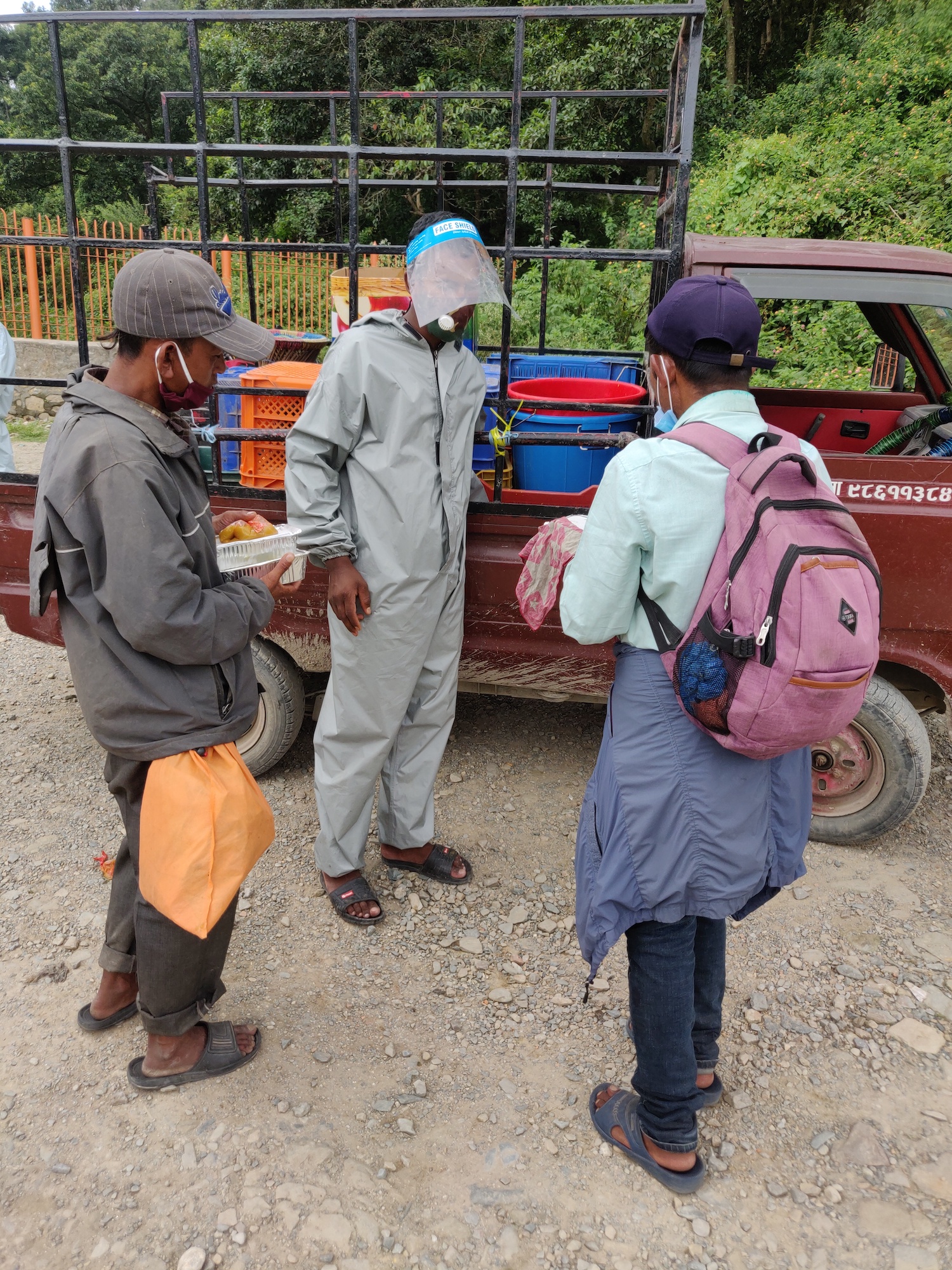 Tsering Ngodup Lama/TKP
According to Tamang, Hiteri has served more than 3,500 hot meals and provided 2,250 families with food ration. "There are 65 more families we would like to provide food ration but due to our limited funds, we haven't been able to do so," said Tamang.
But going out every day to feed people in the midst of a pandemic that's only getting worse isn't without risks. "One of the greatest concerns I have for my volunteers is the high chances of contracting covid-19. Of course we provide them with face shields, masks, gloves, sanitisers and even PPEs, but the risks still remain," said Wangchen.
But realising that the meals they provide will ensure that people do not go hungry is what motivates them, share Wangchen, Tamang and Maharjan.
"A few days ago, we handed a food ration for a month and crate of eggs to a family that had several children. When the kids saw the eggs they started dancing. They were overjoyed that they'd be eating eggs," said Tamang. "Experiencing these things make it all worth it."
As human beings, say Tamang, everyone has a moral obligation to help those in need. "In these times of crisis, the world needs more love, humanity, and empathy, and we have to look out for those in need and make them realise we have their backs," said Tamang.
---
---