Traffic division gives 15-day ultimatum to truck drivers to implement new rules
With seven killed and 146 injured in the past three months, traffic police ask drivers and owners to make necessary changes to the trucks' bodies.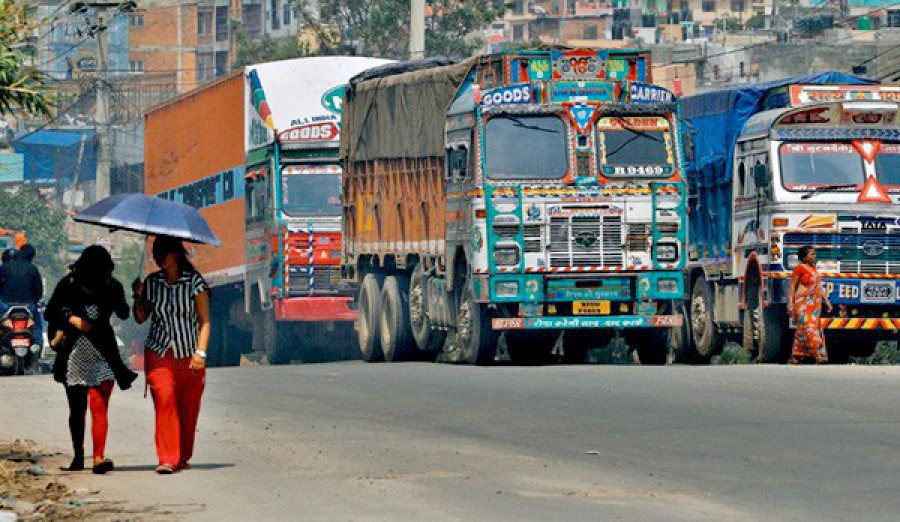 Post File Photo
bookmark
Published at : November 10, 2019
Updated at : November 10, 2019 08:06
The Metropolitan Traffic Police has provided trucks and tippers with 15 days during which to make necessary changes to their structure so that they are less accident-prone.

This is an attempt by the traffic police to control the increasing number of fatalities caused by tippers and truck-related accidents. According to the traffic police, in the past three months, starting from July 17 this year, seven people have already lost their lives inside the Kathmandu Valley to truck and tipper accidents while 146 have sustained injuries.
Drivers need to change their mirrors so their backsides are more visible and remove all decorative items that block their view. Drivers are not supposed to have any speakers or woofers inside the cab and should place their number plates on both sides of the vehicles to make them more visible from a distance, according to the traffic police.
"The number of tipper-related accidents have gone up. From our survey, we found the vehicle's rear-view and side mirrors are smaller and do not show the back. Most of the number plates were covered with mud and were placed inside. The front decorative part of the truck was blocking the view and the drivers are often seen playing loud music," said Senior Superintendent Bhim Prasad Dhakal, division chief of the traffic police. "These were the reasons for these trucks being more prone to killing people."
A meeting between the traffic police and the Truck and Tipper Association on November 4 agreed to make these changes to vehicles so that there are better precautions to reduce fatalities.
The association operates 2,200 trucks and tippers inside the Kathmandu Valley for construction works and to carry loads.
Rohit Shrestha, association chairperson, said that the association has already directed all truck owners and drivers to make the necessary changes to their vehicles.
"We are very hopeful that this will help decrease fatalities. We will follow the division's orders," said Shrestha.
The Ministry of Home Affairs in July last year had banned the daytime operation of tippers and trucks inside all three districts of the Kathmandu Valley to reduce pollution and the number of accidents.
---
---