"God is angry because this is not done": Bungamati residents yearn for the rebuilding of iconic temple
Reconstruction on the Rato Machhindranath temple, one of the holiest Hindu sites in the Valley, has stalled, leaving residents disheartened.

The temple of Rato Machhindranath remains to be rebuilt four years since the earthquake. Post Photo: Chase Brush
bookmark
Published at : July 14, 2019
Updated at : July 14, 2019 09:19
Kathmandu
In the heat of a recent Sunday afternoon in Bungamati, a quaint predominantly Newar town just 6 km south of Lalitpur, local residents were busy at work. In one corner of the village's public square, a team of men carefully laid bricks along an old stone spout, a water source of local religious and cultural significance. In another corner, a group of women hauled baskets of dirt out from a newly excavated area, the site of a soon-to-be community garden.
The work represents a sampling of reconstruction efforts that are helping to return this semi-rural town back to its former glory—or some semblance of it. A longtime hub of Newar culture—and a once-popular excursion for tourists out of Kathmandu seeking a taste of local colour—Bungamati has been gradually recovering what it lost in 2015, when earthquakes killed 27 people and reduced much of the town to rubble.
Since then, houses have been rebuilt, with or without promised government aid. Shops have reopened, including those of traditional Newari woodworkers, whose intricately carved art characterises much of the Kathmandu Valley. Public infrastructure has been resurrected as well, including iconic historical and cultural landmarks—such as ponds, spouts and temples.
Normalcy is returning to Bungamati, whose name refers to "watering place" or "spring." But there is one project—and perhaps the most important—that has cast a pall over this progress: the temple of Rato Machhindranath, the home of the patron god of this and many other Newari communities in the Valley. More than a year after reconstruction was slated to finish, work on the temple has stalled, leaving local residents disheartened.
The 16th-century structure stands in the centre of the public square, neglected and unfinished.
"God is angry because this is not done," said Bal Kumari Tuladhar, a local whose family has lived in Bungamati for generations. "If the temple is renovated, our community would have a brighter future."
As the country at large continues its long post-2015 recovery, Bungamati has become a focal point of a heritage and tourism-focused brand of rehabilitation. The village, situated on the outskirts of Patan, was one of the area's hardest hit towns: almost two-thirds of its homes were severely damaged, as were many historical relics. It was here, in 2016, that the government announced its nation-wide reconstruction campaign, through which it has sought to rebuild some one million homes damaged or destroyed in the disaster.
Since then, the village has seen an influx of financial support, both from foreign and domestic sources. Organisations like the European Union in Nepal, which in partnership with UN-Habitat and regional bodies, is spearheading the Sustainable Tourism and Green Growth for Heritage Settlements of the Kathmandu Valley initiative, have helped restore ancient landmarks like De Pukhu, a public pond that lay choked with algae two years ago but is now clean enough to swim in.
"Earlier, earthquake reconstruction focused mostly on private houses," said Padma Sunder Joshi, programme manager at UN-Habitat. "We are trying to look at it [reconstruction] in a more comprehensive way by also focusing on local landmarks, the economy and the livelihood of residents."
Rato Machhindranath has also received outside support, though its path to renewal has been considerably less smooth. Built in the 16th century in honour of the Hindu and Buddhist deity, the structure was all but leveled in 2015—its pillars buckled and its towering dome, adorned with an ornate gold peak, smashed. Restoration was undertaken by the Department of Archaeology and the National Reconstruction Authority, with financial backing from the government of Sri Lanka. In 2016, a contract for rebuilding was awarded to three companies—Prera, Thegim, and Tulsi—with an initial budget of Rs 47.4 million and a time frame of two years.
But the project has been plagued by a series of setbacks, from shoddy materials and craftsmanship to runaway costs, according to officials and residents. The budget for the project has since been revised to Rs 52.2 million, and Tulsi has opted to give power of attorney to a third party, Subarna Shrestha, after the companies fell into a money-related dispute. The conflict, combined with frustrations among local residents, has halted work on the project entirely for the past three months.
"We tried to cancel the contract," Lalitpur Mayor Chiri Babu Maharjan, whose purview includes Bungamati, told the Post. "But it was finalised before my election."
Sampat Ghimire, an engineer with the Department of Archaeology, estimated that the new temple is around 30 percent complete. Dispute centres around payment of local workers who have assisted in reconstruction thus far, he said, but added that the issue is being resolved and that building materials for the remainder of the temple have already been ordered. The department is also overseeing reconstruction of the Manakamana temple, sister home of the Gorkha-based Hindu goddess, which is nearing completion, said Ghimire.
"We expect the [Machhindranath] temple to be finished by the end of the year," Ghimire told the Post.
But locals are frustrated. Chandan Shakya, 38, a stone carver by trade who lives on the edge of the public square, has been closely following reconstruction efforts, including work on the Machhindranath temple. He said that the controversy cropped up almost as soon as rebuilding began, when workers began to lay stones for the temple's foundation and community members, noticing that the height and workmanship was off, protested.
"The locals couldn't bear to see it," said Shakya, sitting in the shade of a UN-Habitat-restored falcha. "So they laid the foundation themselves, to show them how it's done."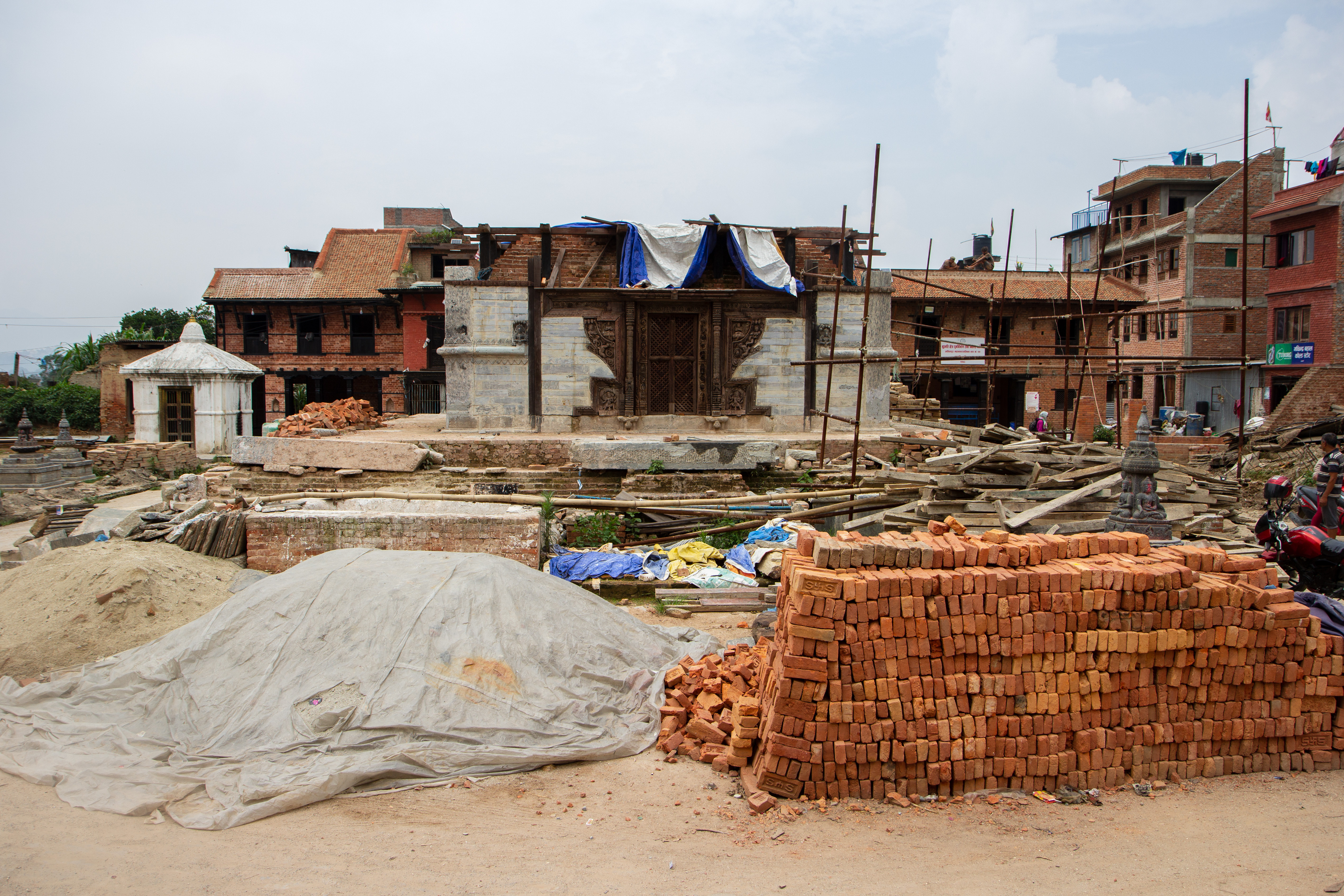 Post Photo: Chase Brush
Among other issues, community members have argued that the company used the wrong building materials, such as lime mortar in place of mud mortar and conventional bricks in place of Ma Appa, a larger, more traditional building block used in ancient temples around the Valley. In the absence of definite blueprints of the temple's original architecture, workers have been forced to estimate measurements, which residents say has led to discrepancies in dimensions—most notably in the temple's interior—between the new and old structures.
"I need to be able to move around to care for the place," said Moti Ratna Vajracharya, one of the temple's seven primary priests. "But now, there is very little room inside." Vajracharya is now living in a smaller, temporary temple in the public square until the main structure is rebuilt.
Bungamati's struggles over reconstruction mirror those that other towns have faced while trying to restore local landmarks. Machhindranath is one of 178 monuments in the Valley that were either destroyed or damaged in the quake, and one of 35 currently undergoing renovations. In many areas, but particularly in Kathmandu and Patan Durbar Squares, efforts have been met with concerns from heritage activists, who fault the projects for using cheap materials, modern design techniques, and for failing to include input from local residents.
"If you're not ready to glorify your past, don't talk about heritage," said Sudarshan Raj Tiwari, a professor of architecture at Tribhuvan University who is helping to rebuild Kageshwar temple in Kathmandu using traditional materials and techniques. "You cannot get the Chinese to rebuild your heritage. These temples are our heritage because our grandfathers built them, and did so with great difficulty."
In Bungamati too, residents argue that they've been largely shut out of the process, left to watch as government officials and foreign diplomats—such as EU ambassador Veronica Cody, who toured the village in March—call most of the shots. They said the problems with the design and materials reinforce the need to seek participation from local stakeholders, who may have deeper knowledge of heritage building practices and customs than contract workers.
"You have to build from the heart," said Laximan Tuladhar Maharjan, a veteran Newar wood sculptor who keeps a shop in Bungamati. "You cannot make art just by talking and planning."
But Bungamati's temple also poses its own unique challenges, according to both Joshi and Tiwari. Unlike the pagoda-style architecture of other popular sites around the Valley, Machhindranath temple features a mountain peak-like shikhara design, which uses fewer bricks and more stone. That can present difficulties on its own, Joshi said, but the problem is compounded when the company in charge of rebuilding has little prior experience in any kind of heritage reconstruction.
"I can say that the quality is very poor," Joshi said of the current structure. "The local community has tried its best to support it, but they are upset because these guys do not understand reconstruction of traditional buildings, and particularly this style."
Tiwari, however, appears to have reconciled himself to the fact that the temple will be rebuilt but not how they might want it.
"If you look at it from the perspective of wanting to preserve the original materials and processes, the temple is pretty much dead," he said.
Delays and mistakes have an outsized impact in Bungamati, a community whose spiritual and economic life revolves largely around the temple and its resident deity. Worshipped by Hindus as Lord Shiva reborn, and by Buddhists as a reincarnation of Avalokiteshvara, Rato Machhindranath is revered as one of the most important religious figures in the Valley, its protector and the god of rain. Known locally as Bunga Dya, Machhindranath occupies a particularly prominent position among Newars, who celebrate the deity every year with the month-long Rato Macchindranath Jatra, where a wooden idol is carried from Bungamati to Patan and back again.
The temple itself, in which Machhindranath resides for six months of the year, is widely considered one of the holiest Hindu sites in the Valley.
"It is one of the most important temples in Nepal," said Tuladhar. "So it needs to be finished. Everyone who has been making mistakes needs to quit."
Many believe that the temple is key to Bungamati's rebirth as a tourist destination. Lauded in international guide books as one of the "prettiest villages in the Valley," the town is an easy 30-minute bus ride from Kathmandu, making it a popular trip for visitors looking to get off the beaten path and experience local Newar culture. The temple, of course, is the village's crown jewel—and without it, residents say they fear their home has lost some of its attraction.
"We used to see 150 tourists coming a week," said Dharma Dutta Bajracharya, who runs a wood carving shop just outside the main square with his wife. "Now, we only get around 25."
A top Trip Advisor review from 2016, which includes a picture of the temple in a similar state as it exists now, captures the change: "If a bunch of broken stones doesn't excite you much, I would skip this site," the review reads, adding that going to Bungamati was more like visiting "ancient ruins."
The temple must be finished, for the sake of tourists and residents alike, said Shakya.
"It's not possible to live like this," he said. "The temple must be rebuilt. Without it, we are like homeless people."
Manoj Shahi and Arpan Shrestha contributed to this report.
---
---