In stunning continuation, comedian remains in detention despite widespread calls for his release
Even as #FreePraneshGautam was trending on Twitter, prominent filmmakers released a statement supporting the comedian's arrest

Dozens of people took to the streets, and posted online, to protest the arrest of Pranesh Gautam. Post Photo: Sanjog Manandhar
bookmark
Published at : June 12, 2019
Updated at : July 4, 2019 13:38
Kathmandu
Galvanised by news reports and social media posts about the arrest of comedian Pranesh Gautam for a film review, dozens of people took to the streets of Kathmandu on Wednesday to express outrage over the increasing threat to freedom of expression in the country.
Protesters walked from Pulchowk to Maitighar Mandala, with their mouths taped, carrying placards demanding the release of Gautam, who has been in police custody since Friday. Gautam was taken into custody under the Electronic Transaction Act after filmmaker Milan Chams filed a police complaint last month for a video on Meme Nepal, a popular Facebook page, reviewing Chams' recent film, Bir Bikram 2.
By late afternoon on Wednesday, #FreePraneshGautam was trending on Nepali Twitter, and hours later, the Kathmandu District Court extended Gautam's judicial remand by two days. He was earlier remanded to five-day custody following his arrest on June 7.
"It is totally outrageous and disappointing to see artists treated this way in a democratic country like ours," said theatre artist and filmmaker Utpal Jha, who was among the protesters gathered at Maitighar Mandala. "People cannot be coerced or bullied to change their reactions on content that is already out there for public consumption."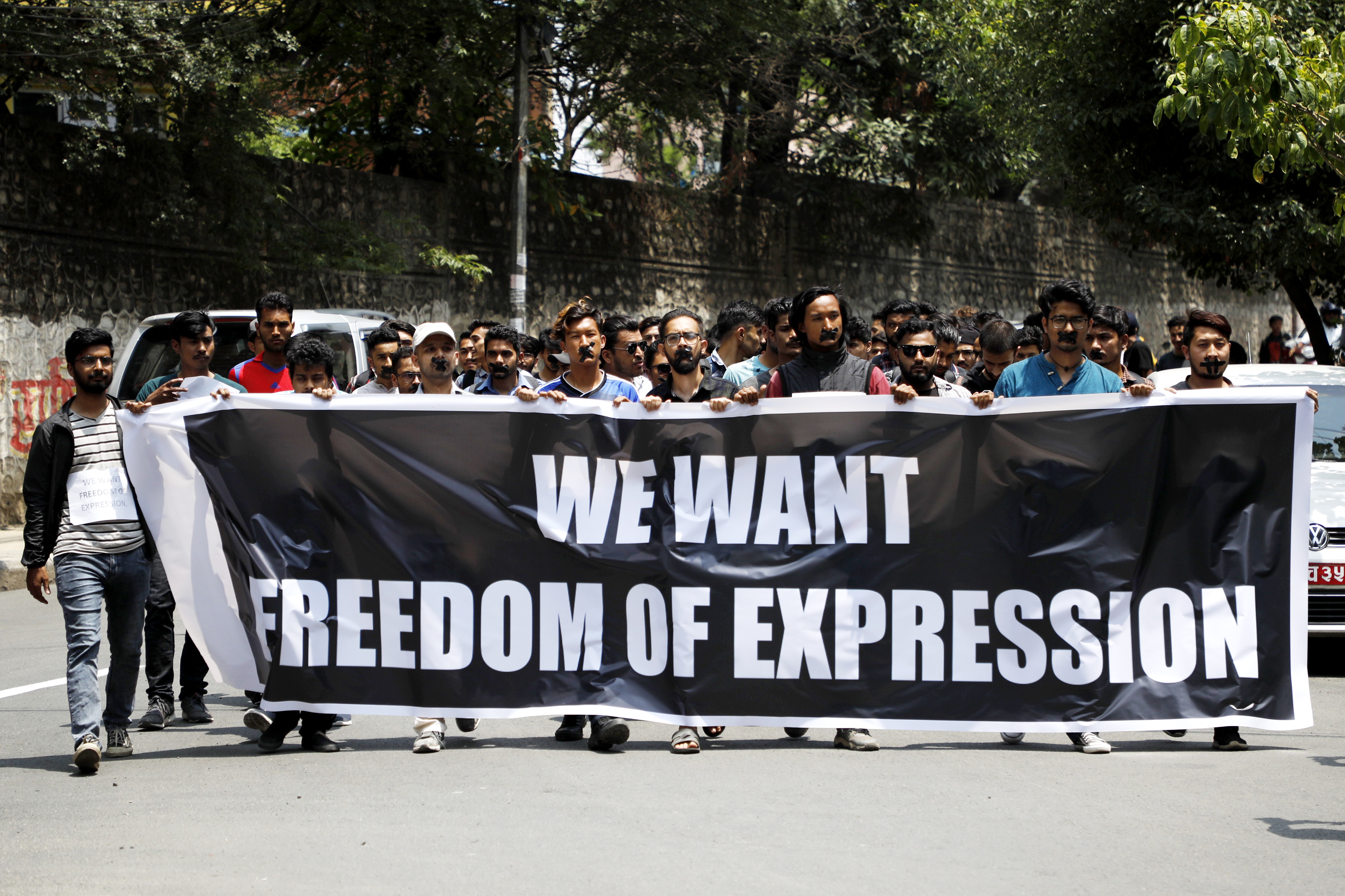 Many people say Gautam's detention is an indication of the growing attack on freedom of expression. Post Photo: Sanjog Manandhar
Comedian Aayush Shrestha, who was at the protest rally and also present at the Teku Police station on Monday to negotiate with Chams and his team, said Gautam is being subjected to unnecessary harassment for doing nothing wrong.
"Pranesh has been trying to put on a strong face but he looks weak and broken," Shrestha said. "He told me police at Teku had made him sing and crack jokes for them."
Meme Nepal members and other comedians said their attempts to negotiate with filmmaker Chams and release Gautam failed after Chams resorted to strong-arm tactics, first refusing to negotiate, and then telling Meme Nepal to shut down its operations totally as a precondition to withdrawing the complaint.
"We were ready to negotiate, and even shut down our page for Pranesh's release, but the filmmaker and his team refused to hear us out," said Adarsha Mishra of Meme Nepal. "What else do they want now—our lives?"
Chams told the Post two weeks ago that he was in no mood to talk to Meme Nepal and was determined to "teach a lesson" to online platforms like theirs. On Wednesday, he reiterated the sentiment but said that what he intended to do by filing a police complaint had been partially fulfilled.
"I hope young people will now understand there are legal repercussions for what they do on social media platforms," said Chams. "Pranesh told me he feels sorry for what he did, but I guess it is hard for me alone to make young people these days understand that they shouldn't be mocking others or using foul language like he did in the video."
On Wednesday afternoon, a group of 10 film associations released a joint press release, expressing their solidarity with the filmmaker and labelled the Meme Nepal video an "injustice".
"The film industry recognises individual freedoms guaranteed by the constitution to a citizen," the statement reads. "But using that freedom as a garb to publicly attack a person's character, and misusing these platforms for self-interest and in pursuit of financial gains is condemnable."
In an interview with the Post, Akash Adhikari, president of the Nepal Film Producers Association, who had signed the press release, reiterated similar sentiments.
"We are not opposed to people reviewing our films," said Adhikari. "In fact, I welcome reviews and look forward to them. But this is a case of personal attack and character assassination."
Several members of the industry, however, expressed their disagreement and said that while they don't endorse Meme Nepal's content, they also don't support the action that Chams has taken.
"I find Meme Nepal's posts problematic and have stopped following their pages," said Reecha Sharma, one of the few actors within the industry to publicly voice opposition against police's detention of the comedian. "But I still think the filmmaker crossed the line by getting someone arrested for their views."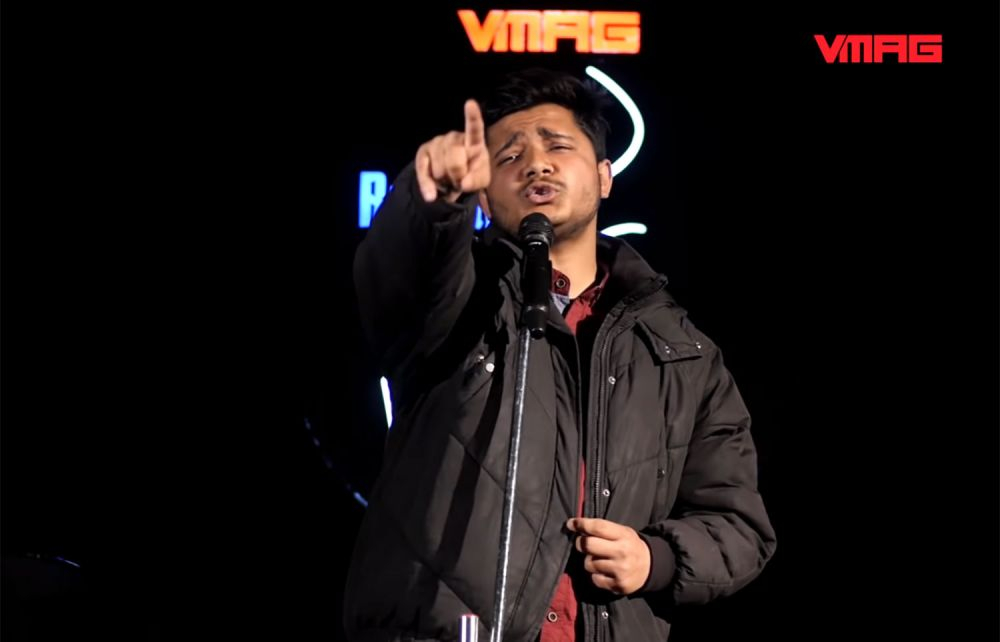 Pranesh Gautam was detained last week and remains in custody.
Gautam isn't the first person to be booked by police for expressing opinions online. The police has been aggressively charging people, from journalists to online content creators and the general public ever since the Electronic Transaction Act, which intends to authenticate banking transactions and discourage cybercrime, came into effect more than a decade ago. Police have been using vaguely worded provisions in the Act to take action against not just journalistic work published online but also social media posts they deem 'improper'.
In the last four years, police have registered more than 122 cases against people for their social media posts.
Filmmaker Deepak Rauniyar, who has been tweeting about the case, said Gautam's detention is indicative of larger systemic problems in Nepali society where those with influence and power use police to enforce their will. In addition to calling for Gautam's release, Rauniyar said voices should be raised to get rid of loopholes in the law that enable such arrests.
"Unless we change the law and demand an overhaul of the system that allows police to randomly arrest individuals with no accountability, we will continue to see such cases," said Rauniyar, referring to the Electronic Transaction Act. "Yesterday it was a journalist, today it is a comedian, tomorrow it could happen to someone else from a different profession."
Rights advocates say the threat to free speech in Nepal didn't grow overnight and that the authorities are strategically clamping down on civil liberties, taking a cue from other countries in the region.
On Tuesday, India's Supreme Court ordered the release of a journalist who was jailed for tweeting about Uttar Pradesh Chief Minister Yogi Adityanth.
"There is growing intolerance towards any kind of criticism in Nepal, where current and proposed laws like the IT Bill create a climate to stifle critical voices," said advocate Subin Mulmi. "A social movement to change these stringent provisions needs to be persistent and strategic, taking up individual cases of rights violations will not get us anywhere."
---
---