As Kathmandu's air gets worse, its residents struggle to breathe
Over the last month, the Post followed a small group of traffic constables across the city at different times of the day. With consent from the officers and permission from police headquarters, the Post facilitated health screening for some of the officers at the Nepal Police Hospital and asked prominent health professionals to examine the reports. The results, which include their chest x-rays, show the damaging effects of long-term exposure to particulate pollution.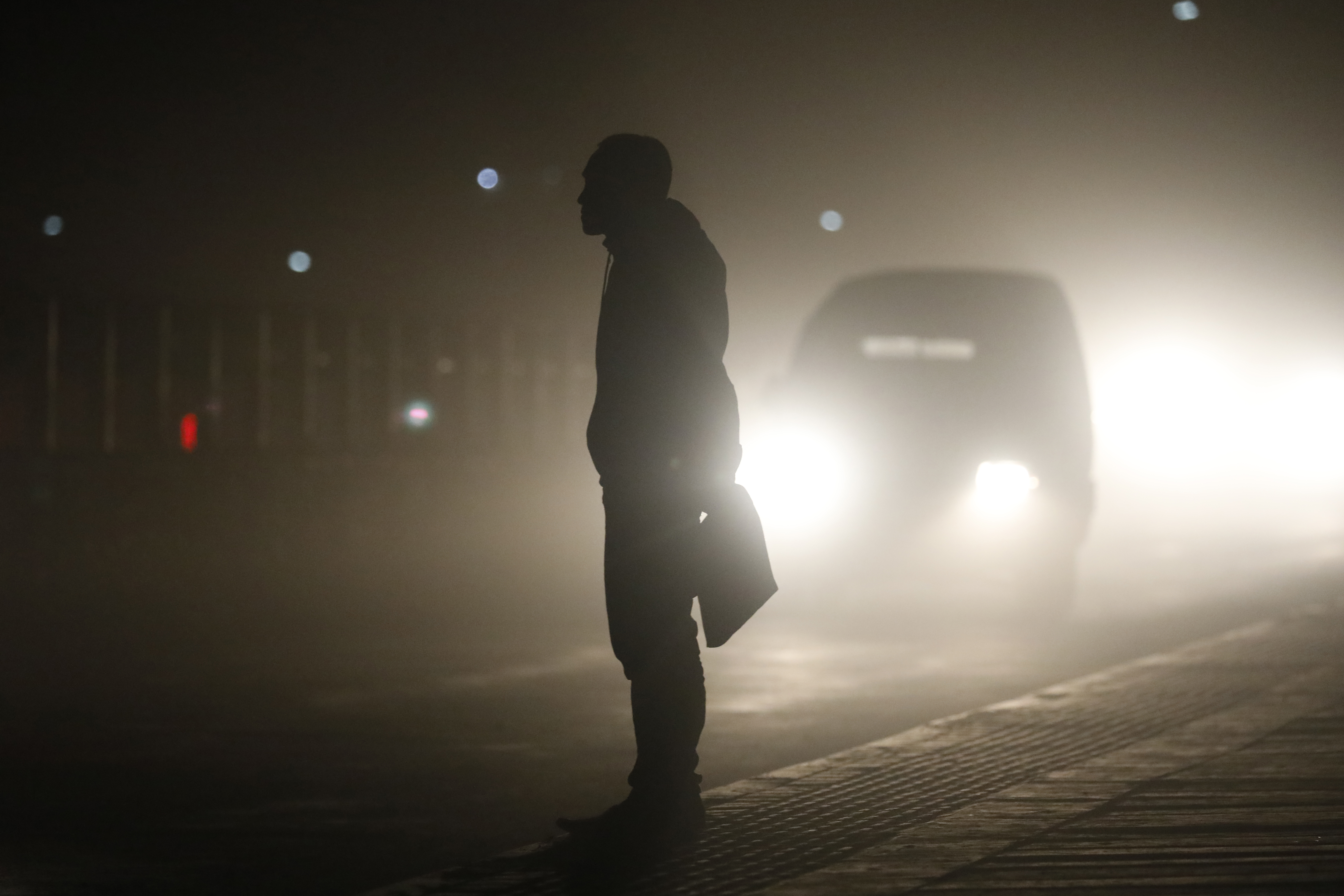 Published at : November 23, 2018
Updated at : June 26, 2019 14:35

A little over two months ago, police constable Min Nath was handed a single valve pollution mask by the traffic police headquarters. The mask, which uses carbon filtration technology, has a life of 200 hours if used under moderate conditions.

But Nath's working conditions are far from moderate. At one of the busiest junctions in Satdobato, the 30-year-old constable is constantly exposed to high concentrations of particulate matter--commonly referred to as PM--air pollution for at least 12 hours every day. The mask, which he still uses, has long expired.

Nath is one of the 47 traffic police personnel posted at the Satdobato Traffic Police Unit and their ordeals are similar, as they brave heavy traffic that emits noise, smoke and fumes on top of the polluted air they're forced to breathe round the clock. There are 1,400 traffic police officials currently deployed across the Valley.

"It's hard to breathe," said Nath, who quit his job as a schoolteacher to join the police force eight years ago. "When I first started, the smoke and fumes suffocated me. My nose is always stuffy and my eyes are itchy every morning," he said, as he paused to cough after every few words and caressed a little bump above his right eye.

In the past few years, pollution levels have peaked at unhealthy and hazardous levels in the Kathmandu Valley, increasing health risks for citizens, especially traffic police officers who spend hours managing the vehicle flow manually. Particulate matter can be both solid and liquid particles--smoke, dust, soot and others--that are suspended in the air, the most dangerous of which is PM2.5.

A PM10 particle (10µg) is smaller than a grain of sand and easily passes through the hairs in our nose. Deadlier still is a PM2.5 particle (2.5µg) which can enter our bloodstream. Just three percent of the diameter of a human hair, these particles remain suspended in the air for weeks and travel hundreds of thousands of kilometres.

According to the World Health Organisation, the safe level for PM2.5 exposure is set at 10 μg/m3 annual mean and 25 μg/m3 for a single day, and for PM10, 20 μg/m3 annual mean and 50 μg/m3 for a single day. Kathmandu's pollution far exceeds that--in the past week alone, the air quality station at Ratna Park, Kathmandu, recorded a PM2.5 weekly average as high as 110.25 μg/m3. The PM10 reading was equally terrible at 204.73 μg/m3.

Across town in Thapathali, at the junction that connects Kathmandu with Lalitpur, another police constable, Diwani Chaudhary, starts her duty early at dawn and often carries on till 11 pm, running DUI (driving under influence) checkpoints for late-night drivers.

BEFORE & AFTER: Diwani Chaudhary, above, and Min Nath photographed before and their shifts, which starts as early as 6 a.m. and continues till 11 p.m.

Diwani was 19 when she was posted to the Koteshwor Traffic Police Unit after basic training. Two years later, after a brief stint in administration at Baggi Khana, she was posted to Thapathali, also one of the busiest intersections in the Capital.

"It is hard to breathe," Diwani said, "especially when there is a lot of smoke and dust. Sometimes I get severe headaches while on duty." These days, she says she can't work without wearing her glasses.

"If I do, my eyes turn blood red and watery within a few minutes and I can't see properly," a teary-eyed Diwani said as she adjusted the surgical mask resting on her collar.

Over the last month, the Post followed a small group of traffic constables across the city at different times of the day. With consent from the officers and permission from police headquarters, the Post facilitated health screening for some of the officers at the Nepal Police Hospital and asked prominent health professionals to examine the reports. The results, which include their chest x-rays, show the damaging effects of long-term exposure to particulate pollution in both Min Nath and Diwani Chaudhary.
"There could be multiple reasons for their conditions, but both of their x-rays clearly show evidence of air trapping," said Dr Arpana Neopane, a senior consultant physician who specialises in pulmonology and critical care, referring to the abnormal retention of air in the lungs--also known as "mild hyperinflated lungs"--which makes it difficult to breathe and could lead to obstructive lung diseases such as Asthma and Chronic Obstructive Pulmonary Disease.

"Long-term exposure to dust, smoke and particulate matter, both indoors and outdoors, is the major causes of many respiratory diseases," Neopane said. "During the Ring Road expansion, we saw a spike in the number of patients reporting dry and itchy eyes and chronic cough cases in all age groups."

Diwani, like Nath, was handed a single-valve pollution mask by the police headquarters. But she rarely uses it. Considering the levels of particulate pollution she's exposed to on a daily basis, the mask, tucked somewhere in her bunker, has long outlived its purpose.

"It is uncomfortable and it interferes with our work," she said. "We have to blow the whistle and shout commands at commuters and communicate instantly over the phone and the walkie-talkie."

On the first day at the police hospital, 25-year-old Diwani's blood pressure reading was an alarming 160/100, which led Dr Navin Kumar Chaudhary to immediately prescribe medicines to Diwani and further tests for both of them.

"There could be other reasons as well, but in Diwani's case, it is work-related stress," Chaudhary preliminarily said.

In the hospital's ophthalmology department, Dr Shyam Krishna Laudari diagnosed a shaken Diwani with pterygium, a condition when pinkish triangular tissue grows on the cornea of the eye.

"Dryness in the eyes is the result of long-term exposure to dust and ultraviolet light. In an escalated condition like Diwani's, the tissue could grow and interfere with visibility and ultimately cover the pupil, leading to permanent blindness," said Acharya. Though he was quick to add that the condition could be genetic, Acharya said the hospital's research showed a host of eye and ear problems, and even insomnia, among some traffic police officers.

Many studies over the years have linked particulate pollution to various physiological conditions, including both acute and chronic respiratory effects in children and adults. The risks are deadlier for people living close to major roads and construction sites as studies show particulate exposure affects the functioning of the lungs.

Peer-reviewed research by a group of American scientists concluded this week for the first time that particulate matter air pollution, caused largely by the burning of fossil fuels, is cutting global life expectancy short by nearly two years per person, making it the world's top killer. The study says microscopic particulate matter in polluted air is more dangerous than smoking cigarettes and other public health threats such as tuberculosis, HIV/AIDS, and even war.

"These tiny particles, which are invisible to the eye, invade our cardiorespiratory system and penetrate the blood vessels, causing lung disease and heart stroke," Neopane told the Post.

The study by researchers in Chicago also suggests that these tiny particles have detrimental effects on cognition and can result in preterm births and children born with autism spectrum disorder. These, however, are only a few of the things researchers know about particulate air pollution's impacts on health.

If Nepal introduces and implements policies to lower particulate concentrations in its polluted cities and towns to exposure levels deemed safe by the WHO, researchers say the average life expectancy of Nepalis would increase by 4.4 years. However, despite the growing elevated risks of particulate matter pollution, the country's understanding of its hazards is limited and the government has not introduced a single mitigation policy or implemented any laws to counter pollution sources.

In interviews with the Post, government officials assured that they were working to introduce stronger environmental laws soon.

"The government has started an environment initiative programme from this fiscal year and has set aside Rs150 million," said Bishwa Nath Oli, secretary at the Ministry of Population and Environment. "Its core mandate is to increase greenery."

Oli said that within the next two months, the government plans to install the country's first air quality monitor in Chitwan, which it hopes will enable scientists to study the effects of trans-boundary pollution.

"Our vehicle emission standards are outdated and old vehicles still ply our roads," Oli said. "There have been positive interventions like electric mobility and that is the way forward."

According to the Department of Transport Management, Kathmandu Valley accounts for over 50 percent of the total vehicle fleet in the country. Last month, the government stopped the registration of new two-wheelers in Bagmati Zone after the number of vehicles reached close to a million. There are 142,339 cars and jeeps, 48,242 buses and trucks, and 6,330 tempos and vans currently in operation across Kathmandu Valley.

The University of Chicago study said that the average loss in life expectancy due to particulate pollution has increased from 1.0 in 1998 to 1.8 in 2016 globally, and current particulate pollution concentrations are projected to shorten the lives of 635 million people by at least five years.

A 2016 report by the American College of Occupational and Environmental Medicine, which investigated the respiratory effects of high levels of particulate exposure in a cohort of 53 traffic police in Kathmandu, recorded mean on-road exposure levels of PM2.5 and black carbon ranging from 34 to 193 μg/m3 and 12 to 28 μgC/m3 respectively.

The report concluded that exposure to high levels of PM2.5 and black carbon was associated with acute changes in lung function and blood pressure. It also noted that the use of an N95 mask for just half of a working week showed measurable improvements in lung function.

But not everyone can afford these masks. Certified single-valve microfibre N99 masks start at Rs2,800 and should be replaced every five to six months if used in poor air conditions. Air purifiers in the market start at Rs16,000 for residential units and filters must be replaced every six to seven months and cost about Rs4,000.

The majority of people in the Valley use surgical masks or scarves to defend themselves from air pollution. But these masks and cloth do not filter particulate matter, and instead, expose the residents to a world of health risks.

Doctors in Kathmandu say residents of the Valley, especially ones who live close to polluted sites, should regularly screen for respiratory diseases because the effects of air pollution, both indoors and outdoors, can only be seen in the long run.

"Look at the dust deposits on the houses at polluted sites," said Bidesh Bista, a pulmonologist at Civil Service Hospital. "One can only imagine what it has done to their lungs."
---