Stray dogs call the shots in city
Five people died in the last one month because of rabies following dog bites in Kathmandu, according to Teku based Sukraraj Tropical and Infectious Disease Hospital.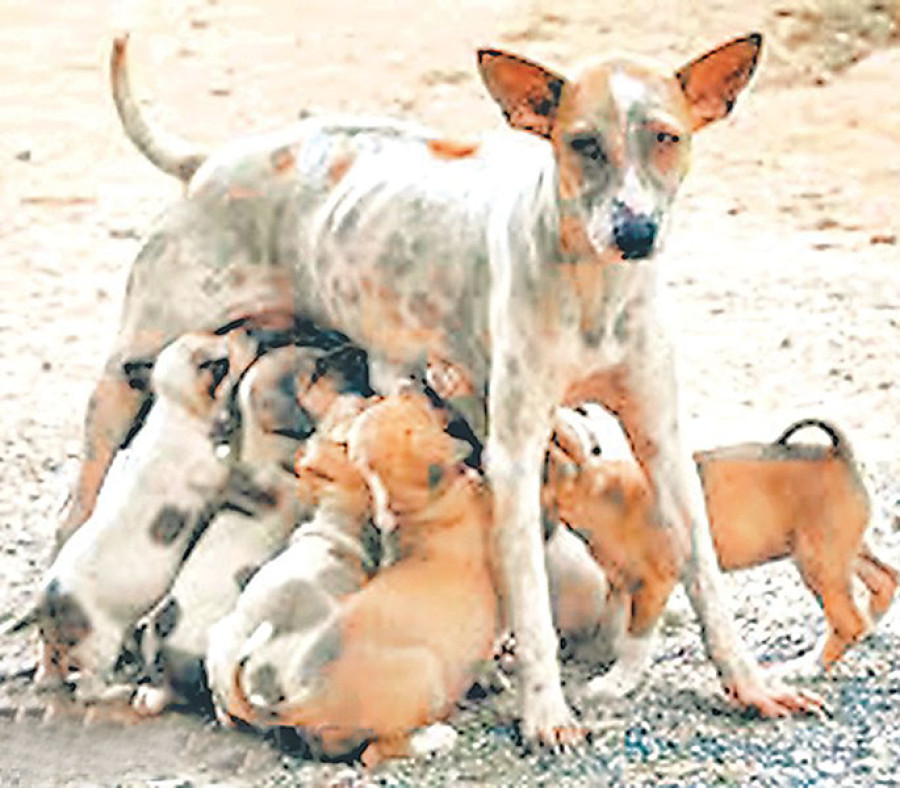 bookmark
Published at : June 6, 2018
Updated at : June 6, 2018 13:48
Kathmandu
Five people died in the last one month because of rabies following dog bites in Kathmandu, according to Teku based Sukraraj Tropical and Infectious Disease Hospital.
The hospital records show the incidence of dog bites have increased in Kathmandu. As a preventive measure, the hospital administers anti rabies vaccination to citizens round the clock since the last three months.
On an average, 30 people visit the hospital in the night to receive for vaccination jabs.The hospital's data further shows, 17 people died in 2017 and 16 in 2016 after rabies-infected dogs bit them.Tropical Hospital Clinical Research Co-ordinator Dr Sher Bahadur Pun said, "Earlier we had a record of maximum 10 deaths per year, but it has steadily gone up."Last year, 36,089 (24,783 male and 11,306 female) patients visited the hospital in Teku to take anti-rabies jabs. The number of patient was less in 2016 (29,309)."On an average, 200 people come for anti-rabies
vaccines every day," said Dr Pun.
Veterinary doctors say many cases of rabies go unnoticed and undocumented because of lack of awareness among people. Rabies is a fatal virus spread to people from the saliva of infected animals, usually transmitted through bites. The Teku hospital also gives anti-rabies vaccines citizens for other animal bites such as monkey, pig, horse, boar, lion and rat.
The hospital's record show, 99 percent people seek anti-rabies jabs because of dog bites.National Zoonoses and Food Hygiene Research Center Researcher and Veterinary Dr Rakesh Chand said, "The stray dog bites have become severe health hazard. If the government does not take preventive action, this would be another fatal killer."Hospital data shows the number of patients seeking anti-rabies vaccine doubles on Sundays and other holidays.
"People's movements are more on Sundays and holidays. People drink and walk on the road. Children go outdoors to play and expose themselves to stray dog bites," said Dr Chand. When the rabies-infected animals bite humans, doctors give either five intramuscular vaccine jabs or intradermal four times.
The Kathmandu Metropolitan City (KMC) 2016 data shows there are around 30,000 stray dogs in Kathmandu. Veterinary doctors say the number has increased over the last two years because the government has not taken any step to control stray dog's population explosion.
The World Health Organisation (WHO) report says 40 percent of people bitten by suspect rabies animals are children below 15 years of age. "It was a Saturday, and we were going for zoo, from nowhere a stray dog appeared bit my son. Instead going to the zoo we went to hospital," said Ambika Bista from Tinkune. Dr Chand said stray dogs are major cause of rabies. However, Tropical Hospital receives many people for anti rabies jabs after bites by their pet dogs.
People fear to walk on the roads, mostly during the night, because of the increase in stray dogs, and their proclivity to attack humans."It was Friday night, we were returning from a party through Teku area to reach my room in Lalitpur, suddenly a bunch of stray dogs surrounded us, one bite me, we threw stone and chased them away," said Manish Silwal, a computer programmer.
Infections Disease Hospital Section Officer Rup Narayan Khatiwada said, the government spends up to Rs 100 million to buy anti-rabies vaccine."If the government controls stray dog population, this would reduce vaccine cost and the probability of dog bites would reduce," said Khatiwada.
The Kathmandu Metropolitan City (KMC) in 2016 collaborated with Humane International Society for community dog management in the Capital for which it had allocated a budget of Rs 35million, but this did not give substantial results.
The metropolis had done sterilising of dogs from Singha Durbar area and had announced to take this drive all over Kathmandu to reduce the menace of stray dogs in the city, but it failed.
---
---