Dudh Kunda's divine duende
At an elevation of 4,561 metres and located at the base of the Numbur Himal, the pond is one of the lesser-explored trekking destinations in the country.

Dudh Kunda, flanked by Numbur Himal and Khatang Himal, is considered holy by both Buddhists and Hindus. Photo couretsy: Jaya Jung Mahat
bookmark
Published at : January 6, 2023
Updated at : January 6, 2023 08:34
Having already witnessed the mountains that can be seen from Pokhara, I wanted to see up close the Himalayas in other regions, and this desire led me to join the Dudh Kunda trek with my colleagues last month.

Dudh Kunda, or the 'milky pond' as it is known in Nepali, is located at an elevation of 4,561 metres at the base of the Numbur Himal.
We boarded a jeep from Kathmandu to Salleri, which took around ten hours, and from there, it took us another hour to get to Ringmo, our stop for the first night. Apart from being the starting point for the Dudh Kunda trek, Ringmo is also the gateway for treks to Taksindo, Junbesi, and Lukla begin.
Since we had already done our research, locating a decent hotel in Ringmo didn't prove difficult. As soon as I walked into the hotel's lobby, I fell in love with its wooden interior. The next morning was when I finally got to see the village properly. Big or small, the houses in Ringmo are all built in traditional style and painted in the same colours of blue and white. This reminded me of Ghandruk, where concrete buildings have completely destroyed the village's uniqueness and beauty.
The second day, after a breakfast of satu and 'shechya' (tea brewed with salt and butter), a typical breakfast in the Solukhumbu region, we began our climb to Sansarbeni at 6am. The 13-hour hike to Sansarbeni took us via steep and well-marked slopes, vast rhododendron forests (sadly without rhododendrons, as it was not the season), and a wild orchid forest. When we reached Sansberi, it was already 9pm, and we were completely exhausted.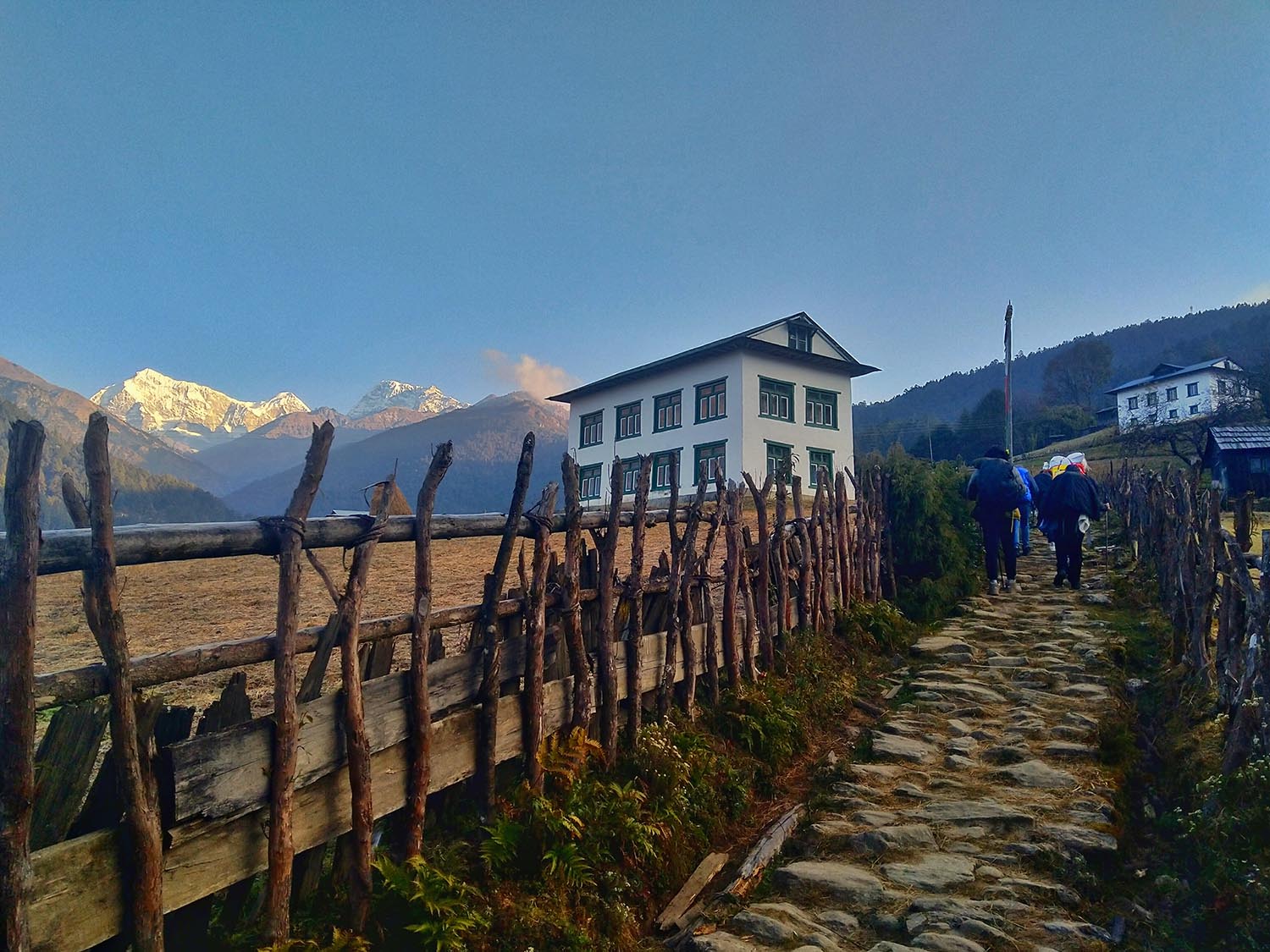 Ringmo offers spectacular views of Numbur Himal, Khatang Himal, and Mount Karyalung. Photo couretsy: Jaya Jung Mahat
One may wonder why we did not take a break and walked for so many hours; the answer is that after you begin your trek from Ringmo, your only option for an overnight stay other than camping (for which we were prepared, but windy and freezing cold weather did not make it a sensible thing to do) is a crudely constructed house in Sansarbeni. This is one of the reasons why, despite its heavenly beauty, Dudh Kunda is not a popular trekking destination.
During the full-moon week in August, locals and pilgrims gather and celebrate at Dudh Kunda, which is also revered as Lord Shiva's abode and has religious significance for both Hindus and Buddhists. During other times, you are unlikely to encounter anyone on the way.
The good news for future trekkers is that a few new homestays are being constructed in Kamidanda, between Ringmo and Sansarbeni.
The next morning, after three hours of climbing from Sansarbeni, we reached the divine Dudh Kunda. It was a gift to witness the blessedly serene and divinely icy pond on the lap of Numbur Himal. But instead of being lush with snow, the mountain was rocky and barren because of the lack of snowfall, perhaps because of climate change.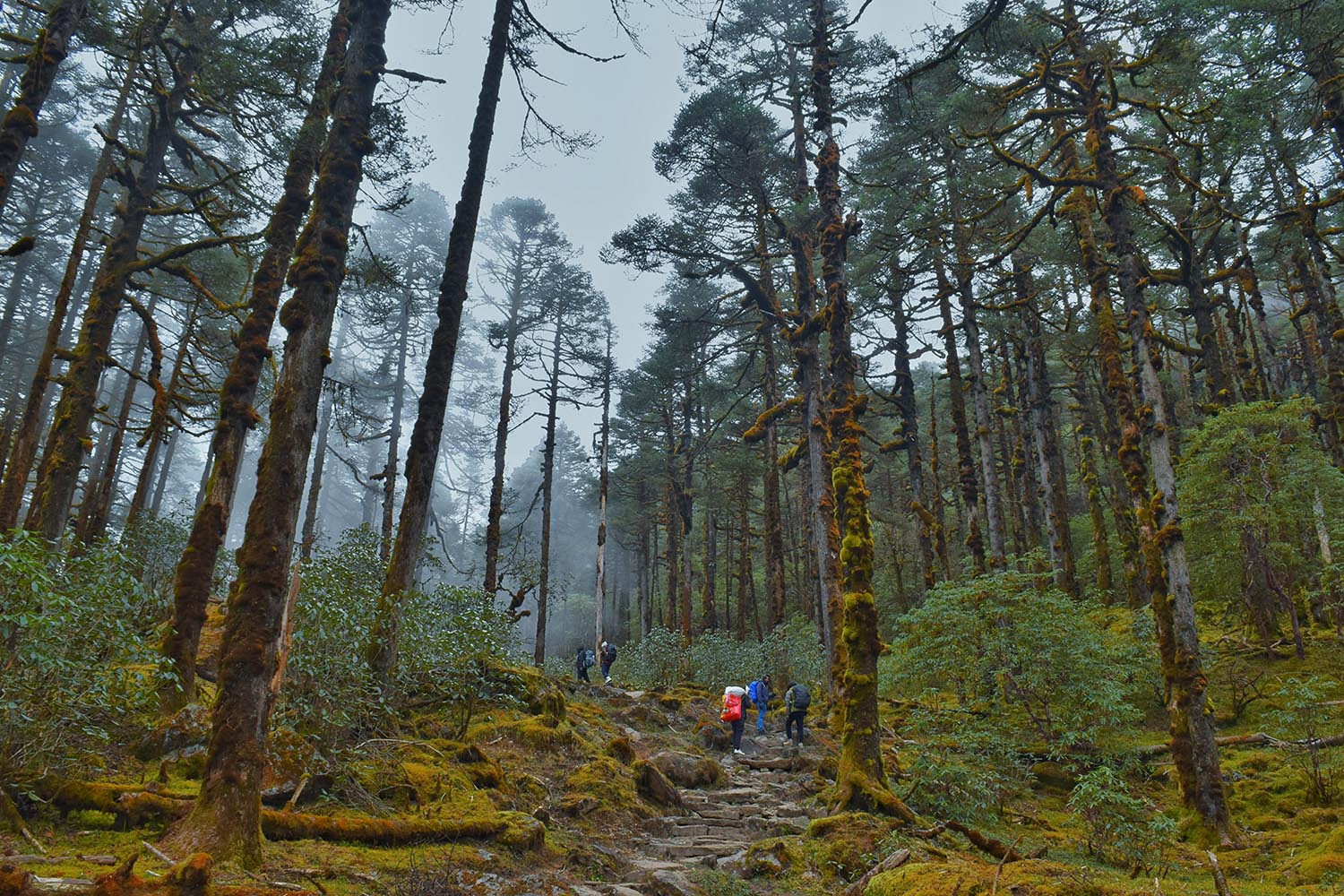 The trail from Ringmo to Kamidanda has extensive stretches of lush forests. Photo couretsy: Jaya Jung Mahat
After taking photos from every imaginable angle possible, singing, dancing, and whatnot, we descended to the same hotel in Sansarbeni. We opted to stay there for one more day as we didn't have enough time or energy to trek down to Ringmo. We reminisced about our experience so far and took a much-needed rest. The weather was terrible.
But the skies cleared up when we began our descent towards Ringmo on day four. I felt like I was in a dream when we reached Kamidanda, the Everest viewpoint, and witnessed the majestic Mount Everest, Mount Kanchenjunga, and key mountains of the ​​Rolwaling Mountain Range—including Numbur Himal (6,958m), Khatang Himal (6,781m) and Mount Karyalung (6,681m). The trail between Kamidanda and Ringmowas covered with wild orchid trees, and this made me feel like I was on the set of the popular Netflix series 'Dark' or 'Stranger Things', and this elevated the whole experience.
On our final day in Salleri, we bought some local delights. If you ever find yourself in the town, make sure to buy a handmade 'selroti maker', a gift your family will love. On day five of our trip, we returned to Kathmandu with our souls fully satiated by the breathtaking grandeur of Dudh Kunda.
Destination: Dudh Kunda
Getting there: Take a jeep or bus from Kathmandu to Salleri and stop for the night at Ringmo. From there, Dudh Kunda is a two-day trek.
Budget: Around Rs 13,000 per person
---
---