Dolakha is a holy trinity of nature, culture and architecture
The district hosts some of the most beautiful locations in the country—Charikot, Kalinchok and Jiri.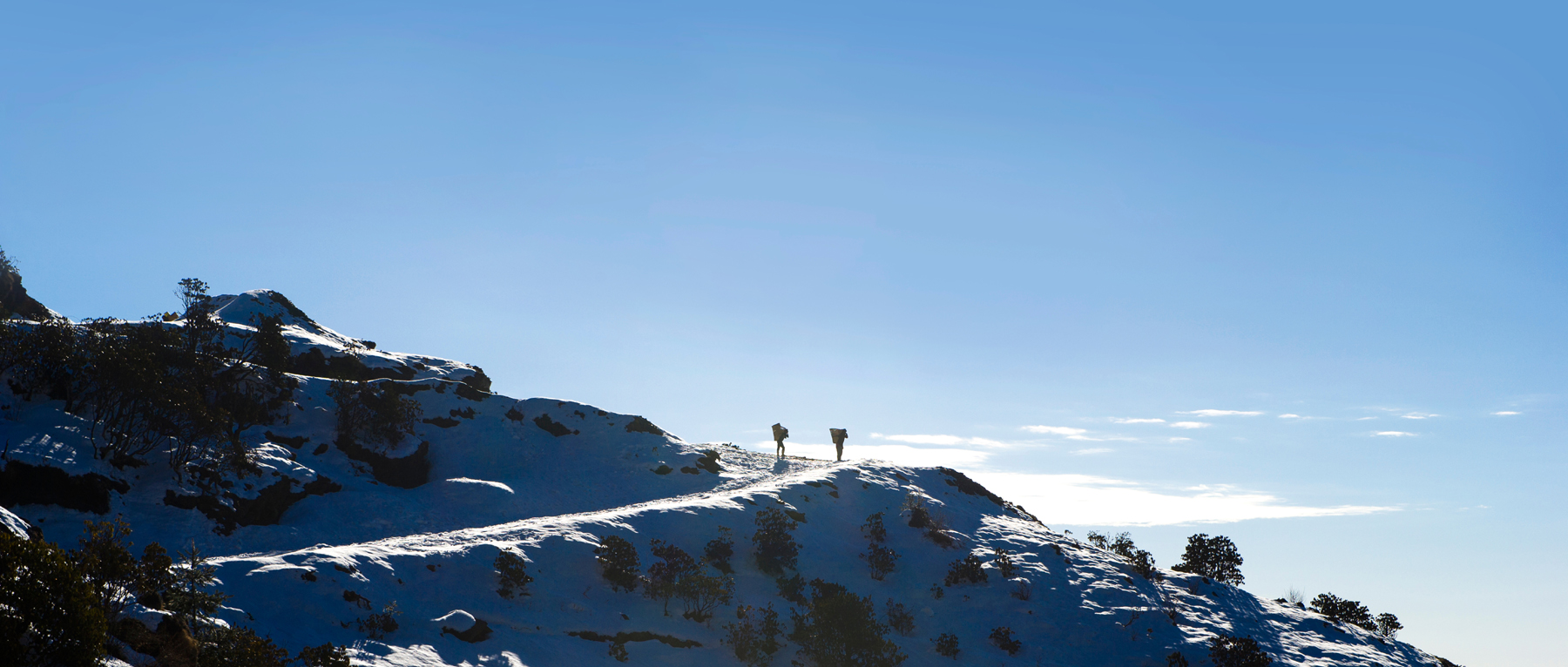 Shutterstock
Published at : February 22, 2020
Updated at : February 21, 2020 19:51
The central hill district of Dolakha is naturally and culturally sublime. Mount Gaurishankar, based on which the Nepal Standard Time is determined, and the Rolwaling mountain range, stand tall in the north. The winding Tamakoshi River whistles down south and pours into the Koshi river. Kalinchok Bhagwati Temple, known for snowfall during the winter, is revered by the locals as the "shrine of the district".

Charikot, the district headquarters of Dolakha, is around 133 km east of Kathmandu. Travel along the Araniko Highway until you reach Khadichaur, from where the serpentine road climbs through rural settlements and terraced farmlands. Aahaldanda in Lakuridanda welcomes you to Dolakha territory and leads to Kharidhunga which overlooks Rolwaling and Langtang mountain ranges. Kharidhunga, situated at an altitude of around 2,700 metres above sea level, is covered with powdery snow throughout winter. The rhododendron forests colour the area red as spring sets in.
The fresh waterfall of Hatti Chhahara and Charanawati welcomes visitors before they reach Charikot, a hilly town perched at 1,970 metres above the sea level. Legend has it that a Lama, with divine powers, had meditated in the area for a long time. Overtime, a bird made its nest in the beard of the meditating Lama, so the place was named Charikot, meaning the 'nest of the bird'.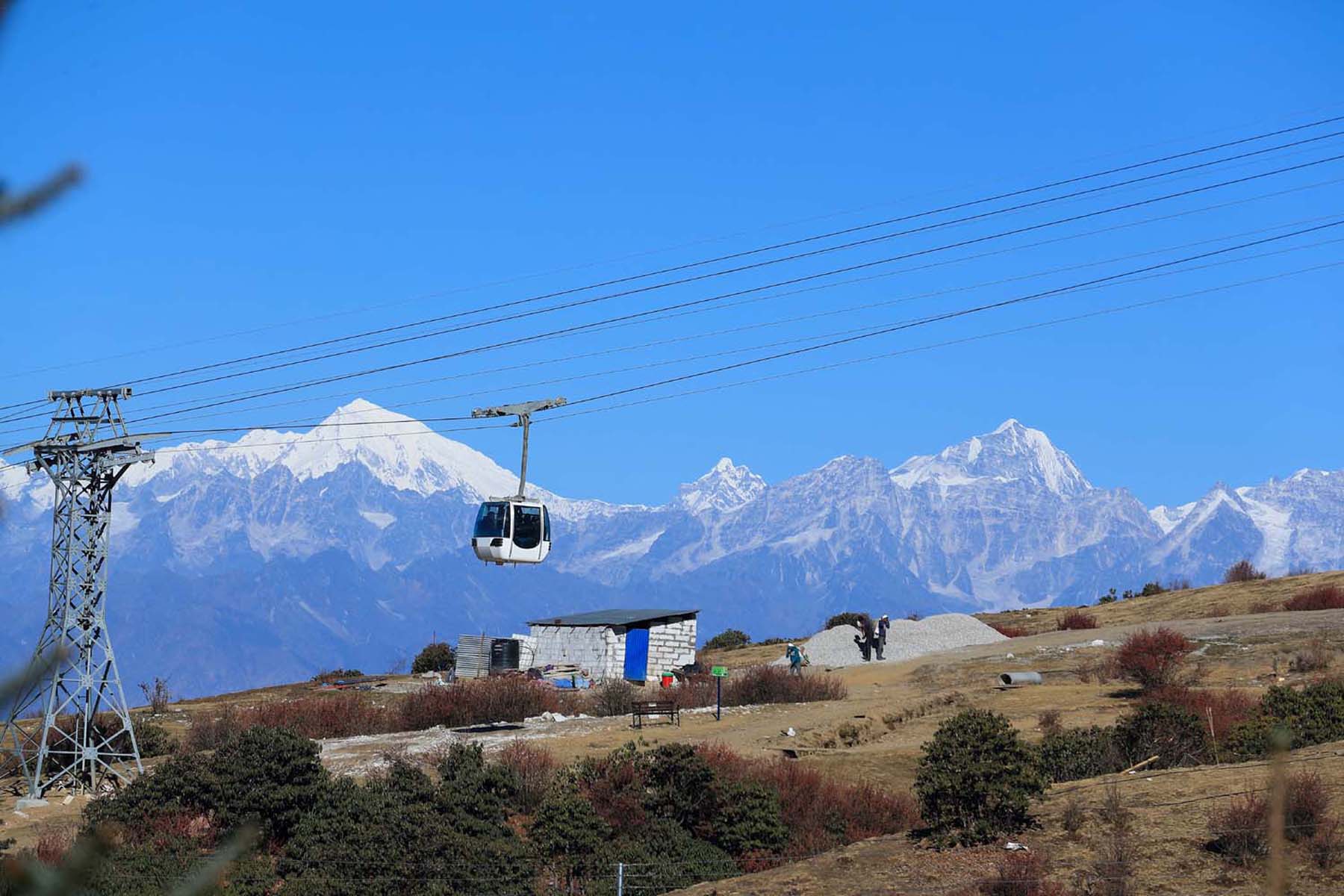 Rajendra Manandhar/TKP
Charikot, which many compare with Darjeeling of India, hosts a Haat Bazaar every Saturday morning where the local products—both agricultural and non-agricultural—are bought and sold. Kotihom—a sacred place set up by Kalinchok Baba who was enlightened, as the legend has it, after meditating for 12 years by consuming only water, milk and sugar candy—is a must-visit. Statue of Shankhadhar Sakhwa, the founder of Nepal Sambat, stands in one of Charikot's chowks which is named after him.
Nearby is the Tutepani settlement, a predominantly Newar community, which many consider a living museum.
Charighyang in Charikot has well-facilitated hotels and lodges. According to Sundar Khadka, former chairman of Dolakha Chamber of Commerce and Industry, the hotels in Charikot can accommodate around 2,000 people comfortably. Charikot has a good market for shopping and enough restaurants for food.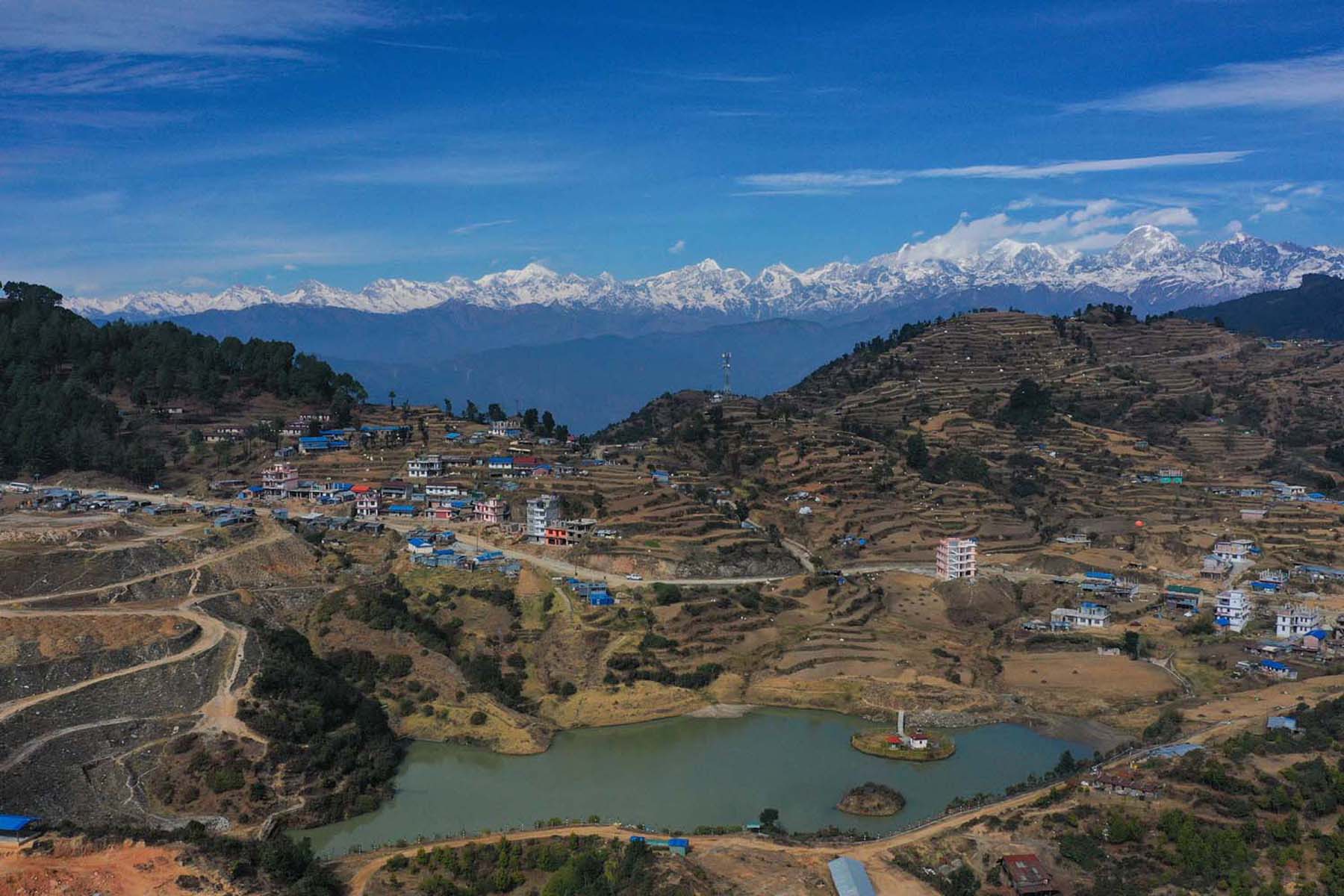 Rajendra Manandhar/TKP
Kalinchok is a dreamland for nature lovers and religious tourists. It is 17km from Charikot and has high altitude forests, colourful settlements, brooks and terraced farmlands. Sitting at an altitude of 3,842 metres above sea level, Kalinchok provides a good view of Rolwaling and Langtang mountain ranges. One can have spectacular sunrise and sunset views from here.
Kalinchok is an ideal location to enjoy snowfall. The area is generally crowded during weekends and when it is blanketed with thick snow. According to Sonam Sherpa, a local hotelier, there are 40 hotels in the Kalinchok area that accommodate around 5,000 tourists. The tourists have to descend as far as Charikot and Dolakha Bazaar for food and lodging if Kalinchok is packed with tourists. Besides the hotel menu, one can taste and enjoy the local dishes like dindo, roti, local potato, Chauri's milk, ghee and chhurpi.
One can reach Kalinchok on a regular bus service from Kathmandu. Various travel agencies have a package deal for visiting Kalinchok. They charge around Rs 17,000 per person for taking the visitors on comfortable light vehicles.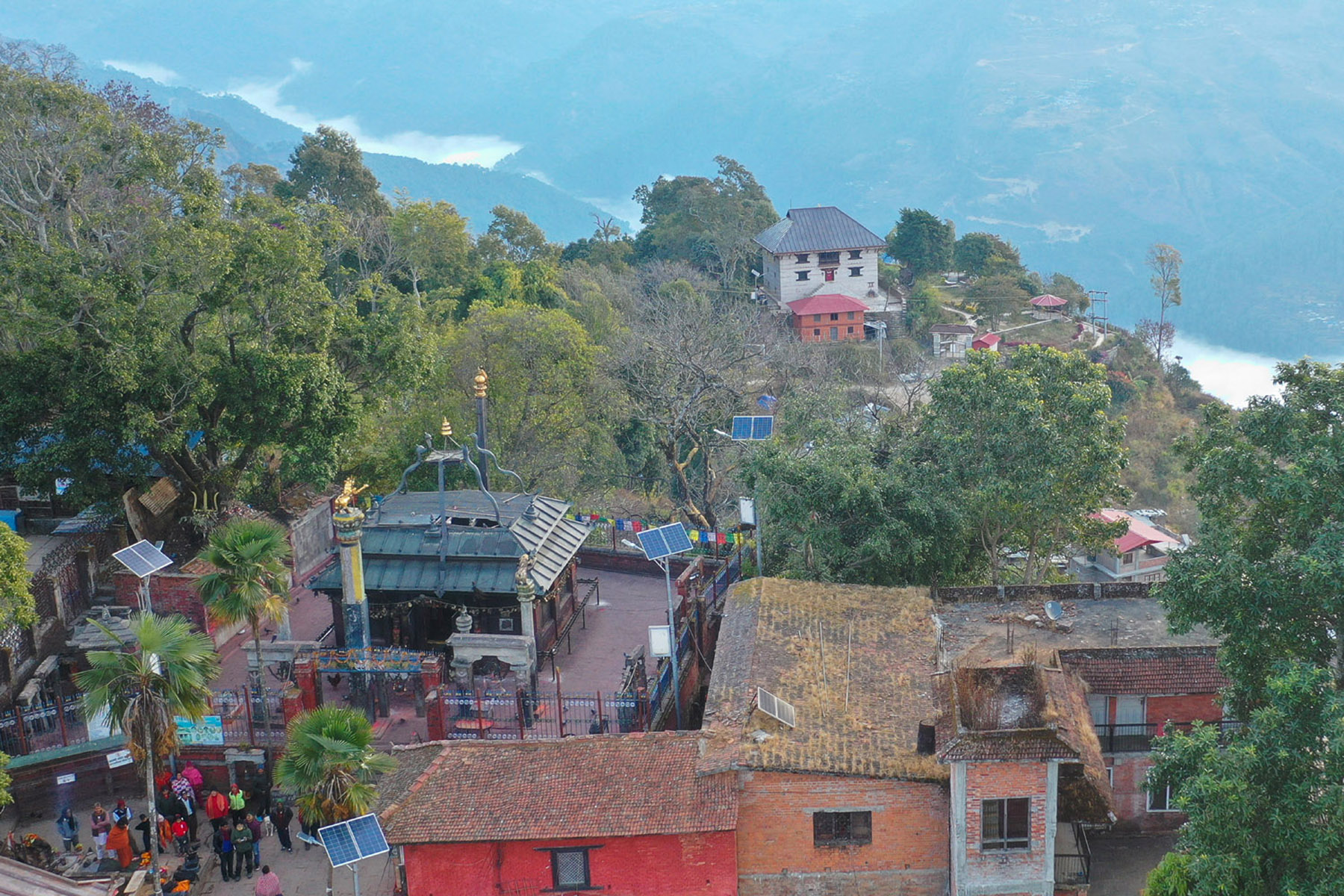 Rajendra Manandhar/TKP
The Heritage of Dolakha bazaar
Dolakha Bazaar, known as Abhayapur in ancient history, is considered as the jewel of the district. Located 4km east from Charikot, Dolakha Bazaar houses a famous temple of Bhimeshwor, also known as Bhimsen Temple. A mammoth stone pillar erected on the temple premises is a wonder in itself. Many believe that there will be political change or natural disasters in case the statue of Bhimeshwor sweats.
Dolakha Bazaar is full of heritage sites dating back to Lichchhavi, Malla and Shah Dynasties featuring monuments, traditional architectures, old-style Newari settlement, their tradition, culture and language. Dolakha Bazaar also has a homestay with traditional Newari style along with around 15 hotels.
Jiri, once the entry point of Everest region located 55km east from Charikot, is impatient to welcome tourists in its serene ambience. The local hotel association had offered a 50 percent discount in hotels and lodges to lure the visitors. Tanka Jirel, Mayor of Jiri, said the city was once a bustling town with foreign tourists heading to and from the Everest region. "Once the road network reached Solukhumbu where the world's tallest peak is, the footfall to Jiri began to decline," he said. "But, Jiri as a tourist city still has the potential to attract visitors."
The climate and geography of Jiri, which is named after an indigenous community called Jirel, is compared to that of Zurich in Switzerland. The climate is moderate except on some winter days witnessing snowfall. The beautiful landscape, favourable climate and affable people tempt the visitors.
Buddha Park, Gurans Park, Stone Park, Buldanda, Sikri Hanumante Park are major places to visit in Jiri. According to Jirel, the municipality is planning to preserve the typical cultures and traditions of Jirel tribes to promote tourism. There are enough hotels in Jiri that charge Rs 500-2,500 for a room per night and a Nepali Dal-Bhat set comes somewhere between Rs 250-350.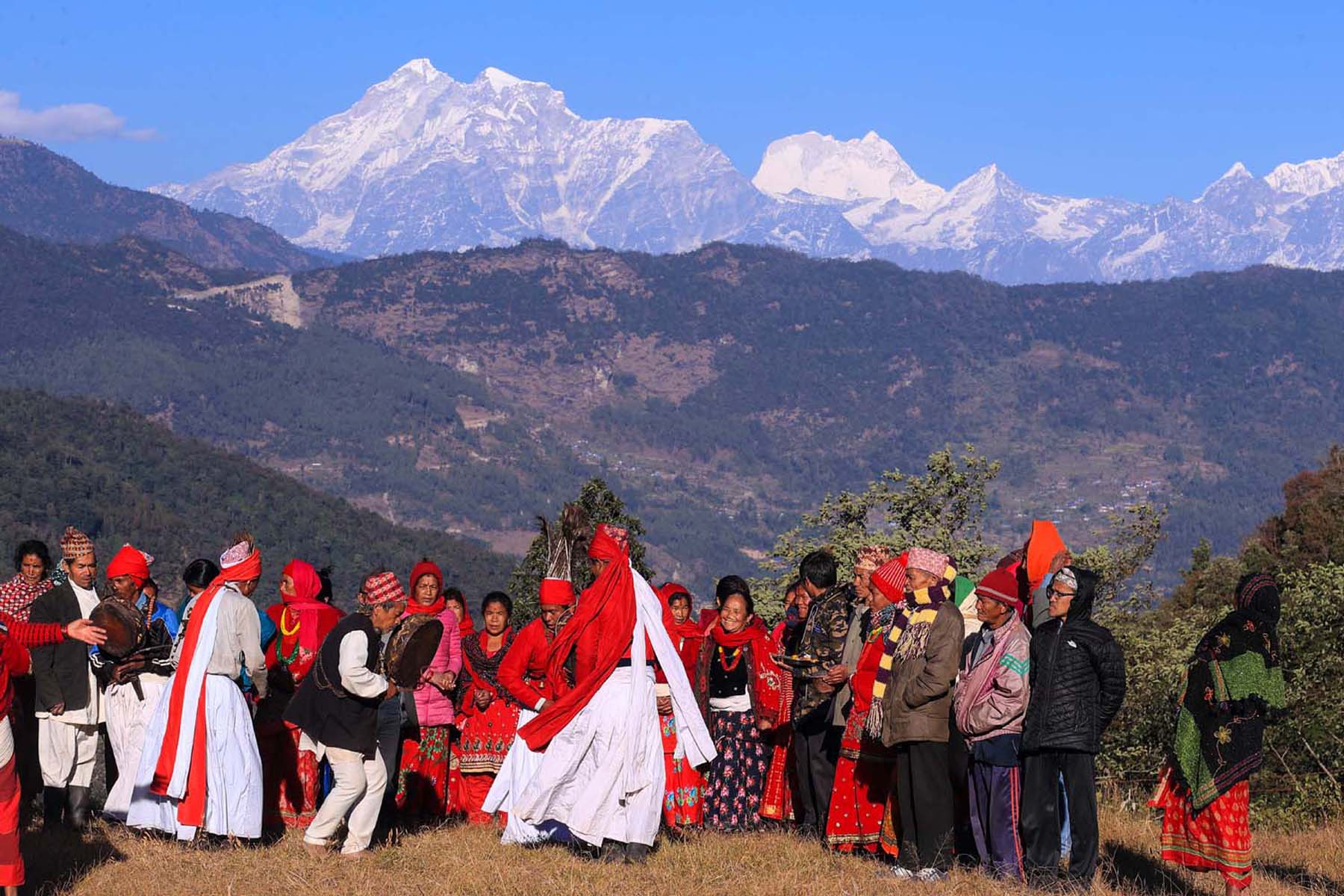 Rajendra Manandhar/TKP
Shailung, a new destination
Shailung Danda probably comes only second to Kalinchok as a destination to enjoy snowfall. Tourist flow is on the rise in Shailung with road connectivity and development of basic facilities. There are innumerable hilltops on a spacious flat land.
However, since tourism infrastructures are not completely developed in the area, visitors have to make do with the basics in food and lodging. But Dhunge Bazaar nearby has all the facilities Shailung may lack. But according to Bharat Dulal, chair of Shailung Rural Municipality, tourist arrival has shot up in Shailung of late. "We are developing the infrastructure and are establishing a homestay in Kalapani, which will definitely attract more tourists," he said. "We aim to establish Shailung as a major destination in the district."
How to get there: One can reach major tourist destinations of Dolakha on a bus from Kathmandu.
Where to stay: There are enough hotels in Charikot, Kalinchok, Dolakha Bazaar and Jiri.
What to eat: The hotels and the homestays serve Nepali food—dal, bhat and tarkari set with local chickens. One can order dhindo and gundruk.
Detours: Chho-rolpa glacial lake, Gaurishankar Conservation Area, Upper Tamakoshi Hydropower Project cite, Panchpokhari of Ramechhap
Budget: Rs 2,000-3,000 per person per day for a trip around the district.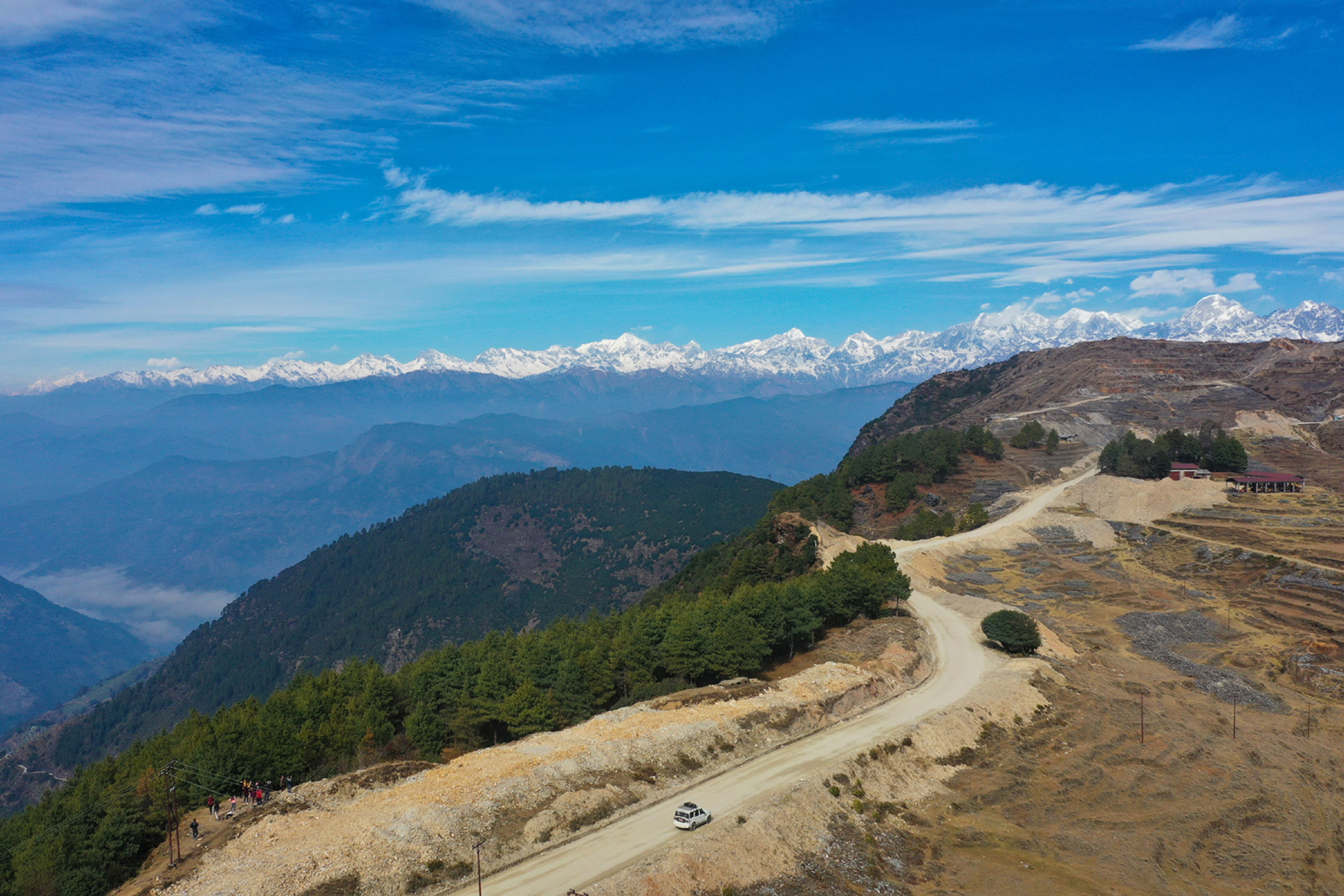 Rajendra Manandhar/TKP
---