Rolling the dice on Fakhel
Curiosity piqued, and pining for adventure, this little town is a surefire cure for wanderlust.

Tsering Ngodup Lama/TKP
bookmark
Published at : January 24, 2020
Updated at : January 24, 2020 07:48
Makwanpur
It was curiosity that led me to Fakhel bazaar. The first time I saw Fakhel was from a window of a jeep, while travelling to Chitlang a year ago. I was intrigued by how the small bazaar just popped out of nowhere, after several kilometres of forests and fields interspersed by occasional village houses. I absorbed as much detail as I could from my fleeting encounter with the town, its white Buddhist chhortens, colourful Buddhist prayer flags and terraced fields. What I saw was enough to make me wonder and warrant an exploration.
A quick Google search last week revealed just one place of accommodation in the town—Tashi Delek Lodge. Over the phone, with owner Phurba Lama, I came to learn there were a few hiking trails around the town. He also mentioned something about a park being built. It would become a major tourist attraction, he told me, but the phone connection was terrible and I couldn't glean anymore detail. The only way to find out, then, was to roll the dice and travel there.
Located in Makwanpur district, Fakhel is, according to my motorbike's odometre, 35 kms from Balkhu. Once you cross Pharping, the landscape widens and the road narrows. Typical village houses outnumber concrete modern buildings, and most of what you see are fields, terraced on the hills. The view remains the same all the way to Fakhel. It's a beautiful ride.
When I reached Fakhel bazaar, it was way past noon. While Phurba showed me to my room, his mother prepared my lunch. Phurba suggested I hike to the proposed site of the soon-to-be-built park after lunch. "It's on a hilltop, called Salley Malley Danda, and the park will be named Madan Bhandari Fakhel Maitri Park. It's a 30-minute hike," he told me.
The trail to the park began at the front of the lodge and climbed uphill. The dirt track was motorable and winded uphill, each bend revealing something utterly beautiful—rolling hills, ready-to-harvest fields of spinach, plots of yellow mustard glistening under the sun, and traditional houses' clay tile roofs baking under the warm noon sun. After hiking for nearly 15 minutes, the danda finally came into view. It was at least another hour's hike from where I was. Phurba perhaps forgot to mention that the park site was half-an-hour's walk for villagers used to walking these hills, not me.
Nearly 30 minutes into the hike, the trail had no houses, only thick pine forest. The loud swooshing sound of wind brushing against the pines was the only sound. I was enjoying the walk and was committed to hiking to the park site, and then the trail split. I decided to explore this new trail and see where it led. The other path climbed a sloping hill gently and led me to an empty crematory. It wasn't a place I was expecting to end up. The calm and solitude of the trail went from peaceful to scary. Suddenly, hiking all the way up alone, through thick forest didn't feel like a wise idea. Hiking back to the bazaar, I couldn't help but feel more like a coward and less intrepid. To make myself feel better, and perhaps to prove to myself that I am adventurous, I decided to take a different trail back to the lodge. I took a narrow walkway and passed by a few houses, which had a dog that didn't seem happy with my presence and barked until I was no longer in its field of sight.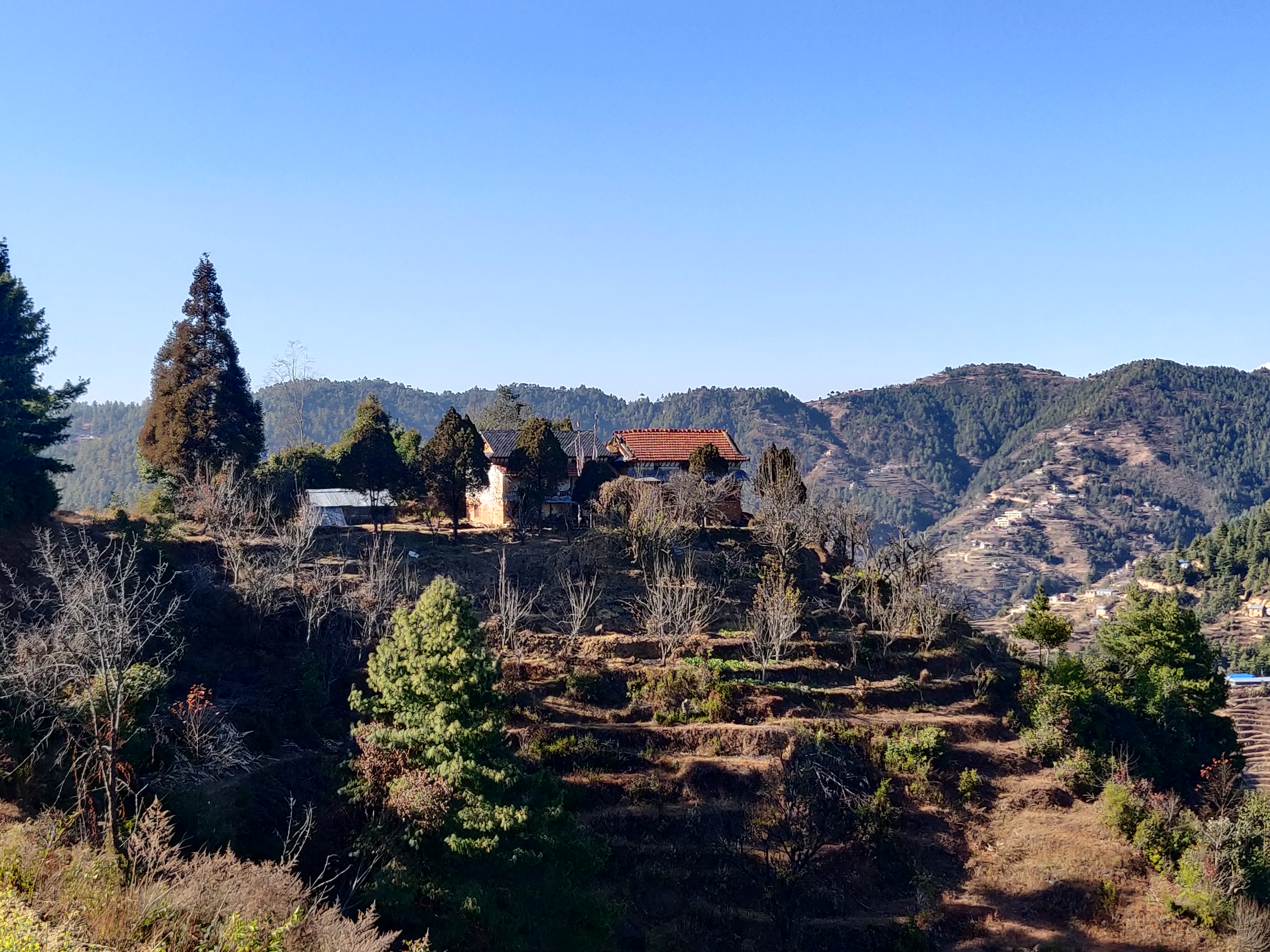 Tsering Ngodup Lama/TKP
The trail sloped downhill until I reached a narrow ridge. On both sides were knee-length mustard fields, and in the distance, a few houses on a sloping hill and more terraced fields. The sky was deep blue without a single shred of cloud.
Later in the evening, I headed to a tea/grocery shop near the lodge. As the evening deepened, more people walked in, and the shop metamorphosed into something more like a bar or pub. Glasses of pungent chyang and raksi were ordered along with black and milk teas. There was a group of three young men watching something on a smartphone; another group of men discussing a road being built in the village, and a pair of women discussed their days. I got talking to two villagers named Chandra Kumar Blon and Dawa Tsering Lama. I learned from the two that foreign employment and agriculture are the two primary sources of livelihood for the villagers. "Around three decades ago, an international organisation came to the village and trained the villagers in commercial farming and provided the villagers with the tools to do so. Before that, the villagers were all subsistence farmers. With commercial farming, that villagers' economic standing began to improve," Chandra told me.
The next big thing the villagers are hopeful for, Dawa told me, was tourism. "Once the park is set up, it will attract tourists. Villagers are getting into homestays, and soon we will have a network of families offering them," said Dawa.
As I returned to the town's only lodge, I could see the shop was still buzzing. Over dinner, more villagers I met talked about the park and how it was going to make the village a tourist destination. I knew I had to visit the park site.
The following morning, Phurba and I headed to the park site—this time by motorcycle. It was only a 15-minute ride from the village. As we neared, the vegetal makeup started becoming a mix of pine and rhododendron. "During March and April, rhododendrons bloom and the upper section of the hill is blanketed red by the national flower. It's a sight to behold," Phurba towld me. As we reached the top of the hill, the views left me ecstatic. We were ringed by hills on all sides. There were hills of all shapes and height. Hills that sloped and rose smoothly; hills with odd-shaped ridges, some were shaped like wrinkled semicircles. Some hills were shaped like bows from Ramayan movies. From the northwest to the east were a long chain of mountains interrupted only in two spots, by hills taller than the one we were on. Below us was the village Kafleni—its traditional houses sloping gently with its terraced fields of mustard and spinach.
"These hills were where the leaders of the communist party of the country sought refuge after escaping from Nakhu Jail in 2030 B.S. Bir Bahadur Lama, one of the escapees, was a local of a nearby village, and the villagers helped them by feeding them and not disclosing their whereabouts when the authorities came for them," said Phurba.
Phurba told me there are plans to build a watchtower at the park site, toilets (there are already a few already built) for visitors, and more resting sheds. While the park site's historical importance many not resonate with many, the views are sure to—I say they are reason enough to travel to Fakhel bazaar for.
Where to stay
Tashi Delek Lodge: Rooms cost Rs 700 a night.
Contact: 9861163470
---
---